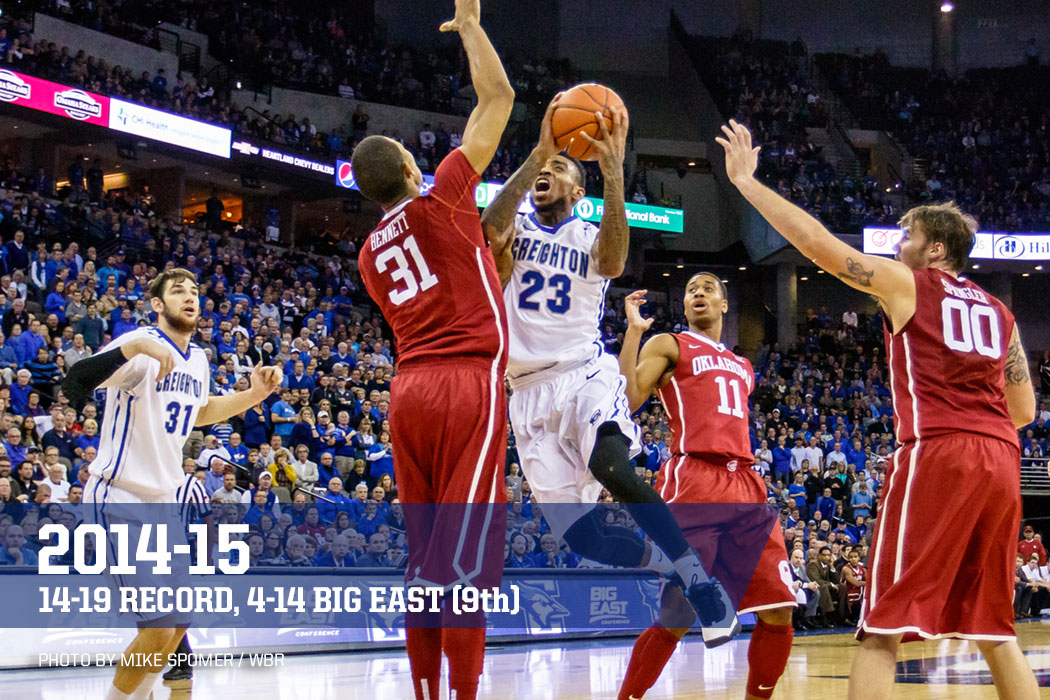 WBR Season Archives (2014-15)
Offseason News | Season Previews | 2015 Big East Tournament
Creighton's second season in the Big East finished with a 14-19 record, their first losing season in nearly 20 years, and a ninth-place finish in the league. They began the year 5-0, including a win over #18 Oklahoma in the third game of the season, and briefly re-entered the Top 25.
The Jays lost nine straight games — including their first eight conference games — in the middle of the season, and went 38 calendar days without a victory. They led or were tied in the final minute of eight of their 19 losses.
Senior guard Austin Chatman surpassed 1,000 career points at Madison Square Garden during the Big East Tournament, and would end up leading the Bluejays in both scoring and assists. Fellow senior guard Devin Brooks, who spent much of the year coming off the bench, led the Jays in both rebounds and steals. In conference play, Rick Kreklow and James Milliken led the team in scoring, while Geoffrey Groselle emerged as a force inside.
| Date | Opponent | Result | |
| --- | --- | --- | --- |
| 11/07/2014 | Sioux Falls (Exhib.) | W, 91-72 | Details |
| 11/14/2014 | Central Arkansas | W, 104-77 | Details |
| 11/16/2014 | Chicago State | W, 84-66 | Details |
| 11/19/2014 | #18 Oklahoma | W, 65-63 | Details |
| 11/23/2014 | North Carolina Central | W, 65-45 | Details |
| 11/25/2014 | Eastern Illinois | W, 75-53 | Details |
| 11/28/2014 | Ole Miss (Emerald Coast Classic) | L, 75-68 | Details |
| 11/29/2014 | Middle Tennessee (Emerald Coast Classic) | W, 57-47 | Details |
| 12/03/2014 | at Tulsa | L, 77-64 | Details |
| 12/07/2014 | at Nebraska | W, 65-55 | Details |
| 12/09/2014 | South Dakota | W, 91-88 (2OT) | Details |
| 12/13/2014 | Saint Mary's | L, 71-67 (OT) | Details |
| 12/19/2014 | Texas Pan-American | W, 75-60 | Details |
| 12/21/2014 | at North Texas | L, 62-58 | Details |
| 12/31/2014 | at Providence | L, 65-53 | Details |
| 01/03/2015 | at #25 Georgetown | L, 76-61 | Details |
| 01/07/2015 | DePaul | L, 70-60 | Details |
| 01/10/2015 | #19 Seton Hall | L, 68-67 | Details |
| 01/14/2015 | at Marquette | L, 53-52 | Details |
| 01/17/2015 | Providence | L, 74-65 | Details |
| 01/21/2015 | at Butler | L, 64-61 | Details |
| 01/25/2015 | at #4 Villanova | L, 71-50 | Details |
| 01/28/2015 | St. John's | W, 77-74 | Details |
| 01/31/2015 | #21 Georgetown | L, 67-40 | Details |
| 02/04/2015 | at Xavier | W, 79-72 (OT) | Details |
| 02/07/2015 | at St. John's | L, 74-66 | Details |
| 02/14/2015 | Marquette | W, 77-70 | Details |
| 02/16/2015 | #19 Butler | L, 58-56 | Details |
| 02/24/2015 | at DePaul | W, 75-62 | Details |
| 02/28/2015 | at Seton Hall | L, 67-66 | Details |
| 03/03/2015 | #4 Villanova | L, 76-72 | Details |
| 03/07/2015 | Xavier | L, 74-73 | Details |
| 03/11/2015 | DePaul (Big East First Round) | W, 78-63 | Details |
| 03/12/2015 | #23 Georgetown (Big East Quarterfinal) | L, 60-55 | Details |