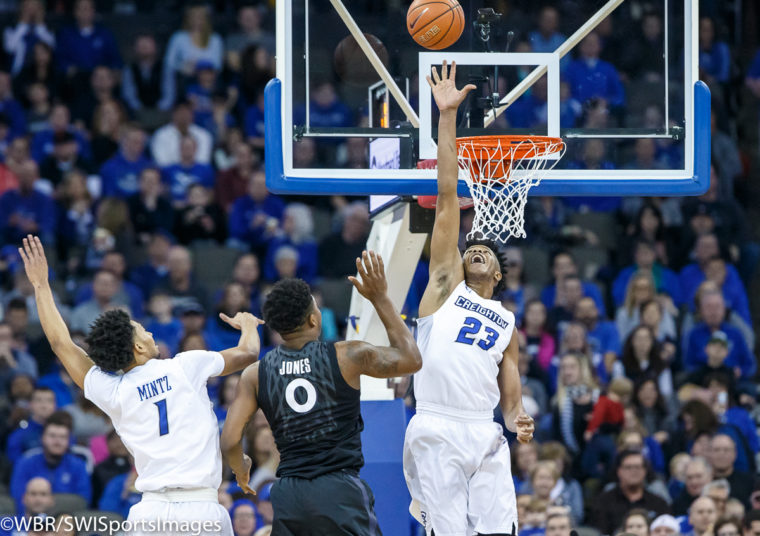 Creighton Bluejays Weekly Roundup (03/24/2017)
News and Notes from around Creighton and the Big East this week:
The Oklahoma City Thunder produced a video segment with Doug McDermott and Kyle Singler breaking down the Sweet 16.
Bracket talk! NCAA Tournament veterans Doug McDermott (3 appearances) & Kyle Singler (4 appearances, 1 championship) break down Sweet 16. pic.twitter.com/6JSE2Y6Ui2

— OKC THUNDER (@okcthunder) March 23, 2017
Following the death of former Chicago Bulls GM Jerry Krause, Doug Swenson talked to the Dickinson (N.D.) Press about the month he spent as a member of the Bulls in 1999. Krause had seen the Bluejay big man in action while scouting Rodney Buford, and signed Swenson to a contract with an invite to training camp."You always wish you could be a fly on the wall, and I was a fly on the wall. True as it could be, I couldn't hardly believe it," Swenson said. "I got waived at the end of October, it would have been in the later 20s. But that's one of my things — my transaction. I was signed and I was waived. They can't take my transactions away from me. I was on the ticker going across the bottom and in the paper. As a kid growing up, I read all sorts of NBA books. I remember reading books like The Franchise about the Pistons, '88-'90, those championship teams. To read about the background of that then to see the other side for myself, you don't think as a junior high or high school kid you're going to see the other side."
Another former Bluejay big man, Anthony Tolliver, was the feature of an article on FiveThirtyEight.com titled "The NBA Player Who's So Good at Taking Charges We Created a Stat For Him.""Over the past three seasons, Tolliver's garnered 42 charges in 54 total collisions, a Charge Rate of 78 percent; easily the best mark among players who've taken at least 30 charges since the start of the 2014-15 season. For context, consider that the average NBA player this season has a Charge Rate of just 40 percent, according to the collision counts on BigDataBall, which logs play-by-play data." 
According to Rivals.com's Corey Evans, current Bluejay big man Justin Patton's performance in the NCAA Tournament raised concerns for NBA scouts and could lead to his return. Meanwhile in their latest mock draft, The Vertical has Patton going at #17 to Milwaukee, which means he's slid out of the lottery. And Patton himself teased fans on his decision with this Instagram post that announced the return of his teammate Tyler Clement:
His coach was pleased with this news:
I will finally be able to sleep tonight. Welcome back @TylerClement_11 !! https://t.co/Ax5wnWAZZc

— Coach McDermott (@cucoachmac) March 23, 2017
Meanwhile, Marcus Foster announced his return for his senior year, and did a couple of interviews with Omaha media following the announcement:
The World-Herald's Jon Nyatawa spent three segments on Thursday's "Bottom Line" show talking Jays hoops with Severe:
KETV's Josh Planos spoke to Randall Crutcher — who played for Dana Altman at CU in the 90s — about the current Oregon coach. These two quotes in particular should be of interest to Jays fans:
Randall Crutcher on playing for Dana Altman: 'He's relentless. That's why I loved playing for him.' pic.twitter.com/78DQwYuY4B

— Josh Planos (@JPlanos) March 23, 2017
Dana Altman goes for his third Sweet 16 in 5 years tonight.

Former Bluejay Randall Crutcher has some theories on his youthful appearance. pic.twitter.com/8tDbCnsmDr

— Josh Planos (@JPlanos) March 19, 2017
ICYMI: Mitchell Ballock of Eudora named 2017 Kansas Gatorade POY for boys basketball – press release from @Gatorade https://t.co/ynttp6w9ca pic.twitter.com/5gJnaMfVIp

— Sports in Kansas (@sportsinkansas) March 22, 2017
I love this guy & selfishly want him to stay in Omaha b/c he's a great coach & great dude, but Drake should absolutely hire Darian DeVries.

— Nick Bahe (@NickBahe) March 23, 2017
Doug Gottlieb officially joined Fox Sports on Wednesday, where he'll presumably be an analyst on their college basketball studio shows and game broadcasts next season.
JUST IN: Doug Gottlieb (@GottliebShow) joins FS1 as a basketball analyst and will also have a show on @FOXSportsRadio starting April 24 pic.twitter.com/930Weyfc8W

— Herd w/Colin Cowherd (@TheHerd) March 22, 2017
To that end, a Kansas fan site wished him good luck in his interview by linking to a hilarious video of Gottlieb wearing his shorts backwards during a game…and fixing them during a timeout.
Big interview tomorrow @GottliebShow. We're selfishly rooting for you. Make sure your suit pants are on the right way. #RockChalk pic.twitter.com/SOUzbuextx

— Colouring KU (@ColouringKU) March 22, 2017
Creighton @BluejayMBB has a secret weapon inspiring them from the sidelines: Meet @cale_ferrin https://t.co/J5Ooy14Ha7

— Zach Schonbrun (@zschonbrun) March 17, 2017
Comments
Tagged in: