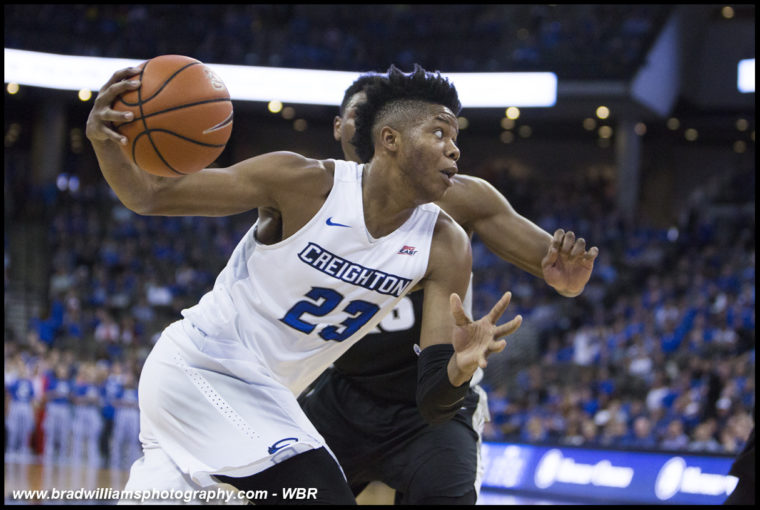 Creighton Bluejays Weekly Roundup (04/07/2017)
News and Notes from around Creighton and the Big East this week:
Justin Patton made it official by declaring for the NBA Draft and hiring an agent.
The World-Herald ran a "Battle of Bluejays" bracket during March Madness, pitting former Bluejays against one another in a 64-person bracket and soliciting votes on social media to decide who would advance. The champ was a surprise: 11 seed Tim Powers, who averaged 17 points and 10 boards in his Bluejay career during the 1960s. He once scored 45 in a game, which remains the fourth-highest mark in school history. The story of his family and friends rallying support for him in this bracket was an unexpected, but quite touching, end to what was probably intended as a fun, simple exercise.
The CBI named their all-time team to celebrate 10 years of the event, and Doug McDermott was among them.
All-time #CBI team as voted by fans: @brett_bisping @KennethFaried35 @dougmcdermott @Larrydn22 @nicholaf44 Congrats https://t.co/JsA5NzRQau pic.twitter.com/0cCBNhDDtl

— College BBall Invit. (@CBITourney) March 29, 2017
The news led some Creighton fans to wonder (jokingly) why Oregon's invisible half court line wasn't part of the group, since it played such a large role in Oregon's 2011 title…
Anyone remember this? I took this photo when I went to Oregon / Creighton in the CBI in 2011. I knew that court would be trouble. #zebrapen pic.twitter.com/FjKyHI7gy9

— Patrick Marshall (@wildjays) March 30, 2017
@mjdemarinis ha,not for Cali 🌮,treated us to 6 dinners at Ameristar Casino buffet during fall break tho,aswell as countless trips to Wendy's

— Doug Swenson (@CommonSwense) April 1, 2017
@mjdemarinis Applebees where available on the road for pregame meals, assorted buffets and Wendy's at other time on the road #memories

— Doug Swenson (@CommonSwense) April 1, 2017
@CommonSwense @mjdemarinis We were upgraded to bennigans and Arby's…lived high on the hog!

— Tyler McKinney (@tylersmckinney) April 1, 2017
@tylersmckinney @mjdemarinis what about Frosty's? I bet it was still chicken for pregame meal. I tried getting them to switch to steak🤷‍♂️

— Doug Swenson (@CommonSwense) April 1, 2017
@CommonSwense @tylersmckinney Did he ever upgrade you guys to The Drover after blowing out Nebraska or Southern Illinois, or was he afraid you would all transfer to UNO?

— Matt DeMarinis (@mjdemarinis) April 1, 2017
@mjdemarinis @tylersmckinney Anthony's was always the steakhouse of choice. Drover is supposed to be the real deal?

— Doug Swenson (@CommonSwense) April 1, 2017
@CommonSwense @mjdemarinis Always the dry chicken…clear memories of Kev walking in the hotel room during film sessions throwing Arby's sandwiches at us.

— Tyler McKinney (@tylersmckinney) April 1, 2017
@mjdemarinis @CommonSwense Think we only had steak if we won the conference tourney! Shannons?!?

— Tyler McKinney (@tylersmckinney) April 1, 2017
Georgetown finally settled on their new head coach: Patrick Ewing. While some questioned the hire, the NY Daily News praised it and in a back-page splash proclaimed "Ewing Back to Make the Hoyas Destroyas Once Again: THE BIG, BAD EAST." That's pretty entertaining as headlines go, but that line in the blue box at the bottom is just hilarious.
Here's our early BP, with Mets and Yanks to come. @apse_sportmedia @georgetownhoyas @georgetownhoops #patrickewing https://t.co/UPeN5bheW1 pic.twitter.com/Di2sIVrBBN

— Back Page Guy NYDN (@BackPageGuyNYDN) April 6, 2017
Some other articles of note regarding the Ewing hire:
ESPN's Joe Lunardi released his way, way, WAY too early 2018 NCAA Tournament bracket this week. Creighton's a #9 seed in Charlotte against Virginia, with #1 seed Florida awaiting in the second round.
And finally this week, the Jays Facilities Twitter account shared a photo of the Vinardi Center (or as it's better known, the "Old Gym") as it undergoes a transformation to it's next phase.
The Old Gym is looking a little different these days pic.twitter.com/rZwy0uQEBe

— Jays Facilities (@JaysFacilities) April 4, 2017
Comments
Tagged in: