Were You Aware Pat Venditte Can Pitch With Both Arms? A Q&A
With spring in the air, it can only be time for one thing (besides unpredictable, tornado-producing thunderstorms and sudden, unforeseen, 25-degree temperature drops) — America's pasttime. It's baseball season, so we at White & Blue Review will, at least occasionally, dig into our vast collection of contacts and see what former Secret Servais members in the pros are up to nowadays. Journalism! First up: everyone's favorite switch pitcher.
Every time I see former Creighton pitcher Pat Venditte on the mound, I grow slightly depressed. Here's this guy, pitching professionally with two arms, and here I am, never having been able to make even one arm good enough to play any competitive baseball beyond eighth grade. I'm typing this with eight to nine different fingers, though, so there's that.
Venditte, an ambidextrous relief pitcher who can hit the high 80s with his right arm and registers in the high 70s to low 80s with his left, made his Grapefruit League debut at Yankees spring training camp against the Atlanta Braves last Tuesday. The big stage, obviously, led to a mini-media firestorm that has inevitably come once or twice a year since Venditte's All-American junior year at Creighton.
Last Monday night, ESPN's Sportscenter noted that Venditte was scheduled to pitch for the Yankees the next day. On Tuesday, Tony Kornheiser and Bob Ryan discussed his unique talents on ESPN's Pardon the Interruption; MLB.com published an article about him; and he spoke with analysts on MLB Network. Wednesday morning, he appeared on the front page of Yahoo! Sports.
Of course, it's not much that Jays fans aren't familiar with by now. But White & Blue Review was able to catch up with Venditte and ask some other questions.
In 2008, after getting drafted in the 20th round by the Yankees, Venditte allowed only three earned runs in 32.2 innings and notched 23 saves for the Staten Island Yankees, the club's rookie league team. Last year, he split time between single-A Charleston and advanced-A Tampa. He had a 1.87 ERA and struck out 87 in 67.1 innings. Oh, and you know what? He pitches with both hands!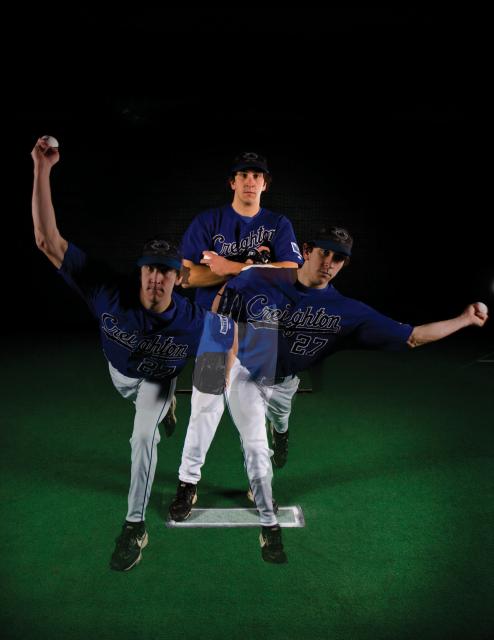 White & Blue Review: You made your Grapefruit League debut in Major League camp against the Braves on Tuesday. What was that like, entering in relief of C.C. Sabathia? What did Yankees manager Joe Girardi tell you before/during the game?
Pat Venditte: I can't describe the feeling. Running onto the field from that bullpen is something I will never forget. Joe handed me the ball and, to be honest, I have no recollection of what he said to me. The first thing I remember is [Yankees catcher Jorge] Posada telling me what sign we were going to go with because of the runner on 2nd base. After that, he just told me he wanted to see each of my pitches in warm ups. I was happy that I was able to leave C.C's runner on second to end the inning.
WBR: What were you told after the game?
PV: After the game I did not have that much contact with anyone. After the reporters left my locker I had to rush to shower and eat. I was the last one out of the clubhouse and just went straight to the bus.
WBR: During that experience with the big-league team, or any other times during the baseball season, were you able/are you able to seek advice from guys on the Major League team like Sabathia or A.J. Burnett? If so, what do they tell you? What kind of advice do they give?
PV: The starting pitchers are on their own routine, so it's difficult to find time to talk to them. But the bullpen guys were great. Joba Chamberlain, Chan Ho Park and David Robertson did not come to Disney World that day, but I was called up again two days later and was able to hang out with those guys in the pen. Chan Ho was wondering what I did to keep my arm loose if I had to face, say, 7 righties in a row then see a lefty. He had a good idea – he told me to just exchange the balls with the umpire, that way I could get a quick one throw warm-up to the catcher. Robertson showed me some different grips to use to try and make my breaking pitch a little tighter. All in all, the guys in the pen – as well as the other players on the squad – are great to be around.
WBR: Are you friends with or do you often talk to former Nebraska pitcher (and current Yankees relief pitcher) Joba Chamberlain?
PV: Before last week I had not really ever talked to him face to face. But we were able to talk in the pen against Toronto, then again Saturday in the Yankees futures game. In that game he made some comments about, when he was in Lincoln, how they always seemed to take care of the Bluejays.
WBR: Where are you going to start this season?
PV: I am starting the season in Tampa High-A. [Where he ended last year.]
WBR: What are your goals for this year? Do you have a certain level you'd like to reach?
PV: My goal is to pitch well wherever I am. As long as I do that, I will be happy. If they move me up, great, if not, that's fine with me as long as I am getting the job done.
WBR: Five, six years ago, did you ever think you'd be here?
PV: To be honest, no. Six years ago I was just looking for a school that would take me. It looked like D-II or NAIA were the only options until the walk on spot came about at CU. That was the biggest break I have ever gotten and the four years that followed were amazing and something I will never forget.
WBR: How much of your success do you attribute to the Creighton staff and your experience with the Bluejays?
PV: The coaching staff at Creighton played a huge roll in my development. Not only from a skills standpoint, but how to go about my daily business no matter what I am doing. The program stresses playing the game hard every day. The relationships that I was able to build with the coaching staff were, and still are, great. I have a tremendous respect for how they go about their business on and off of the field.


WBR: Do you keep in touch with any of your former Creighton teammates? Do you ever speak with or seek advice from any other former Jays in the pros?
PV: I do. [Former Creighton catcher Chris] Gradoville, [pitcher Kevin] Dooley, [pitcher Eric] Wordekemper, [catcher Brett] Mieras, [outfielder Zach] Daeges – the list is too long. I also have a lot of contact with the current players during the off season because we work out together. In season, I know how busy and focused they are. But I do speak to a few of the players from time to time. They don't need to hear anything from me. I am sure they have their goals in place and are working hard every day to achieve them.
WBR: Are you still able to follow the Jays amidst your own season?
PV: Every game. If I can't follow, my Dad keeps me updated every few innings. I also speak to coach Smith on a regular basis, and coach Servais and I will talk from time to time during the season, but I speak to him more frequently in the off season. I have been a Creighton Baseball fan and follower since I was old enough to go to games. Creighton baseball is a big part of who I am and I am very proud of the program. I am sure I will always follow closely.
Comments
Tagged in: