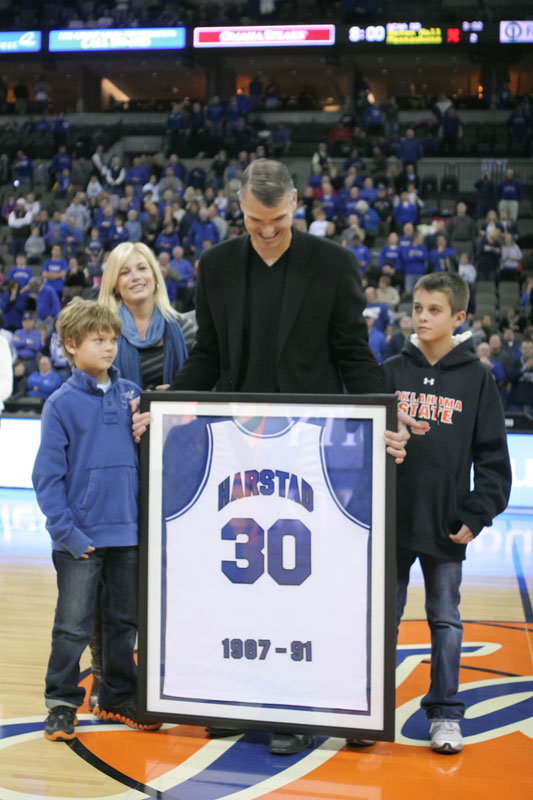 What's in a Number?
Officially, Creighton has retired three numbers in men's basketball: Bob Portman's #33, Paul Silas' #35, and Bob Gibson's #45. In recent years, there has been a grass-roots effort to add Bob Harstad's #30 to that list, and Athletic Director Bruce Rasmussen has indicated that might be a possibility in the future. But among longtime Jaybackers, other names also frequently surface in discussions about who else might be deserving of such an honor. As usual, this got me to thinking…who are the best players in Creighton history to wear each number? Has anyone ever compiled such a list?
Using a cornucopia of sources, including old media guides, game programs, Google, Statsheet.org, and Travis Sing's fantastic book "Creighton University Athletics: A History in Photographs", I first compiled a massive spreadsheet of virtually every player of note in CU history post-WWII. What qualifies as a "player of note"? Three things: the player must have used up his eligibility, played a minimum of two seasons, and compiled a minimum of 500 points scored in their career and/or 200 rebounds. Seems simple enough, right?
Well, it was — until it came time to decide the "best" for each jersey number. Duan Cole or Booker Woodfox? Both wore #14. Kyle Korver or Chad Gallagher? Both wore #25. How about #30? Both Bob Harstad or Kevin McKenna are all-time greats who wore those digits. What about #44? Rick Apke or Anthony Tolliver shared that number. Those are all tough calls to make.
So I solicited outside opinion to help: I sent the list to several longtime fans and asked them to vote for who, in their opinion, was the best player that wore each number. The results of those votes helped determine which players will be honored. Starting tomorrow, we will spotlight one jersey number a day, every weekday until the start of practice on October 15. That's 37 days, with 37 numbers. We'll lay out both the case for the player we think was the best, as well as that of the other players who wore that number, and if you disagree with our assessment, the comments section is always open.
Tomorrow we begin with #00, Benoit Benjamin. Stop back Friday when we take a look at #1, and try to decide between Justin Carter and Jeff Day, among others. And then every day next week — and every week for the next five weeks after that — we'll look at a new number, and a new group of players.
The Greatest Jays to Wear Each Number:
00 | Benoit Benjamin
01 | Justin Carter
03 | NickPorter
04 | Ben Walker
05 | Ryan Sears
10 | Nate Funk
11 | Johnny Mathies
12 | Josh Dotzler
14 | Duan Cole
15 | Kellen Miliner
20 | Larry House
21 | Gary Swain
22 | Vernon Moore
23 | Terrell Taylor
24 | Chuck Officer
25 | Chad Gallagher and Kyle Korver
30 | Bob Harstad
31 | Troy Bell
32 | Rodney Buford
33 | Bob Portman
34 | Mike Grimes
35 | Paul Silas
40 | Daryl Stovall
41 | Doug Brookins
42 | Coming Soon
43 | Coming Soon
44 | Rick Apke
45 | Bob Gibson
48 | Coming Soon
50 | Dane Watts
51 | Coming Soon
52 | Ralph Bobik
53 | Coming Soon
54 | Eddie Cole
55 | Nerijus Karlikanovas
98 | Ray Yost
Comments
Tagged in: