What's On Tap? Presented by CU Dining Services

Wednesday (September 19)
Creighton Women's Soccer vs. South Dakota State (6:00 p.m.)
The Bluejays (2-5-2) continue a four-match home stand Wednesday night against the Jackrabbits (2-5-1). CU looks to keep a unblemished all-time record against SDSU; the Jays are 7-0-1 against South Dakota State. The 2011 season started with a 1-0 win at SDSU.
Creighton Volleyball at Kansas (6:30 p.m., Cox Channel 2)
The Bluejays take a 10-1 record to Lawrence for a stiff non-conference test against the 11-2 Jayhawks. The Jays have never defeated KU in four tries, the last of which came in Omaha in 2010. The match will appear live on Cox Cable Channel 2 in the Omaha metro area.
Friday (September 21)
Creighton Men's Tennis at Drake Invitational (Friday-Sunday)
A week after his women's team went 12-8 in singles and 7-4 in doubles at the Drake Invite, Tom Lilly's men's tennis team heads to Des Moines for their first action of the fall season. Doubles play starts Friday at 4:00 p.m., and singles and doubles matches will continue Saturday and Sunday.
Saturday (September 22)
CU Spirit Fest Event: Getting Blue BBQ (4:30-7:00 p.m.)
Join us outside Morrison Stadium and Sokol Arena as we pregame before the volleyball and men's soccer matches. There will be food and drink for purchase.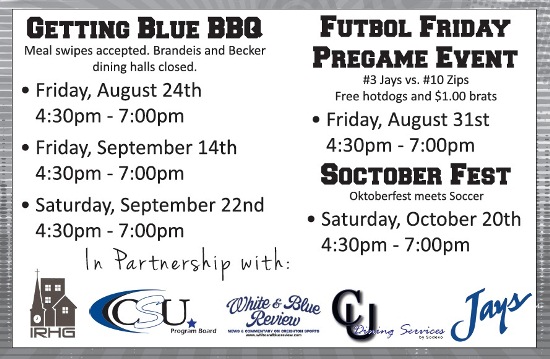 Creighton Men's Soccer vs. Saint Louis (7:00 p.m.)
The Billikens (4-2-0) will be Creighton's homecoming opponent, fresh off a win versus Missouri Valley Conference opponent Evansville. Tied at half, SLU scored three second-half goals (two on penalty kicks).
The Bluejays lead the all-time series 8-5-2; the teams last played in a regular season match in 2008, a two-overtime scoreless draw at Saint Louis. Of note, Creighton's Jake Brown will face his former team; Brown started 29 of 31 matches as a freshman and sophomore at SLU.
Creighton Volleyball vs. Drake (5:00 p.m.)
The Bluejays started Valley play 2-0 and host the Bulldogs in their single match of the weekend. CU is 23-15 all-time versus Drake, including a 12-7 home record. The Jays have won their last four matches against DU.
Creighton Men's and Women's Cross Country at Saluki Invitational (10:00 a.m.)
After finishing in the upper half of the Woody Greeno/Nebraska Invitational last weekend, Chas Davis takes his teams to Carbondale. Read a recent Q&A with Davis here.
Sunday (September 23)
Creighton Women's Soccer vs. Oral Roberts (1:00 p.m.)
The Bluejays and Golden Eagles haven't met since 1997; CU is 2-0-1 in three meetings all time. ORU will enter the weekend 4-3-2 before matches against Nebraska-Omaha Friday and Creighton Sunday.
Creighton Softball vs. Butler Community College (2:00 p.m.) and Bellevue University (4:00 p.m.)
Brent Vigness' Bluejays continue their fall season. Check photos from previous off-season games here.
Monday (September 24)
Creighton Women's Golf at SIUE Intercollegiate (Monday-Tuesday)
The Jays head to Edwardsville, Illinois, for their third event of the fall.
Tuesday (September 25)
Creighton Volleyball vs. South Dakota (7:00 p.m., Cox Channel 2)
Tuesday marks only the second meeting all-time between Creighton and South Dakota. The Jays beat USD at the 2011 Bluejay Invitational. This match is being televised on Cox Cable Channel 2 in the Omaha metro area.
Creighton Men's Soccer at Tulsa (7:00 p.m.)
Former conference foes square off for the 26th time when Tulsa comes to Morrison Stadium next week. The Jays lead the Golden Hurricane 15-8-2 all time.
The last two times these schools played, the Golden Hurricane were ranked in the top ten nationally. CU ended #6 Tulsa's season in 2008 with 2-1 win in the NCAA Tournament in Omaha. An early October meeting in Omaha in 2010 also ended with a Creighton victory (3-1) over a fifth-ranked Golden Hurricane team.
Comments
Tagged in: