What's On Tap? Presented by CU Dining Services

Thursday (September 13)
Creighton Women's Soccer vs. Missouri-Kansas City (7:00 p.m.)
Coming off a split last weekend against Nebraska-Omaha (4-1 win) and Cal State Fullerton (1-0 loss), the Bluejays (2-5-1) host the Kangaroos (2-3-2). The match begins a four-game home stand for the Jays, including the team's final three non-conference matches.
Creighton leads the all-time series against UMKC, 3-0-0, including a 2-0 win in Kansas City last season.
Friday (September 14)
CU Spirit Fest Event: Getting Blue BBQ (4:30-7:00 p.m.)
Join us outside Morrison Stadium and Sokol Arena as we pregame before the volleyball and men's soccer matches. There will be food and drink for purchase.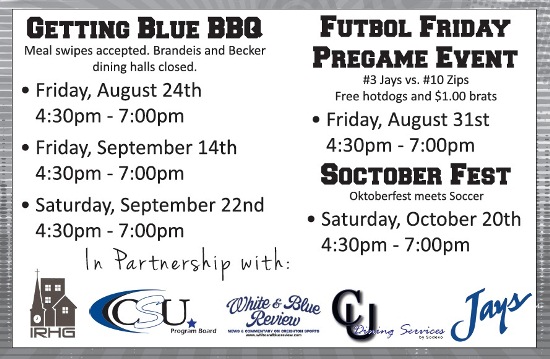 Creighton Volleyball vs. Missouri State (6:00 p.m. / 1290 AM KOIL)
With an 8-1 start to their season, the Bluejays enter Missouri Valley Conference play on a roll. The Bears (5-6) started slowly, dropping their first three matches before going 5-2 in their next seven contests. Creighton's among the national leaders in projected RPI entering a weekend that will test their teamwork against two solid conference foes.
The Jays are just 4-14 against MSU under Kirsten Bernthal Booth.
Creighton Men's Soccer vs. Old Dominion (7:30 p.m.)
Another weekend, another home-site invitational for the Bluejays men's soccer squad. Two weeks after winning the Ameritas Classic, the #2 Jays host #14 Old Dominion (4-0-0), William & Mary (1-2-1), and Drake (1-4-1) for the Creighton Invitational.
The Bulldogs and Tribe will meet earlier Friday, with the Bluejays and Monarchs squaring off in a meeting of nationally ranked programs in the night cap. Creighton and ODU have never met on the pitch.
Saturday (September 15)
Creighton Cross Country at Woody Greeno/Nebraska Invitational (10:00 a.m.)
Chas Davis will take his harriers to Pioneers Park in Lincoln for what promises to be a beautiful Saturday morning for cross country running.
Creighton Volleyball vs. Wichita State (6:00 p.m. / 1290 AM KOIL)
The Jays will wrap their first weekend of MVC play against the Shockers. WSU enters the weekend 6-3; the Shox face Drake in Des Moines Friday before meeting the Bluejays Saturday in Omaha.
Like Missouri State, the Jays have a losing record against WSU under Kirsten Bernthal Booth (7-13).
Sunday (September 16)
Creighton Men's Soccer vs. William & Mary (2:30 p.m.)
The last time the Jays and the Tribe met on the soccer field, #10 Creighton's 1995 NCAA Tournament ended in Omaha with a 2-1 loss in 4 overtimes. It was the longest match in Creighton history at the time.
Creighton Softball vs. Avila University (1:00 p.m., 3:00 p.m.)
The fall season continues for Brent Vigness and the Bluejays softball team. The Avila University Eagles, an NAIA program, come to Omaha for a doubleheader.
Comments
Tagged in: