Wildjays Wrap: Confusion in Chi-town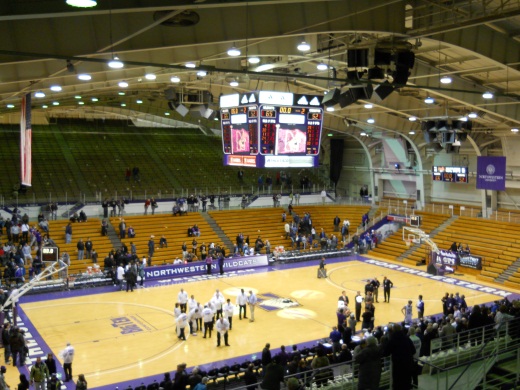 One thing about Northwestern that really surprises me is that being in the Big 10, they probably have one of the more challenging facilities in the conference.  No video boards, small venue, and no real chairback seating (granted there is one side that has some).  It is basically bench seating and reminded me a lot of  high school.  Even the starting lineups were done one at a time from each team where in most venues you have the visitors introduced and then the home team.  It makes things even more amazing that Creighton has the Qwest Center facility and the ability to hold maybe 3-4 times more fans and the fanbase it does have, whether or not some people think the Creighton fans are fair weather or don't show up.  I know Northwestern is in the Chicago metro area, but believe me when I say that we have it good.
***
Coming into Sunday night's game against Northwestern, one thing that our friend John Templon from Chicago College Basketball told us was that on defense, Northwestern was suspect.
There's a match-up 2-3 zone and a 1-3-1. The first gets exploited by teams that have good ball rotation and can get the ball to an open shooter when someone fails to close out in time — often Mirkovic or Curletti. The second is beaten by either penetration to the free throw line and then a good decision about whether to dish into the low post or take a reasonable jump, or by excellent three-point shooting.
Through the first half on Sunday night in Evanston, Creighton took advantage of both of those situations.  They had some good three-point shooting (4-of-10) and were able to get it down to Kenny Lawson (11 points, 6 rebounds).  Although the Bluejays had some defensive problems of their own, they were able to keep things close and went into halftime 40-32 with a little momentum. If you followed our Live Blog while we sat in the corner of Welsh-Ryan Arena, you could see some good things that just needed to be tweaked.
The second half was a totally different story and not in a good way–0-of-11 from downtown and Lawson was held scoreless the whole half.  Northwestern wasn't that much better at least in the beginning of the second half.  They came out in the second half and only scored 3 points in a little over six minutes to start the half.  The Bluejays could not take advantage of that drought, could not break down the defense that they handled relatively easy in the first half and eventually lost the game 65-52.
"We played well enough offensively the first half and we played well enough defensively in the second half," is what head coach Greg McDermott had to say initially, "We weren't able to sustain it for 40 minutes and a lot of that credit goes to Northwestern."
The Wildcats caught on fire at the 11:05 mark in the second half and went on a run where senior point guard Michael "Juice" Thompson turned on the juice and hit two straight three-pointers and then an alley-oop dunk to John Shurna to really put a dagger into any Creighton run that might have been left.  Shurna put on a little dunk-fest against the Bluejays.  On the other side of the coin, only Antoine Young and Doug McDermott scored points for Creighton in the second half.  Kenny Lawson was no where to be found.  Northwestern adjusted enough things at halftime that they were to effectively take Lawson out of the offense and Northwestern's 1-3-1 and matchup zone kept the Bluejays standing around.   "We got a little flat offensively, when they were changing defenses," said McDermott.
Creighton and Northwestern didn't look exactly sharp tonight, but as I watched the game, I could tell that Northwestern looked like they had more energy and maybe rightfully so since they were playing at home.  They also had nine days to prepare for the Bluejays while Creighton had one day.
Excuses aside, there is not any time to dwell on it as a few more tests await this week for the Bluejays.    On Wednesday, an undefeated and likely ranked BYU Cougars come into the Qwest Center for a matchup in the MWC/MVC Challenge.  With prolific scorer Jimmer Fredette coming in and Creighton's difficulty in keeping control of certain players, there is a lot to be worried about.  Then on Sunday, Creighton takes another road trip.  This time it is down to Lincoln to take on in-state rival Nebraska which is always a challenge in the Devaney Center the last few times as the Bluejays haven't won in Lincoln since the 2004-05 season.  There is not any time for confusion–this stretch will be big if the Bluejays are anywhere near postseason NCAA contention come March.
Comments
Tagged in: