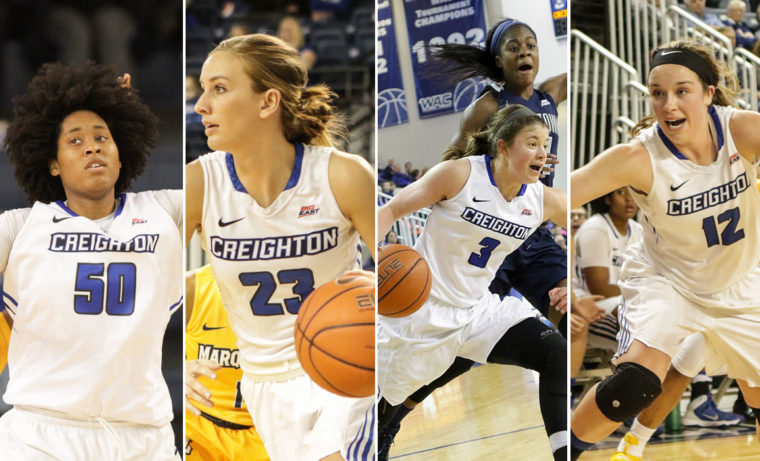 With an NCAA Tournament bid all but locked up Creighton's seniors say goodbye to their home fans
With an RPI hanging around the low 20's courtesy of a 17-3 record in their last 20 games, the four seniors on the Creighton women's basketball team are likely going to end their college careers in the NCAA Tournament next month. The one and only downside as a result of their strong season is that Sunday's game, which tips off at 5:30 p.m. against Big East rival St. John's, will be the final time that Brianna Rollerson, Lauren Works, Marissa Janning, and MC McGrory get to play in front of their home fans at D.J. Sokol Arena.
Their men's counterpart across the sidewalk in the Championship Center has a big game against Georgetown down the street at the CenturyLink Center that tips off three hours prior to the home finale against the Red Storm, but hopefully many of the Bluejay faithful will make time to head up after the men's game to give the 2017 senior class a memorable send-off. They certainly have earned at least that given how much they have sacrificed physically over the years as well as how they have impacted the community both on and off the court.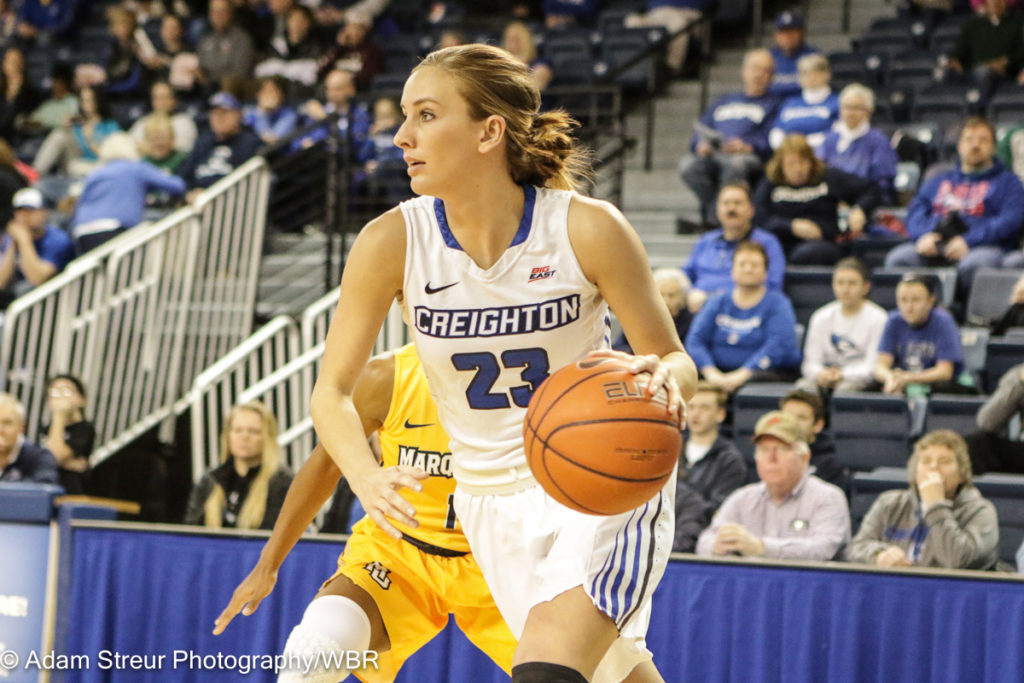 Marissa Janning paved a path from Minnesota to Omaha, and turned into a Hall of Famer
Jim Flanery on how Janning represented the program with her play on the court and her actions off of it:
"She's kind of elevated the program in a number of ways. She was our pipeline into Minnesota, but that doesn't happen if she was just a decorated high school player who came here and didn't preform or didn't play well.

"She's been a good ambassador for our program. Little kids want to go to dinner with her, and older boosters want to get connected with her and talk to her. She's done a lot of things outside of just on the court, which I think is neat, and she's never shied away from it — she likes you guys in the media, which is good because some people don't like talking. The thing that I value is she's kind of embraced the whole thing. She hasn't been like, 'I just want to play basketball.' She understands that along with being a good player there are outside responsibilities, and it's been neat how she's kind of carried that for our program.

"On the court the thing that doesn't get talked about enough is how she's been able to change roles year to year. To come in as a freshman and have to gradually become a point guard and a bigger contributor than maybe she thought as the season went on. Then as a sophomore to be our best scorer and a really good defender, then junior year to have to go back and forth between scorer and point guard. I think it's been undervalued how much she has had to change. That's not easy and yet she's done it.

"She's in phenomenal shape, which I think has made her a good all-around player. You look at her points, but she's going to be [in the top two] in the program's history in assists, she's been a really good defender her whole time here. All those things are important, and clearly she's been a big part of our success and a really good scorer, but a really good all-around player."
Marissa on what she wants the young fans who always waited for autographs and pictures after games to remember:
"I want them to remember that the reason why it's nice for us to take time out of our day for them is because I want them to do that when they are in my position. I always liked Lindsay Whalen — she was from Hutchinson, Minnesota — and when she played for the Gophers I went to an autograph session when I was like 10, and got a picture with her and an autographed basketball. She took time out of her day to chat with me, and I wanted to do that. It's like returning the favor and it's a domino effect.

"I want them to remember someone who never gave up and was as complete of a player as I tried to be, and the importance of doing the little things on both ends of the floor. And keeping a positive attitude and playing the game with respect — unless I'm hurt I'll never walk off the court, I'll always run. I just think things like helping your opponents up, and doing the little things for the game, that's how the game is supposed to be played. That's how I try to portray it, and I hope they see that and want to do those things. Whether it's within the basketball game itself or just being a good sport."
Janning's college career in retrospect:
85 wins
NCAA Tournament appearance in 2012-13 (advanced to Round of 32)
2012-13 MVC Regular Season Conference Title (shared with Wichita State)
2012-13 MVC Freshman of the Year
2012-13 All-MVC First Team
2012-13 Full Court Freshman All-American
2013-14 Big East Player of the Year
2013-14 WBCA Honorable Mention All-American
2013-14 and 2014-15 All-Big East First Team
2014-15 Big East Sportsmanship Award
1,837 points (4th all-time in program history)
959 points scored at D.J. Sokol Arena (most in program history)
14.2 career scoring average (10th all-time in program history)
475 assists (2nd all-time in program history)
248 assists at D.J. Sokol Arena (most in program history)
272 rebounds at D.J. Sokol Arena (3rd all-time in program history)
59 steals at D.J. Sokol Arena (2nd all-time in program history)
129 games played (tied for 5th-most all-time in program history)
4,164 minutes played (3rd all-time in program history)
1,794 minutes played at D.J. Sokol Arena (most all-time in program history)
259 3-point field goals made (4th all-time in program history)
620 field goals made (8th all-time in program history)
338 free throws made (6th all-time in program history)
79.7% free throw shooting percentage (7th all-time in program history)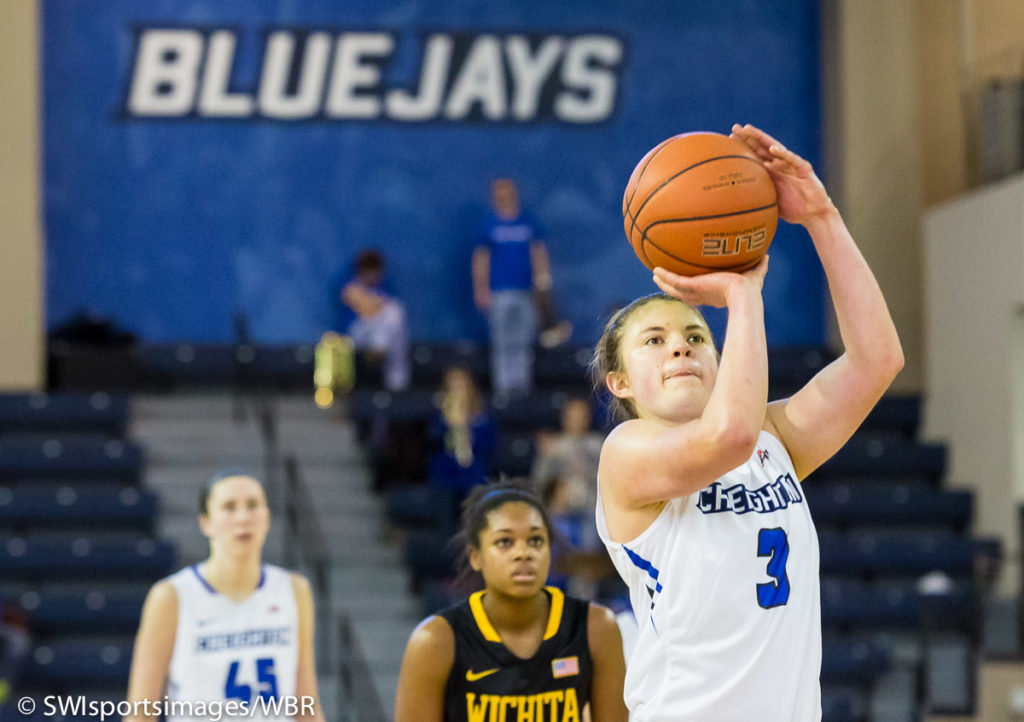 MC McGrory's competitive drive made her an easy leader to follow, even after concussions ended her playing career
Jim Flanery on McGrory as a player and a teammate:
"From a toughness and competitive standpoint, we've had few that fall into her league. I had so many fans comment to me about how they love watching her play because of her intensity and how much [effort] she gave.

"The other part is just how incredible she's been this year in terms of leadership. She has done an amazing job in the locker room and on the bench. I stand and watch her when we go over scout, and she's writing stuff down so she can tell kids during the game when they come to the bench. She's as engaged mentally in our practices as any injured player we've ever had. I think it would be one thing if she was an underclassmen and she was coming back to play next year, but she's not coming back and she's still incredibly engaged. She's been the leader of the goal-setting sessions that they have before every game. It's really cool how involved she has remained.

"Really good player, great student, a lot of fun to coach because she was super competitive. She elevated the level of competition in practice."
MC on how she wants the young fans in the stands to remember about her time at Creighton:
"That I played hard, that I gave it my all, that basketball can be fun, and that if you work really hard for something generally it pays off."
McGrory's career in retrospect:
55 wins
2014-15 CoSIDA Academic All-District VII First Team
2015-16 Big East All-Tournament Team
averaged 17.3 points, 6.3 rebounds, and 2.0 assists over four games in four days to lead Creighton to Big East title game vs. St. John's
2016-17 Preseason All-Big East First Team
798 career points
330 rebounds
178 assists
38.9% 3-point field goal percentage (7th all-time in program history)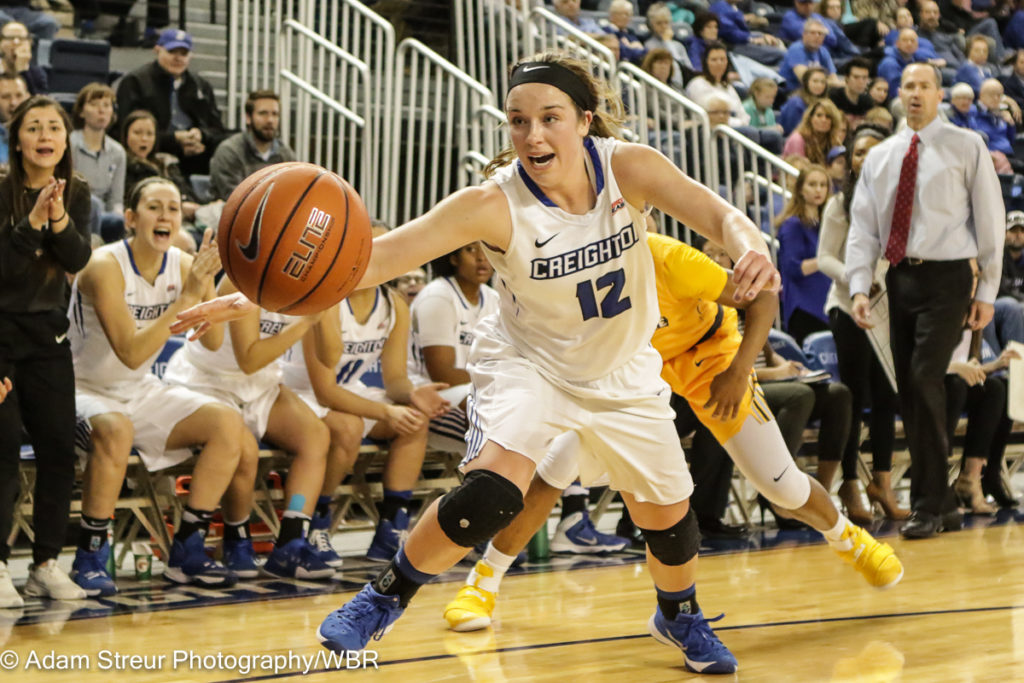 Lauren Works played the game of basketball with an attitude unmatched by her predecessors
Jim Flanery on how Works impacted her teammates with something as simple as a smile:
"The best/greatest energy-giver I've ever coached. She gives more in practice every day in terms of optimism, and cheerfulness, and positive reinforcement to her teammates of anybody I have ever coached. Nobody has consistently given more energy every day that has made her teammates feel more valued. She's just an absolute joy to coach because she has sucked about as much out of her athletic ability as anybody I've coached. I think a lot of people marvel that she has become this good of a player, but if they watched her approach every day they wouldn't be as surprised. You can't help but make a contribution when you have the kind of attitude and work ethic that she has.

"She's one of the better shooters that we've had in recent memory, a good decision maker, and has figured how to do what she can defensively to help us, and has become as good of a teammate as we've had."
Lauren on the few simple, but important things she wants the young fans to remember:
"I want those kids to remember that basketball is supposed to be fun, and that it's okay to laugh and smile and high-five your teammates. I think that's what I would like those little girls to take away just because that is what has carried me through basketball my entire life. A team as a whole is so much fun, and basketball is supposed to be fun."
Works' career in retrospect:
72 wins
693 points
288 rebounds
159 assists
147 3-point field goals made (7 away from 10th all-time in program history)
1,040 minutes played at home (35 away from 5th all-time in program history)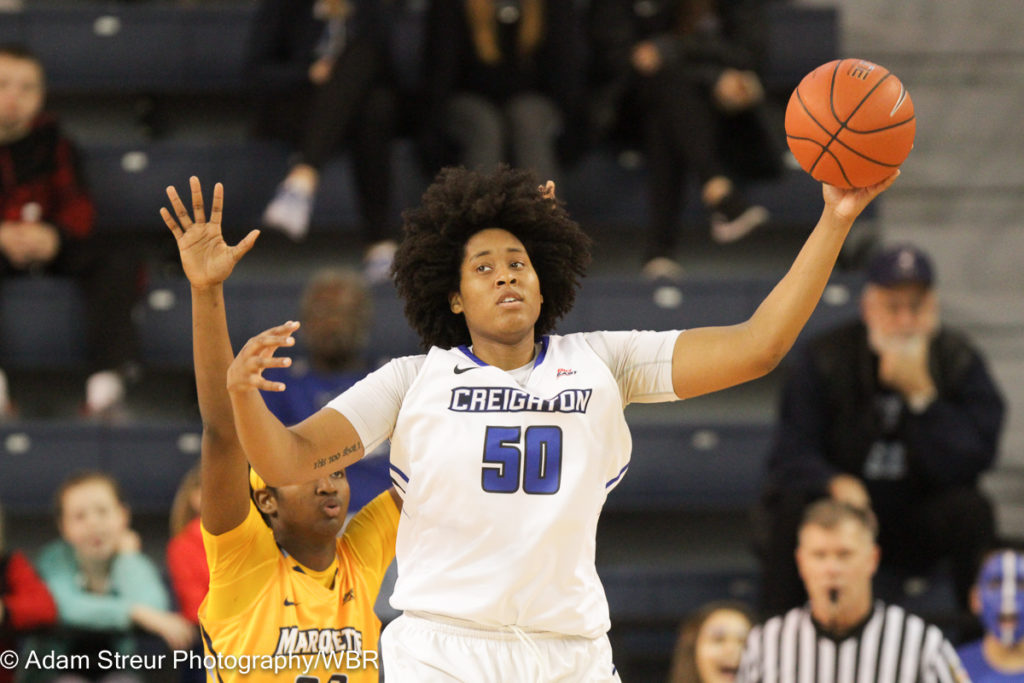 In front of her home town fans, Brianna Rollerson saved her best for last
Jim Flanery on a breakout senior season of 'Brifense':
"I'm really happy that this year has gone the way it has for her. She's fought some things over the years, and she's had stretches where she's played well and other stretches where she hasn't done as well as she would have liked, but she's put it all together this year.

"She's a fun kid. She's been a really good teammate. The players appreciate her sense of humor and her ability to keep things light, and she's been very coachable. She has really good hands, she's been a really good rebounder for us — she's been a good player for us, and yet I'm happy for her that she's kind of saved her best for last."
Bri on how much she'll miss playing for the community she grow up in:
"I've been in this community for a really long time, and they've been really supportive. It's kind of scary and a little sad to be almost done and having to leave everyone. I know I'm really going to miss it when it's over, so I'm trying to appreciate the time I have left."

"I just hope I was a good, positive influence. I hope I impacted some of the local kids because I'm from around here. I hope I can inspire them to want to go to college and play sports if they are interested. I want them to know just to go hard at a young age to be able to get here."
Rollerson's career in retrospect:
66 wins
711 points
355 points scored at D.J. Sokol Arena (10 away from 5th all-time in program history)
575 rebounds
286 rebounds at D.J. Sokol Arena (2nd all-time in program history)
115 blocked shots (6th all-time in program history)
66 blocked shots at D.J. Sokol Arena (2nd all-time in program history)
Comments
Tagged in: