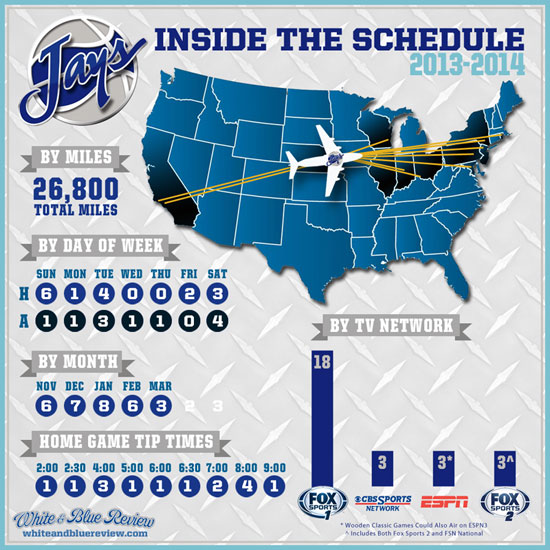 For months, the discussion of Big East hoops has been centered on off-court things like Fox Sports 1 and how the Big East fared in the realignment mess and what the New Big East needed to do to grab attention in it's first season and…well, the storylines have been too numerous to keep track of. Finally, with the release of the schedule, we can put all that behind us and actually talk basketball.
And oh what a schedule it is — perhaps the toughest collection of games since the Travelin' Jays of Red McManus, and undoubtably the toughest home schedule in school history. The ten teams in the Big East have gone 1,014-670 in last five years, an average of 20.28 wins per team, per year. The trend is even more impressive the further back you take the data; the ten teams have gone 2,966-1,876 in the last 15 years, which is a combined win percentage of .613. The level of competition on a night-in, night-out basis in the Big East will be phenomenal.
All 18 conference games will be televised on either Fox Sports 1 (1078 on Cox in Omaha), CBS Sports Network (1234 on Cox in Omaha) or FSN National (1047 on Cox in Omaha, though that one's familiar from the Jays' Valley days). Additionally, it was announced that FS1 will show four non-conference games (UMKC, Nebraska, Cal, Chicago State), FS2 gets the Arkansas Pine-Bluff game, and FSN National will show the Tulsa game. That leaves just three games without national TV coverage (excluding the Wooden Legacy, though if the Jays win and advance to the championship, all of those will be televised nationally on ESPN2).
The first thing that jumps out at you is how strange the schedule is, to accommodate all of those national TV dates. The Jays have nine days in between games at one stretch (January 28 vs St. John's, then they don't play again until February 7 against DePaul) and five days off at another stretch (February 23 vs Seton Hall, then a break until March 1 at Xavier). On the other side of the coin, they play games just one day apart four times and play games two days apart another four times.
The next thing that jumps out is all the national TV appearances. My goodness, all the national TV appearances. For a Jays team picked to be at the top of the league, they'll get tons of exposure with 14 conference games on Fox Sports 1, three on CBS Sports Network and one on FSN National.
It all kicks off with a New Years Eve clash against old rival Marquette, the capper to a five-game Big East hoops marathon on Fox Sports 1 that day. Whichever opponent Creighton had drawn for their first Big East game, the atmosphere would have been electric; but the fact that it's Marquette, at 9 p.m., on New Years Eve? Holy. Crap.
The Jays and Golden Eagles have played 76 times (MU leads 48-28), and were regular opponents as recently as the mid-nineties. Still, they haven't played since a 1998 NIT matchup, so getting them in Omaha for CU's first-ever Big East game is terrific.
Next up is a two-game road trip to Seton Hall and DePaul, with the latter coming on a Tuesday night — there's already been some disappointment expressed on Twitter and the Bluejay Underground that the easiest roadtrip of the conference slate, Chicago, is for a midweek game. Nonetheless, having these two games against the bottom of the league back-to-back should give the Jays a chance to get acclimated to life in the Big East before things get nasty.
A two-game homestand against fellow newcomers Butler and Xavier is next, with the Jays resuming the series with the Musketeers in a Sunday afternoon battle televised on CBS Sports Network. Then they go back on the road for games against new rival Providence (more on that in a minute) and Villanova. Of note, the game against 'Nova will be played at Wells Fargo Center, home of the 76ers, not at the Wildcats' on-campus arena where most of their games are played.
Then comes a doozy: on January 25, the Georgetown Hoyas visit Omaha for the first time ever, in a Saturday primetime game on FS1. It's part of a three-game homestand that also sees St. John's and DePaul come to town.
On February 9, the Jays go to NYC to play St. John's, and like Villanova before them, will not play at the Johnnies on-campus arena. Instead, they'll play at Madison Square Garden on a Sunday night, giving them a chance to play a game in the World's Most Famous Arena before the Big East Tournament.
A road contest with Butler is next, followed by a Sunday afternoon home game with Villanova. Then, in another slight disappointment, the next-closest road trip — Milwaukee — is again for a midweek game, as the Jays play at Marquette on Wednesday, February 19.
The oddball of the conference schedule, TV wise at least, is next up: a game televised on FSN National against Seton Hall. Then they go on a killer road trip to Xavier and Georgetown, followed by Providence to end the season.
That last game has also been the subject of some consternation, since it was previously announced each team's final game would be against a "rival." Providence and Creighton are the two teams furthest apart, geographically, and have played just ten times in their storied histories — none since 2000. It's a curious choice, and one that WBR will look at more next week when we talk to the guys at FriarBlog about the matchup. Likewise, we'll answer some questions for them on their site, as we get to know the Jays' newest archrival.
Beyond the schedule quirks necessitated by national TV and most of the conference playing in pro arenas (thus having to schedule around other teams), there's some other quirks. They play Georgetown, Marquette and St. John's — regarded as the Jays' top rivals for the Big East title this year — all three at home in the first half of the league slate, and all three on the road in the back half of the schedule. That could be significant. And down the stretch, they play three of their final five games on the road — against Marquette, Xavier and Georgetown — setting up a couple of brutal closing weeks.
Is it November 8 yet?
Comments