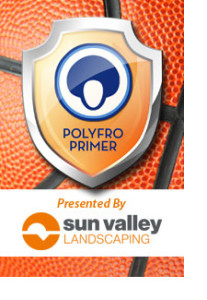 It's rare for an NCAA Tournament-caliber major program to play a true road game in Omaha, and even more rare for one from the west coast. Yet that's what we get on Sunday night when California visits the CenturyLink Center — a team that has made the NCAA Tourney four of the last five years. Oh sure, bottom-feeder major programs have visited Omaha every other year or so, but true, quality major programs? That's a bit more rare. The last time an eventual NCAA Tournament team from a major conference played the Jays in Omaha was way back in 1998, when Oklahoma State played at the Civic (losing 66-60). And the last time a Pac-12 (or Pac-8 or Pac-10) team of any quality, good bad or otherwise, played the Jays in Omaha in a regular season game was all the way back in 1978, when Oregon State came to town.
Picked to finish fifth in the Pac-12 preseason poll (two spots ahead of Arizona State, if you can believe that), Cal has got off to an 8-3 start that could ostensibly be even better if their star forward, Richard Solomon, hadn't missed two games in the Maui Invitational with an eye injury. They lost both of those games, to Syracuse and Dayton, struggling to replace the double-double that he averages per game (12.0 points, 10.6 rebounds). Luckily, the right corneal abrasion he suffered against Arkansas in the opening game in Maui healed quickly, and upon returning to the mainland, Solomon was back in the lineup.
He's a rebounding machine, snaring 109 rebounds in his last ten games dating back to the team's loss to Syracuse in the NCAA Tournament last March. A 6'10″, 235 pound senior, Solomon was completely neutralized by Gregory Echenique a year ago in Berkeley; he had nine points and five rebounds while battling foul trouble all night, and eventually fouled out. This year, the task of stopping him falls to Will Artino, who played just four minutes in the game a year ago and hasn't always been effective against big, physical big men, and Ethan Wragge, whose best defense might be dragging Solomon out onto the perimeter on offense and tiring him out. With Solomon coming off a big night — 17 points and 14 rebounds in a win over Fresno State — it's imperative they figure out a way to keep him in check, however they do it.
David Kravish, a 6'9″, 220-pound forward, teams with Solomon to give the Bears one of the most formidable front lines in the Pac-12. Averaging 12.4 points, 8.7 rebounds and 2 blocks a game, Kravish has three double-doubles in his last seven games. In the Fresno State game earlier this week where Soloman had 17 and 14, Kravish pulled down 12 rebounds giving the duo a combined 26 boards, nearly outrebounding the Bulldogs on their own!
If it seems like I'm harping on rebounds a bit too much, it's because that's the one area where I think Creighton is most susceptible to being dominated. Even with Echenique last year, the Jays lost the battle of the boards 53-38 (and 19-6 on the offensive glass) to the Golden Bears despite their leading rebounder being basically invisible. Kravish had 13 and Tyrone Wallace had 10, and both of those players return. The Jays were able to overcome being destroyed on the glass because Doug McDermott scored 34 points and they got stellar defense on the perimeter by Jahenns Manigat to take away the Bears' primary scoring threat, Allen Crabbe.
Crabbe was drafted in the first round of the NBA Draft last summer, but the Bears still have good scoring threats away from the basket. Chief among them is Justin Cobbs, a 6'4″ senior who is on the preseason watch list for the Bob Cousy Collegiate Point Guard of the Year Award and is 11th nationally in assists, averaging 6.6 a game. His career average of 5.1 assists a game is third-best in school history, and he's the active career assists leader in the Pac-12. He can score, too, pouring in 10.3 points a game including a 31-point effort against Dayton in the Maui Invitational. In 38 minutes a year ago against Creighton, he scored 18 points on 8-17 shooting, to go along with six rebounds and seven assists. His length could be troublesome for Creighton's guards — they had trouble guarding him a year ago, so it will be interesting who they assign to him this year.
All that and we haven't even talked about Jabari Bird, a Top-20 recruit that has impressed early on in his freshman year, highlighted by 17 points and 7 rebounds against Syracuse in Maui. The 6'6″ guard averages 11.9 points a game, and tellingly leads the team with 17 made three-pointers on the season. This is not a team that will shoot — or make — a lot of threes. They average 75 points a game but do it the high-percentage way, on second chances for their big men, on drives to the rim by their guards, and on medium-range jump shots. The majority of their offense happens inside the arc, which makes them pretty different from most of the Bluejays' opponents so far this year.
It's going to be difficult for the Jays to beat Cal at their own game, because they simply don't have the length or athleticism to be successful playing that style of game. Much like a year ago in beating them in Berkeley, the Jays will need a big night from Doug McDermott, a stellar defensive effort on their guards to prevent them from creating plays, and then hope for the best on the glass. At home, I like their chances, but this will be a nail-biter.
About the Golden Bears: With the win against Fresno State earlier this week, Mike Montgomery moved past former UCLA head coach John Wooden and into sole possesion of 27th on the NCAA's all-time wins list for Division I men's basketball coaches. Montgomery is the NCAA's ninth winningest active Division I men's basketball coach with 664 victories in 31 seasons … Cal has won at least seven of its first 10 games for the fourth time in Mike Montgomery's six years … Senior Justin Cobbs became the 43rd member of Cal's 1,000-point club with 18 points vs. No. 7 Syracuse on November 26, and ranks ninth in school history with 393 career assists … After scoring 73 points or more nine times out of 33 games last season, Cal has already topped the threshold in seven of its first 10 games this season, and the Bears' scoring average of 75.9 ppg. is up 8.7 ppg. from last season's 67.2 ppg … For the season, Cal averages 75.1 points per game and shoots 45.3 percent from the floor, 32.7 percent from three-point range and 70.7 percent at the line. The Golden Bears also outrebound foes by 6.5 caroms per contest.
One Big Paragraph with Lots O'Dots™: The Bluejays have won 14 straight regular-season home games against teams from BCS leagues (at the time of game) since the start of the 1996-97 season. Those 14 wins have been by an average of 11.4 points, with eight coming by double-digits, and none decided by fewer than six points … Creighton is 10-0 with eight double-digit wins in Sunday night home games during the CenturyLink Center era … Creighton has not played a regular-season home game against an active Pacific-12 school (at game time) since Oregon State visited the Omaha Civic Auditorium on November 25, 1978 … Creighton hasn't trailed in either of its last two games, lopsided home wins over Nebraska and Arkansas-Pine Bluff. In the 11 year history of CenturyLink Center Omaha, Creighton has led wire-to-wire in 43 games, but never in three straight contests … Doug McDermott has scored 20 or more points in nine of the 10 games he's played in this season, and 16 of his last 18 dating to last season.
The RUN-DMD Show: Doug McDermott enters Sunday's game 31 points shy of 2,500 career points. It's entirely possible that he'll surpass the mark in this game, as he owns 14 career games of 31 points or more, and dropped 34 points on Cal last season.
Only 63 men in NCAA history have reached the 2,500 point mark, and none since Jimmer Fredette (BYU), Andrew Goudelock (Charleston) and Charles Jenkins (Hofstra) did it in 2011.
Out of Context Ron Swanson Quote: "There's only one thing I hate more than lying: skim milk. Which is water that's lying about being milk."
The Last Time They Played: Last December 15, Creighton defeated Cal in Berkeley, 74-64, leading wire-to-wire. The Jays scored on three of their first five possessions and Cal missed on its first eight shots en route to a 8-0 CU lead after just three minutes. They'd hold Allen Crabbe, who entered the game averaging 21.9 points per game, to two first half points on 0-of-9 shooting from the floor thanks to outstanding defense from Jahenns Manigat. Crabbe would wind up with just 14 points for the game on 6-26 shooting, while Doug McDermott scored 34 points with 9 rebounds.
The Series: California leads the all-time series 2-1. The Golden Bears won 41-35 in Omaha in 1938, then claimed a 70-49 decision in Berkeley in 1987 before the Jays' win last year.
Greg McDermott is 1-1 in his career against California, as his Iowa State team fell 82-63 in Berkeley on Dec. 11, 2009. McDermott is also 1-1 in his career against Mike Montgomery.
Gratuitous Linkage: Highly-touted recruit Jabari Bird — ranked in the top 20 by most recruiting services — followed in his dad's footsteps by becoming a Cal Golden Bear. This terrific feature from the San Francisco Chronicle profiles the pair.
This Date in Creighton Hoops History: On December 22, 2006, Creighton defeated the Houston Cougars 80-72 in the semifinals of the Rainbow Classic in Hawaii. A fast-paced affair, there were 14 ties and three lead changes in the first half alone, which must have come as a shock to Houston coach Tom Penders, who had claimed earlier that year that no Valley team could get the ball across half-court against his defense, much less beat them. A fired-up Dane Watts had 21 points and 10 rebounds, while Nick Porter had nine points, eight rebounds and three assists off the bench.
Completely Random, Totally Rad Music Video of the Day: The Polyfro Primer is now in it's eighth (!) season, and for all seven previous years, this video has made an appearance in the final Primer before Christmas. It's cheesy, but it's also tradition.
The Bottom Line: Creighton wins a back-and-forth affair late.
Bluejays 79, Golden Bears 74
Comments