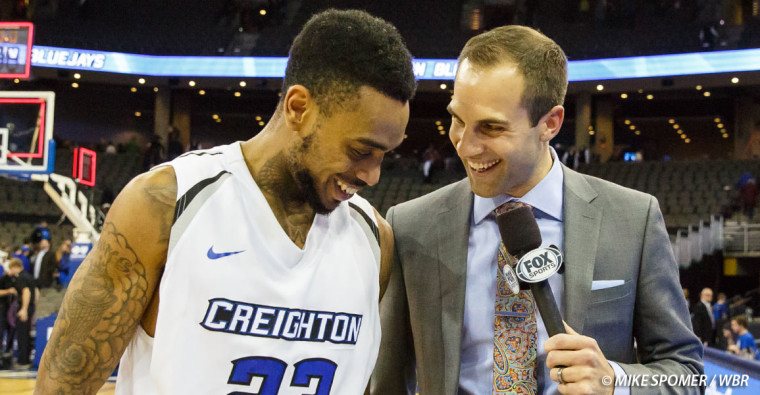 Creighton Men's Basketball 2015-16 Viewing Guide
This has been a long offseason for Creighton fans with the Bluejays missing the post season for the first time in almost two decades. But with basketball now back in full swing, there is a buzz in the air and an attitude with many of the new faces on the team that they are hungry to get Creighton back to the NCAA Tournament.
With that in mind, there may be more eyes watching the Bluejays this season. It is a little bit easier to find them on TV now that Creighton is in the Big East, with major networks carrying all of the games compared to the regional packages of the past in the MVC. But just in case you wonder where all the games can be found and the ways to watch, we have put together this viewing guide to get you up to speed on your options for the 2015-16 season.
FS1
TV in Omaha:  Cox 78 (SD), 1078 (HD); CenturyLink Prism 620 (SD), 1620 (HD); DirecTV 219; Dish Network 150
TV outside Omaha:  FS1 Channel Finder
Online Streaming Info: See Fox Sports Go Section below
Creighton will have 11 games on FS1:
12/12 vs. IUPUI, 4PM
12/21 vs. North Texas, 8PM
12/28 vs. Coppin St., 8PM
12/31 @ St. John's, 1PM
1/2 vs. Villanova, 9PM
1/5 vs. Georgetown, 8PM
1/9 @ Seton Hall, 1PM
1/12 vs. Providence, 7:30PM
1/17 @ DePaul, Noon
1/23 vs. Butler, 6:30PM
1/26 @ Georgetown, 5:30PM
2/16 @ Butler, 6PM
2/28 vs. St. John's, 1:30PM
FS1 is the home for Big East basketball. The lion's share of games will be on this channel, as FS1 has 100 games featuring Big East teams during both non-conference and conference season. However, the Bluejays will not appear on the flagship until December 12th when they host IUPUI. Starting with the North Texas game on December 21, they will have 10 straight games on FS1 taking them through January, but once February rolls around, the Bluejays are only on FS1 twice in their final 10 games.
Interestingly, there are not any Creighton games on FS1 against Big East opponents Marquette or Xavier.
FS2
TV in Omaha:  Cox 216 (SD) 1216 (HD-After Nov. 18); CenturyLink Prism 621 (SD), 1621 (HD); DirecTV 618; Dish Network 397
TV outside Omaha:  FS1 Channel Finder
Online Streaming Info: See Fox Sports Go Section below
Creighton will have 3 games on FS2
11/14 vs. Texas Southern, 8:30PM
11/17 vs. UTSA, 7PM
11/28 vs. Western Illinois, 7PM
FS2 has a record number of Big East non-conference games this season, with 15 total games. Most of FS2's schedule consists of games pitting a Big East squad against a lower level Division I team — games that are generally blowouts (and ratings sinkholes nationally). In Creighton's case, they appear on FS2 three times in a two-week span, all before the end of November.
NOTE: For fans in Omaha, Cox Communications recently announced that they are finally adding FS2 in HD to their lineup, over two years after the FS2 launch. Unfortunately, that is not taking place until November 18th, after two of the three Creighton games are on FS2. If you are adverse to watching Standard Definition video on your big screen like I am, you may want to stream it on your mobile device or your computer using the Fox Sports Go option detailed below.
FSN
TV in Omaha:  Cox 47 (SD) 1047 (HD); CenturyLink Prism 748 (SD), 1748 (HD); DirecTV 671; Dish Network 418
TV outside Omaha:  Varies depending on region. Check the Big East TV Schedule for full details.
Online Streaming Info: See Fox Sports Go Section below
Creighton will have up to 4 games on regional Fox Sports Networks:
1/30 vs. Seton Hall, 7PM
2/6 vs. DePaul, 1PM
2/13 @ Marquette, 7PM
3/5 @ Xavier, 1:30PM (tentative)
These will be the hardest games to find on TV depending on where you live. With the Fox Regional Sports Networks, there are situations where programming conflicts arise with professional teams that play in the area, and college hoops games have to be moved to some sort of secondary channel (if they're made available at all). This could be the case with all 20 Big East games on the FSN platform, including the four appearances for Creighton.
Around the country, there are several markets that do not have FSN regional networks. For example, out east, look for Big East FSN games on networks like MSG, MSG+, YES, or other sports channels that have agreements with Fox to carry their regional sports programming.
For the best bet on where to find these games if you live outside of Omaha and you aren't at the game in person, check our Big East TV Schedule page for the listing of regional networks carrying the game. We will also add up-to-date info on channels carrying the game in our Media Menu posts before each Creighton game.
NOTE: For the March 5th game at Xavier, there is a possibility that the game could be moved to your local FOX network station instead of FSN. Depending on which game has more at stake, Fox will put either Creighton/Xavier or Marquette/Butler on the network, and the other game on FSN. The decision on where each game will air will be determined later in the season.
Fox Sports Go
Online Streaming Info:  Fox Sports Go
For all FS1 and FS2 games listed above, they will be available through the Fox Sports Go online or through the different mobile apps.
For FSN games, they will be available on a game-by-game (and market-by-market, and in some cases, cable or satellite provider) basis depending on whether there is an agreement for the FSN channel in your area are to be included in the FS Go application. It's very confusing. The safest bet for FSN games is to just find your local FSN channel and watch the game that way, or head to a sports bar that has the ability to pull in out-of-market games.
CBS Sports Network
TV in Omaha:  Cox 234 (SD) 1234 (HD); CenturyLink Prism 643 (SD), 1643 (HD); DirecTV 221; Dish Network 158
TV outside Omaha:  CBS Sports Network Channel Finder
Online Streaming Info: None
Creighton will have 6 games on CBSSN:
12/2 vs. Arizona State, 8PM
12/9 vs. Nebraska, 7PM
2/3 @ Villanova, 7PM
2/9 vs. Xavier, 7PM
2/24 vs. Marquette, 7PM
3/2 @ Providence, 8PM
CBS Sports Network is the other major partner for Big East hoops along with FS1, carrying a total of 25 games involving Big East teams this season. What is significant for Creighton is that their highest profile non-conference games at home, Arizona State and Nebraska, are on CBSSN. Another interesting note is that three potentially important Big East games are on CBSSN — at Villanova, a home contest against Xavier, and a late season road game at Providence.
NOTE: Currently CBSSN does not stream games online. If you want to watch one of these games, you are going to have to find a TV that carries the channel.
ESPN Family
ESPNU
TV in Omaha: Cox 220 (SD), 1220 (HD); CenturyLink Prism 605 (SD), 1605 (HD); DirecTV 208; Dish Network 141
TV outside of Omaha: You may need to check your cable provider as it is sometimes in a different tier.
Online Streaming Info:  See ESPN3/WatchESPN section below
Creighton will have one game on ESPNU this season:
The Bluejays return the trip to Oklahoma after the Sooners came to Omaha last season. The 18 point comeback victory was probably the best game Creighton had all season; The Sooners may remember that.
ESPN2
TV in Omaha: Cox 30 (SD), 1030 (HD); CenturyLink Prism 30 (SD), 606 (SD), 1606 (HD); DirecTV 209; Dish Network 144
TV outside of Omaha: Your basic cable should have it. 
Potential game on ESPN2:
11/25 Finals of Las Vegas Tourney, 8:30 p.m.
The only possible game for Creighton on ESPN2 is the finals of the Men Who Speak Up Main Event tournament on November 25th. The Bluejays would need to get past Rutgers on Monday, November 25th to get on TV for the 8:30 p.m. final.
ESPN3/WatchESPN
Online Streaming Info: WatchESPN FAQ
In addition to the games above being available on ESPN3/WatchESPN, the Bluejays have one other game that will be available through the service:
The game will actually be available on TV in the Chicago area on CSN Chicago, but the online stream will be available through the WatchESPN app online. The link above will get you links to all the devices you can use to watch the ESPN family of programming.
Big Ten Network
TV in Omaha:  Cox 80 (SD), 1080 (HD); CenturyLink Prism 650 (SD), 1650 (HD); DirecTV 610; Dish Network 405 or 410
TV outside of Omaha:  Big Ten Network Channel Finder
Online Streaming info:  BTN2Go, Iphone, Ipad, Android
Creighton will have one game on the Big 10 Network:
This game is the first installment of the Gavitt Games. Since Indiana is hosting the game, their TV rights are controlled by ESPN and the Big Ten Network and the game was selected for BTN.  For online streaming, the BTN apps on mobile devices are Chromcast enabled. That means you could easily cast this to your big screen and feel like you are watching it on TV.
YouTube
Creighton's game against Rutgers in Las Vegas (at the "Men Who Speak Up Main Event") will not be televised, but it will reportedly be streamed via YouTube on this channel.  Details on the second game in the desert, on November 25th, depend on whether they win their first game or not. If the Bluejays are in the finals against Clemson or UMass, the game will be on ESPN2 (as mentioned above). But if they are in the consolation game, which is after the championship game, it will be webcasted on YouTube just like the opening game.
On the Radio
No matter where you are, the audio call of every Creighton Basketball game is also available locally on 1620AM, and worldwide either on their website (if you're on a computer) or via the 1620 The Zone app (if you're on a mobile device). John Bishop once again is the play-by-play voice of the Jays, with former Bluejay Nick Bahe as the analyst when he isn't on the TV side for Fox Sports.
In Omaha: 1620AM
From a Computer: 1620TheZone.com
From a Mobile Device: iPhone App, Android App
————
Enjoy watching Creighton this season whether it is in person, on TV or on your technology devices! It should be fun no matter what.
For a full schedule of Creighton games on TV, go here.
For a full schedule of all Big East games on TV, go here.
Comments
Tagged in: