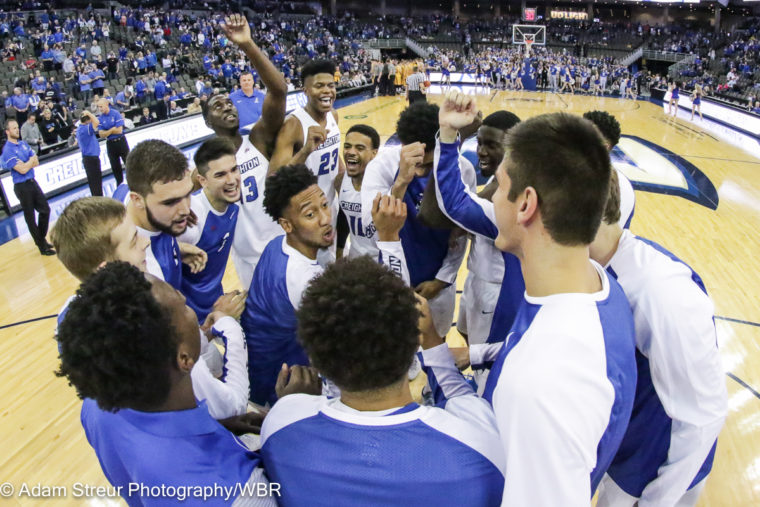 Highlight Reel: Creighton Beats Washington State, NC State, Ole Miss to Claim Paradise Jam Title
Over the weekend in the Virgin Islands, Creighton defeated three power conference opponents en route to the Paradise Jam title: Washington State, North Carolina State, and Ole Miss. Here's highlight reels from all three games, as always featuring every made Bluejay basket!
November 18: Creighton 103, Washington State 77
In the first half against the Cougars, Creighton made 63% of their baskets, went 10-15 from three-point range, and scored 60 points. They had an assist on eight of their first 10 field goals, with Mo Watson dishing out six in his first seven minutes of action — "Witchcraft" as WBR's Matt DeMarinis called it on Twitter. They made six of their first seven 3-point shots. And after 12 minutes of action, the outcome was basically no longer in doubt.
Enjoy all the highlights from this webcast-only game below!
November 20: Creighton 112, NC State 94
In piling up more than 100 points for the second straight game, the first half against the Wolfpack was good — nine assists on 20 made baskets, 55.6% shooting from the floor, and just six turnovers despite playing at a breakneck pace. In the second half, their numbers were even more absurd: 1.568 points per possession, with 12 assists on 20 made baskets, and just four turnovers. Oh, and they were 20-30 (66.7%) from the floor, 7-12 from three-point range (58.3%) and 11-11 from the line (100%).
For the game, Creighton scored on 45 of their 80 possessions, which is an average of 1.400 points per possession. How fast did they play? They used an average of only 15 seconds per possession, and quite literally ran a short-handed NC State team into the ground.
Watch all the fast paced action in the highlight reel from this big Bluejay win!
November 21: Creighton 86, Ole Miss 77
In the championship game of the Paradise Jam, CU rallied from a 10-point second half deficit to win, in large part due to Marcus Foster. In 37 minutes of play, Foster was 9-15 from the floor, 5-8 from three-point range, 2-2 from the line, grabbed six boards, and dished out three assists. In the first half when the Jays were struggling to make shots, he kept them in the game with three 3-pointers and an ability to make plays for himself. In the second half, he played a big part in finally breaking Ole Miss' 1-3-1 zone by putting his head down and getting dribble penetration into the teeth of the zone for high-percentage baskets at the rim, which had the side-effect of opening up some shooting lanes on the perimeter for his teammates.
Comments
Tagged in: