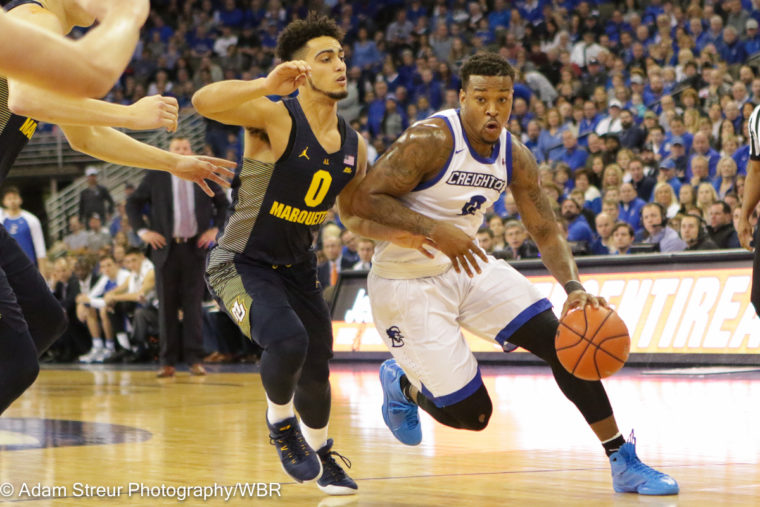 Weekly Roundup (03/31/2017)
News and Notes from around Creighton and the Big East this week:
Junior big man Toby Hegner had surgery this week on the ankle that had bothered him the second half of the season:
Don't worry I'll bounce back! 😈💉 @ MidWest Surgical Hospital https://t.co/NBAN4A2tZU

— Toby Hegner (@THeggs_32) March 27, 2017
Just got out of surgery, everything went well! Time to rest! Thank you everyone for your thoughts and prayers! #blessed

— Toby Hegner (@THeggs_32) March 28, 2017
Cole Huff reported that his mom, who suffered a stroke the week before the Big East Tournament, is doing well and back home:
Had my birthday a couple days ago. Mom healthy and back at home yesterday. Sister's birthday today. IT'S BEEN A GREAT WEEK

— Cole Huff (@colehoops) March 30, 2017
Kari Korver, cousin of Kyle, Kirk, Kaleb, and Klayton, wrapped up her UCLA career in the NCAA Tournament last weekend atop the school's three-point shooting list. Of the five Korvers to play Division 1 hoops, her 256 made threes ranks second.
Kari Korver went 5-of-11 from beyond the arc in her last college game. Her last make tied the UCLA women's basketball program record at 256.

— Matt DeMarinis (@mjdemarinis) March 25, 2017
Final Korver 3FG Count:
1. Kyle (Creighton): 371
2. Kari (UCLA): 256
3. Klayton (Drake): 241
4. Kaleb (Creighton): 116
5. Kirk (UMKC): 100 pic.twitter.com/1LidCrdfEd

— Matt DeMarinis (@mjdemarinis) March 25, 2017
Roberts Blumbergs, a 2017 recruit that Creighton is heavily pursuing, took an official visit to CU this week. The 6'9″, 205-pound Latvian native currently plays for GBA Sparta in the Czech Republic. He averaged 16.5 points with 9.8 rebounds in six games at the 2016 U18 FIBA European Championship, shooting 55% from the floor and 45% from three-point range. If Justin Patton heads to the NBA, CU would need another big who could step in and play immediately (their in-house options are Toby Hegner, Martin Krampelj, walk-on Sam Dunkum, and incoming freshman Jacob Epperson). Blumbergs could be that guy.
2017 GB Academy big man Roberts Blumbergs is on an official visit to Creighton, per source

— Corey Evans (@coreyevans_10) March 27, 2017
Background on Blumbergs, who will visit Grand Canyon tomorrow https://t.co/I9lB6PZdSl https://t.co/sbCyrDHYOo

— Corey Evans (@coreyevans_10) March 27, 2017
Speaking of recruiting, five-star Brian "Tugs" Bowen continues to weigh his options, and Creighton continues to be a legit landing spot for the highly-touted player. His LaLumiere team played in the Dick's Sporting Goods High School Nationals on Thursday, where Bowen thrilled the national TV audience with a pair of sparkling plays:
.@20tugs throws down the oop! pic.twitter.com/5L6pUG0cpZ

— DICK'S Nationals (@DICKSNationals) March 30, 2017
.@20tugs showing no mercy as he throws down the hammer! @LaLuBasketball leads 44-35 as we head into the 4th quarter! pic.twitter.com/a8vnUuIivS

— DICK'S Nationals (@DICKSNationals) March 30, 2017
Positive news for Seton Hall … minimizes the overseas option. https://t.co/XGSlnsQJWX

— Jerry Carino (@NJHoopsHaven) March 28, 2017
Xavier's Edmond Sumner also declared for the draft, but did hire an agent and will not return:
#XAVIERNATION pic.twitter.com/8SMvg9GmGC

— Edmond Sumner (@EdmondSumner) March 28, 2017
Every school reports revenue differently, so don't take this as gospel, but the difference is stark. Any theories for the MU jump? pic.twitter.com/pr2gDu95ls

— Paint Touches (@PaintTouches) March 24, 2017
.@NickBahe came to Creighton largely because of Dana Altman.

He then spent 'far too many hours' copying him: https://t.co/RbyJRU0pfv pic.twitter.com/Tun5utE2hj

— Josh Planos (@JPlanos) March 29, 2017
Nick Bahe talked to Altman on "Game Time", a thoroughly enjoyable 15-minute interview with his former coach:
And then later in the week Bahe talked with another former Bluejay, Brody Deren, about the feelings former players have with Altman's Final Four run:
And lastly, Sharpe & Benning talked to Altman's father, Lyle, about the excitement of watching his son coach in the Final Four:
Comments
Tagged in: