2010 WSU a Mirror of 2009 CU?
It is that time of year again. If you watch any broadcast of college basketball on ESPN, Fox Sports, or CBS, you will undoubtedly see a little thing they like to call "tournament resumes". This got me thinking. After last years shunning of the Creighton Bluejays from the NCAA Tournament, I have noticed that this season's Wichita State Shockers could be headed toward a similar fate. There are a number of similarities that really stick out, and you have to ask the question, will they be kept from the dance as an at-large team as well?
Let's take a look at the two schools' resumes. For comparison reasons, I will be using the 2008-2009 season totals for Creighton and the 2009-2010 totals for the Shockers. I will be assuming the Shockers win the rest of their games for overall record purposes, but I will be using the current numbers for all other categories such as RPI and SOS. So, here we go: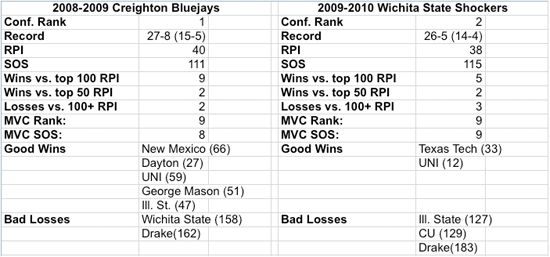 As you can see, there are some eerie similarities. The one that sticks out to me is the fact that each team is on the others "bad losses" list for their respective seasons. The MVC as a conference has stayed at about the same ranking as last year, and that is not good news for Shocker fans. There is constant talk about how the MVC is a single bid league, as all the talking heads assume that the Northern Iowa Panthers will walk away with the conference as well as Arch Madness tournament titles.
Both teams' RPI and SOS rankings are extremely similar. Which, if you're a Wichita State fan, could be worrisome as well. Because at the end of the Selection Sunday, a top 50 RPI and a top 120 strength of schedule didn't get the Jays in … the same Jays team that had been co-champs of the MVC in the regular season.
There are three categories above that would worry me if I were a Shocker fan; "Good Wins," "Bad Losses," and "Conference Rank". There are too many "Bad Losses" and too few "Good Wins" to really make them jump out as a team that deserves an at-large bid. Sure, they played Texas Tech when they were undefeated and gave them their first loss, but what else do you have, a split with UNI? They will have an opportunity to add to their "Good Wins" when they take on Utah State (RPI = 53) in the annual BracketBusters event next week. They have also displayed some vulnerability with three "Bad Losses" to Illinois State, Creighton, and Drake. In comparison, the last season's Creighton team was able to post 5 "Good Wins" and only 2 "Bad Losses," which should have shown they were vulnerable but were more likely to play up to their opponent.
Finally, and there is room for improvement in this category, although time is running out, the "Conference Rank". One thing that many Creighton fans were hoping would be a big bonus for their team was sharing the conference title with Northern Iowa. Obviously it did not have the pull we would have liked, but it can't hurt to get the tie rather than have a second place finish on the resume.
This will be an interesting situation if the Shockers are to do anything but finish out the season with 6 more wins and a run through the conference tournament. Will the selection committee bring WSU in if the Shox were to lose in the conference semis? Will they shun the Shockers like they did the Bluejays? It will be interesting to see how this plays out, but what are your thoughts on Wichita State as a potential at-large team?
Comments
Tagged in: