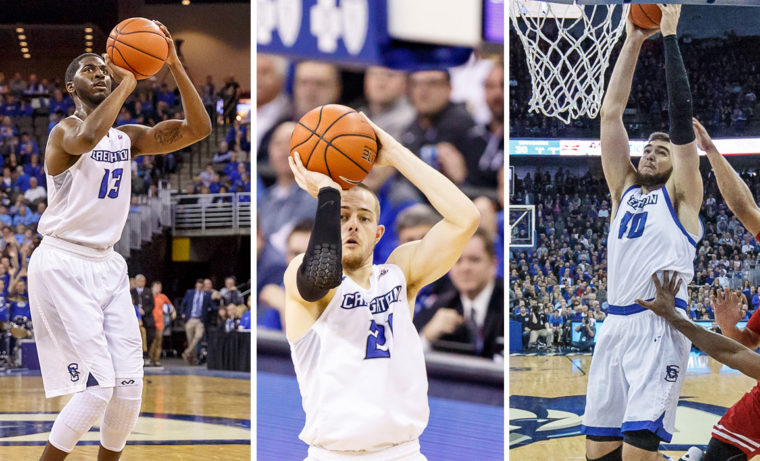 2016-17 Senior Tributes: Isaiah Zierden, Zach Hanson and Cole Huff
Tuesday night, Creighton will honor three seniors following the game vs. St. John's: Isaiah Zierden, Zach Hanson, and Cole Huff. Zierden has been a Bluejay the longest, arriving before their final MVC campaign in the fall of 2012; Hanson joined the team in 2013, and Huff in 2014. The Bluejays are 5-0 with five double-digit victories against in-state rival Nebraska since Zierden arrived on campus, 6-3 in conference tournament play, and the trio have combined for 1,906 points, 757 rebounds and 199 assists in a collective 275 games and 101 starts in a Bluejay uniform.
As their Bluejay careers wind down, we thought we'd take a look back with individual highlight reels for each player!
Isaiah Zierden came to Creighton with a reputation as a three-point sharpshooter, having been named by Rivals.com as one of the Top 10 three-point shooters in the Class of 2012. As a senior in Minneapolis, Zierden finished as the runner-up to Oklahoma State-bound Phil Forte in the nationally-televised High School Three-Point Championship on ESPN, adding to the excitement for his arrival on campus.
He redshirted during Creighton's final MVC season in 2012-13, and by the next season Zierden quickly became an asset during his freshman year despite a veteran-heavy team led by four seniors, playing nearly 11 minutes a game off the bench and shooting nearly 40% from the field. He broke out for four 3-pointers in a road win at Long Beach State on December 3, hit a pair of threes in the "Ethan Wragge Game" at #4 Villanova in January, and set the screen that freed Doug McDermott for a game-winning shot against St. John's. His season ended prematurely when he dislocated the patellar tendon in his right knee at Xavier on March 1, costing him the chance to play in the postseason.
As a sophomore, Zierden ranked second on the team with 9.5 points and shot just under 40% from three-point range (44-111), while playing 27.9 minutes a game mostly off the bench. The first four games of the season he was almost unstoppable — he scored 16 points with three steals in the season opener against Central Arkansas, followed it up with 18 points on four 3-pointers in the second game vs Chicago State, had 20 points with another four 3-pointers against North Carolina Central, and then had 18 points with five 3-pointers against Ole Miss in the Emerald Coast Classic. As defenses began keying on him as their primary defensive target, Zierden's production went down, and in early January his season once again ended early with another injury to his right knee — this time a partially torn MCL and patella injury.
Zierden started all 31 games that he played in his junior season, playing a team-high 31.7 minutes and averaging 10.2 points, 3.3 rebounds, and 2.3 assists a game. He made the fifth-most three-pointers in the Big East (70-182), though by this point his knee injuries had turned him into primarily a spot-up three-point shooter — 78% of his shot attempts came from behind the arc, after nearly half of his attempts came inside the arc as a freshman. Highlights included scoring 10 points in the first eight minutes of a rout over Nebraska, scoring 16 points with four steals in a road win at Seton Hall, and a career-high 31 points with eight 3-pointers in a road win at DePaul. But once again, his season ended early, as a shoulder injury kept him from playing in the team's three NIT games.
As a senior, Zierden's became a weapon off the bench with Marcus Foster sliding into the starting lineup, but in fewer minutes his numbers went up. His shooting percentages are far and away the best of his career (40-89, 44.9% overall; 35-78, 44.9% from three) though nine of out every ten attempts are three-pointers. He scored 12 points with four 3-pointers in a win over NC State in November, 12 points with four 3-pointers in a road win at Arizona State, 15 points with four 3's in a home loss to Marquette, and 13 points with three 3's in a win over Georgetown. Following the injury to Maurice Watson, Jr., Zierden became part a three-man committee at point guard that has changed his role — and his production — significantly.
Zach Hanson joined the Creighton program right as they began the transition to the Big East Conference, and the burly 6'9″, 245-pound center has been a solid contributor all four seasons on the Hilltop. A two-time Gatorade Player of the Year in South Dakota (Hanson won the award after both his junior and senior seasons), Hanson selected the Jays over offers from Nebraska, Missouri, Iowa State and Gonzaga.
As a freshman, he came off the bench in 24 games, and was one of their most productive "per minute" players, with 29 points and 10 rebounds in 41 minutes during Big East play. Hanson had eight points, three rebounds, an assist and a blocked shot in seven minutes vs. Butler in mid-January, scored six points in just five minutes of action at #4 Villanova later that month, logged five points and two boards at Xavier on March 1, and had six points in a semifinal win over Xavier in the Big East Tournament.
Hanson initially split time with Geoffrey Groselle at center as a sophomore, starting eight games as Greg McDermott and staff waited for one of them to emerge as the full-time starter. Both players struggled with inconsistency, but Groselle eventually took over the starting job and Hanson became the backup. For the season he averaged 3.8 points and 2.4 rebounds in just under 12 minutes a game, but his best games came late in the season — 11 points at #25 Georgetown, nine points and four boards at Butler, and four points, three boards and an assist in a Big East Tournament win over DePaul. He even had a key tip-in dunk late in their January 28 win over St. John's, snapping a nine-game losing streak.
With Groselle entrenched as the starter, Hanson settled into the role of primary backup and had a solid junior season, averaging 6.8 points and 3.1 rebounds per game. He scored nine points with five rebounds and two blocks at #3 Oklahoma in December, and later that month went 6-6 from the floor for a then-career high 13 points with three blocks against North Texas. Once Big East play rolled around, he continued to put up solid performances and provide a spark off the bench — 10 points, six rebounds and a block at Seton Hall, 12 points on 6-6 shooting at Georgetown, a career-high seven rebounds vs Seton Hall at home, and nine points, four boards and three blocks vs Marquette. In their second-round NIT game against Wagner, he took advantage of their lack of size to the tune of a career-high 14 points, three rebounds and an assist.
Coming into his senior year, Groselle had graduated but Hanson would now be splitting time with another center — five-star freshman Justin Patton. A preseason injury limited Hanson's ability to get ready for the season, and Patton became the starter almost by default. Though Hanson came back sooner than expected and played in the season opener, Patton — much like Groselle before — took advantage of an opportunity to grab the starting role, and never looked back. Hanson once again accepted the backup role and flourished, put together a string of big games to begin the year, making 16 of his first 18 shot attempts spanning four games. The big start reached a zenith against NC State, as he scored 11 points with eight boards on 5-6 shooting, but the next day he suffered an injured ankle against Ole Miss and would miss the next two months. Upon returning, he's resumed backing up Patton and has once again provided solid minutes in the post.
Cole Huff transferred to Creighton from Nevada, and sat out the 2014-15 season as the Jays limped to a 14-19 record. Huff had been a scorer at Nevada, earning Honorable Mention All-Mountain West honors as a sophomore after averaging 12.4 points with 5.4 rebounds, and his presence seemed to be exactly what CU needed — a veteran shooter with the ability to make jump shots from anywhere.
A knee injury that has nagged him his entire time at Creighton likely robbed Huff from realizing his full potential, and you wonder what he might have done fully healthy because despite the injury, Huff has had moments of sheer brilliance offensively. He scored in double figures in nine of his first 12 games as a Bluejay, was named MVP of their tournament in Las Vegas after averaging 19.0 points and 5.0 rebounds in two wins, and had 35 points in a Big East Tournament quarterfinal loss to Seton Hall. In between, he had 14 points and 11 boards at St. John's, 28 points (including an incredible 18 in the final five minutes of the first half) in a home win over DePaul, and 21 points, seven boards and five steals at #5 Xavier, to name a few.
As a senior, Huff has started all 29 games so far, and averages 9.1 points and 4.0 rebounds while making 47.7% of his three-pointers. He's scored in double-figures in 13 of 29 games, including 20 points and 10 rebounds against NC State, 13 points on 4-5 shooting from three-point range at Nebraska, and 13 points on a perfect 7-7 from the line at home against Seton Hall. Throughout his two seasons on the Hilltop, Huff's been a bulk scorer — when he's on, he often scores points in bunches, but the knee injury often prevents him staying warm long enough to play big minutes and limits him defensively. But Huff's had some of his best games on neutral floors, from Las Vegas to the Caribbean to the Big East Tournament. If that continues this March, he could be a key factor in the Jays making some noise.
Comments
Tagged in: