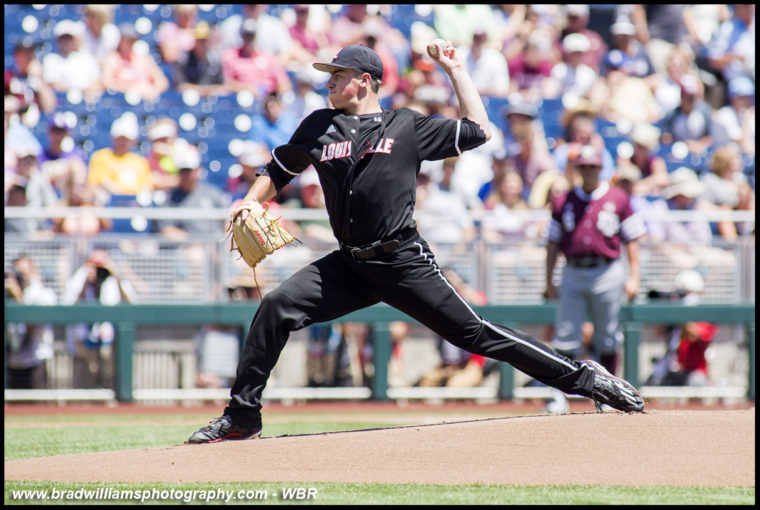 7th-seeded Cardinals swing and sling their way into CWS winner's bracket
Rob Childress knew that his ball club faced a steep uphill battle if they found themselves behind early against an ultra-talented Louisville team. Unfortunately for Texas A&M that's exactly what how things played out as the seventh-seeded Cardinals (53-10) hung a five-spot on his Aggies (41-22) in the second inning and went to post an 8-4 victory on Sunday afternoon at TD Ameritrade Park Omaha.
Louisville junior Brendan McKay, a three-time John Olerud winner for the best two-way player in the nation, got the big inning started with a base hit to left field. First baseman Drew Ellis followed up with a single to right to move McKay to third, then shortstop Devin Hairston made it 1-0 with a RBI single through the left side. Ellis came home to score one batter later when right fielder Colin Lyman dropped a bloop single down the line in left. A bunt moved Lyman and Hairston over to second and third, and a walk by center fielder Logan Taylor loaded the bases with two outs. That brought up junior catcher Colby Fitch, who promptly drove in both Lyman and Hairston with two-run base hit to right field on a 3-2 pitch by Aggies starter Corbin Martin.
Childress had seen enough and went to the bullpen, but Martin would get another earned run added to his final line when second baseman Devin Mann greeted right-hander Brigham Hill with a first-pitch RBI single to left field to cap off the five-run frame.
"With Corbin, the first was, 'hey, here we go.' It was game on," Childress said of his starting pitcher. "He was three up, three down, and we were in the fight. Each time I saw a replay of the pitch that was made when they strung together four straight hits in the second inning. He didn't get anything to his glove side — very rotational. Everything was running back out over the plate. They did a really good job against him.

"After the first inning, if you said, 'Rob, you're going to go get Martin the very next inning,' I would have said you're out of your mind. He was so good in the first. Give Louisville credit, they did a nice job against him."
Sophomore catcher Cole Bedford set up two-run rallies in the fourth and sixth inning to get Texas A&M back in the game. He drew a leadoff walk in the fourth and scored two batters later on sacrifice fly to deep straight away center field by left fielder Walker Pennington, then in the sixth he singled to left to get things started before scoring three pitches later on an RBI double by right fielder Blake Kopetsky.
Just like that, what once looked like a commanding lead was now down to one, but the Cardinals, behind their junior two-hole hitter, would rebuild it quickly. With two runs already on the board courtesy of his bat, Colby Fitch extended the lead to 7-4 in the bottom half of the sixth when he fouled off three pitches to work the count full before drawing a walk with the bases loaded to push across a run.
He added his fourth run batted in of the afternoon two innings later on an RBI double down the left field line that brought pinch-runner Ryan Summers around to score to make it 8-4.
"He did a nice job," Childress said of the Louisville backstop. "We had him down in some 0-2 counts, advantage counts for us, and he laid off some really tough pitches. He has a very good two-strike approach. He's very competitive and certainly had a nice day for them."
On the mound, McKay struck out six batters over five-plus inning of work to improve to 11-3 on the season. He finished with a 72% first-pitch strike rate, generated swings and misses at an 11.3% clip, and went to a three-ball count against only four of the 25 hitters he faced on the afternoon. Things got off to a rocky start for the two-way superstar, but after allowing the first two men to reach he retired nine of the next 11 batters to settle into the game.
"Early on [my stuff] was working well," McKay said. "First hit of the game was an 11 or 12-pitch at-bat, and probably 90 to 95 percent of them were quality pitches, but he was just making good swings to keep moving the count to get to a pitch he could handle, and he finally got one and got on base. But outside of that, I worked out of a lot of jams. It's hard to pitch effectively when you're in jams like that, but I think throughout your career you learn how to pitch and how to minimize, which worked today."
He left without recording an out in the top of the sixth after the Aggies trimmed the lead to 5-4. Fortunately for one of the best two-way players in college baseball history, his teammates were ready to pick him up. Fitch's clutch at-bats helped to rebuild the lead, and right-handers Sam Bordner and Lincoln Henzman combined to throw four perfect innings of relief to put the Cardinals in the winner's bracket game at the College World Series for the first time in the program's four all-time trips to Omaha.
"Very happy to be 1-0," Cardinals head coach Dan McDonnell said after the game. "It's the first time in the history of our program even though it's something we talk about often. You know the 1-0, 1-0 game, but we're mostly alluding to the Regionals. So I'm obviously very happy and very proud of these guys."
Hill Keeps A&M In The Fight
After Louisville started teeing off on Aggies starting pitcher Corbin Martin, head coach Rob Childress turned to another rotation arm in junior right-hander Brigham Hill calm the waters.
Hill, who had started 16 games on the season entering the day, allowed an RBI single on his first pitch of the game, but settled in after that to prevent Louisville from blowing the game open. Overall, he scattered three hits and struck out four during his three and 2/3 innings of work, and retired seven in a row before he was chased from the game in the bottom of the sixth after allowing consecutive singles with one out.
The performance didn't surprise his head coach, how early in the game it was needed, did, however.
"He was the first guy [we were going to]," Childress said. "I just didn't think it would be in the second inning — thought it would be in the fifth or sixth. He did a nice job. He slowed them down a little bit. He gave up a single and they were able to score the fifth run off the end of the of the bat, a flare, then he gets out a jam in the third — first and second, nobody out, we back pick a guy and all of a sudden the momentum is coming back to us.

"In the next inning or so he was pretty good. I'm very proud of him for giving us a shot. We just weren't able to be mostly perfect to give us a chance, but he certainly gave us a chance to catch our breath and let us grab some momentum."
Bottom Of The Lineup Sets The Table For Louisville
Normally you see hits, walks, and runs scored coming from the guys in the top spots in the batting order with the runs batted in coming from the middle of the lineup after driving them in. But on Sunday afternoon, the Cardinals got a lift from the guys in the six, seven, and eight spots to help spark the offense and create chances.
Shortstop Devin Hairston went 2-for-3 with a run scored and an RBI, right fielder Colin Lyman had a 2-for-4 day with two runs scored and an RBI, and left fielder Josh Stowers added a base hit and a run scored. Together they set the table for leadoff man Logan Taylor, Colby Fitch, and Devin Mann, who combined to drive in six of the team's eight runs.
"There is not a lot that separates you from teams that necessarily don't make it [to Omaha], but the top teams in the country really have good bottom halves of the lineup," Louisville head coach Dan McDonnell said.

"We got Josh Stowers sitting in the eight-hole — he's probably going to be a middle of the lineup hitter for us; Colin Lyman, a senior, in the seven spot, so it's something that throughout the year it is the difference. Everybody is good one through five across the country. It's usually that six through nine that can separate you from being a good club to a special club."
Father's Day Memory Fresh On Cardinals Skipper's Mind
Louisville's last win in the College World Series also happened on Father's Day … back in 2007. He remembers having his father — who has since passed away — in attendance for the game. After the Cardinals wrapped up the 8-4 win, Dan McDonnell had the prayer card from his dad's funeral tucked away in his back pocket.
"We've got two wins in Omaha and both have been on Father's Day," McDonnell said. "My dad was here in 2007 with my Uncle Rich. Even though he wasn't in the best shape, he was here, and I got great memories of that. So today, in my back pocket, I kept the funeral card from my dad — it's an Irish blessing. My dad was a good Irishman and he loved life. I remember putting that in my back pocket thinking my dad would love this today. So Father's Day has been very good to the Cardinals."
Comments
Tagged in: