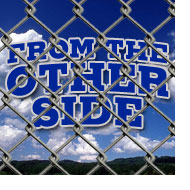 They always say once you get to conference play, anything can happen. In the Missouri Valley Conference, that statement isn't too far from the truth.  The Valley standings through the first three games are a bit interesting.
It is probably not too much of a surprise to see Creighton sitting at 3-0 right now.  The Bluejays have had their challenges against Evansville, Illinois State and Indiana State, but have lived up to their billing.
On the other side are the Drake Bulldogs. They have started conference play 0-3 including their most recent loss to Missouri State on Saturday. That was probably one they were expected to win.
To give us a little more on the Bluejays opponent on Tuesday night, we turn to Mark Emmert from the Des Moines Register.  Here is what he had to say about the Bulldogs.
White & Blue Review: What kind of expectations were there for Drake at the beginning of the season? Do you think they are where they expected to be at this point in the season?
Mark Emmert:   It was hard to know what to expect from Drake as the season began, what with eight new players and the transfer of Rayvonte Rice. I picked them to finish fifth in the league, based on who they had returning and the reputation of some of the newcomers. Obviously, that's looking too optimistic now. This team was expected to beat teams like Bradley and Missouri State, certainly.
WBR: How is Mark Phelps doing bringing this program along? Is there any added pressure to his coaching position this season?
ME:   He retooled his roster significantly for Year 5, and the results have been disappointing. Crowds have been dismal, too. That would lead me to believe that there's a fair amount of pressure to get this turned around now.
WBR: What was the key to Drake coming up short against Missouri State on Saturday night? Was it a surprise that Drake did not get the win?
ME: Certainly a surprise to lose that game at home. Drake got off to a terrible start and trailed 36-20 with a minute left in the first half. They made a run to get to 43-42, then couldn't stop the Bears. Biggest problem for the Bulldogs was poor long-range shooting. They were 6-of-21 from 3, and they can't win when those shots aren't falling.
WBR: How is Seth VanDeest coming along after sitting out all of last season with a shoulder injury? How is he now compared to his freshman season?
ME:  VanDeest is much heavier and able to bang with the bigger bodies in the league now. He's actually playing pretty well, scoring in the low block and getting to the free-throw line. But the extra weight has also caused some pain in his feet, and his minutes are limited as well by a lack of conditioning. They need more from him than he's able to give right now.
WBR: Who is a player that Creighton fans need to be aware of that they may not know about, but should?
ME:  I'll give you two – freshmen Micah Mason and Joey King. Mason has taken over the starting point guard spot in recent games (although he sat out the Missouri State contest with the flu), and is a terrific shooter. He was a prolific scorer in high school in suburban Pittsburgh, and Drake recruited him after seeing a blurb about him in Sports Illustrated's "Faces in the Crowd" feature. King is a 6-9 forward from suburban Minneapolis with a nice outside shot and a high motor. He has 36 points in Drake's past two games, but is still learning to play defense at this level.
WBR: Drake is 302nd in the nation in team rebounds per game. What are the Bulldogs doing to try and work on that deficit?
ME:  Well, they talk about it a lot. I can't say any of that has translated into production, though. The Bulldogs have at least held their own on the boards in Valley play, but Jordan Clarke is their only elite rebounder. This could be a real problem area against Creighton.
WBR: What is your opinion on conference realignment? Do you think the MVC is a good place for Drake in the long term?
ME:  I, like many people, am experiencing realignment fatigue. There's just too much change, for no discernible competitive reason. Drake has been a great fit for the Valley and I don't see it ever seeking to leave. I'm really not sure what other conference would seek Drake out, anyway.
WBR: What is your final prediction? What will it take for the Bulldogs to leave Omaha with an upset win?
ME:  No prediction other than to say a Drake victory would be a monumental upset. The Bulldogs will need to get about four guys hot from the arc and shoot their way to a win, something they haven't done in a long time.
Comments