Hey, its time to get all lathered up for the annual road trip to Des Moines, where Creighton fans turn the Knapp Center into Qwest Center East! Oh, sorry, I've got Dick Versace on the brain today.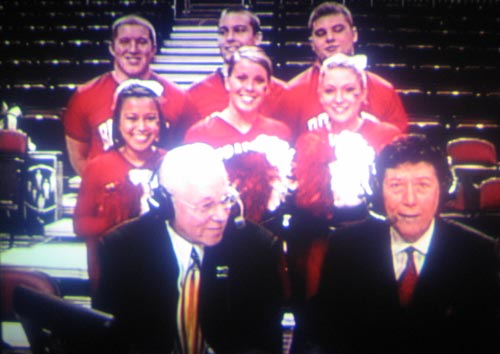 How about those Bradley announcers from the other night, eh? The opening segment (depicted above) had me rolling in laughter — Frank Bussone and Dick Versace, setting up the matchup in an empty arena while the cheerleaders shake pom-poms behind them. I was at a downtown bar for the game, and convinced I'd gone overboard, I considered switching to soft drinks. Then our Carnivore's Delight pizza came out, I wised up, and I ordered another beer. Turns out I wasn't delusional; that segment actually happened. We proceeded to drink some beers, eat some pizza, and watch the game with such intensity that people at the next table would exclaim, "Wow, those guys are really getting lathered up watching this game!"
I'm too young to remember Dick Versace as the coach of Bradley, but I vividly recall him as an NBA analyst on TNT. I'd never heard of Frank Bussone before, but I get the feeling I've bought a car from him before…
Anyway, as the Jays prepare for the rematch with the Drake Bulldogs, they know they're going to have to play hard and get all lathered up if they're going to be successful. I said it again, didn't I? DAMN YOU Dick Versace and your alluringly addictive phrases!
When these two teams first met in early January, both were struggling and desperate for a win. They're both playing much better (or at least, winning more games) now, and are both in the top half of the conference standings. Drake switched to a three-guard lineup in mid-January, and has been streaking ever since. They won five straight MVC games after dropping their first four; a loss to first-place Northern Iowa on Wednesday put them back at .500 with a 5-5 record in the league. Preseason all-MVC guard Josh Young has been stellar again, and he leads Drake in scoring with 13 points per game and in assists with 53.
Meanwhile, Creighton has yet to put a full 40 minutes together, but they've been better at the end of games lately which has contributed to their 6-4 MVC record, positioning themselves alone in third place. Whether they're playing better basketball now then they were when these teams first met is debatable. The results have been better, though, and as February nears, that's all that matters. Essentially, they've been getting lath… um, better play down the stretch of games, hitting free throws at a better clip and making just enough plays to win. You almost got me again, Other More Different Dickie V. IN YOUR FACE, DICK VERSACE.
Three things to look for:
One, every even-numbered year of the last decade featured an overtime game between Drake and Creighton. Seriously, this is a real stat. Recaps courtesy of Rob Anderson and the CU Sports Information office:
In the 2000 meeting in Des Moines, Creighton led by five with 1:37 to play, only to see Drake tie it up. Drake would win 74-70 in overtime.

In the 2002 meeting in Des Moines, Creighton led by 10 with 11:23 left before Drake would rally to go up 82-77 with 49 seconds left. However, CU got a pair of three-pointers to force overtime and did not trail after opening the extra session with a lay-up from Tyler McKinney.

In the 2004 meeting in Des Moines, Drake trailed by four before scoring nine unanswered points in the final 33 seconds of double-overtime. CU had led by 11 with 7:39 to play before the Bulldogs rallied with a 14-0 run. Drake won, 78-73 in double-overtime.

In 2006 in Des Moines, Creighton trailed 43-28 with 17:41 to play before Pierce Hibma sparked a rally. CU took a 51-49 lead with 8:36 to play before eventually heading to OT tied at 63. In the extra session, Dane Watts banked in a three-pointer to give CU the lead for good, and the Jays ended up winning 72-67.

In 2008 in Omaha, Creighton led 54-52 with 37 seconds left. Eventual MVC Player of the Year Adam Emmenecker would miss a lay-up, but Leonard Houston would make a putback with 24.9 seconds left to tie the score. CU had the ball for a final shot in regulation, but Chad Millard's three-pointer from the right corner missed long. In the overtime, Drake outscored Creighton 14-6 for the 68-60 win.
Of course, the first meeting of 2010 did not go into overtime. So if you're looking for a wild, crazy and irresponsible bet, put five bucks on Saturday's game going into OT. Worst case, you'll lose money for a beer or two. Best case, you'll look like Basketball Nostradamus, who is surprisingly adept at anticipating passing lanes.
Two, Creighton has gotten standout performances from its Iowa-native players in past trips to Des Moines. Anyone who remembers Pierce Hibma doing a Kyle Korver impersonation not once but twice at the Knapp Center knows what I'm talking about. Can Kaleb Korver or Casey Harriman play the role tomorrow?
Three, Drake is calling for a White Out tomorrow, meaning my blue-on-blue retro RBK kicks will give away my allegiances from a mile away.
Good three point shooting can cover up a lot of other shortcomings. Witness the 12 makes on Wednesday in Peoria. If the Jays hit at least eight triples, they'll be in excellent shape for a win. Less than that, and they're going to have to rebound and defend better in order to win.
One Big Paragraph with Lots O'Dots™: Drake is 10-12 on the season and 5-5 in the Missouri Valley Conference, but the Bulldogs are 5-1 in their last six games … Preseason all-Valley guard Josh Young ranks in the top-five in Drake history in points scored, three-pointers and free throws. This year, he leads Drake in scoring at 13.1 points per game and in assists with 53 … Guard Ryan Wedel averages 11 points per game and tops the club with 43 three-pointers, with forward Adam Templeton not far behind with 10 points, 7 rebounds and 40 triples … Big man Seth Van Deest is one of the MVC's top freshmen, averaging 8.3 points per game, 4.8 boards per game, and 1.4 blocks … Adam Templeton has been the key figure in Drake's recent six-game turnaround, averaging 15.3 points, 9.2 rebounds and shooting 64.0 percent from three-point range (making 16 of 25) in the club's current 5-1 stretch … Drake is 6-6 at home, where it is averaging one warm body shy of 4,000 fans per game (that's a way more fun thing to type than "3,999″) … This will be the 23rd straight meeting between the schools that a member of the Korver family has been on the roster of one team or the other. Kyle was 6-2 in such games, Klayton 4-7, and Kaleb is 2-4 so far … Creighton has played at least one Iowa native in 498 straight games. That streak dates to a Feb. 5, 1994 win against Wichita State. Further, every Creighton team since 1988-89 has had at least one Iowa native … A win Saturday would be Dana Altman's 200th MVC win at Creighton.
The Last Time They Played: Kenny Lawson Jr. and Justin Carter each scored 17 points as Creighton withstood a late Drake rally to post a 73-69 win over visiting Drake on January 6 in Omaha. Creighton led the entire second half, but survived a nail-biting finish. Up two with 11 seconds left, Creighton inbounded the ball to big man Lawson, who took a dribble and was trapped in the corner. His pass back to the middle of the floor was stolen by Drake's Ryan Wedel, who tried to tip the ball into the hoop. His attempt missed, as did a tip-in try by Josh Young.
The Series: Creighton leads the all-time series with Drake by an 88-56 margin, though Drake leads 35-32 in Des Moines. CU's 88 wins and 144 meetings with Drake are easily its most against any opponent. Creighton has won 11 of the last 16, 14 of the last 20 and 21 of the past 29 meetings between the schools.
Gratuitous Linkage: Why do late-night talk show hosts always design their sets with the desk on the right? A fascinating question that as a designer, I couldn't answer before I read this short piece.
The Totally Random Song I'd Play Right Now if I was Still a Radio DJ: As I wrote last Sunday in the Missouri State Primer, I'm thinking its time for a little trip through the Rocky IV Motion Picture Soundtrack. And because the team keeps on winning, I'm going to keep on doing it. Today, we watch the indomitable James Brown singing "Living in America." You bet.
The Pick: Three-point shooting covered up some still-existing flaws Wednesday in Peoria. But that's for coaches to worry about. I'm a fan, and I like winning. Lets do it again. One of the Iowa Boys on the roster will play the role of Josh Jones from the Bradley game, and lead the team with four or five triples.
Creighton 69, Drake 64
Comments