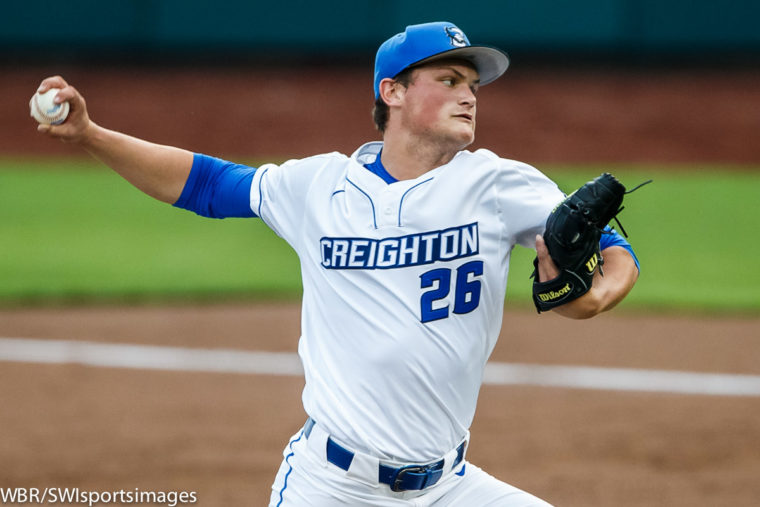 'Baby Jays' bounce back to even season series with Nebraska
With the three-game series against in-state rival Nebraska spread out over the course of one mid-week game at different points of the season, the game usually serves as a barometer to test out how well or how poorly the Creighton baseball team is playing at that particular time.
It was that way in the first meeting — a 14-6 Husker win on April 4th down in Lincoln — when the Bluejays fell to 8-15 just before welcoming a nationally-ranked St. John's club coming to town to open Big East play, and it was that way again on Tuesday night at TD Ameritrade Park when senior right-handed pitcher Austin Stroschein held Nebraska's offense in check to help Creighton earn their seventh consecutive win behind a 5-2 decision to further prove that this batch of underclassmen and inexperienced 'Baby Bluejays' are learning how to fly on the fly.
Freshman second baseman Isaac Collins was 2 for 3 at the plate with two runs scored, sophomore catcher Michael Emodi was 3 for 4 with an RBI and added a pair of runs himself, while Stroschein — a senior in just his second year with the Bluejays — scattered five hits, allowed just two runs, and struck out four batters in five-plus innings on the mound to even the season series with the Huskers at one game apiece.
"We didn't have a very good showing two weeks ago when we played Nebraska down in Lincoln," Creighton head coach Ed Servais said. "You could just tell that the guys were not pleased with how we performed. We are much better than that. Today was more indicative of what kind of team we have, so I was very proud."
After Stroschein opened the game with a scoreless, 16-pitch top of the first inning, Collins and Emodi grabbed control of the game by combining to produce an early lead. Collins started it off with a one-out walk on four pitches, then safely stolen second base despite sophomore shortstop Thomas Luevano swinging and missing on a hit-and-run attempt. After Luevano grounded out to second, Emodi stepped to plate and ripped the first pitch he saw into center field to score Collins and give the Bluejays a 1-0 lead in the bottom of the first inning.
The young second baseman and catcher were the catalysts again for the Bluejay offense in the bottom of the third inning. Collins led off with a bloop single to center field, and Emodi lined a one-out singled into left-center before freshman right fielder Will Robertson moved them into scoring position by wearing a 2-2 pitch on the knee.
Producing the runs was left up to a couple of seniors as left fielder Riley Landuyt scored Collins with a ground ball that rolled between the legs of third baseman Angelo Altavilla, then Bryce Only brought home Emodi to make it 3-0 on a one-hop ground ball to second base.
"Our approach at the plate has changed quite a lot since the beginning of the season," Collins said. "Tonight, getting that 3-0 lead early was really big. It gave us a lot of confidence."
Though the plan going into game was to get six outs from Stroschein, the right-hander from Marion, Iowa allowed just four base runners through the first five innings. In his third start against the Huskers in the last four meetings between the two teams, he proved to be better than he'd ever been before in his brief career at Creighton.
"You reflect a little bit on [those past performances], but you have a lot of adrenaline built up for those guys," Stroschein said. "There are a lot of fans that show up and they bring a lot of energy too. It's always fun.

"They have a bunch of good hitters in their lineup over there, and they are well-coached, so the biggest thing is to keep them off balance. Never repeatedly do the same thing over and over again, because then they can time you up … you have to use a different tempo, a different pace, mix in different off speed pitches, and go inside and out with the fastball."
The only time in the last four meetings that Stroschein didn't take the ball to the mound first was two weeks ago in Lincoln when Ed Servais opted to start left-hander Jeff Albrecht for what doubled as the weekend starter's weekly bullpen session.
But Servais had no hesitation about giving the Iowa native the ball on Tuesday night, even if the plan was for him to only throw a couple of innings.
"Austin is a very competitive young man," said the 14-year Creighton skipper. "I don't know if you can notice that on the field, but if you come to practice and watch some of the drills that we do, he's a very competitive guy. This situation is not too big for him, and the team played well behind him because he first of all had good poise on the mound.

"That's one thing we didn't have two weeks ago, and that's why we didn't play very well behind our pitchers that night. Austin is a senior, he's been very patient, but he's a very competitive guy. He's not afraid of this opportunity and this moment here."
Strochein proved to be in complete control of the moment before finally hitting a speed bump in the top of the sixth.
Angelo Atlavilla and center fielder Jake Meyers led off the frame with consecutive base hits to put two aboard and chase Stroschein from the game. The Huskers' rally gained some steam when first baseman Ben Miller drove Ethan DeCaster's first pitch of the night into center field for an RBI single, and when Luis Alvarado's one-out come-backer off DeCaster's glove rolled safely into no man's land to score Altavilla. DeCaster wiggled out of the jam by inducing two straight ground balls to first base to leave the tying and go-ahead runs in scoring position.
That would prove to be the last gasp for the Husker offense as Creighton added a pair of insurance runs on one-out RBI singles by Landuyt as well as freshman designated hitter Parker Upton, after both fell behind 0-2 in the count no less, to make it a 5-2 lead for senior David Gerber to close out in the ninth.
"It was very important that we got those runs late before to kind of ease the situation a little bit before Dave Gerber came into the game," Servais said as the final three outs didn't come as easily as the first 24.
Gerber both walked and hit a batter in his one inning of work to bring the tying run to the plate, but wrapped up his school-record tying 24th career, along with Creighton's seventh win in a row, by getting Nebraska's every day table-setter in Jake Meyers to ground out weekly to Collins at second base.
The win moves the Bluejays to one game below .500 at 15-16, and keeps their momentum of late going as they head into this weekend's three-game home stand against the Villanova Wildcats.
Comments
Tagged in: