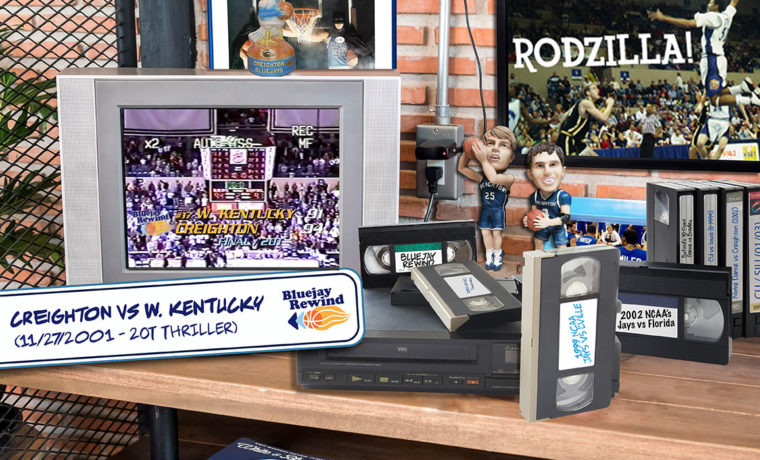 Bluejay Rewind: Jays vs #17 Western Kentucky (11/27/2001)
Ed. Note: "Bluejay Rewind" is our popular summer series that looks back at games from years past, including highlight packages. Not all of these games are classics in the traditional sense, but all of them feature terrific performances from Bluejay greats, and we think you'll enjoy watching them as much as we did.
The footage presented here is the game film shot by Coach Dana Altman's film coordinator. It has no commentary, with only ambient sound from the raucous Civic crowd as a soundtrack — the sound is a bit rough, and though we've tried to clean it up as best as we could, it's still a little less than ideal. And the video has the original VHS camcorder timestamps printed on it, which we were unable to remove. 
We've cut it into the usual Bluejay Rewind format, with all of Creighton's baskets included, but because of the back-and-forth nature of the closing minutes, and the fact that it hasn't been seen by anyone in nearly 20 years, we've included a bunch of Western Kentucky's key buckets as well.
***
The Bluejays had played just one game in the 2001-02 season, a 72-51 win over North Carolina A&T, prior to welcoming Western Kentucky's Hilltoppers to Omaha on November 27. The 17th ranked WKU squad, meanwhile, was 4-0 including a convincing win over then-3rd ranked Kentucky, 64-52. That win vaulted them into the Top 25, and had many convinced they were one of the nation's elite teams that season. Among those beating that drum: CU coach Dana Altman. "I think everybody appreciates that they are a deep, talented team with a lot of guys who can score," Altman commented the day before the game. "They're potentially a final 16-type team, maybe a final eight-type team. I'm not sure our team is ready to compete at this level. So many of our new guys have not been in this type of ballgame before."
Their center, a 7'1″, 285-pound behemoth named Chris Marcus, had led the nation in rebounding the year before with 12.1 a game, and combined with a scoring average of 16.7 per game, he was widely considered one of — if not the — best centers in college basketball entering his junior year. He'd lead WKU in scoring and rebounding at 15.9 and 8.9 respectively again in 2001-02, but a foot injury caused him to miss half of the season. The Hilltoppers nonetheless recorded an impressive 28-4 record while advancing to their second straight NCAA Tournament, but Marcus' career was essentially over. He would play in just four games as a senior, battled alcoholism, get cut from an NBA tryout by Denver the following spring, and then was done with basketball less than two years after being projected as a sure-fire Lottery pick. The story of his downfall was featured in an ESPN Magazine article in 2009.
But in November of 2001, he was still the All-American, future NBA lottery pick player, and he put up stats befitting that status. Battling Jays' big men Brody Deren and Joe Dabbert, he scored 22 points and grabbed 11 rebounds, but fouled out. Deren was every bit his equal, though, scoring 21 points with 11 rebounds, 2 assists, 2 steals and a block while making 7-11 field goals…while also fouling out. Still, it was one of the finest games of Deren's Bluejay career, and combined with Dabbert's 14 points and 5 rebounds, the Jays' centers outplayed and outperformed the All-American.
An unusual 8:05pm scheduled tip time (back in the pre-TV days) for the Wednesday night game was the result of a men's/women's double-header; the Bluejay women dropped a 75-74 game to #5 Iowa State in overtime after blowing a three-point lead in the final 30 seconds. As a result of that game going overtime, it was nearly 8:30 by the time the second game got underway. Then the men's team played their own ranked opponent, and needed TWO overtimes to pull out a wild 94-91 win that ranks as one of the finest ever contested at the Civic Auditorium.
It was wild — Creighton rallied from an 18-point deficit to force overtime, and after a see-saw second half that saw a litany of lead changes, needed a pair of free throws from Brody Deren with five seconds left to send the game to overtime. In the extra period, both Kyle Korver and Brody Deren fouled out. But so did WKU's Chris Marcus, and Bluejay backup big man Joe Dabbert scored six of his 14 points in the first OT to take advantage. Yet the Jays' lead wasn't safe; Western Kentucky hit a pair of three-pointers in the final 18 seconds of OT to force a second overtime, part of an absolutely ridiculous back-and-forth that saw this happen in the span of less than 30 seconds of actual time:
Two free throws from Ismael Caro to give CU a 83-79 lead
A WKU three-pointer to make it 83-82
Joe Dabbert breaks free for a slam dunk in transition, CU leads 85-82
Another WKU three-pointer ties the game
It was physical — there were 56 total fouls called, and the teams combined to shoot 66 free throws. It was an important program win — it was the first marquee win of the post-Ryan Sears/Ben Walker Era, showing the MVC (and hoops fans across the country) that the Bluejays were still going to be a force to be reckoned with. And it was historically significant — the game has long been cited as one of the finest ever contested in the Civic Auditorium's long and storied history.
What it wasn't was televised, meaning no one's seen much of this game since November of 2001. We're proud to share it with you now. Here it is, the classic Creighton/Western Kentucky double-OT thriller, edited into a rollicking 20-minute retrospective.
Comments
Tagged in: