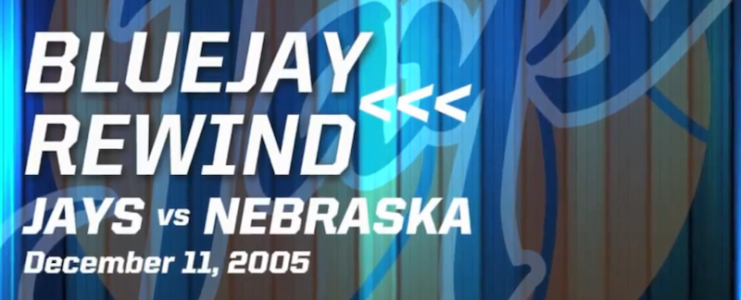 Bluejay Rewind: Jays vs Nebraska (12-11-2005)
Ed. Note: "Bluejay Rewind" is our popular summer series that looks back at games from years past, including highlight packages. Not all of these games are classics in the traditional sense, but all of them feature terrific performances from Bluejay greats, and we think you'll enjoy watching them as much as we did.
In March of 2005, Creighton returned to the NCAA Tournament after a one-year absence. The outcome was perhaps the biggest gut punch of the Altman Era — after leading West Virginia 10-0 just three minutes in, they fell behind 33-31 at the break. They retook the lead and led for the entire second half, but were never able to pull away. With the score tied at 61, Creighton held for the last shot, and worked the shot clock nearly down to zero before attempting a game-winner.
The task of taking that shot fell to junior Nate Funk, who was open on the perimeter and took what he thought was a pretty good look. And it was. Except out of nowhere, the Mountaineers' Tyrone Sally left his man, travelled about ten feet in a second, and rejected the shot into the hands of teammate J.D. Collins, who in turn hit Mike Gansey with a pass. Before Creighton knew what hit them, Gansey found a wide-open Sally downcourt, and Sally dunked it with 2.4 seconds left to give West Virginia a 63-61 lead.
Funk got one more chance to win it, but his three-pointer at the buzzer was long, and the Jays lost a heartbreaker that ended their season.
Over the summer of 2005, seniors Funk, Johnny Mathies, Jimmy Motz, and Jeffrey Day talked openly about how that loss motivated them; they wanted another chance at tournament glory, and were determined to get it. With sophomore sensation Dane Watts, an ever-improving Anthony Tolliver entering his junior season, and highly regarded newcomers Josh Dotzler and Nick Porter, it seemed like another NCAA berth was a distinct possibility. And over the season's first two weeks, those expectations bore fruit.
First, they scalded Arkansas-Pine Bluff 87-55 in the opener, then took apart eventual Final Four team George Mason in their own gym 72-52. Upon returning to Omaha, they hosted Dayton on the Saturday night of Thanksgiving weekend, and played a game for the ages. Funk scored a career-high 38 points, including the game winner in the second overtime with 5.7 seconds left, in a 91-90 double-OT win. It was a transcendent game.
It was also his last healthy game of the season.
Three nights later in Chicago, Funk injured his shoulder diving for a loose ball against DePaul. The Jays lost 72-57, but that wasn't all they lost. Funk would miss nearly a month initially with the injury, and after attempting an early-January comeback, would ultimately be shut down for the season and forced to take a medical redshirt.
The loss was compounded a week later when they lost their next game, a BracketBuster return game at UT-Chattanooga, 69-64. As they prepared to host Nebraska on December 11, they were suddenly on the ropes — not only did they have a 3-2 record, their star senior was out indefinitely with an injury. Then the injury bug proved contagious. Jimmy Motz suffered a stress fracture in his foot. Pierce Hibma hurt his knee. Against their in-state rival, the Jays dressed just eight scholarship players — combined with players already redshirting, they had nine players in uniform and seven in street clothes, making for a most unusual scene on the bench.
Creighton used their disadvantage in numbers to their advantage on the court, however. Nebraska missed their first 11 two-point shots and made just one total in the first half, while turning it over 17 times against a suffocating defense. Creighton took a 31-11 lead into halftime, just the second time since 1985 that a Bluejay opponent was held to 11 points or less in a half.
"We had our backs to the wall, but we weren't going to make excuses," Creighton sophomore Dane Watts told the media after the game. "We just wanted to play harder than them, play with a lot of heart and not worry about shots falling. We wanted to be the aggressor."
Creighton continued to blitz the Huskers in the second half, eventually building a 44-17 lead with 12:54 left. At that point of the game, Mathies had outscored the Cornhuskers 19-17 all by himself.
"I'm really proud of him," Creighton coach Dana Altman commented afterward. "I've been on him pretty hard about not taking leadership and about not competing. Everybody is going to point to his points, but he had three steals, he mixed it up on the boards and he handled the ball a lot of the time. There were a lot of things he did tonight that, quite honestly, he hasn't been doing in the last couple of games."
Mathies had a career-high 29 points, coming on the heels of two games where he'd gone a combined 4-23 from the field. Also in double-figures was Nick Porter, who scored 13 points, while Dane Watts nearly had a double-double with nine points and 12 rebounds. Anthony Tolliver, in a sign of things to come, had six points, six rebounds and four blocked shots.
The shorthanded win got the Jays back on track, and even though Funk would be out for the season, Mathies filled the leadership void and led them to 20 wins and a second-round NIT game.
Comments
Tagged in: