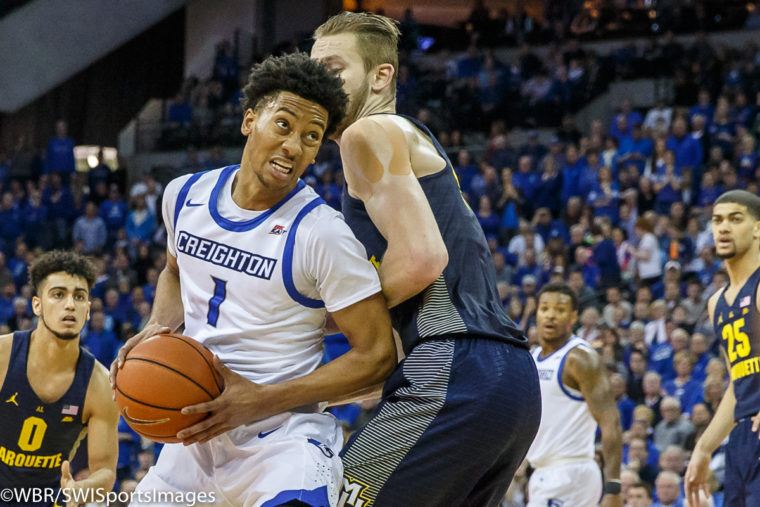 Bluejays Drop Regular Season Finale, Slide to Sixth Seed in Big East Tournament
Saturday afternoon, Creighton tried to slow down the pace of the game in an effort to contain Marquette's lethal three-point shooting. They inserted Isaiah Zierden into the starting lineup at point with the intent of grinding the game to a halt — walking the ball up the floor after made baskets, chewing up time before getting into their offense, and generally doing everything possible to keep the Golden Eagles from establishing a rhythm.
In order for that to work, though, you've got to make shots and keep from turning it over so that your opponent can't run in transition. To that end, Creighton's first three minutes were a complete disaster. They made one basket — a dunk from Justin Patton 20 seconds into the game — and then missed three straight shots and committed three turnovers, as Marquette built an 11-2 lead. They were chasing that nine-point spot all afternoon, and despite a series of runs, never got back over the hump against the Golden Eagles.
They cut the lead to three at 36-33 with 7:27 to go in the half, got a defensive stop, but Khyri Thomas missed a three-pointer that would have drawn them even. Marquette then scored eight straight to push the lead back out to 11. After falling behind by as many as 15 early in the second, the Jays used a 10-0 run to cut it to five at 67-62. They'd made nine of their first 11 shots, scoring 20 points over a 13 possession span, but couldn't sustain it — and couldn't string enough stops together to give them a chance once their own shots stopped falling. Marquette answered with a 18-5 run to go ahead 85-67, and though a late flurry made the final score slightly more respectable, the outcome was never in doubt.
Creighton tried all kinds of tactics to stop Marquette, from being super-aggressive on the Golden Eagles' guards, to giving their shooters no space to operate behind the perimeter in an effort to force them inside, to playing tougher on one-on-one post situations. The only thing Creighton didn't try was a zone, which is interesting as CU knows better than almost anyone that their eerily similar offensive attack in 2013-14 was almost always stymied by a zone. In any event, nothing they tried worked, and in two games vs Marquette the Bluejays have allowed the following numbers:
26-52 from three-point range (50%)
69-122 from the floor (56.5%)
29-41 from the line (70%)
193 total points
Yikes.
Individually, Jajuan Johnson has scored 38 points in two games after averaging 12.0 points against everyone else — thanks largely to shooting 7-12 from outside (58%) and 31% in all other games. Seven different players have scored in double figures in the two games, with five of them scoring in double figures in both games. Some teams are just a bad matchup, and this certainly qualifies.
Bluejays to Meet Providence Thursday in Quarterfinals
With the loss, CU has lost three of their last four and hasn't defeated a team outside of the Big East's bottom three since January. To say they're limping into the conference tourney would be an understatement, and given those struggles it might not ultimately matter who their opponent wound up being in the quarterfinals — they'd be an underdog against all of them. And all of them present challenges to Creighton. Providence's Ed Cooley has Greg McDermott's number and has lost to the Jays just twice in nine meetings. Seton Hall's physicality inside is a problem for a rebounding-challenged Bluejay squad. And they've tried to outscore Marquette twice and failed, unable to counter their outside shooting prowess.
The Friars, of course, are the opponent, as Ed Cooley's team rode a six-game winning streak into the #3 seed. But one of those wins came in a game CU probably feels like they should have won — a 68-66 defeat in Omaha where the Jays led for large portions of the game.
Creighton scored 18 more points in the paint than Providence (34-16), outscored Providence 11-0 on fast break points, forced three more turnovers than they committed, were basically even on the glass (-2), went on a 24-3 run in the first half, and held Providence to just one field goal over the final 5:44 of the game. There were long stretches in the game where the Jays looked better, on both ends of the floor, than in any non-DePaul game since mid-January.
KenPom actually gives CU a 65% of winning the game, which is a bit surprising. But if Creighton can replicate what worked in that last meeting two weeks ago and combine it with better execution late in the game, you have to like their chances far better than you would against either Seton Hall or Marquette.
And if they can pull off the quarterfinal win, the likely opponent is Butler, a team the Bluejays swept this year including a 76-67 road win on January 31. As unfortunate as it is to drop to the six seed, the bracket sets up about as well as you could reasonably hope for from that spot.
For the first time in two months, it seems like the Bluejays got a fortuitous break. Now it's up to them to seize the opportunity.
Individual Honors Roll In
Creighton's is well-represented on the postseason conference honors lists. Marcus Foster was named a unanimous First Team All-Big East player, and Justin Patton was named to both the All-Freshman Team and All-Big East Second Teams. Additionally, Khyri Thomas was named Big East Defensive Player of the Year.
Foster averaged 18.5 points through 31 regular season games, leading CU and placing him second in the Big East. His 221 made field goals are the most in the league, and his explosive scoring ability — including too many eye-popping dunks to count — made him an impact player from the first game of the season. After Maurice Watson's season-ending injury, he took on an even bigger offensive load and has become a far more well-rounded player. He's the first Bluejay to be named All-Big East First Team since Doug McDermott in the team's first year in the league.
The 7'0″ freshman phenom Patton is the Jays' second leading scorer at 13.1. points per game, and leads the team with 6.3 rebounds and 1.5 blocks per game. His 65 dunks this year — over two per game — are a big reason that he ranks second nationally in field goal percentage (69.3%). He's the first Bluejay to be named to a conference All-Freshman first or second team since Doug McDermott was named First Team All-MVC in 2010-11.
Thomas shared the Big East Defensive Player of the Year award with Villanova's Josh Hart and Mikal Bridges, the first three-way tie for any major award in Big East history. He's just the second Bluejay to ever earn Defensive POY honors, joining Gregory Echenique who took that honor in 2011-12 from the MVC. Thomas leads the Bluejays in steals and is second in rebounding and blocked shots. He's guarded the top perimeter players from almost every opponent this year, and in Big East play held Josh Hart, Rodney Pryor, Shamorie Ponds and Trevon Bluiett (the league's top five scorers, minus Thomas' teammate Marcus Foster) below their yearly scoring average in each meeting this season.
All-Big East First Team
Andrew Chrabascz, Butler
Marcus Foster, Creighton*
Angel Delgado, Seton Hall*
Jalen Brunson, Villanova*
Josh Hart, Villanova*
Trevon Bluiett, Xavier
All-Big East Second Team
Kelan Martin, Butler
Justin Patton, Creighton
Rodney Bullock, Providence
Kyron Cartwright, Providence
Khadeen Carrington, Seton Hall
Big East Honorable Mention
Rodney Pryor, Georgetown
Kris Jenkins, Villanova
Big East All-Freshman Team
Kamar Baldwin, Butler*
Justin Patton, Creighton*
Markus Howard, Marquette
Marcus LoVett, St. John's*
Shamorie Ponds, St. John's*
Donte DiVincenzo, Villanova
*Denotes unanimous selection
Comments
Tagged in: