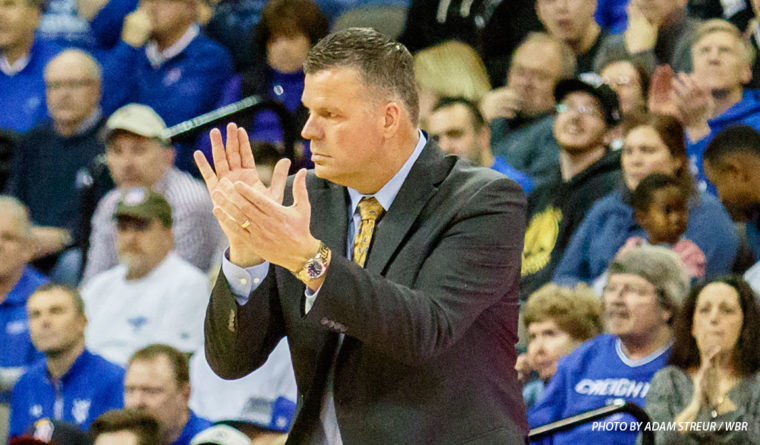 Creighton Bluejays Land Highly-Regarded 2016 Recruit Kobe Paras
Creighton struck on the recruiting market again today with the addition of Los Angeles wing Kobe Paras. The young man who was once tabbed to be a Bruin will be wearing a different shade of blue next season as he has committed to play for Creighton, and will be eligible to take the court this season.
I would gladly want to announce that I am taking my talents to Omaha Nebraska.#17000Strong pic.twitter.com/dv7k6LTvLc

— KoKo Wave (@_kokoparas) July 18, 2016
Paras, who originally committed with UCLA in 2014 when he was just 15, was denied admission in late June and promptly re-opened his recruitment, with over 80 schools expressing interest in the four-star prospect. Despite issues with UCLA, White and Blue Review has learned that Paras is in good academic standing with Creighton University.
After visiting several schools and fielding dozens of offers, he commits to Head Coach Greg McDermott, becoming the Jays second high school commit for the 2016 class, joining Davon Mintz. Mintz and Paras, along with red-shirt freshman Justin Patton and Martin Krampelj, make a formidable class moving forward. CU was already poised to possess one of the best back courts in the Big East, if not the entire country, in 2016 and Paras adds immediate depth to that already strong corps.
A standout shooting guard from Cathedral High School in Los Angeles, Kobe is the son of Philippine Basketball Association legend Benjie Paras. The 6-6 wing is an electric athlete who thrives on the open floor. He is a solid threat from 3-point range and a two-time FIBA U18 Slam Dunk World Champion.
Paras is also a celebrity in his home of the Philippines, where the Philippines Daily Inquirer and the Manila Times have written extensively for years about the success of his youth teams, and even covered his high school graduation. He's also a celebrity on social media, where he has 453,000 followers on Instagram and over 110,000 on Twitter. Paras first made headlines in the U.S. back in 2013, when video of the then-15-year-old dunking over LeBron James during a Nike exhibition tour in the Philippines made the rounds online.
As a 2016 recruit, Paras is eligible to play for the upcoming 2016-2017 season, and will be thrust into a battle for playing time with Khyri Thomas and Ronnie Harrell, among others.
WBR's Matt Hill also contributed to this report.
See Twitter reaction from the announcement.
UPDATE: Here's a YouTube interview with Paras discussing his commitment to the Bluejays.
Comments
Tagged in: