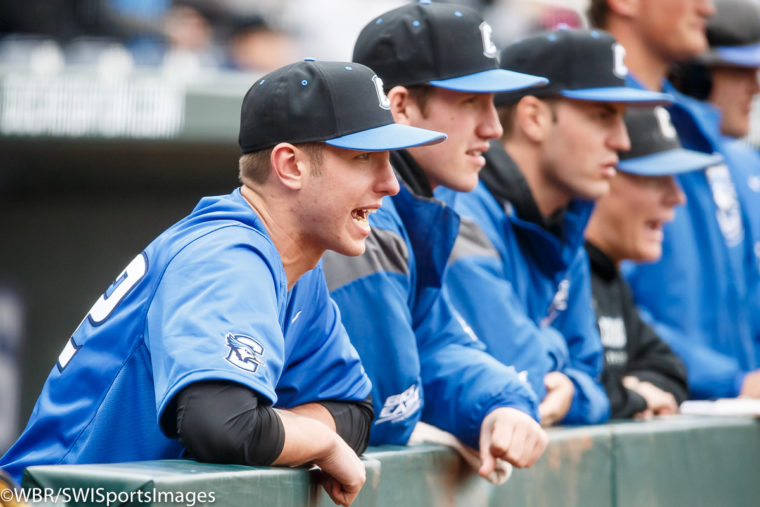 Creighton Bluejays Weekly Roundup (04/28)
News and Notes from around Creighton and the Big East this week:
On the scheduling front, another game leaked this week, as CBS' Jon Rothstein reported the Jays will host UT-Arlington. They won 27 games a year ago, including two wins in the NIT (over BYU and Akron), and though they were a senior-laden team, they return three of their top four players. In other words: not a marquee name, but a team that should finish in the Top 100 of most rankings, and help buoy their NCSOS. Good pickup.
Creighton will host UT Arlington as part of its 2017-18 non-conference schedule, per a source.

— Jon Rothstein (@JonRothstein) April 27, 2017
On the recruiting front, the Jays lost the battle for Michigan grad transfer Mark Donnal, a big man that would have been immediately eligible. He picked Clemson this morning:
Some early morning college hoops news: Mark Donnal is transferring to Clemson for his final season of eligibility.

— Jordan Strack (@JordanStrack) April 28, 2017
Clemson has landed Michigan grad transfer Mark Donnal, source told ESPN. Nice pickup for Brad Brownell.

— Jeff Goodman (@GoodmanESPN) April 28, 2017
List for Sacred Heart transfer Quincy McKnight: Miami, Wichita St., Monmouth, Penn State, Western Kentucky, Seton Hall, Creighton. 18.0 PPG

— Jeff Borzello (@jeffborzello) April 27, 2017
247Sport's Director of Recruiting Jerry Meyer was on with 1620's Sharp & Benning this week, and discussed Creighton's continued recruitment of five-star Brian "Tugs" Bowen among other topics:
"He was at Creighton with my dad for seven years and I think part of him maybe he just wanted a change of scenery and a chance at Purdue to establish himself even more in the Big Ten," McDermott said. "Obviously I think his dream is to be a head coach one day and the move probably helps him to get higher in the profession."
Lutz's replacement, Alan Huss, was a guest on a couple of Omaha radio shows this week to re-introduce himself to CU fans. First he joined Nick Bahe on 1620 for a wide-ranging discussion of Creighton hoops back in the late-90s, his recruiting connections, and more:
He was also a guest on Bluejay Banter, where the guys talked him about his path to becoming a coach at his alma mater. The Huss conversation starts at around the 39 minute mark. There's a great chat with Zach Hanson earlier in the show, too.
The Kobe Paras Effect continues to be a thing, if this photo of a group of Kobe fans in the Philippines wearing Creighton jerseys is any gauge:
#Creighton basketball's real big in the Philippines 🇵🇭@BluejayMBB pic.twitter.com/R0NDJUc74O

— Joey Tempo (@TempoWBR) April 24, 2017
If only everyone knew how much the Filipinos love basketball and supporting their own kind! 🇵🇭💙#MadeInManila https://t.co/fhwkkLnPI8

— Kobe | KoKo Wave (@_kokoparas) April 24, 2017
Here's a Filipino youth team decked out in Creighton gear for a game:
2-0 Creighton basketball ❤️ pic.twitter.com/S2P1PrfPPq

— Ruddy Madrigal (@ruddymadrigal) April 27, 2017
The 2017 Creighton Athletics Hall of Fame banquet honored Bret Simon, Vernon Moore, and Tara Oltman, as well as several individual honors for current student-athletes. Here's all of the speeches from the evening. And here's three current Bluejays dressed for the occasion:
ballin, gettin buckets to Migos.
it's just me and mi amigos.
.
.
.
and we so cold, they call us the trio.#XXL4LIFE@Jordan_S09 @Mintzy_10 pic.twitter.com/MVNY8fC323

— Kobe | KoKo Wave (@_kokoparas) April 24, 2017
While the awards were announced in March at the Big East Tournament, the hardware arrived in Omaha this week. Here's photos of Khyri Thomas and Marcus Foster:
Congrats to @Swaggy2_ on his Big East awards. Better things ahead next season!!#rolljays pic.twitter.com/Ni1fFjE6vm

— Coach McDermott (@cucoachmac) April 26, 2017
Congrats to @Khyri_2 ! Defensive POY is an incredible honor! #rolljays pic.twitter.com/a0Gs0azJ5d

— Coach McDermott (@cucoachmac) April 26, 2017
Keep it simple 🏀 pic.twitter.com/HEUZ5LttaV

— Dr. Dish Basketball (@drdishbball) April 27, 2017
It was Dollar Beer Night at Tuesday's (ultimately postponed) baseball game against Wichita State, and CU fans made sure to let Fox Sports' Steve Lavin know about it. Lavin, as you might recall, was in Omaha for Dollar Beer Night during hoops season and mentioned it in glowing terms several times on FS1 the rest of the season. True to form, Lavin was a great sport:
Hey @SteveLavin64 it's $1 drink night at @CU_Baseball. Are you coming?

— Bleeds Blue (@CUAlum81) April 25, 2017
@CUAlum81 @CU_Baseball Wish I was able to partake in festive atmosphere of $1 🍺 Night … @BIGEASTdigital baseball ⚾️ + 🍺 sounds fantastic 🔥

— Steve Lavin (@SteveLavin64) April 25, 2017
Only is someone will buy for him! https://t.co/xFHtAg32ln

— Coach McDermott (@cucoachmac) April 25, 2017
@SteveLavin64 @CUAlum81 @CU_Baseball We may need to schedule Coach Lav for a #BEDN baseball appearance in the booth next season. #OnDeck #TurnTwo #OppositeField #VinScullyJr

— BIG EAST Digital (@BIGEASTdigital) April 25, 2017
@BIGEASTdigital @CUAlum81 @CU_Baseball #Funny #Trifectas #Riff ⚾️🎙📺📻

— Steve Lavin (@SteveLavin64) April 25, 2017
Speaking of baseball, Ed Servais confirmed that next year the Bluejays and Shockers will play a three-game weekend series in Omaha:
Ed Servais previews Creighton Baseball's game vs. Wichita State and confirms the teams will play a weekend series in Omaha next year. pic.twitter.com/YKytJb8VQx

— Rob Anderson (@_robanderson) April 25, 2017
In more baseball news, Sharp & Benning talked about the team's hot play on Tuesday:
In a team meeting on Wednesday, women's basketball coach Jim Flanery made an important announcement: walk-on Aimee Rischard would be on scholarship next year. Watch the reaction (and Flan's follow-up question):
A very important update from today's team meeting… #GoJays #WeFly #GetCreigh pic.twitter.com/qQQuhynpdn

— Creighton Basketball (@CreightonWBB) April 26, 2017
7 years ago today, Greg McDermott met the media for the first time as Creighton men's basketball coach.

VIDEO: https://t.co/miTllM6SW6 pic.twitter.com/infiYtI9LM

— Rob Anderson (@_robanderson) April 28, 2017
Comments
Tagged in: