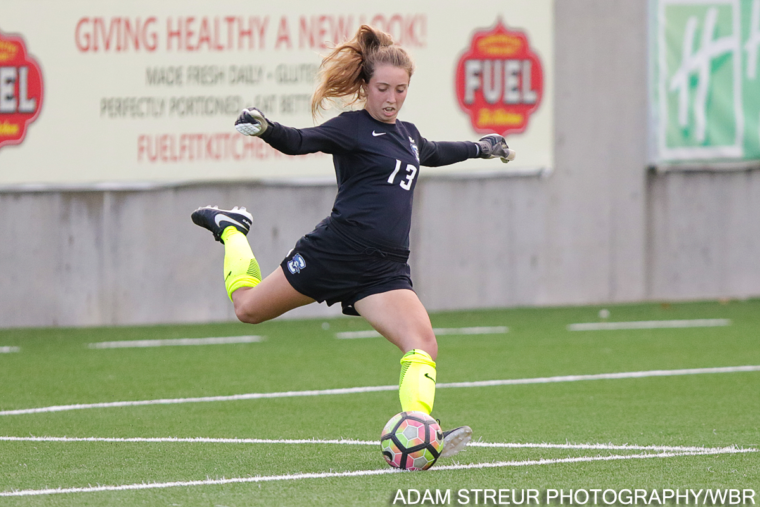 Creighton Learns Another 'Hard Lesson' in Loss at Wisconsin
Ross Paule made no secret of the fact that in order to make the Creighton women's soccer program relevant on a national level that his players were going to have to walk through fire to get there. After 90 more minutes and two more goals that "shouldn't be allowed," his Bluejays left Madison, Wisconsin on Thursday night with a 2-0 loss to the Badgers on their minds.
Wisconsin owned a 24-4 edge in total shots, including a 13-1 advantage in shots on goal, and got second-half goals from freshman forward Cameron Murtha and sophomore forward Dani Rhodes to drop the Bluejays 0-2-0 on the season. Murtha, the 2016 Maryland Gatorade Player of the Year, and Rhodes, a 2016 All-Big Ten Freshman Team selection, spearheaded a dynamic attack for the Badgers, and gave the Paule's club another strong test in their trial-by-fire non-conference slate.
"We scheduled it like this on purpose," Paule said of the season-opening losses at Iowa State and Wisconsin. "We need to be playing these games against top teams in big conferences to prepare for where we want to go. On top of that we have to see where we're at right now.

"We're going to take our lumps, and like I said to the players right after the game, we have to know that losing sucks. I don't want to waste that. We have to feel it, and find a way to fix it and get better."
Sophomore goalkeeper McKenzie Meola was stout on the evening. Although she ultimately conceded a pair of goals that her coach felt could have been prevented at some point in the sequence, she did finish the match with a career-high 11 saves against relentless pressure from the Badgers.
"She did well," Paule said. "She actually made some great saves with clean hands, and came out and commanded the box decently."
The next task for the Creighton is to assess the good and the bad from Thursday night and move on to Sunday's showdown at Oklahoma State. The Cowgirls (2-0-0), who are receiving votes in the United Soccer Coaches poll, play at in-state rival Oklahoma on Friday night before returning to Stillwater to provide another stiff challenge for the Paule and the Bluejays.
"Oklahoma State is going to be just as good or better than Wisconsin, and I don't mind that," the third-year Creighton coach said. "I want our team to get better because of these. We have a great group of girls here at Creighton. They are not afraid to work, they hate to lose, and they want it. I see it in there eyes. I see the hurt from losing, but sometimes you have to lose in order to learn the hard lessons and move forward. It's a long season ahead and we are going to be better because of these games."
Creighton and Oklahoma State last met on August 26, 2012 when the then 4th-ranked Cowgirls earned a 4-1 result in Stillwater. The overall series between the two programs is knotted up at 2-2-0 with the Bluejays winning the first two meetings in 2000 and 2001, then dropping the next two in 2011 and 2012.
Kickoff is scheduled for noon at the Cowgirl Soccer Complex.
Comments
Tagged in: