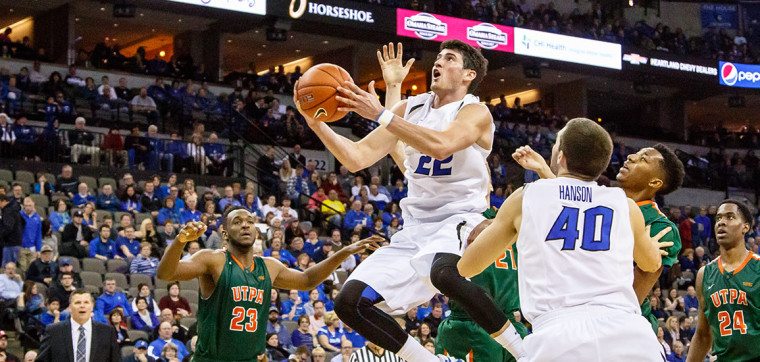 Creighton Basketball Starts Strong and Finishes Strong in Non-conference Home Finale
Creighton earned a 75-60 win over Texas-Pan American in their final home game of 2014 on Friday night at the CenturyLink Center. The Bluejays used a 7-0 run to open the game and a 12-0 run near the end of it defeat a team that was ready to answer almost all of their best shots in between.
"I've experienced a variety of different kinds of game coming of finals week, and some of them aren't very good," Creighton head coach Greg McDermott said. "So I couldn't be more pleased with the start of the game. We got a couple offensive rebounds to kind of get us going, and I think (Texas-Pan American) scored on four out of 17 possessions to start the game. And we jumped to that 13-point lead and that was really the difference in the game as you look back at it."
The starting front court of Toby Hegner and Zach Hanson helped the Bluejays score the game's first seven points. The strong play by the front court continued when McDermott sent Geoffrey Groselle in off the bench with his first substitutions.
On his first offensive possession, Groselle out-jumped the undersized Broncs in the paint for a rebound and the Bluejays made the extra possession count when Austin Chatman found Hegner on lob play to make it 9-3. Isaiah Zierden added a 3-pointer from the right wing on the next possession to give the Bluejays a 12-5 lead at the first media timeout with 14:58 left in the first half.
Groselle, who earned his degree in Financial Analysis on Thursday, pushed the lead to 19-7 when he backed down his defender and scored on a baby hook near the basket. McDermott praised his reserve center for his hard work in the class room and on the court at the beginning of tonight's game.
"It's a credit to Geoff. Three and a half years in our business school is no easy task," said McDermott. "He graduated yesterday and got accepted into the graduate program today. He'll start his MBA here in a few weeks.
"I thought he did some really good things in the first half. He wasn't feeling well during halftime, so that's why I didn't play him in the second half. Hopefully we can get him back and ready for the game on Sunday. I really was impressed with what he did on the backboards. Defensively he was in the right spot from a help perspective, which was good to see. I thought Zach, Will, and Geoff at different times in the game did some really good things for us."
As they did the other night at Saint Louis, the visiting Broncs fought back after falling behind by double digits. They cut the Creighton lead down to 10 with 2:23 left in the first half on a 3-pointer by Shaquille Boga. However, the Bluejays responded to Boga's 3-pointer with a 6-0 run capped off by Chatman who received an inbounds pass from Avery Dingman with 2.3 seconds left and drilled a buzzer-beating fadeaway jumper along the right baseline. The shot gave Chatman a game-high 11 points and sent Creighton into the locker room with a 41-27 lead.
The Bluejays pushed the lead to 48-31 with 15:39 to go when Toby Hegner used a shot fake on the right wing to blow by his defender and drill a pull-up jumper from about 15-feet out. Hegner entered the game averaging 5.8 points on 6-of-18 shooting through four games in the month of December, but finished with 16 points and six rebounds on 6-of-11 shooting in 27 minutes against the Broncs.
Hegner said it was good to see some shots fall for a change, "It's always nice to hit a couple of shots and get your confidence up. I'm not going to complain. My teammates found me at the right times and they trust me to take the shot and they went in."
He was then asked if anyone hates missing a shot more than he does, to which he replied, "I don't know about that. Maybe Isaiah."
Faced with another big deficit, Texas Pan-American did what Greg McDermott told his Bluejays they would do — fight back. With 6:18 left in regulation the Broncs had Creighton's 17-point lead down to 61-51 after leading scorer Janari Joesaar buried a 3-pointer from the right wing. Unlike the last two games, the Creighton seniors weren't up for some extra minutes tonight. They scored 12 straight points over the next three and a half minutes to stretch the lead to 73-51 with 2:45 left in the game.
The critical run was keyed by senior forward Avery Dingman who scored on a drive to the basket and assisted on both a 3-pointer by Austin Chatman and a lob play to Will Artino that resulted in a dunk and a free throw by the Bluejay center. Dingman finished with 11 points, six rebounds, and a career-high six assists while also holding Joesaar to 12 points on the night, eight under his scoring average coming in.
"Avery was big; he stepped up in crucial moments tonight," Chatman said. "He was big on the defensive end, so he stepped up his game today."
Chatman led all scorers with 20 points, eclipsing the 20-point mark for not only the second time in his career, but also the second time in the last three games. After 12 games, he leads the Bluejays in scoring and assists, while sitting third in rebounding.
With the Bluejays now headed to Denton, Texas to close out the non-conference portion of their schedule against North Texas on Sunday, the senior point guard said another quick start will be the key another true road win before Big East play starts up. "Like we did tonight, we just need to get off to a quick start," he said. "It starts all on the defensive end. We just gotta be there for one another. Helping in the gaps, making that extra pass, and knocking down shots. Just playing team basketball like we have been in the past."
The Bluejays (9-3) and Mean Green (5-4) are scheduled to tip-off at 1:03 p.m. from The Super Pit in Denton, Texas on Sunday. The game will be televised on Fox Sports Net and is a rematch of a 71-51 win by Creighton in Omaha on November 9, 2012. The Bluejays hold a 5-4 edge all-time against North Texas dating all the way back to 1950.
Comments
Tagged in: