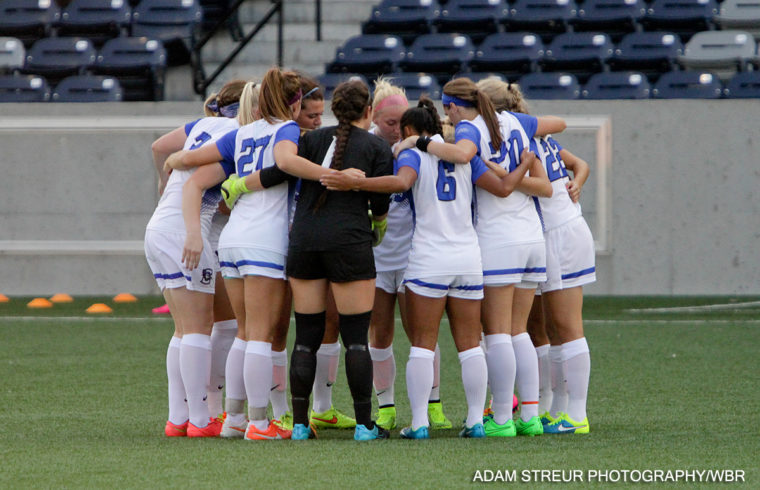 Creighton's back line grades out well under heavy fire from No. 19 Minnesota
A quick skim through the final stat sheet might lead one to believe that Creighton got a little lucky in only suffering a 1-0 loss at the hands of 19th-ranked Minnesota on Sunday afternoon. For the Golden Gophers to only find the back of the net one time in 90 minutes despite a 23-2 edge in shots is usually a sign of a team that deserved a lot more than they produced.
However, aside from a shot off the crossbar late in the first half, Minnesota's scoring struggles were largely a byproduct of a Creighton staying tight defensively, especially the back line of Mackenzie Graybill, Jaylin Bosak, Haylee Blach, and team captain Maureen Kerr.
"I thought our back four did a really good job defensively," Creighton head coach Ross Paule said. "They are probably the fittest players within our group, and that's why they played 90 [minutes]. They are prepared to play 90 and they are going to be asked to play 90. I'm pretty happy with what they did on the defensive side.

"Honestly, I thought our whole team did a good job of staying in the defensive shape that we've really been putting a lot of focus on. [Minnesota] obviously had more of the attack and more of the shots, but the majority of them were not dangerous."
The Bluejays held the Golden Gophers off the scoreboard for the first 60+ minutes of action before junior forward April Bockin beat redshirt freshman goalkeeper Elizabeth Bolland for the eventual game-winner in the 65th minute. The Eden Prairie, Minn. native, who finished fourth on the team in goals scored and points in 2016, found a lot of room to operate just outside the the 18-yard box, and while going from left to right, drove a shot back inside the left post for the game's only goal.
"Their goal should never happen," Paule said. "We let off the way we defend and allowed a good player to have too much space. I think we can do better about giving away a sloppy goal like that. Good shot, but I think Bolland will say that next time she can do better on it. That's just part of preseason."
Although the goal came from distance, Bosak still laid the blame on herself and rest of her back line for a lapse in communication with the defensive midfield.
"[Their goal] was still on the back line," the Omaha native said. "We should have communicated faster to the midfield in front of us so we can step faster to them."
Despite being under fire for the majority of the match, Bosak, a sophomore center back out of Millard West, thought that the Bluejay back line graded out fairly well all things considered.
"Our team really focused on our defensive shape this year and I think we executed well," she said. "When we focus on communicating we can do any formation. It's crazy what we can do when we communicate, but it was a good test for us today.

"I feel very confident in our team. We only had three days to prepare for Minnesota and I was very happy with the result we got today. If we have more time to prepare we'll be able to execute better and have more confidence on the field."
The post-match analysis of the attacking side of the things didn't yield as much praise as the defense behind them. Playing without junior forward Kaira Houser, who missed the match with a minor injury, was a factor, but mostly it was the inability to string passes together and create chances that ultimately led to an out of sync offense and a defense that was constantly under siege.
"The quality of what we did with the ball on a consistent basis was not near the quality that we need," Paule said. "That's something I can say because I believe we have players who have more quality on the ball than they showed. A lot of that has to do with fitness. We worked so hard to win the ball, but didn't have the legs to do what we needed to do on the ball.

"The positive thing for me is we won the ball quite a few times and when we did connect two or three passes, we got into dangerous positions of the field, it's just that the final quality wasn't good enough. The bad part about it is we won the ball a lot, then gave it right back to them. That's why we had to win the ball a lot."
The third-year Creighton coach's assessment of the overall performance was positive, however, despite the shot disparity and the issues in the attacking third. In the end, it was a good litmus test for a group that features only two seniors and 18 underclasswomen.
"A great way to start your preseason — getting to play against a high quality team, a top 20 team in the country — to see what our weaknesses are and build on them," Paule said. "That's why you play these games. We want to be playing top 20 teams in the regular season, because that's where we want to go. That's our vision. We see it and we know what we have to do."
The Bluejays will close out the exhibition portion of their 2017 schedule next Sunday against Hastings. Kickoff is scheduled for 5:00 p.m. at Morrison Stadium.
Comments
Tagged in: