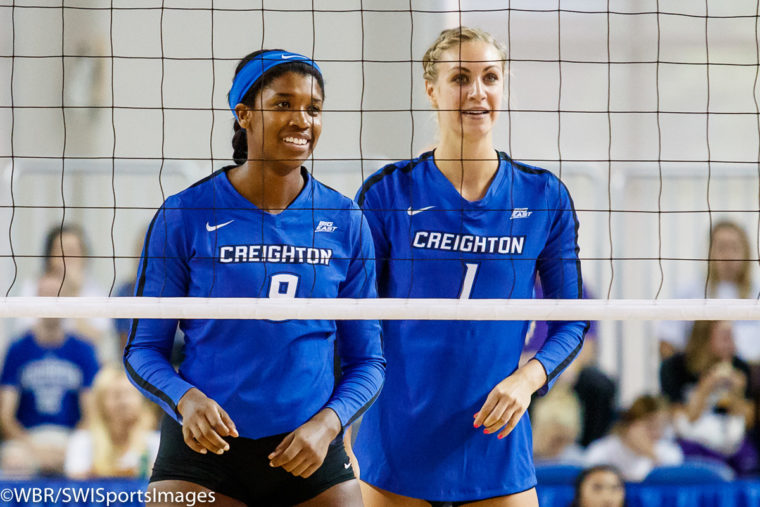 Creighton's Late Game One Rally Set the Tone in a Sweep at Seton Hall
Playing in their first road match of the Big East season, 14th-ranked Creighton rolled to a 26-24, 25-12, 25-21 straight sets win over Seton Hall on Friday night.
The Bluejays hit .340 as a team and saw their attack percentage climb from one game to the next, but when sorting through the nuts and bolts of the win, head coach Kirsten Bernthal Booth concluded that an ugly win in game one was actually more crucial to the result than the much cleaner games two and three.
"This is a tough place to play," she said. "It's loud. Seton Hall is always an emotional team, so they get going and the crowd gets going. The first game was huge. It could have gone either way. I thought we had two really big blocks to win that, and I think if we lose that game there could have been a different outcome in the match."
"It's an emotional atmosphere and I think winning that first game was really critical. Not only for us, but for them. If they win that game then all of a sudden they have a different swagger than they did in game two."
After rallying late with three straight points — ending with back-to-back combo blocks by senior setter Lydia Dimke, junior outside hitter Jaali Winters, and sophomore middle blocker Megan Ballenger — to turn a 24-23 deficit into a 26-24 set one win, the Bluejays kept their foot on the gas from start to finish in game two.
Winters recorded only one kill on 12 swings in the opening set, but bounced back immediately with four kills on four swings to push Creighton out to a 6-1 lead in game two. Seton Hall tried to keep things from getting out of hand, but an 11-3 surge by the Bluejays midway through the set opened up the lead to 22-10. Reserve middle blocker Kelsey O'Connell finished off the Pirates by terminating an overpass to close out the 25-12 win.
"I thought in game two we really played well," Bernthal Booth said. "We were clean defensively, not extraordinary, but we didn't make stupid errors and we made them earn their points. We didn't commit unforced errors."
Game three was more tightly contested, but a service error, an unforced attack error, and a ball-handling error in succession by the Pirates gave the Bluejays a 5-3 lead and they never trailed the rest of the way. Senior middle blocker/right-side hitter Marysa Wilkinson had six kills in the match-clinching third set to lead the way as Creighton improved to 10-4 overall and 3-0 in Big East play.
Wilkinson finished with a match-high 13 kills and also led all players with an attack percentage of .600 after committing only one error in 20 swings. The Lincoln, Nebraska native is averaging 3.64 kills per set and hitting .514 through three Big East matches so far this season.
"She smoked some balls tonight," Bernthal Booth said. "She was the same kid she's always been … she was really good again tonight."
All-American junior outside hitters Jaali Winters and Taryn Kloth combined for 16 kills, 12 digs, and five blocks on the night to once again provide strong production from the pins as part of a balanced and relentless offensive attack. Winters hit .308 for the entire match, but really came on strong after set one with eight kills on 14 swings without a single attack error in games two and three. Kloth added a season-high four blocks to her tally as well.
"I thought both Jaali and Taryn had good nights overall on the outside," Bernthal Booth said. "We've got two of the best outsides arguably in the country … two All-American outsides and we are really, really special when they are both on, but even if only one of them is having a great night they can kind of help each other out a little bit. I thought both of them at different times did a great job of carrying a lot of load, and then Marysa did her thing. A lot of people contributed. That's when we're good … we've got to keep our offensive parity so people can't camp on one kid."
Aside from a poor passing performance in a game one, there was once again not much to critique on the offensive side of things. Creighton is hitting .354 as a team through three conference matches, but they saw their six-match streak of holding an opponent to .200 or below come to an end thanks to a game three in which Seton Hall hit .375 to raise their attack percentage to .229 for the entire match. A far cry from the efficiency of the Bluejays, but not something the coaching staff of the three-time reigning Big East champions is likely to just gloss over without addressing.
"[Assistant coach Ryan Meek] actually talked to the team about that in the locker room," Bernthal Booth said. "Our offense is there, but it's about what we're letting other teams do that a lot of time will determine our success."
With the first leg of a four-match road trip in the books the Bluejays will now head off to the city that never sleeps for a 4:00 p.m. match against St. John's on Saturday.
Watch game highlights and postgame interviews
Comments
Tagged in: