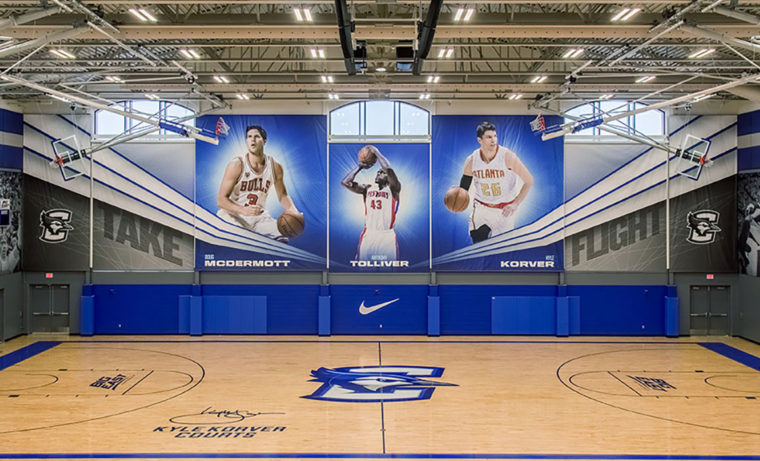 Exhibition Game Brings Creighton Legends, Kyle Korver and Doug McDermott, Back to Omaha
There are times in life when no matter how far you think you've come, you find yourself revisiting the moments that were most significant.
Despite seemingly being on the opposite end of their basketball playing careers, Creighton Bluejay legends Kyle Korver and Doug McDermott will go back to the past as they return to the city that witnessed them transform into superstars when Korver's Atlanta Hawks meet up against McDermott's Chicago Bulls on Thursday night at CenturyLink Center Omaha.
Although it is only an exhibition game, to no one's surprise it is expected to be a special moment for both former Bluejays.
"I'm looking forward to it, it should be fun," McDermott said. "Last year the Lincoln deal was kind of on my mind for a while, now it's the Omaha deal. Obviously I hope I can have just as good of an ending as I had last year, but overall I really didn't play that great, so hopefully I can make some shots in that building to get me rolling."
The 2014 Naismith Trophy winner hit the game-winning shot with one second left to help the Bulls beat the Dallas Mavericks, 103-102, in an exhibition game at Pinnacle Bank Arena in Lincoln last October. Nearly a year later he returns to the arena to play in front of the fans that watched him score many of his school-record 3,150 points during a four-year collegiate career in which he was also named a Associated Press First Team All-American in 2012, 2013, and 2014.
"That's a special place to me, obviously," McDermott said of his adopted hometown. "I'm looking forward to seeing Kyle and a lot of Bluejay fans. It will be a really fun experience, and being able to sleep at home will be great."
For Korver, it will be his first game in Nebraska since wrapping up his Bluejay career in 2003. During his four years in Omaha, the Iowa native scored 1,801 points and set all-time school records for three-pointers made (371) and free throw percentage (.891). He was named the Missouri Valley Conference Player of the Year in 2002 and 2003, and he is the only player in program history to take his team to the NCAA Tournament four times. The last time he played in Omaha was all the way back on March 3, 2003 when he scored 13 points in an 86-60 win over Wichita State in his final home game at Creighton.
Omaha holds a special place in my heart. I feel like so much of who you become as a person is developed in college, and the people at Creighton, and the people in Omaha, helped create a lot of who I am and who I'm trying to be. -Kyle Korver
"It's amazing how these things work out with a preseason game in Omaha against the Bulls," Korver said. "I'm excited. I've never played in that arena before since they built it the year after I left, so playing there will be special. Omaha holds a special place in my heart. I feel like so much of who you become as a person is developed in college, and the people at Creighton, and the people in Omaha, helped create a lot of who I am and who I'm trying to be.
"It probably hasn't hit me all the way yet. I think coming back to Omaha and warming up there I think a lot of things will probably be going through my head. It's going to be a fun night for sure. It'll be a memory that I'll hold onto for a long time, and I'm looking forward to it."

McDermott Comfortable Entering Third NBA Season
The transition from a star at Creighton to a role player in Chicago wasn't a smooth or easy process for Doug McDermott. During his rookie season in 2014-15, he missed 25 games due to an injury, didn't make it off the bench in 21 more, and of the 36 games he did play he saw fewer than five minutes of action on the court in 12 of them.
Then came a coaching change from defensive-minded Tom Thibodeau to the more offensive-oriented Fred Hoiberg to top it all off, meaning he would have to adjust to playing for his third different head coach in three years.
He had a breakout of sorts in Hoiberg's system last season. He played in 81 of 82 games, increased his minutes from 8.9 per game as a rookie to 23.0 last season. His points per game also went up from 3.0 to 9.4, and he finished his second season tied with Golden State Warriors shooting guard Klay Thompson for fifth in the league with a .425 field goal percentage from beyond the arc. The second-year performance left Creighton's all-time leading scorer in a good place mentally as he entered his third NBA training camp.
"I feel really good, really confident," McDermott said. "I feel like I had a great year last year, shot the ball well, and I feel that is going to stay and really carry over, so this summer I just tried to add a little bit more to my game. I got a lot more athletic."
Still, the third year didn't come without another curveball after the Bulls overhauled their roster at key positions. Point guard Derrick Rose, and centers Joakim Noah and Pau Gasol have moved on. Brought in to replace them are center Robin Lopez, point guard Rajon Rondo, and one of the best shooting guards in NBA history in Dwyane Wade. Rondo and Wade bring championship pedigree to the team as together they have made a total of seven appearances in the NBA Finals, of which they won four titles between them.
The duo's playing style, experience, and approach to preparation have already made an impression on the young forward.
"I think having guys like Rondo and Wade that draw a lot of attention can only be a good thing for me," McDermott said. "I'm really excited to get to work with those guys — it should be an exciting year.
"We haven't had a lot of group talk together yet, but the main thing I've picked up is they have championship mentalities. They practice what they preach, and they are out there getting on guys even though we hardly know them. They're on our cases about blown assignments, and that's a sign of leadership, and the sign of a champion. Both of them have those qualities and everyone is following their lead. I think it's only going to get better."
— Doug McDermott (@dougmcdermott) July 22, 2016
It's a Numbers Game
If Creighton fans try to pick out McDermott and Korver based on their old jersey numbers as Bluejays they might be met with some confusion at the physical transformation they see in the players wearing those uniforms. That's because Korver's old number 25 is worn by his teammate Thabo Sefolosha, and McDermott's No. 3 is now donned by the aforementioned Hall-of-Famer to be in Dwyane Wade.
Korver went from 25 to 26 after college and has worn that for his entire 13-year NBA career. McDermott on the other hand managed to keep his college number for his first two professional seasons, but willingly gave it up to Wade when the Bulls signed the former Miami Heat guard this offseason.
McDermott eventually settled on No. 11 — the number he wore during his days on the U-19 Team USA squad, but he admits it was a little strange when he first put on his uniform and didn't see a three in the mirror for the first time in seven years.
"It's going to be different," McDermott said. "I had the '11' on at media day and it just felt different. At the same time it's all good, it's just a number. It's still basketball. Maybe eventually I'll get [number three] back some day, so I look forward to that."
The eventual replacement wasn't his first choice, but after crossing one after the other off his list for various reason it made sense. Plus, as he puts it, as long as he continues to perform at a high level it won't matter to him or anybody else if he wears 11 or 111.
"I wanted a couple different numbers that were already taken," McDermott said. "I kind of wanted 22, but Taj [Gibson] was wearing that, and I kind of wanted 10, but that was retired. I had 8, but Robin Lopez came and really wanted it, so I was just being a nice guy.
"Eleven was available, and I wore that for Team USA, so I just thought why not and rolled with it. I think it will look good. As long as the ball is going into the hoop I really don't care."
Last game of the season tomorrow, it's been a great year! #HAWKSNation photo credit: Getty Images pic.twitter.com/301pn29LBo

— Kyle Korver (@KyleKorver) April 12, 2016
At Age 35, Korver Feels As Good As Ever Physically
"Physically I know I'm 35, but I kind of feel the best I have felt in a really long time." -Kyle Korver
With his 36th birthday coming up in March and his contract with the Hawks expiring shortly after that, one of the NBA's most prolific long-distance marksmen gets asked about his future quite a bit. While it's not on the top of his mind every day as he prepares for his 14th season in the NBA, he acknowledges that at times he has found himself thinking about what life might be like after his basketball playing days come to an end.
"I think about it some, and I get asked about it a lot these days — it's natural I guess," Korver said. "I think about it some, but I think players are going to be playing longer than they have been in the past just because the level of care that we get, and how sports science has gone to a whole new level the past five or six years. The type of treatment and care that we get is so much better than what players got before when they got to 30. Everyone assumed that was kind of when you started to slide downhill.
"I feel like there are still a few years left, honestly, but eventually this does end. I'm not sure what that's going to look like or what I'm going to do, but I am excited for that phase of life, too. With basketball or sports in general it's weird, because you retire and you're still in your 30's, or hopefully 40's, and there is still a lot of life to live. I can't imagine not working, so I'll definitely want to do something, but hopefully that's still a ways away."
A pair of offseason surgeries derailed his ability to prepare properly going into the 2014-15 season, but now with his health back in order he is feeling as good as he has ever felt physically.
"Physically I know I'm 35, but I kind of feel the best I have felt in a really long time," Korver said. "Last year was tough. I spent the offseason just trying to get back on the court, and I wasn't really able to be back until the start of the season. It really effects how you prepare and how you play your own brand of game.
"The thing for me as I get older — and I think a lot people can probably relate somehow — is as long as I keep doing the little things every day my body feels pretty good and I feel like I'm in sync. But if I take days off, now that I'm a little bit older, things are just not in sync, and my shot doesn't feel as good. I basically took two months off, because I had two separate surgeries, and I wasn't able to do anything. It felt like it took a long time for my body — even though it was healthy, things weren't working properly. It just took some time, and it was frustrating, especially during the first half of the season last year. But it just made me that much hungrier and that much more grateful this offseason to be able to put the work in, and I feel like I'm coming into this year with an almost different body and a different mindset.
"I just feel better about the game, and the things I'm thinking about are just different than what I was thinking about last year. All that just makes me excited for the season to come."
Playing At The Civic Auditorium Allowed Korver To Witness The Growth Of Creighton Basketball
Driving by Creighton's old home arena these days provides a somber sight for former players, coaches, and current fans. As the 'old barn' is slowly being torn down little by little the news of it's demise brought back old memories of watching the attendance grow year-by-year and making the walk to and from his dorm up the hill from the arena on game day.
"I think the coolest thing about that place was just my freshman year — I mean there are incredibly loyal fans at Creighton, people who have been going to games for decades, but the numbers weren't quite as big," Korver recalled. "It wasn't quite as big and every year watching that arena fill up more and more, and feeling the energy. By my senior year it was an incredible environment to play college basketball."
Eventually the final pieces of the building will be hauled away, but Korver will continue to cherish the moments he experienced during the four years that he got to call that arena his home.
"It felt so intimate and so special," he said. "I have great memories of walking down the hill from Kenefick Hall — which was the dorm that I stayed in that was down by the Civic. Walking down, looking at the arena, and getting yourself into the mindset of getting ready to go play the game.
"I think there was a lot of great games, a lot of special moments when we played there, and it's sad — I didn't know they were tearing it down. That was a really incredible place. It felt like the beginning of Creighton Basketball, you know. That building held a lot of memories, and a lot of special moments."

Game Offers Bonus Time For Greg McDermott, Creighton Community
You may think after four years of answering questions about the father/son-coach/player dynamic that Greg McDermott would be tired of saying the same old stuff.
You'd be wrong.
In fact, there aren't many topics that put the Creighton head coach in a better mood than when he gets to sit down and talk about watching his youngest son play. And on Thursday when he walks through the doors to the arena where he has coached basketball for the past six years he'll get a chance to play his favorite role of all — proud father.
"I don't get to see Doug that often, so it's fun for me to have him come play a home game here for a change," the Bluejay head coach said.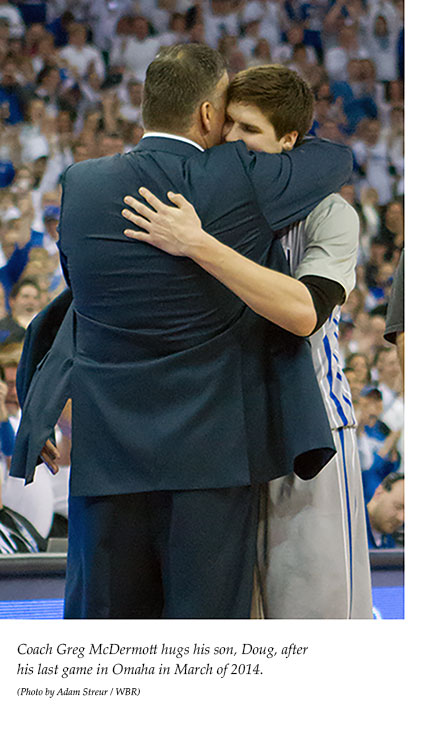 Along with coaching his son in college, McDermott also got a front row seat two or three times a year to watch Korver at Creighton while he was the head coach at his alma mater Northern Iowa. Though they came almost a decade apart, McDermott, like many Creighton fans, believes the modern era of Bluejay Basketball owes a debt of gratitude for all that the two former players did to make a positive impact on the court and in the community.
"Doug's been gone three years, and Kyle's been gone for 13," McDermott said, "so to have them be able to come back here, and have our fans show their appreciation for what they've done for not just this program, but what those two have meant to his community with everything they've done and how giving they've been with their time it's really incredible.
"I'm not sure we'd be in [the Championship Center] if it weren't for Doug and the group that came through with him," he added. "And without the accomplishments of Kyle and the teams he played on, and the success that they had, I'm not sure that we make the move to the CenturyLink Center. We owe both of them a lot for their contributions to this program. It's one thing what they did on the floor, but it's another thing how they conducted themselves off the floor with media and in public in general. They were great representatives of our program."
Beyond what he has meant to the city of Omaha, Greg McDermott also has a deeper appreciation for Korver because of the time and effort the NBA veteran has put towards helping his son with his own journey into professional basketball.
"I have unbelievable respect for Kyle for what he's meant to this program, and what he's meant to Doug as Doug has tried to navigate his life through the NBA," McDermott said. "Kyle has been an incredible mentor for him."
The game is scheduled to tip off at 7:00 p.m. on Thursday night, and when it is over and Friday comes it won't matter at all to the Chicago Bulls or Atlanta Hawks. It won't count in the standings, it won't help them win a division title, and it won't make a bit of difference for either team's chances at making the playoffs. But for one night, it will mean everything to a city, a community, and a fan base that grew up on Creighton Basketball.
"To get one of them back would have been great, but to get them both here on the same night it's going to be pretty incredible," McDermott said. "I think there will be a lot of goosebumps from a lot of our fans when those two guys are introduced."
Comments
Tagged in: