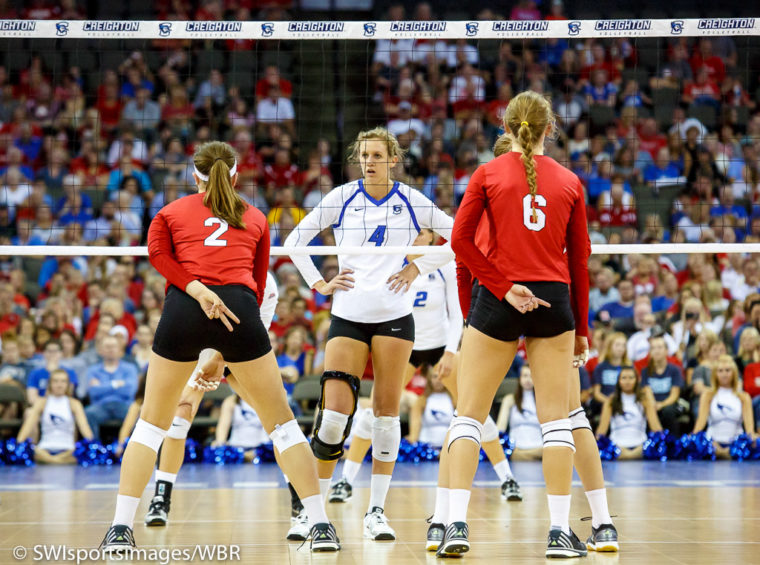 Former Bluejay, Maggie Baumert, uses her Creighton experience to cultivate a culture at Central Michigan
Maggie Baumert knew she wanted to get into coaching before she helped guide Creighton to a Sweet Sixteen appearance for the first time in program history as a senior setter for the Bluejays two years ago. But she will admit to you that even her most optimistic of thoughts didn't conclude with her getting to where she is now so quickly.
After just one season as a volunteer assistant coach at Central Michigan, the former First Team All-Big East standout was recently promoted to full-time assistant coach ahead of the 2017 season. Ready or not, it was an opportunity she couldn't pass up after talking to Chippewas head coach Mike Gawlik.
"He really just sat down with me and felt that I was ready to take on that role," Baumert said. "I really didn't think this would happen at all. I'm in the right place at the right time, the opportunity opened up and there was no way that I could say no. I feel really lucky to be working under him."
"I feel like he has a good vision for Central Michigan and our volleyball program in general. Hopefully we can bring it some success that they've never had before."
The Chippewas finished the 2016 campaign with an 11-17 overall record, their fourth straight losing season. They do, however, return 10 players off of that team, including a First Team All-MAC performer in senior outside hitter Jordan Bueter. This fall they will also be incorporating five freshman from of a recruiting class that earned an honorable mention from PrepVolleyball.com in the latest recruiting rankings.
"We have four seniors this year and I think that they have all taken steps forward in regards to buying into the culture that we're setting and the standards that we, as a program, have been working on setting throughout the offseason," Baumert said. "I think they have really taken a step forward and have been good leaders for our five incoming freshmen this year, who are all good volleyball players. Hopefully they can buy into our culture as well. We are really taking step forwards with our team culture, which is really what we've been focusing a lot in the offseason and preseason."
This season, Baumert will be tasked with developing the setters — the same position she played at an all-conference level at Creighton — as well as orchestrating the offensive systems the Chippewas will run in 2017.
And although she, along with Gawlik and fellow assistant coach Krista Rice, will only just now be entering her second season in the program, the coaching staff as a whole brings a pedigree of success that has made it easy to grab the attention of their players.
Baumert, of course was part of two NCAA Tournament teams at Creighton, including the aforementioned historic run to the Sweet Sixteen in 2015.
Gawlik, meanwhile, was an assistant coach at Michigan State for 11 seasons, and helped the Spartans reach the NCAA Tournament nine times, including three trips to the Sweet Sixteen. Rice was a volunteer assistant for two of those three second-weekend appearances in 2012 and 2013.
"The players ask me all of the time what we did at Creighton and how we handled certain situations," Baumert says. "They know it was a successful program and they want to get there. One day it's going to be surreal for them to feel what it is like to be successful, to win a conference championship. It's one thing to have that as your goal, but to finally do it and know what it's like for all of your hard work to actually mean something.

"We're headed in that direction, and we want them to know what they are working for. They are definitely always asking questions, and they want to be good. They need to feel what it feels like to be good, and I think that's what we are reaching for this year."
After all, it wasn't all that long ago when she was the player asking questions and Kirsten Bernthal Booth was the one guiding her through the process of achieving team goals. However, learning how to be successful on the court was only a part of what she learned from her the long-time Creighton head coach. The rest of the lesson resulted in a much more important transformation.
"Kirsten did a really good job of leading her program in a way that builds off the culture, and building us as women and developing us as successful human beings, more than just successful volleyball players," Baumert said. "We made it to the Sweet Sixteen my senior year, and that was amazing, but I really feel like Kirsten developed me into the person I am today. That's more important than just winning some volleyball matches."
Now with her own players to mentor, Baumert is channeling what she experienced while she was at Creighton and crafting it into an example that her players can follow on the path to success.
"As a coach now, I find myself trying to develop [players] as people, and care about them as people, and make sure that they know that we as a staff care about them not just as volleyball players, but as people," the former Bluejay said. "You play college volleyball for four or five years, but then after that you have to live your life. It can't all be about winning volleyball matches after you're done at Central Michigan, and that's Kirsten in a nutshell. That's what she cares about, and she's found a way to be successful.

"Obviously making it to the Final Four this year, hopefully, and to the Elite Eight last year — she's doing something right, and I personally can learn a lot from that and bring what she taught me into coaching. I'm really lucky to have had Kirsten as a coach."
Baumert will make her official debut as a full-time Division 1 assistant coach on August 25 when Central Michigan takes on St. Francis Brooklyn in the first of the three matches they will play at the Army Invitational in West Point, New York.
Comments
Tagged in: