It's Dan Bailey's Turn to Strengthen Creighton's Athletes
It's summer. I've got a family reunion sometime in July that's being held somewhere on Lake Michigan. That means I have to spend the next two months working on my beach bod. I'll jog occasionally, perhaps eat a little less, probably starve myself the week before the trip. You know, the usual.
If I really wanted to get serious about things (I don't, because I'm lazy), I'd go see new Creighton Strength and Conditioning Coordinator Dan Bailey. He comes to Creighton from Akron, where he held the same position, and will oversee the strength and conditioning efforts of every Creighton athletic team with the help of a full-time assistant and, once the school year starts, a graduate assistant. He is the fourth strength and conditioning coach to work with the men's basketball team in four years.
Bailey, who was hired on March 22, was born in Kearney, Neb., and grew up in Gibbon, Neb. He says the idea of moving back to Nebraska was too much to pass up and was a huge factor in his decision to leave Ohio.
He spent 15 and a half years at Akron after seven years as an assistant and associate strength and conditioning coach at Tennessee. He graduated from the University of Nebraska-Lincoln with a degree in exercise science in 1988 and played offensive guard for the Cornhuskers football team.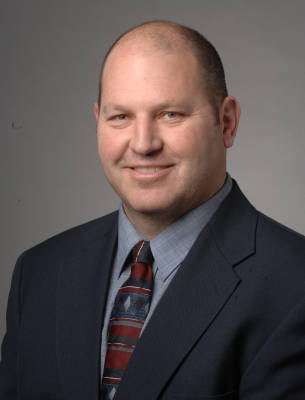 White & Blue Review: What were the factors in your decision to accept the job at Creighton?
Dan Bailey: Nebraska is my home, and when I heard about this job coming open, I was immediately interested. I was familiar with Creighton, although I had been away for 21 years coaching at the University of Tennessee for seven years right out of college and the 15 and a half years at the University of Akron. I'm excited to be back home.

I was born in Kearney, grew up in Gibbon. My parents still live in Gibbon, and my sister lives in Lincoln, so I'm close to a lot of family. My other sister lives in Denver and my wife's originally from Denver, so it's good to get back to this area being closer to where I grew up.

Creighton's historically been good at athletics and I was just excited to be part of the Creighton family.
WBR: How did you feel about moving away from football?
DB: You know, it's been really refreshing. I'm not too particular about what athletic teams I work with. I like working with all sports. Especially with Creighton athletes, the thing I've found is that they're high-character guys and girls, and they want to excel at everything they do and they're really willing to work and do exactly what you ask them to do. So that's been really good for me and really refreshing to me to know that there's still a lot of kids out there like that who really want to excel and I think that's been really good for me.
WBR: There's been quite a bit of turnover in this job here. Do you have a theory as to why that might be?
DB: I don't know any of the past history to that, but I'm a Nebraskan and my intentions are to come and to stay because this is where I want to be. I don't know all the ins and outs of the turnover, but probably some people used it as a stepping stone to move on. People have different goals, and my goal is to move back to my home state, to work at a Division I school and to have success, and that is exactly what Creighton University provides, so it's a perfect fit for me.
WBR: When you first got here, was there a lot you had to change or revamp?
DB: What I did initially, the first two weeks that I was here, my goal was to meet with each coach and each team and get their thoughts about their philosophy on strength training and, really, conditioning, and tell them what my philosophy was and talked to them about our ideas and how they mesh together. Them, the teams that were in-season we just continued with what they were doing with maybe a couple modifications. The teams that were out of season, we started right away with the workouts that I was familiar with. So we didn't change everybody right off the bat.
WBR: What will the summer be like for the men's basketball team?
DB: Right now, they're all home except for the local guys. Each of them had a workout that I gave them to take home. It's all voluntary, obviously. Some of the guys will be back on June 1 and some of them will be back on June 7. Once they come back on campus, we'll train hard for eight weeks, and we'll continue to build on the four or five weeks that I had them in March and April. We'll work on strength and power, flexibility, speed and agility. That will be the main focus this summer.

We'll lift four times per week in the summer, and it will be a split workout where we'll do two upper-body days and two lower-body days, and we'll have two straight-ahead-speed days and two agility days. And they get together and do pick-up games and play a lot.

One of the things that I think has been really good for us is that we have a nutritionist on staff and each one of the players has met with the nutritionist and we've come up with some goals for each one of the players, not only nutritionally, but also some things that will help them become better players, whether they need to gain a little weight or lose a little bit of weight or create some lean mass. Each one of the guys has a plan they're supposed to follow, and hopefully when they come back in the next couple weeks they've followed it and we can continue to make some strides.
WBR: What are your thoughts on the facilities here? How do they compare to Akron's or Tennessee's?
DB: I've been in the Qwest Center which is, obviously, elite. We have some plans for (the weight room). Without saying too much, we want to update the equipment and some other things in the works, some proposals. I've got big plans, but the University's in a crunch and these things need to be funded.

I like being down here in this gym, though. You don't need 10,000 square feet or anything. Our largest team that trains is baseball. I mean, when the basketball teams are in here, they primarily have the place to themselves. We don't need 12-, 15,000 square feet like some other Division I football schools because we're just training basketball players.
Comments
Tagged in: