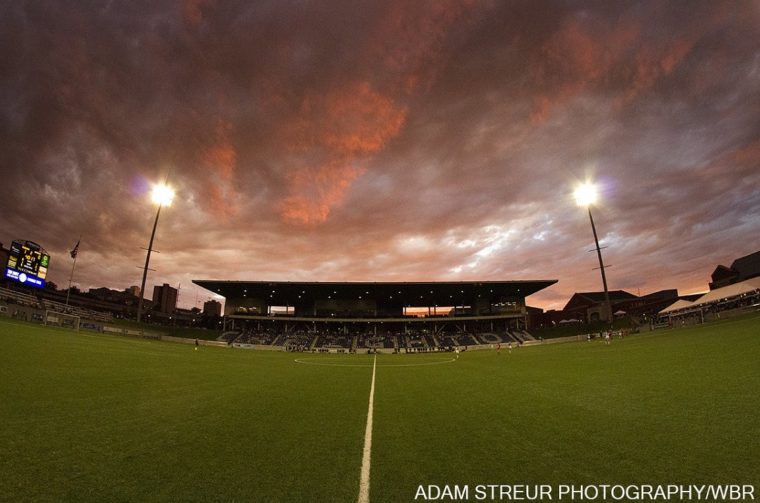 Jays lack 'savvy' in season-opening loss to Virginia Tech
Elmar Bolowich took a cautious approach when assessing where his team stood after three exhibition matches. After the first match of the regular season he got his answer …
"We are way off," the Creighton coach said after his 17th-ranked Bluejays dropped a 2-0 result to 14th-ranked Virginia Tech on Friday night at Morrison Stadium.
"Tonight I'm very disappointed with how we played in terms of control of the game, and in terms of the savviness," Bolowich said. "I thought they were miles ahead, and when you play an ACC team and you're that slow in making your passes, and you're not driving into the box or giving them headaches, they are going to punish you. That's just the long and short of it."
Creighton finished the match with a 19-7 edge in shots, an 8-4 edge in shots on goal, and ended with 11 corner kicks to Virginia Tech's two. Despite owning what seemed to be an overwhelming amount of possession, the closer they got to the Hokies' back line, then less threatening they appeared.
"We were never settled," Bolowich said. "We were rushed, we were nervous in front of the goal, then we were slow in connecting and breaking through their line, and they were much quicker. They figured us out and kept us at bay. Every shot was contested. We didn't really get open looks. They defended pretty well. You have to give them the credit. It's a good side and they played more experienced than we did."
Late in the first half it looked like Creighton had actually broken through first. Senior midfielder Ricky Lopez-Espin played a free kick to sophomore midfielder Luke Haakenson in the box for what appeared to give the Bluejays a 1-0 lead, but Lopez-Espin was a couple of steps offside and the goal was negated.
Barely over one minute later, Virginia Tech had a 1-0 lead.
An iffy touch foul in the midfield set up a free kick from about 35-40 yards out. Junior midfielder Rory Slevin sent it to the right post where senior midfielder Collin Verfuth headed it into the net. Quick transitions like that happen all the time in soccer, but Bolowich felt his team's improper assessment of the situation was the main factor in conceding the goal on that particular play.
"We had a wall of four players and the ball was 40 yards out," he said. "There shouldn't be any wall at all. We should all be marking up. If that guy shoots from 40 yards out and our goalkeeper can't make the save, then he shouldn't be in goal in the first place, so why have a wall of four people? We needed those guys to mark up … we missed it and there was the breakdown."
Creighton pushed for the equalizer as the match wore on, but lacked that final connection in the box that they needed in order to put one away. Then came the counter in the 85th minute when senior Elias Tamburini found forward James Kasak on the end of a cross in the box to make it 2-0 and essentially seal the deal.
"We just have to be better and more clinical," Lopez-Espin said. "We were floating balls into the box and their goalkeeper is 6-foot-5 and their whole back line is over six-foot. You have to be a little smarter than that. We talked about it at halftime, we like to play, and apart from me and Marios up top who else is going to win a header? We just have to be more alert. If it doesn't work three times, I'm guessing the fifth and sixth time it's not going to work as well."
The loss was the first for Creighton in a home opener since a 3-1 setback against Duke back on September 2, 1995. The next lesson for Lopez-Espin and the Bluejays is not to get caught dwelling on this result or looking ahead to next week's trip to Palo Alto to take on the two-time reigning national champion Stanford Cardinal. The first order of business is Sunday night's home match against Grand Canyon. Overlook that and the Bluejays may start the season with two straight losses for the first time since 2006.
"We're not looking at Stanford," Lopez-Espin said. "We have to take care of Sunday. That's the next step. You can't look too far, you can't get too high, and you can't get too low in a loss. We have to come back on Sunday, make a statement, and take it game by game."
First touch between the Bluejays and Lopes, who lost 2-1 in double overtime to Nebraska-Omaha on Friday, is scheduled for 7:00 p.m. at Morrison Stadium.
Comments
Tagged in: