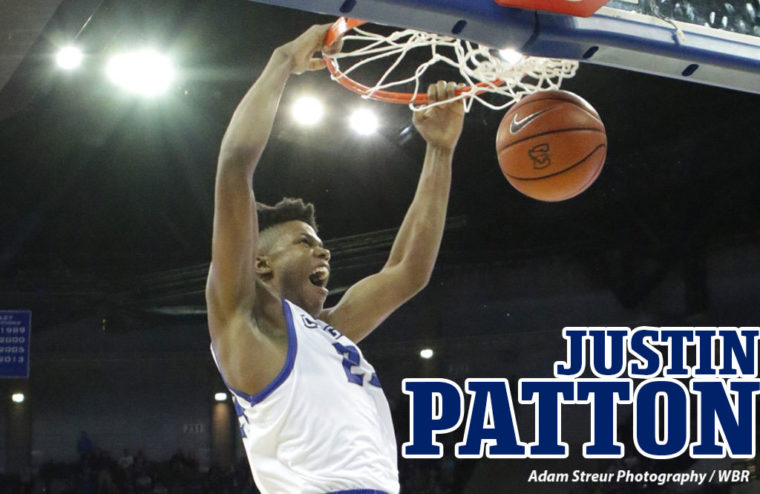 Justin Patton Enters NBA Draft After One Sensational Season
Creighton's freshman phenom Justin Patton is headed for the NBA, ending weeks of speculation with a press release on Wednesday. It wasn't an unexpected decision, as Patton leaving early for the NBA seemed like a foregone conclusion by midseason — the only question was this year or next, and if he'd hire an agent or simply test the waters following his freshman season.
The Big East Freshman of the Year will indeed leave after this season, and by signing with ASM Sports Agency there's no turning back: Patton's collegiate career is over. Projected by almost every analyst to be chosen in the first 20 picks of this summer's NBA Draft, including Sports Illustrated (12th), and DraftExpress (17th), ESPN (18th) and CBS Sports (19th), he'll head to the professional ranks as an enticing prospect to just about every team in the league.
"After much deliberation with my family and the Creighton coaching staff, I have decided the time is right to pursue my dream of playing professional basketball," Patton said in a press release the university put out Wednesday night. "I have loved every bit of my two years at Creighton. My teammates were unbelievable, the coaching staff helped me develop, and the fans have been so supportive of our program. Thank you to everyone. I will forever be a Bluejay!"
Patton's departure leaves the Bluejays with a huge hole in the middle to replace next season, but also gives the coaching staff a heckuva story to sell future recruits on. He went from a 7-footer with virtually zero hype to an NBA draft pick in two years, a fact that wasn't lost on incoming freshman big man Jacob Epperson — he noted that Patton's rise at Creighton was a big reason he chose the school. Patton had one scholarship offer entering his senior season at Omaha North, enrolled at Creighton weighing 205 pounds, and redshirted his first season. Before this season, many questioned how quickly he could contribute, and senior Zach Hanson was penciled in as the starter until a preseason injury.
Instead he was a dominant force from the moment the season tipped, and by December NBA scouts were flocking to his games. A huge game in New York City against St. John's served as a coming-out party in front of the east coast media, and the secret was out. He soon was profiled by multiple national media outlets, becoming a breakout star not just in Omaha but nationally.
Patton wound up second on the team in scoring at 12.9 points per game, and led them in rebounds (6.2) and blocked shots (1.4). He scored 10 or more points in 28 of the team's 35 games, and had 20 or more four times. His 67.6% field goal percentage is the highest in NCAA history for a major conference freshman, and he made 50% or more of his shots in all but one game all season. And his 72 dunks on the season were twice as many as the next-closest player in a single season during Coach Mac's tenure at CU — Gregory Echenique had 36 in 2012-13, and 90 during a 2-1/2 year career. Patton nearly had more dunks (72) than the entire team combined for the previous two seasons (87), and more than any CU team in the McDermott Era; no team had more than 58 total before this season. And his 453 points are second-most in Creighton history for a freshman, trailing only Doug McDermott's 581 in 2010-11.
"I haven't coached many young men with the talent and potential that Justin has," Greg McDermott said in a press release. "It's amazing to think of the strides he has made in the last few years, and I'm excited to see where he'll be a few years from now. Justin's best basketball is ahead of him, and we look forward to him joining Anthony, Doug and Kyle in the NBA in the very near future."
Here's a look back at Patton's career at Creighton, in a highlight montage set to "All The Way Up" by Fat Joe and Jay-Z as chosen by one of WBR's readers on Twitter after we solicited soundtrack ideas.
Comments
Tagged in: