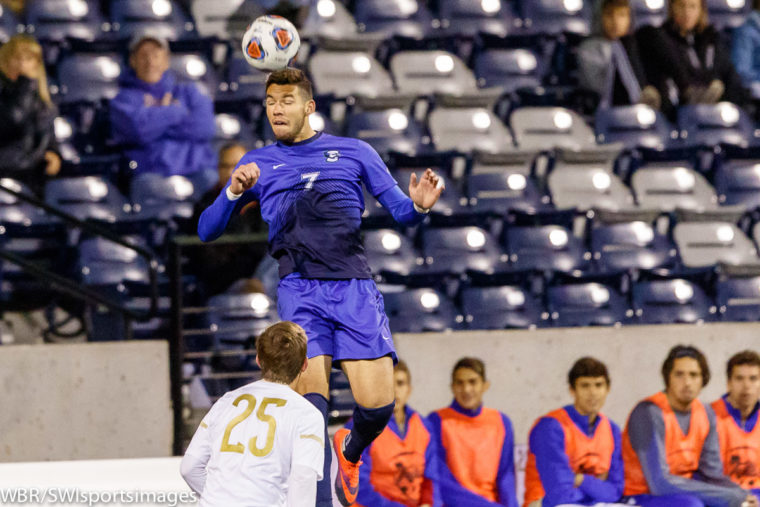 Lopez-Espin's Header With 9 seconds Left Gives 14th-ranked Creighton a 2-1 Win Over SIU Edwardsville
The Creighton men's soccer team picked a heck of a time to win their first aerial battle of the night in Saturday's friendly against SIU Edwardsville.
Senior captain Ricky Lopez-Espin headed in Joel Rydstrand's 40-yard free kick from the left boundary with nine seconds left to give the 14th-ranked Bluejays a 2-1 win.
"When you have a player like Joel on the ball you know where it's going," Lopez-Espin said of the junior midfielder's set up. "I know he miss-hit one in the first half, but on the second one I knew it was going right around the penalty area. I tried to beat my man to it and get a head on it … I'm glad it went in."
It was Lopez-Espin's second tally of the night, and one of few quality scoring chances that Creighton generated in the air after only producing two shots on seven corner kicks prior to Rydstrand's set piece.
"A corner is a valuable play in soccer and we can't waste them," Lopez-Espin added. "I think we had seven corners tonight, so those are wasted opportunities that we have to get better at."
Wasted opportunities appeared as if it might be the story of the night for Creighton when they all of a sudden found themselves in a 1-0 hole with 21 minutes left in the second half despite holding a 10-4 edge in shots at the time. It wasn't a goal the Bluejays made the Cougars earn either as a deflected clearance and a turnover on a centering pass gave SIUE senior forward Devyn Jambga plenty of room to beat freshman goalkeeper Austin Wormell with a strike from the right side of the 18-yard box in the 69th minute.
After conceding the goal, the Bluejays responded with more urgency. In the run of play right after falling behind they put an enormous amount of pressure on SIUE's back line until a seried of deflections and shots eventually paid off when Lopez-Espin blasted a loose ball into the back of the net in the 72nd minute to tie the match at 1-1.
The sequence started with senior forward Marios Lomis, a 6-foot-2 grad transfer from the Netherlands, tracking down a ball off the crossbar to keep it in play, then a header by fellow newcomer Sven Koenig that was deflected, but not controlled by goalkeeper Kyle Dal Santo. The deflection eventually found its way to Lopez-Espin on the right side of the six-yard box and he finished it off to even things up.
"Well done by Marios to get that ball that hit off the crossbar," Lopez-Espin said. "You don't see a lot of strikers even attempt to do that. I know Joel went up in the air with the goalie, then it just fell to me and I didn't even think twice — I just hit it as hard as I could."
Creighton stayed on the attack throughout the rest of the half, pursuing the game-winner until the final seconds. After giving up the initial goal they proceeded to out-shoot the Cougars, 9-2, over the final 21:01 of the second half.
"Once we gave up that soft goal we kind of looked at each other and said now we have to start playing with a little desperation in our step," Lopez-Espin said. "When you have class all around — we have a lot of talented players — you just have to play to enjoy it and play to each other's strengths. That's what we did late in the second half."
Lomis was the catalyst for the second goal as well when he drew a foul trying to beat the SIUE's right back to the edge for a scoring opportunity as the final seconds ticked away.
That set up the free kick from the left boundary for Rydstrand, who placed it perfectly to the far post for Lopez-Espin to finish it off in the air, giving the Bluejays a 2-1 lead with nine seconds left on the game clock.
When asked after the match where he was trying to place the ball, the Swedish striker replied: "Right on Ricky's head."
"He's fantastic with his head, so there was no doubt who was going to get it," Rydstrand added. "I know Ricky is strong in there so I just aimed for his head and it went in."
Although it took nearly two-thirds of the match to raise their level, there was a lot to be encouraged about with what Creighton did in the attacking third over the last 20+ minutes of action. Overall, 21 players saw at least 36 minutes of playing time, and newcomers Marios Lomis and Sven Koenig had a fair share of impactful moments on Creighton's top line.
"There are a lot of new players, so we just have to get the chemistry going," Rydstrand said. "It's looking really good so far. I think we have a lot of good players coming in and we still have the core from last year. We just have to get the chemistry going with a couple of practices and I think we're looking really good."
Creighton's next match will be an August 16th exhibition match at Wisconsin at 7:00 p.m. The Badgers return 20 players from last season's club, including senior All-American Chris Mueller, who along with Ricky Lopez-Espin was recently named to the 2017 MAC Hermann Trophy watch list awarded to the nation's top men's and women's collegiate soccer player. Wisconsin finished 11-4-4 overall a season ago, including a 3rd-place finish in the Big Ten Standings before an eventual runner-up finish in the conference tournament.
Comments
Tagged in: