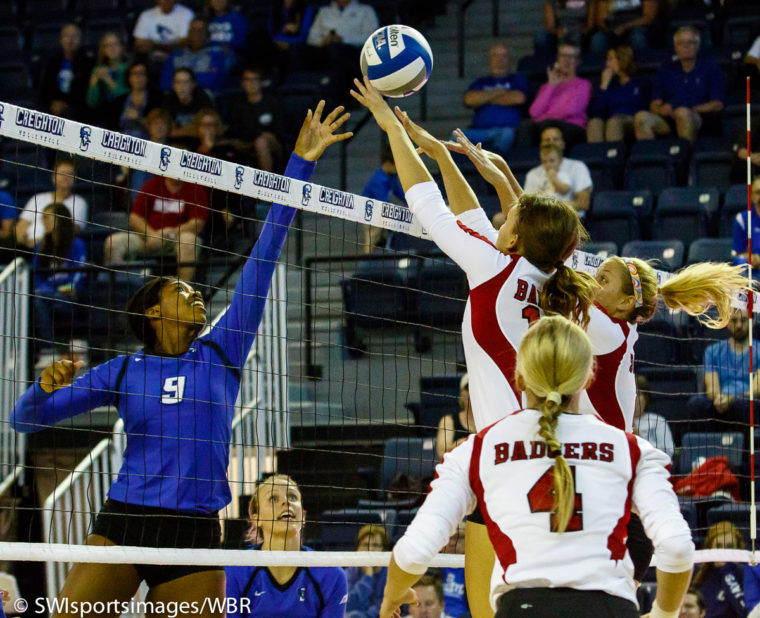 Marysa Wilkinson makes an impact that far exceeds the accolades she's received
Kirsten Bernthal Booth is not usually the type of coach who worries about much beyond the confines of her own gym. She doesn't tremble at the thought of her team facing an elite opponent, she doesn't buckle under the pressure of her own program's rising expectations, and she doesn't typically react one way or the other when the annual preseason honors are handed out to her players or to her opponents. When asked, she often reverts back to a simple philosophy:
"It doesn't matter where we are at the beginning of the season. It matters where we are at the end."
However, when she didn't see Marysa Wilkinson's name on any of the All-Big East preseason teams, she couldn't stop herself from deviating from that mantra. The 6-foot-nothing senior right side hitter/middle blocker enters her final season as a Bluejay with three Big East regular season titles, three Big East conference tournament titles, two Sweet 16's, one Elite Eight, and if she stays healthy will very likely finish her collegiate career among the top 10 all-time in kills at Creighton University. That resume somehow didn't pack enough punch to be included with teammates Lydia Dimke, Jaali Winters, Taryn Kloth, and Brittany Witt when the Big East preseason honors were handed out.
"It's crazy to me," Booth said of the omission. "We don't get too wrapped up in those awards, but I scratch my head sometimes on how she wasn't a First-Team All-Conference kid, because her stats backed it up. I don't usually gripe to coaches, but I griped about that one."
Unfazed By A Lack Of Recognition

It's not as if Marysa Wilkinson caught lightning in a bottle over a two-week period and got overlooked because of a larger sample size. Her three-match stretch last season where she piled up 49 kills and a .342 attack percentage in wins over Northern Iowa, No. 4 Kansas, and No. 17 Michigan to lead Creighton to its first Elite Eight in program history was definitely eye-popping, but she had long before then already proven to be one of the elite players in the Big East for much of her career.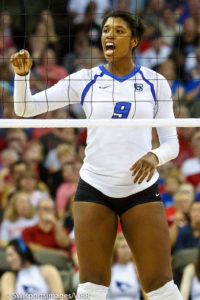 As a freshman, she had a team-high 13 kills in a Big East Tournament semifinal win over Xavier. As a sophomore, she had a match-high six blocks in the Big East Tournament title sweep of Villanova in Omaha. She finished fourth in league play with a .351 attack percentage, and eighth with 1.03 blocks per set in 2015. Last season, she bumped up to third in attack percentage and sixth in blocks per set, and was also among the league leaders with 2.42 kills per set.
Wilkinson is hitting .355, averaging 2.55 kills and 1.06 blocks per set over the last two seasons against Big East competition, helping Creighton compile a 39-1 record — including two regular season and conference tournament titles — against league foes. Yet all she has to show for her efforts is a 2nd Team All-Big East selection last season. And that's just fine with her.
"It just makes me work even harder," said the native of Lincoln, Nebraska. "I don't get angry about it, because that's a preseason thing. Whoever deserves it after conference play will be on it, and if I'm not on there I'm not going to be sour about it. My motto is if you deserve to be on it then you will be."
And she'll never say anything to the contrary. Her teammates, on the other hand, don't mind stepping up and taking a swing on her behalf. Creighton's dominance of the Big East means someone is bound to get lost in the shuffle when the individual accolades are handed out. All-American senior setter Lydia Dimke amassed twice as many of those individual honors as Wilkinson in just one season in Omaha, taking home the 2016 Big East Player of the Year before being selected to win it again in the preseason. While she understand the politics behind the selections, not seeing Wilkinson's name this fall still caught her off guard.
"I was surprised," Dimke said. "It's really hard because I think everyone on our team deserves a spot, so it's difficult that they have to make those cuts. Not a lot of us read too much into that, and I think she does a really good job of being excited for everyone else. She always puts the team before herself, but everyone knows she deserves that spot more than anyone."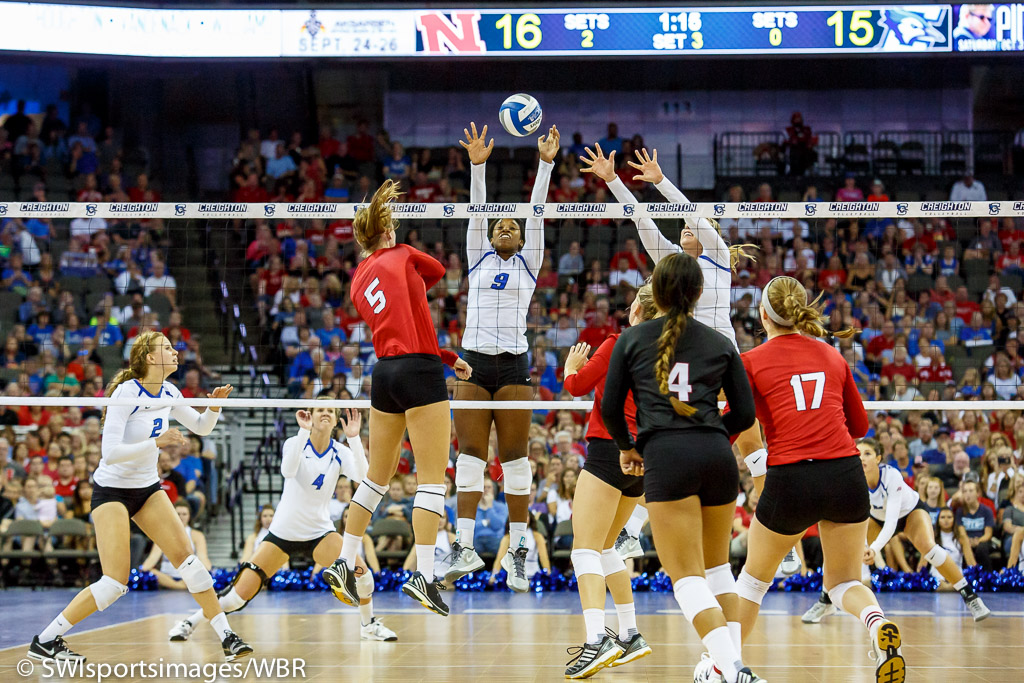 A Leader By Example
From the outside looking in, it's probably hard to single out any one player with the firepower Creighton returns off of the first Elite Eight appearance in program history. There are three All-Americans, three Team USA participants, a reigning Big East Player of the Year, a reserve setter with experience against international competition, and a six-rotation sophomore who won Big East Freshman of the Week three times last season.
Marysa Wilkinson fits none of those descriptions, and yet when the lights are off and the post-season work needs to get done she is the one setting the standards for success.
Brad Schmidt, the team's head athletic performance coach, says that Wilkinson is in the top 10 of the hardest-working athletes he's ever been around — a list that includes his time working with the football team at South Dakota State. He says that not only has Wilkinson improved her vertical jump by seven inches from her freshman to senior season, but that she is also by far the strongest woman on the team.
And according to Lydia Dimke, it's that power, combined with her work ethic, mixed with the competitive nature of the group in general that made for some intense workout sessions during the offseason.
"Not only does she work hard, but she's super strong," the senior setter said. "Everybody always wants to try to lift more or be faster and more powerful than her. We do a lot of lifting to test our power output, and she just crushes everybody. She's so powerful. It's competition for the rest of us to see who can be more powerful than Marysa."
Not only does Wilkinson set the standard for how much to lift or what to do, but she also dictates when and how often by virtue of nothing more than being the one everyone else on the team is constantly chasing.
"She has such an awesome work ethic," Dimke added. "We lift at 6:30 every day during the summer and she's always in there working her butt off whether she's injured, whether she fatigued or tired, she's always setting a good example of how to work hard. I think she's always so encouraging of those around her to get them to work hard as well. She definitely leads by example."
For The Greater Good
Before Marysa Wilkinson could learn how to lead, she first had to follow, but before she could follow she first had to decide what she wanted to accomplish as an individual, and most of all what she wanted to achieve as part of a team. That meant sacrificing and making habitual changes to the way she ate and trained in order to maximize or even some cases, exceed, her potential as a player along with the program's.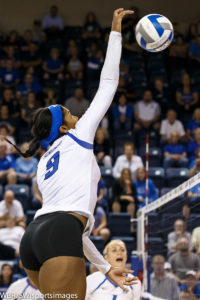 "Ever since I was a freshman the whole goal was to make it to that national championship, and it's a process to get there," she explained. "That's why it's so important to work on and off the court. Part of it is the weight room. Going into freshman year I ate very poorly, and I did not work out a lot. When I got here I just saw all of the girls' motivation and it made me want to work hard. We are a team sport. You have to do things for other people, and now it's just normal and fun to do.
"We were a good team [my freshman year], but it takes the little things to make a great team, and I think nutrition, motivating yourself, and having 100% effort during the workouts is another thing that adds onto it. I really took that on and gave it a chance, and it worked because the vertical went up and everything."
More veggies and less fried food. Her favorites are cooked carrots, and she even admits to enjoying hummus, something she never thought she would be able to say.
"I really like fried food, so I tried to cut back on that," she said. "I'm not saying I cut all of it out, but I tried to slim down on it and take every day one at a time. Also, my teammates helped me with that too. If we all do something together it's a lot easier."
It didn't need to be a total overhaul, after all she was still a Division 1 athlete with the advantage of having a high metabolism … oh, and there is the team tradition of getting ice cream after road wins — which there have been quite a few of during her career — that allowed her to "cheat" every so often. But by all accounts there was a genuine commitment to altering her lifestyle, and she knew from the start that if she wanted to be great the decision to take that step had to be hers.
"What we tell recruits is that if you want to be great in this program you're going to be given the opportunity, but we're not going to hold your hand and be there," Booth said. "To some degree we will, but if you don't go to class, I'm not going to walk you to class. I want players that want to be great.

"We always say you can develop by fear — and I think there are a lot of people that have success on fear-based programs — or you can develop by love. We want players that love the process and are so bought in that they want to do the right things. Now, do they sometimes not get a great night's sleep and sometimes not eat perfectly? Right, that doesn't happen all the time, but I also want them to be real people … it's about a balance, but Marysa, like so many of them, you don't worry about what she's doing on a Friday night."
Earlier in her career, Wilkinson remembers being excited that her hard work helped her shrink four inches off of her jean size. Now as begins her final season at Creighton, the same number is once again motivating her to raise the bar even higher.
"I always think about the Final Four, because that's our next step," she said, admitting that it's not always so easy to just get up and go. "Some days you don't want to work out, but you have to push yourself so I always try to take it off of me and think about the others around me.

"I know we are capable of getting [to the Final Four]. But I also think about the process that we have to go through."
Comments
Tagged in: