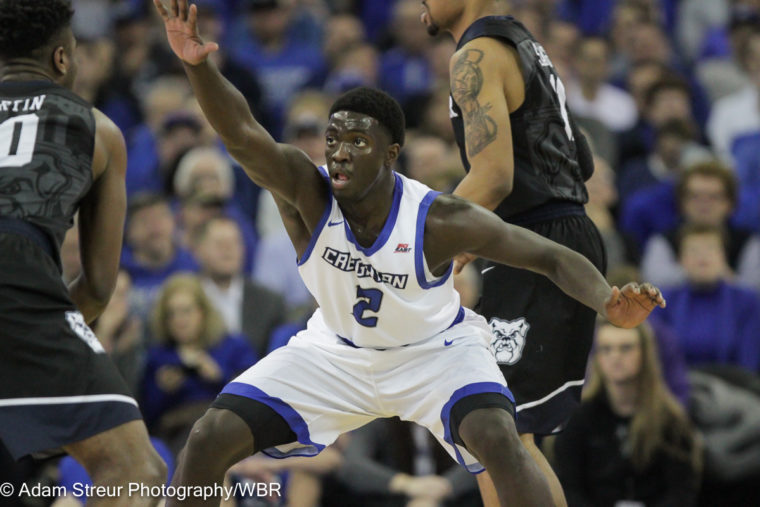 Metro Basketball League Semifinals Set for Thursday Night
The Omaha Metro Basketball League tournament tipped off on Monday night at the Iowa West Field House in Council Bluffs.  By the end of the night the field of 18 teams shrank down to the final four.  Three of the top four seeds advanced as expected to semifinals, with one that didn't losing in four overtimes.
The defending MBL Champs, the Rooferees will take on the Khyri Thomas led Andy's Lawncare in one semifinal game on Thursday at 7PM, while a historically dominant team, Going Vertical takes on the seasoned team BD in the other semifinal.  The winners of those games will play for the 2017 MBL Championship at 8PM.
While we wait for the champion to be crowned on Thursday night, here is how they all got there.
Quarterfinals
BD 82, Team Narmi 79, 4OT
The final game of the night was a historical one as this one took four overtimes to decide a winner when it was all said and done.  Team Narmi was arguably the top seed of the tournament and came off a 30 point win against play-in winner the Spartans.  BD on the other hand had to hold off a pesky Winning Mentality team to advance to the quarterfinals.
The game started off quickly with a little excitement.  About halfway through the first half, former Bluejay, Will Artino for Team Narmi picked up two technical fouls and was kicked out of the game.  We weren't right on the spot when the call was made, but his presence down the stretch may have been the difference in this game.  Both teams went back and forth and went into halftime with a 31-31 tie.
.@JManigat12 is out here drawing offensive fouls in summer league. @cucoachmac would be proud. #metrobball

— Jacob Padilla (@JacobPadilla_) July 18, 2017
Team Narmi looked like they were ready to pull way to start the second half racing out to a double-digit lead.  However, BD battled back to tie things up at 59 with four minutes remaining and it was a close contest the rest of the way.  Narmi had a chance to win it with former Bluejay and current pro, Jahenns Manigat getting ready to setup for a shot off the dribble found an open Matt Dorwart under the basket just as time was expiring in regulation, but the pass got him a little off balance and they headed into overtime.
In the first overtime, both teams traded baskets with BD setting up for a final shot, but a floor scramble for a loose ball had time expire sending it into the second overtime.
In the second overtime, BD looked like they were going to hold on as they got up a point and two consecutive misses from three, including an attempt by Tyler Clement with 14.7 seconds remaining, caused Narmi to foul a couple times.  However, missed free throws only pushed the lead to three giving Narmi one more chance.  This time Manigat took the game into his own hands
.@JManigat12 for the tie. Headed to 3OT. #metrobball pic.twitter.com/PA0EK68GaN

— Jacob Padilla (@JacobPadilla_) July 18, 2017
However, going into the fourth overtime, luck ran out for Narmi as BD used their height advantage to swap offense for defense.  Narmi didn't get any second chances.  Despite more missed free throws towards the end, Narmi only had 1.7 seconds left to get up a shot after a missed free throw, down 3, and the desperation shot was off.  BD will give Going Vertical a run in the semifinals.
Andy's Lawncare 91, Wildcats 88
The Wildcats momentum from their first round comeback win against the Nebraska Wesleyan Alumni continued during their matchup against the high scoring Andy's Lawncare team, who rolled over the Regulators in their first round game 114-85 and had an hour of rest between games compared to the rest of the field.
All eyes were on Khyri Thomas, who has just been on fire all summer, averaging more than 40 points a game coming into the evening.   In the opening game against the Regulators, Thomas went for 50 points, and the question was whether he would be able to get 50 again.
The Wildcats, led by UNO's Mitch Hahn and former Husker Ryan Anderson, weren't going to back down.  They took the lead in the first half and went into the half up 46-43.
In the second half, the battle went back and forth. Anderson took on the challenge of guarding Thomas and had a little fun of his own.
Former Husker Ryan Anderson calls bank on a 3-point shot. Khyri Thomas with 39 points. Back and forth with Wildcats and Andy's #metrobball

— OmahaSummerLeague (@OMAMetroLeague) July 18, 2017
However, Andy's got a little breathing room and when Thomas wasn't scoring, Mitch Ballock and the rest of the supporting cast stepped up and hit shots.  Ballock scored 25 in the earlier game and had about as many in the second, able to keep opponents guessing on whether he was going to shoot the three or drive to the basket.
At the end of the night:
Q: Has anyone ever scored 50+ twice in the same night at @OMAMetroLeague?
A: Khyri Thomas.

He has 52 points with 3:54 left in his 2nd game.

— Matt DeMarinis (@mjdemarinis) July 18, 2017
Thomas didn't end up scoring the rest of the game, and Andy's found a way to advance.  After some stat compiling by WBR's Matt DeMarinis, he discovered some interesting averages for Thomas:
Last four @OMAMetroLeague games for #Creighton's Khyri Thomas:
51.3 points
6.5 assists
5.0 rebounds
3.0 steals
.533 FG%
.448 3FG%
1.000 FT%

— Matt DeMarinis (@mjdemarinis) July 18, 2017
Andy's will now have the tall task of taking on the defending champs in the semifinals.
Going Vertical 85, WM Hoops 67
WM Hoops was the final team to advance to the quarterfinals after ending up going to overtime against LRS Healthcare a few minutes before this game.  On the other side, you had Going Vertical, who had a bit of a scare in the first round from ABIDE with a close 84-79 game of their own, but without dealing with overtime.  The first game appeared to take more out of WM Hoops than Going Vertical based on how this game went.
Going Vertical has several veterans who know how to win the summer league tournaments.  Ben Holling, Cody Levinson, Klaye Rowe, and Wes Wilkinson have been on championship teams themselves and continue to be a solid group with the extra contributions of James Parrott, Austin Chatman and Tradeon Hollins.  They dominated over WM hoops including
Always fun to see a James Parrott dunk. Just posterized a dude. #metrobball

— Patrick Marshall (@wildjays) July 18, 2017
That put a big cap on the first half with Going Vertical heading into halftime with a 54-45 lead.  The second half turned out to be all Going Vertical as they extended their lead and coasting to an almost 20 point victory.  It will be a battle with BD in the semifinals.
Rooferees 90, Judd Knispel Agency 66
The defending champs almost had an easier quarterfinal game than their first round game.  The Rooferees were on upset alert for a good part of their first game with EQ School of Hair, just coming off an overtime last second win in their play-in game with the Rooferees eventually getting a 91-83 win.
However, the Judd Knispel team, led by Creighton's Marcus Foster and Martin Krampelj had to battle to a three point victory over Capehart Sales in their first round game and didn't have enough in the tank to take on the connected Rooferees that seemed to be clicking after their scare.  The Rooferees jumped out fast and built a 20 point lead going into the half, 55-35.
The second half continued to frustrate Foster and crew as the Rooferees turned on their defense.  The final score ended up being 90-66, but the game was called with more than four minutes left to play.  The Rooferees will now focus on stopping Marcus Foster and Andy's Lawncare in the semifinals.
Play-In Games
EQ School of Hair 87, OFW&F Auditors and Accountants 84, 2 OT
This game full of Creighton players went back and forth with Ty-Shon Alexander sending the game into Overtime for OFW&F
Tyshon Alexander with the buzzer beater to send the game to Overtime pic.twitter.com/eGl0iQAjAc

— Bluejay Banter (@bluejaybanter) July 18, 2017
After nothing happening in the first overtime, the 2nd overtime again came down to a last second shot.  Another Bluejay, Jordan Scurry hits the game winner (from two different video angles nonetheless) to get EQ to play against the Rooferees
.@Jordan_S09 FTW in 2OT. EQ School of Hair moves on. pic.twitter.com/8ROE4IiEd5

— Jacob Padilla (@JacobPadilla_) July 18, 2017
Jordan Scurry with the game winner pic.twitter.com/eYxJELzMhX

— Bluejay Banter (@bluejaybanter) July 18, 2017
Spartans 87, Crusaders 78
First Round Games
WM Hoops 77, LRS Healthcare 76, OT
Alex Phillips for 3 to tie it up between LRS Healthcare and WM Hoops. To OT we go. #metrobball

— Jacob Padilla (@JacobPadilla_) July 18, 2017
One more overtime game before Quarterfinals. LRS Halthcare hits 3 with 2.2 seconds left vs WM Hoops #metrobball

— OmahaSummerLeague (@OMAMetroLeague) July 18, 2017
WM Hoops advances to Quarterfinals over LRS Healthcare in Overtime after hitting a FT with .7 seconds left. 73-72 #metrobball

— OmahaSummerLeague (@OMAMetroLeague) July 18, 2017
Andy's Lawncare 114, Regulators 85
Regulators taking it to Khyri Thomas & Andy's LawnCare early. Down by as many as 13 so far but cut to 4 midway through 1st half #metrobball

— OmahaSummerLeague (@OMAMetroLeague) July 18, 2017
Thomas continues to explode in the 2nd half hitting 9 of his last 10 shots. #metrobball https://t.co/vQii1pew3x

— OmahaSummerLeague (@OMAMetroLeague) July 18, 2017
Khyri Thomas is doing that thing again. He's hit 10 of his last 12 shots and has 38 points with 15 minutes left in the game. #metrobball

— Matt DeMarinis (@mjdemarinis) July 18, 2017
Mitchell Ballock to Khyri Thomas for the 3 in transition pic.twitter.com/4XFeXXwE92

— Ravi Lulla (@ralulla) July 18, 2017
Khyri Thomas with the contested 3 pic.twitter.com/ql97Mthfz5

— Ravi Lulla (@ralulla) July 18, 2017
Rooferees 91, EQ School of Hair 83
The game-winner looks to have gotten @Jordan_S09 going. He's 5-8 from 3 in the first half vs. Rooferee's. EQ up 49-47 at half. #metrobball

— Jacob Padilla (@JacobPadilla_) July 18, 2017
Judd Knispel Agency 92, Capehart Sales 89
After starting a little slow 2-9 from field, Marcus Foster finished first half hitting 7-9 to score 18, but team down 1 at half #metrobball

— Patrick Marshall (@wildjays) July 18, 2017
Hilarious. Never seen a missed free throw bounce and get stuck between the time. Jump Ball! #metrobball

— Patrick Marshall (@wildjays) July 18, 2017
Martin Krampelj just hit a huge pull-up jumper from the elbow to put his team up 3 with less than a minute to play. #metrobball

— Jacob Padilla (@JacobPadilla_) July 18, 2017
Marcus Foster hits 2 FT with 5.5 seconds left to put Judd up by 3. Desperation at end misses and Judd advances. Foster with 31, Krampelj 23

— Patrick Marshall (@wildjays) July 18, 2017
Wildcats 91, NWU Alumni 85
UNO's Mitch Hahn trying to keep his team in it w/ monstrous dunk that NWU Alumni wanted technical called for hanging on the rim #metrobball

— OmahaSummerLeague (@OMAMetroLeague) July 18, 2017
Team Narmi 89, Spartans 59
BD 76, Winning Mentality 66
Going Vertical 84, ABIDE 79
Comments
Tagged in: