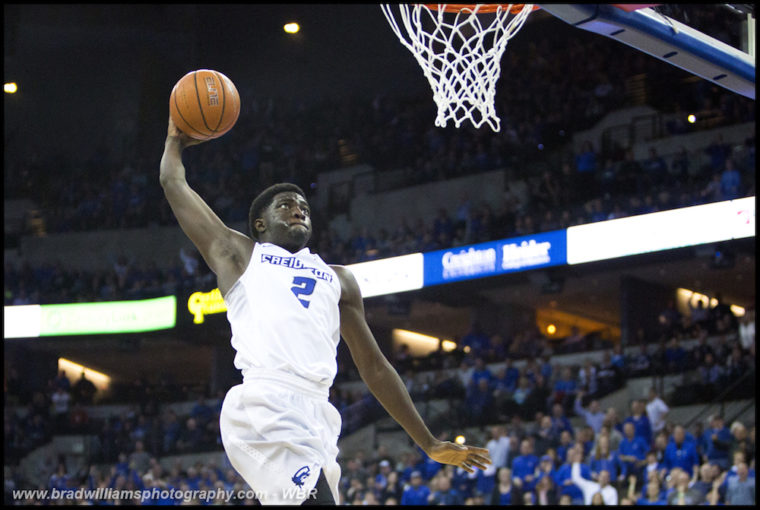 Metro Summer League 2017 Tournament Preview
It seems only a few weeks ago that the Metro Summer League got under way.  Lots of teams, a new venue, and some hoops to keep the diehards at bay.  The end of the summer tournament is here and over the next week will crown a new summer champ.
The defending MBL champs, the Rooferees, have blown through their competition this summer to finish pool play at 6-0.  Team Narmi, full of Creighton grads also went through the summer undefeated.  A third team, Daeges Lawncare, AKA Andy's Lawncare, featured Khyri Thomas playing full throttle against opponents carrying his team to no losses.  Will one of those teams walk away as MBL champs, or will another team sneak in as a surprise similar to past summers?
The play-in round, first round, and quarterfinals will be played on Monday night with the Semifinals and Finals set for Thursday night at the Iowa West Field House located next to the Mid-America Center in Council Bluffs.  You can find the bracket here.  Here is what to expect between now and then.
Monday night 7PM Games:
Court 2:  Andy's Lawncare (6-0) vs. Regulators (2-4)
Andy's has been led all summer by Creighton's to-be junior Khyri Thomas, who has been on a scoring binge scoring over 50 points in two  recent games.  However, he has a whole lot more behind him with fellow freshman teammate Mitch Ballock and UNO's Brendan Lipovsky who is his Division 1 support.  Add in boxing champ Terence Crawford who is a better player than many realize and this team will be tough.  However, the Regulators are full of Bellevue University grads that will be working hard looking for an upset.
Court 3:  EQ School of Hair (1-5) vs. OFW&F Auditors & Accountants (1-5)–Winner plays Rooferees
If you want a little more Creighton flair, keep an eye on this game with current players, Ronnie Harrell, Jordan Scurry, Davion Mintz, and Ty-Shon Alexander could be on the court for this one with one of those teams looking to take out the defending MBL champs.
Court 1: Crusaders (1-5) vs. Spartans (0-6)–Winner plays Team Narmi
Creighton's Kaleb Joseph and Manny Suarez, two newcomers to the program, could be playing in this game.  If they are, they may be motivated to get to the next game against teammates Tyler Clement and Jacob Epperson along with former Creighton players.
Monday night 8PM Games
The rest of the 1st round takes place with SEVEN games going on at once.  Here are the ones you may want to watch in this order:
Court 2:  Going Vertical (5-1) vs. ABIDE (3-3)
Going Vertical has quietly had another strong summer with the crew of Ben Holling, Klaye Rowe, Cody Levinson, James Parrott, and Tra-Deon Hollins as the core of the team.  They are veterans of summer league, so don't be surprised if they make a run with a potential matchup at 9:00 p.m. against WM Hoops
Court 1:  Team Narmi (6-0) vs. Crusaders or Spartans
Historically, Team Narmi that has always been full of Creighton alumni has struggled a bit in MBL play over the years, but it appears they have been together enough now, that they breezed through pool play undefeated.  They should advance over either team they play against and looking for a 9PM matchup with BD or Winning Mentality.
Court 5:  BD (3-3) vs. Winning Mentality (3-3)
BD and Winning Mentality are both made up of Summer League veterans that step it up come tournament time.  Both teams have a lot of local names that people will recognize.  One of them will likely want to be the ones to advance to the quarterfinals potentially playing against Team Narmi. Don't be surprised if you see one of these teams in the semifinals by the end of the night.
Court 3:  Rooferees (6-0) vs. EQ School of Hair or Spartans
The defending MBL champs have been taking care of business this summer as usual with the core of Andre Smith, Derek Fletcher Brett Dougherty and Justin Carter along with league organizer Jason Isaacson.  This team should advance to the quarterfinals at 9:00 p.m. to take on Judd Knispel Agency or Capehart Sales.
Court 4: WM Hoops (5-1) vs. LRS (2-4)
WM Hoops has been getting very little attention, but is full of players looking for some respect.  They go up against another group of players that haven't played as long together ranging in graduates from Hastings College, Morningside, Peru State, Bellevue, and UNO.  One will be looking to likely knock off Going Vertical in the quarterfinals.
Court 7:  Wildcats (5-1) vs. NWU Alumni (3-3)
The Wildcats have been solid all summer behind the current Wayne State players JJ Zumbrennen, Tony Bonner, and Matt Thomas leading the way while also having UNO's Mitch Hahn contributing.  Throw in a couple current Nebraska Wesleyan players and they will be fired up to play against the team of Nebraska Wesleyan Alumni who have been up and down this summer, but may come together during tournament time.
Court 8:  Judd Knispel Agency (3-3) vs. Capehart Sales (3-3)
Judd Knispel Agency team is your chance to see Creighton's Marcus Foster and Martin Krampelj if they are playing.  Capehart has been a mix of current Peru State players and some additional players they have added on.  Usually they are pretty strong come tournament time.  However, whichever team advances will likely have to play the defending champs.  Not an easy task.
Monday night 9PM Games
The quarterfinals will happen at 9PM on courts 1-4.  It is hard to tell who will be playing those games since anything seems to happen in the MBL tournament. Hopefully you can be there to watch it all play out.  However, if you can't follow along with the OMAMetroLeague twitter feed and if your favorite teams make it to the quarterfinals, make the trip out to watch those games.
Thursday Night
Come out to the Iowa West Field House on Thursday night for the Semifinals and Finals at 7PM and 8PM. This may be notable from a Creighton fan standpoint, but it is very rare for a team with a current Creighton player make it to the finals of the MBL tournament.  Could it happen this year?  You may need to follow along to find out.
For more information on the Metro Basketball League, visit the mini-site.  The site will provide you with the details of game times, brackets, team information and more.
Comments
Tagged in: