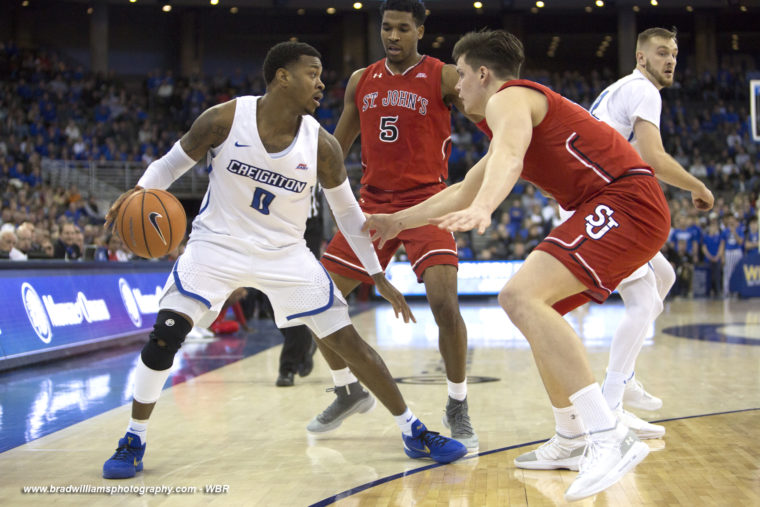 Morning After: #1 Villanova Makes 19 Three-Pointers in 98-78 Win Over Creighton
Key Stats:
Creighton did a lot of things pretty well, and still lost by 20. Villanova's the #1 team in the country for a reason, in case it wasn't clear. The Jays shot 49% from the field (25-51) and 33% from three (6-18), and shot well in both halves (59% overall in the first, 50% in the second). They drew fouls, got to the line, and were stellar on free throws (22-24). They scored 32 points in the paint. They only had eight turnovers, and offset four of them with steals of their own. Rebounds were close, 25-22 (though Villanova slaughtered them on the offensive glass 10-3). And they had 14 assists on 25 made baskets. Not earth-shattering numbers, but those are all pretty good — making half of your shots and 22 free throws on the road against a ranked team is tremendous, honestly.
And yet…Villanova won 98-78. So what the heck happened?
Prior to the game, it was clear that Creighton needed to play under control, because of Villanova's propensity for turning opponents over (and because they make 67% of their shots in transition). Creighton played a relatively clean game, committing just eight turnovers. However, true to form Villanova turned almost every one of them into points — they had 19 points off those eight turnovers. And thanks to 10 offensive rebounds that led to 15 points, Villanova had a 34-4 combined edge in points off turnovers and second chance points. As WBR's Matt DeMarinis said aptly on Twitter, if you give the Wildcats some rope, they'll hang you with it.
And then the Wildcats did what they do better than almost anyone: make a whole bunch of three-pointers, contested or not. 39 of their 68 field goal attempts were three-pointers; they made 19. Though the Jays outscored them 32-20 on points in the paint, the Wildcats outscored the Bluejays 57-18 on three-pointers.
It's hard to stomach but sometimes you play pretty well and the other team is just better — and plays a great game. When that team is the 21-1, #1 ranked team, all you can do is shake their hand, move on to the next game, and look forward to the rematch where they hopefully don't make 19 three-pointers.
But if you're looking for a small, insignificant victory among the statsheet, it's this: Villanova tied a school record for most threes in a game, but came up two shy of the arena record — held by the 2014 Creighton Bluejays.
Standout Performance:
There were some encouraging individual performances, despite the lopsided final score. Davion Mintz had seven assists and zero turnovers in 27 minutes of play, and is now (quietly) second in the Big East in assist-to-turnover ratio in league games. Mintz has a total of 39 assists and 12 turnovers in 11 conference games, averaging over 22 minutes a game. Opinions on his play remain mixed among Jays' followers, though, and speaks to the differences in what people expect from a point guard.
If it's creating shots for himself when the offense stalls, then you're likely disappointed — he averages around five points a game. But if it's taking care of the basketball, facilitating for his teammates, and letting his all-conference teammates Marcus Foster and Khyri Thomas take over when the offense stalls, then you're likely impressed — it's flown under the radar but he's been pretty darn good at keeping the car on the road, so to speak, and letting those two do their thing.
And Jacob Epperson, playing in his second game, looked a lot more comfortable than he did in his debut. He scored seven points in 17 minutes (3-5 shooting), grabbed two boards, and had an assist. His stamina isn't where he'd like it to be, by his own admission, and that's causing him to be late on ball screen-and-roll plays, and leaving him gassed as he sprints back on defense. But you can already see glimmers of what he brings to the table, and why he'll play an important role down the stretch.
Recap & Analysis:
Much as they did in last March's Big East title game, Creighton came out of the gates with a solid effort on both ends and matched Villanova shot-for-shot, only to find themselves buried by an avalanche late in the first half. With the score 14-8 in favor of the home team, they got a three from Toby Hegner, a nifty dribble drive and layup from Marcus Foster, a lob to Jacob Epperson, and a three from Ty-Shon Alexander that tied the score at 18.
A 7-0 mini-run out of a timeout — the first five points of which were scored by player of the year candidate Jalen Brunson — gave Villanova a 25-18 lead. Then a 15-0 run moments later busted the game open, 40-22. It included four consecutive three-pointers from four different Wildcats (Brunson, Collin Gillespie, Omari Spellman, and Mikal Bridges). Combined, it was a 22-4 surge spanning six minutes, and was the defining stretch of the game, as the teams were separated by just two points over the other 34 minutes.
That big run forced Creighton to abandon the matchup zone they had played most of the first half, and to call off their three-quarter court press. It was a surprise to see them trot out their matchup zone, and especially the press, because they've not utilized either for more than a possession here or there in a game this year.
"They average 1.28 points per possession this year, and most teams are playing them man to man," Coach Greg McDermott said after the game in explaining their defensive plan. "Their numbers weren't as great against the zone. We thought that maybe with the matchup we could get to some of their shooters. And it did force them to take a couple tough shots and a couple quick shots, which we wanted them to do, but to their credit they made them. It didn't matter that much since we couldn't guard them man to man anyway — and we're not alone."
The reasoning behind the gameplan was sound. Half of Villanova's shot attempts are three-pointers, and regardless of who they've played or what defensive scheme that team employed, they've created good shots from behind the perimeter — and made a ton of them. By using a matchup zone, CU thought they could cut down on the other parts of Villanova's offense (scoring in the paint, getting to the line), and give themselves a chance to keep the game close.
And here's the thing: it worked. Villanova only attempted six free throws, tied for their fewest in a game this season and just the fourth time all year they've attempted less than 10. They got 20 points in the paint, which is a manageable number for the Jays to combat. But because Villanova made 19 threes, and 15 of their first 25 shots overall (nine of them threes), it looks like a terrible plan.
In the end, the defensive scheme probably didn't matter all that much. Creighton's man-to-man defense didn't fare much better — Villanova made four of their last eight shots to end the half after the Jays went back to a man scheme, and four of their first seven in the second half. That prompted them to switch to a 1-3-1 zone, which resulted in — what else — another three. No matter how the Jays defended the Wildcats, the result was the same.
Still, the Jays hung around. They answered Nova's 22-4 first-half run with a 10-0 run of their own, highlighted by this transition lob-dunk to Epperson:
THROW IT DOWN YOUNG MAN! #GoJays #LetItFly #BIGEASThoops pic.twitter.com/f13bvdExUe

— Creighton Men's Basketball (@BluejayMBB) February 2, 2018
And the second half began with Foster stealing the ball from Brunson, and racing down court for a bucket:
Marcus Foster with the steal and score! #GoJays #LetItFly #BIGEASThoops pic.twitter.com/UX9USPWHxm

— Creighton Men's Basketball (@BluejayMBB) February 2, 2018
A three from Thomas and a second fastbreak layup from Foster were part of an opening salvo that saw the Jays make four of their first six shots. Unfortunately, Villanova continued to be just as hot, making four of their first seven attempts. And when the Jays failed to cut into the lead with any significance in the first four minutes of the half, the game was all but over. Villanova eventually built a lead of as many as 27 points before Creighton's bench took over. Kaleb Joseph scored 12 points over the final nine minutes of the game, including a perfect 8-8 from the line, as the Bluejays made the score a bit more respectable.
"They were as good as I thought they were," McDermott noted. "Watching them on film you get caught up as a basketball old school purist in the way they play the game and the simplicity of what they do, but also in how perfect the execution is. It is hard to imagine that they could be a more efficient offensive team than they were a year ago, but they are. Its like a video game with their offense. It's fun to watch. It's hard to prepare for, and it's very hard to come up with a scheme to try to stop them."
They Said It:
You Said It:
I've been told there were 26 NBA scouts approved for tonight's Creighton at Villanova game, including multiple General Managers. #ProJays

— Rob Anderson (@_robanderson) February 1, 2018
Former Creighton guard Maurice Watson, a Philly native, is in the house. Sitting behind the #Jays bench tonight

— Jon Nyatawa (@JonNyatawa) February 1, 2018
I love that #Creighton is pressing!!!

— Heath Gunderson (@Heath_Gunderson) February 1, 2018
Creighton throwing out a token press? Creighton throwing out a token press. Mac's burning redshirts one game, surprise pressing the next. THE MAN'S A WILD CARD.

— truebluejays (@truebluejs) February 1, 2018
Jays come out 3/4 ct press back to a matchup 2-3 zone. Haven't really shown either look at all year. Nova already has made three 3's. We'll see how committed Coach McDermott is to the zone.

— Nick Bahe (@NickBahe) February 1, 2018
The half/three-quarters press is new. Let's go

— Patrick Marshall (@wildjays) February 1, 2018
Not a bad first four for Creighton. It's amazing how fundamentally sound Nova is. Every possession counts for Creighton tonight

— Martin Swanson (@bigredtank72) February 1, 2018
Showing a little pressure off of makes, and went to the little 1-3-1 already. Gotta throw everything you can at Nova. Nova switching everything on D, let's get Marcus into some favorable matchups and have him drive it. #GoJays

— Tony Roth (@toneroth) February 1, 2018
Villanova is going to make tough shots. That's what they do as well as anyone in the history of the game. What the #Jays have to limit is live-ball turnovers and second-chance opportunities that lead to easy ones.

— Matt DeMarinis (@mjdemarinis) February 1, 2018
Creighton's defense has been good, but Nova is just making shots.

— Corey Lathrop (@cjlathrop) February 1, 2018
Epperson with a board, a bucket, and a dime that leads to a bomb. Yeah, he normalizes things just a bit in a post-Martin world.

— Matt DeMarinis (@mjdemarinis) February 1, 2018
Marcus has taken Bridges to the rack twice already. I like Creighton's chances if he continues to win that battle.

— Jacob Padilla (@JacobPadilla_) February 1, 2018
It's amazing how much Nova relies on jump shots but just drills them anyway.

— Derek Rayment (@PRspcDerek) February 1, 2018
That's right, Nova. You've gotta respect the Aussie on the pick and roll. Epperson out there putting the roll in #RollJays.

— truebluejays (@truebluejs) February 1, 2018
I've already got my "Big Game Ty-Shon Alexander" tweet ready in my drafts. So if he plays poorly for the rest of the game, you know who to blame.

— Bluejay Buff (@BluejayBuff) February 1, 2018
Can't help off as much with Nova as you can on other teams

— Jeremy Hauer (@jeremyhauer) February 1, 2018
#Creighton had three true freshman on the floor at the same time, on the road, against the number one team in the nation! #TheFutureisBright

— Heath Gunderson (@Heath_Gunderson) February 1, 2018
The Wells Fargo Center is so named, I assume, because it has all the atmosphere of a bank lobby. So quiet right now that you can hear the Jays calling out defensive assignments.

— truebluejays (@truebluejs) February 1, 2018
Nova has played 14 minutes without getting called for a foul. #BigEastRefs pic.twitter.com/ZQiIiEpTii

— FakeBlueCrew (@FakeBlueCrew) February 1, 2018
You don't talk about a no-hitter while it's in progress. Jeez…I thought you did baseball.

— Rob Anderson (@_robanderson) February 1, 2018
11-0 run for Villanova. Pick-six turnover for a runout layup & then a wide open 3 for Bridges. Wildcats definitely make you pay for your mistakes

— Jon Nyatawa (@JonNyatawa) February 2, 2018
That spiraled out of control in a hurry.

— Jacob Padilla (@JacobPadilla_) February 2, 2018
Here's the Villanova run that nobody survives.

— Corey Lathrop (@cjlathrop) February 2, 2018
Villanova could beat the Chicago Bulls tomorrow. Don't @ me.

— Matt DeMarinis (@mjdemarinis) February 2, 2018
Seriously, all props to Nova. They don't make mistakes, they know exactly what they want to do on offense and have just enough defense. They'll be playing on the last week of the season.

— Martin Swanson (@bigredtank72) February 2, 2018
JACOB EPPERSLAM

— Big East Coast Bias (@becb_sbn) February 2, 2018
That last sequence is what Epperson brings. Verticality to force a miss at the rim the sprinted up the floor for a lay-OH MY GOODNESS JACOB

— Jacob Padilla (@JacobPadilla_) February 2, 2018
That made me smile! And while I was typing – OH MY! OK WE SEE YOU @JacobEP41 !!!! https://t.co/QnES2GHnAA

— Bleeds Blue (@CUAlum81) February 2, 2018
Yep, couldn't even finish my tweet before he did something else spectacular.

— Jacob Padilla (@JacobPadilla_) February 2, 2018
Update: Take the under. One at halftime. https://t.co/wgmLT67Wme

— John M. Bishop (@JohnBishop71) February 2, 2018
Villanova is just a buzzsaw. 10 3s in a half is ridiculous.

— Jacob Padilla (@JacobPadilla_) February 2, 2018
'Nova up 15 at half. Guess what?

11-0 points off turnovers; 5-2 second-chance points. 14-point edge. If you give them rope they will hang you with it. https://t.co/FSYpscLLnA

— Matt DeMarinis (@mjdemarinis) February 2, 2018
Villanova with 1.553 PPP. Not a lot of teams are going to beat you when you are doing that. You have to hope they go cold in the 2nd half.

— Patrick Marshall (@wildjays) February 2, 2018
There's literally nothing you can do to slow Villanova down. They have to beat themselves.

— Corey Lathrop (@cjlathrop) February 2, 2018
Get into a fist fight, maybe?

— Matt DeMarinis (@mjdemarinis) February 2, 2018
My first half summary: the No. 1-ranked team in the nation is very, very good at basketball.

— Rob Simms (@IamRobSimms) February 2, 2018
Remember the 21 3s we got here? God, Nova might eclipse that tonight.

— Creighton Otter (@creightonotter) February 2, 2018
Villanova is relentless. This is exhausting. I am exhausted.

— truebluejays (@truebluejs) February 2, 2018
Was just thinking that same thing.

— Rob Simms (@IamRobSimms) February 2, 2018
We should just bury the Wragge game tape cause it just makes Nova angrier every year.

— FakeBlueCrew (@FakeBlueCrew) February 2, 2018
"I told Greg (McDermott)…I'm not looking forward to going to Omaha" – Jay Wright.

Hope the Bluejay crowd shows up ready to make noise on February 24! #GoJays

— Michael Murakami (@MichaelMurakami) February 2, 2018
Summary of tonight's game: pic.twitter.com/Dj095gCmye

— Barstool Jays (@BarstoolJays) February 2, 2018
I am now watching this @BluejayMBB game solely to witness @CMTJoe 's chair placement excellence. #Fierce #Foot-speed

— Rob Stone (@RobStoneONFOX) February 2, 2018
Glad I wasn't the only one who noticed the hustle there by Joe Pop. https://t.co/I4CUP1oG7E

— Jacob Padilla (@JacobPadilla_) February 2, 2018
Lots of love for @CMTJoe from @RobStoneONFOX & @NickBahe on @FS1… pic.twitter.com/RuGOH8DLUK

— Michael Murakami (@MichaelMurakami) February 2, 2018
My surgery today was a success. Thanks to everybody praying for me and be with me in tough times! Can't be more motivated to come back and help my brothers on the court. 🏀

— Martin Krampelj (@MartinKrampelj) February 2, 2018
Comments
Tagged in: