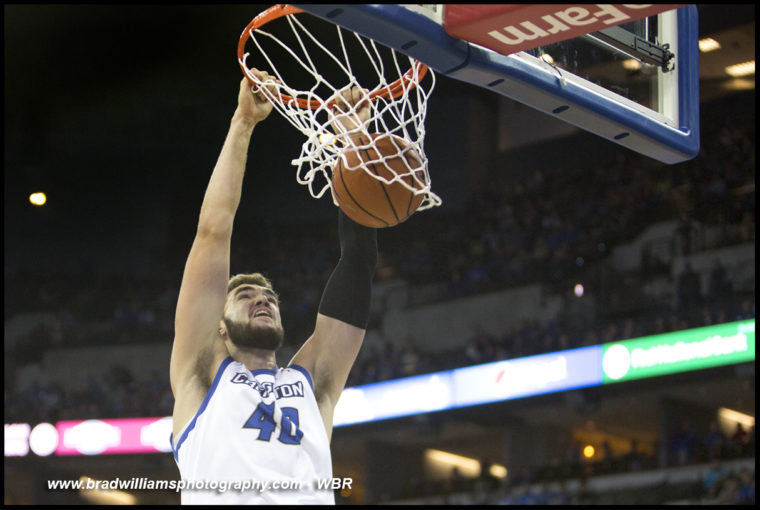 Morning After: #16 Creighton Blown Out by Last-Place Georgetown, 71-51
Key Stats:
Georgetown has a way of bringing out these kinds of games in the Jays, don't they? Two years ago in Omaha, they were utterly embarrassed by the Hoyas — making 11 total field goals and missing 23 straight shots over a 17-minute stretch in a 67-40 loss.
This one wasn't quite THAT bad (I hope I never see an offensive display that horrid as long as I live), but it was equally demoralizing, if not moreso. They had two long stretches of futility: a ten-minute span in the first half where they missed 15 of 17 shots, and an eight-minute span in the second where they missed nine of 10 shots.
There's far more to it than just statistical badness, but these are the cold-hard stat facts: they shot below 40% for the first time this season, they shot 1-18 from three-point range, they had as many assists as turnovers and gave up 18 points off those 12 turnovers, and they had a season-low 30 points in the paint.
Standout Performance:
Creighton got a combined four points and two assists from their three primary point guards (Isaiah Zierden, 0 points and 0 assists; Davion Mintz, 4 points and 1 assist; Tyler Clement, 0 points and 1 assist). Statistically, defensively, everywhere — their point guards were absolutely atrocious all night long.
As Nick Bahe noted on the postgame show, it's not just the lack of assists or points that hurts this team in Maurice Watson's absence. It's the "domino effect", as he called it, of spoon-feeding easy baskets to his teammates early in games to get their energy and confidence going — from finding Justin Patton for a lob, to getting Cole Huff a wide-open three, to getting a layup or a jumper for Khyri Thomas and Marcus Foster.
"Whether people want to admit it or not," Bahe correctly said, "offense does affect your energy. I know you don't want that to be the case, but that's just how it is."
The Bluejays' point guards, as a collective unit, were consistently pushed out away from the basket by Georgetown's defenders and were unable get penetration into the lane. Without that, Georgetown's defense didn't have to collapse or scramble, and that meant the other four players didn't have the semi-open looks they're used to. In other words: their defender was in front of them when they caught the ball, instead of closing out on them a split-second later, and that split-second was the difference between the ability to get around the defender to create a good look and having to take a contested shot (or pass it to a teammate who was in the same scenario).
The Jays' point guards were the standout performance Wednesday night, but not in a good way.
Recap & Analysis:
Creighton and Georgetown traded baskets at a dizzying pace over the first four minutes of Wednesday's game, with the Hoyas leading 9-8 early. The pace was to Creighton's liking — they got a pair of transition buckets from Marcus Foster and two straight post-entry passes for easy layups at the rim from Justin Patton. Over the next four minutes, the teams combined for one made field goal, a jumper from Georgetown's Rodney Pryor.
The offensive bricklaying continued for both teams, as the teams made one field goal each over the next four minutes; combined with a pair of free throws from Marcus Foster, it was 13-12 Georgetown with 7:58 to go. Cole Huff hit a three on the next possession to give CU a 15-13 lead, but instead of the start of a run, it was a mirage in the middle of a desert drought. They were in the midst of a stretch where they missed 15 of 17 shots; their futility cost them a chance to build a lead while Georgetown fumbled around offensively, and as the Hoyas began hitting shots, the Jays continued to take out-of-rhythm shots, good shots that just didn't go in, and everything in between, few of which went in.
Pryor led a surge late in the half that gave GU a 39-27 lead, scoring 13 of his 15 points in the final six minutes of the half. He combined with LJ Peak (11) and Jessie Govan (8) to score 35 of the Hoyas' 39 points. Creighton couldn't score, couldn't get a stop, and as things snowballed on them — just like they did in the Marquette game — they seemed helpless to end it.
Things only went downhill from there. They scored on three straight trips to begin the second half, then went into another dry spell where they made only one of ten shots and committed five turnovers. Georgetown eventually took a 21-point lead on a jumper by Jessie Govan, and as the Jays continued to flail away offensively, the Hoyas soared for dunks, long three-pointers, and well-executed pick-and-rolls that resulted in easy layups. Peak, Pryor, and Govan combined for 53 of their 71 points, and were 22-40 from the floor and 5-11 from three-point range.
This was a 20-point loss that had the feel of a 30 or 40 point defeat, so thoroughly were the Bluejays dominated.
***
As they're currently constructed, Creighton is a fragile team without the confidence or leadership to withstand a punch from an opponent. On Saturday, the game was neck-and-neck for the first 15 minutes, but with Marquette leading 38-37 their defense allowed the Golden Eagles to make 11 of their final 15 shots to end the first half, and 15 of their first 20 to begin the second. Last night in D.C., the Jays led 15-13 with seven minutes to go in the first half and then allowed the Hoyas to score on 11 of their final 13 possessions. That run gave Georgetown a 39-27 lead at halftime, and for all intents and purposes decided the game.
In both games, they lacked an individual that could create their own high-percentage shot to slow the opponent's momentum, or the leadership to huddle up on the floor and motivate the rest of the team to get a defensive stop.
Maurice Watson had a contagious swagger and energy that made everyone around him more confident, more energetic, and simply a better basketball player. But guess what? He's done for the year, and it's time to move on. He can't provide those things anymore. Who's the player that will step up and through sheer force of will demand their teammates raise their level of play? Who will lead by example and get a steal, or take a charge, or get a basket when they absolutely have to have one?
This is the type of loss that demands some soul-searching in the locker room to figure out the answer to those things. This was an effort loss; instead of everyone raising their game 5% to compensate for what they lost, as Coach Mac said was his hope last week, it appeared everyone lowered their game by about 10%.
I kept waiting for someone to show some anger or fire at what Georgetown was doing — someone to say what Creighton fans were feeling, that the team looked like they were dazed, a deer caught in the headlights with no idea what to do, and to take charge of the team. Instead, what I saw was a team limping through a blowout loss, caught flat-footed on defense and standing around far too much on offense. This was a group of players looking around for someone else to give them the answer for how to stop it, instead of stepping up themselves.
This season is far from over, and it's not even on the ropes as some in the national media portrayed it following the loss. They have far more questions than they have answers to at the moment, which is a frightening place to be, but it's only time to hit the panic button if you believe they won't be able to find answers to them.
I think they will. It's clear that the process to finding those answers won't be seamless, nor quick, but I have too much faith in this coaching staff and too high an opinion of the talent level of the players to throw in the towel.
They Said It:
"I'm glad to be back about three weeks earlier than expected. As far as out there tonight, I felt good, but it was day three of me playing live basketball. My timing was a little off, but I know after a few more days, probably even by this weekend, my timing and rhythm will be exponentially better. So I'm not really worried about it." -Zach Hanson on 1620AM Postgame
"I've got to take my leadership to the next level. As seniors, I think Cole Huff, Isaiah, and I all do. Wop brought something not a lot of teams have. He was always leading on the court and off the court. That's missing right now. But I don't think it's anything the rest of us aren't capable of. Obviously we're disappointed to have dropped these two games, but I told guys tonight in the locker room that while nobody's happy with what happened to Wop, when I look at our team and I look around the locker room, our goals that we put together at the beginning of the season don't exceed what any of us are capable of. I have no doubt in my mind that we're going to do everything we can to get back to where we need to be. None of our goals are out of reach. We're going to be just fine." -Zach Hanson on 1620AM Postgame
"There is an emotional hangover from Wop's injury. I remember when we found out, and even in the days afterward, it was kind of like a bad dream. Now that we are where we're at, I don't think there's anything bad about feeling bad for Maurice, but eventually you've got to sober up a little bit and say, 'That sucks, but we still have to go and do what we need to do.' I don't think anybody wants to look back in April and wonder if there's something we could have done differently to change the outcome of games in February and March. Nobody wants that feeling. It's OK to feel bad, but we need to move on and get better. That's the only option for us right now." -Zach Hanson on 1620AM Postgame
"We just have to stay together. We're not going to point fingers. We're not going to make excuses. Nobody cares about our excuses. We're going to get better. It's a slippery slope…guys are tired, they're banged up, we've had three or four guys with the flu this week. So on one hand we need practice time to try and fix this, and on the other hand we have to be careful not to run 'em into the ground. It's tricky. Hopefully this bout with the flu that's going through our team kind of runs through, we get back healthy, we get Toby's ankle a little bit better, get Zach back and continuing to improve, and get everybody back for a good couple of days of practice." -Coach Greg McDermott on 1620AM Postgame
"Our transition game is different now. We got much more in transition before. Maurice was our decision maker. Now the ball gets thrown ahead, and Khyri and Marcus are forced into decision-making roles where maybe they weren't before. We didn't make good decisions tonight, both with the pass and in situations where we attacked when we didn't have a numbers advantage. They weren't put in that situation very much before. We just have to keep watching film and deciding when our opportunities are there, and when they're not. And when they're not, we have to grind it a little slower and get Justin a touch inside, and make something happen that way." -Coach Greg McDermott on 1620AM Postgame
"Georgetown is longer, so it's harder to get a mismatch. Pryor and Peak are both 6'5″, 6'6″, they have some length and some shot-blocking ability at the rim. We weren't able to get Marcus in situations where he could have success at the rim. He had some decent looks from three, he didn't knock those down. Tazz had some good looks from three, he didn't knock them down. Z's two in the first half were wide open. The reality of it is we're going to have to knock some of those down now. It has to be a little bit more of who we are because of the situation we're in. Guys just have to continue to work, get in the gym and get some shots up, and the guys that are in slumps have to get themselves out of it. I'm confident that they'll do that." -Coach Greg McDermott on 1620AM Postgame
"Figuring who will lead this team now is tricky. I think everybody has to do a little bit more. The personalities of the guys that are in a position of leadership, I don't know if their personality is such that they're capable of doing that. Certainly we've got a lot of guys looking over their shoulder, looking for a leader right now. We can do it during a timeout, but on the floor, Wop was it. We have to continue to put guys in position to do that, and I think Marcus has to take on a lot of it because of the role he plays on our team. I've had a lot of talks with him this week about how his role has changed, and how he needs to try and make more plays. He had three assists tonight. He's going to get downhill, he's going to get into the paint, and when he sets his feet and sprays the ball around good things are going to happen." -Coach Greg McDermott on 1620AM Postgame
"It's a struggle right now, I'm not going to sugar-coat it. This has been a tough week. I thought we were prepared, and I thought the first 12 or 13 minutes of the game defensively showed our preparation. But much like the Marquette game, when we got punched we just didn't handle it very well. We let it snowball on us. We've got to correct that, and obviously that's on me to do that." -Coach Greg McDermott on 1620AM Postgame
"We're not being fair to Z, with what we're asking him to play because with everything he's tried to do for us, it impacts us at two positions. We have to ride Marcus and Khyri a little longer than we should. As I told the team in the locker room, we need to look at all three point guard options. We need to evaluate all three. We need to try to figure out in certain games, depending on the matchup, which guy is better. They'll all get a look. We're going to evaluate what happened tonight. And I'm not going to put too much stock into what happened with Davion tonight. He's a freshman, he's playing in his first road game when he's being counted on in a bigger role, and we put him into kind of rock-fight of a game. They really went after him on some ball screens, and he hasn't been in that situation much before. He'll grow from it, he'll learn from it, he'll try to get better from it. I'm confident he will. Tyler is in play, too, and I like what he did for us tonight." -Coach Greg McDermott on 1620AM Postgame
You Said It:
For those of you struggling to find the game on TV, we envy you.

— FakeBlueCrew (@FakeBlueCrew) January 26, 2017
#Jays have missed their last eight shots. Mostly jumpers. Georgetown wasn't much better during that span (1-of-10). GT leads, 11-8

— Jon Nyatawa (@JonNyatawa) January 26, 2017
This Creighton game takes me back… pic.twitter.com/IybIXseVmQ

— Martin Swanson (@bigredtank72) January 26, 2017
U G L Y

— Double Jay (@DoubleJayAlum) January 26, 2017
Why does #Creighton always struggle in this empty arena against this crappy team?

— Heath Gunderson (@heathwgunderson) January 26, 2017
@heathwgunderson The Evansville of the Big East.

— Matt DeMarinis (@mjdemarinis) January 26, 2017
Creighton has 108 points. #alternativefacts

— FakeBlueCrew (@FakeBlueCrew) January 26, 2017
First to 20 wins?

— Martin Swanson (@bigredtank72) January 26, 2017
Jesus this is terrible.

— Creighton Otter (@creightonotter) January 26, 2017
First team to 40 wins

— Double Jay (@DoubleJayAlum) January 26, 2017
Could be blowing them out right now. Gheesh..

— Patrick Marshall (@wildjays) January 26, 2017
@wildjays I'd settle for making one. Single. Jumper.

— Creighton Otter (@creightonotter) January 26, 2017
@bigredtank72 so they focused on offense vs Marquette, defense vs Georgetown. Maybe practice both?

— Tyler Anderson (@TylerA_Anderson) January 26, 2017
Georgetown just abusing the Creighton guards on the high ball screen. Jays guards have to dribble hard and turn the corner.

— Tony Roth ™ (@toneroth) January 26, 2017
/ Gets home from work.

/ Turns on Creighton game.

/ Sees score. pic.twitter.com/9WLElZWqBS

— Garret Mueller (@mue11er) January 26, 2017
Wondering how a guy with only one ACL can be worse than this

— JoeJohns (@joejohns402) January 26, 2017
Perhaps putting the teams worst defender on the other teams leading scorer isn't the best strategy.

— Heath Gunderson (@heathwgunderson) January 26, 2017
Starting to make appointments for weekends in early march. Should have plenty of free time

— FakeBlueCrew (@FakeBlueCrew) January 26, 2017
Remember when we were rated in the top 10? Good times. Good times.

— Martin Swanson (@bigredtank72) January 26, 2017
Man, we make Georgetown look way way way better than they really are. Single-handedly saving JTIII's job, right now?

— Bluejay Buff (@BluejayBuff) January 26, 2017
One of our guards is going to have to make some 3 point shots or we may get blown out.

— Double Jay (@DoubleJayAlum) January 26, 2017
L.J. Peak & Rodney Pryor have 23 points, 8 assists, and two turnovers combined. Creighton's four guards: 12 points, 4 assists, 3 turnovers.

— Matt DeMarinis (@mjdemarinis) January 26, 2017
I have seen this flick before. I know how it ends and it is not with rainbows, unicorns, and a f*****' jellybean waterfall.

— Garret Mueller (@mue11er) January 26, 2017
Preparation for Marquette was about 80-20 in favor of the offense without Maurice Watson. It was about 80-20 defense for G'Town this week.

— Matt DeMarinis (@mjdemarinis) January 24, 2017
@mjdemarinis sure looks like they worked on a whole lot of nothing. Playing soft. Biting on every pump fake. Looking horrible

— pat3man (@Pneil_3man) January 26, 2017
Perhaps they should go to a 50-50 split in the future. https://t.co/rRBBXSKMuH

— Heath Gunderson (@heathwgunderson) January 26, 2017
@heathwgunderson Are we spending any time on the kicking game?

— Schmitty (@burtsmustache) January 26, 2017
I mean the narrative that Creighton focused too much on defense this week probably doesn't work either b/c they haven't played good D either

— Dave Sund (@davesund) January 26, 2017
Not even kidding, I'm going to the gym. 500 meter rowing repeats seem infinitely more fun than this game.

— Garret Mueller (@mue11er) January 26, 2017
I'm so depressed about this game, I can't even bring myself to find someone to blame for this atrocity.

— Bluejay Buff (@BluejayBuff) January 26, 2017
At least people won't complain about Creighton's ranking anymore ¯_(ツ)_/¯

— Fake Ed Balls (@michaelkmcneil) January 26, 2017
Seeing this game, I still don't lose a ton of confidence in what I think the jays can be post Mo. GTown is always tough for the fellas.

— Tony Roth ™ (@toneroth) January 26, 2017
@joejohns402 Yeah, at least the #GoJays kinda kept it close when the @verizoncenterpr scoreboard was malfunctioning…#JustSaying pic.twitter.com/mx5H3FXKHQ

— Dave Wenthold (@Wenthold) January 26, 2017
If someone could run over and stick a quarter in Creighton, that'd be great.

— Anonymous Eagle (@AnonymousEagle) January 26, 2017
Ronnie Harrell coming in because SOMEBODY has to be able to play defense, right?

— Dave Sund (@davesund) January 26, 2017
We have absolutely no clue what we are doing on either side of the ball. None.

— Martin Swanson (@bigredtank72) January 26, 2017
I can't even….

— Patrick Marshall (@wildjays) January 26, 2017
Creighton… does not look good. At all.

— Josh Peterson (@joshtweeterson) January 26, 2017
I've never seen Creighton play this poorly. Wow.

— HolyLandofHoops (@HolyLandofHoops) January 26, 2017
One guy took Creighton from really good to pretty bad. Underestimated how big of an impact Mo actually had.

— Corey Lathrop (@cjlathrop) January 26, 2017
I walked through a 20 mph blizzard in 24 degree weather to go workout because it was exponentially better than watching Creighton.

— Tyler Anderson (@TylerA_Anderson) January 26, 2017
I mean, there's a boatload of time left in the game, but there's no one that can defend or score. No fastbreak, no transition. It's all gone

— alex sindelar (@crimebait) January 26, 2017
I didn't think Creighton would get boatraced by Georgetown but here we are.

— alex sindelar (@crimebait) January 26, 2017
How did we get to this point? Down 18 at Georgetown? Rewind two weeks and let's do this all over again.

— Austin (@letitflycu) January 26, 2017
One guy doing stuff and four guys watching him. That's Creighton's half court offense right now. Hoyas up 21.

— Matt DeMarinis (@mjdemarinis) January 26, 2017
With the day I have had this was supposed to be the fun part of the day. First time I have ever turned off a Jays game. So disappointed.

— Patrick Marshall (@wildjays) January 26, 2017
I'm not mad. Just disappointed. Like, reeeeeeeealy disappointed.

— Creighton Otter (@creightonotter) January 26, 2017
Embarrassing. This team better think about what they want to be.

— Martin Swanson (@bigredtank72) January 26, 2017
SPIN ZONE: Incredibly selfless of Creighton to help JT3's chances of another year doing his dream job at Georgetown. #MenForOthers #AMDG

— truebluejays (@truebluejs) January 26, 2017
At least this put a smile on my face. Watch the ref on the top right of the screen. 😂😂😂😂 pic.twitter.com/B3G4dOIwun

— Tony Roth ™ (@toneroth) January 26, 2017
Comments
Tagged in: