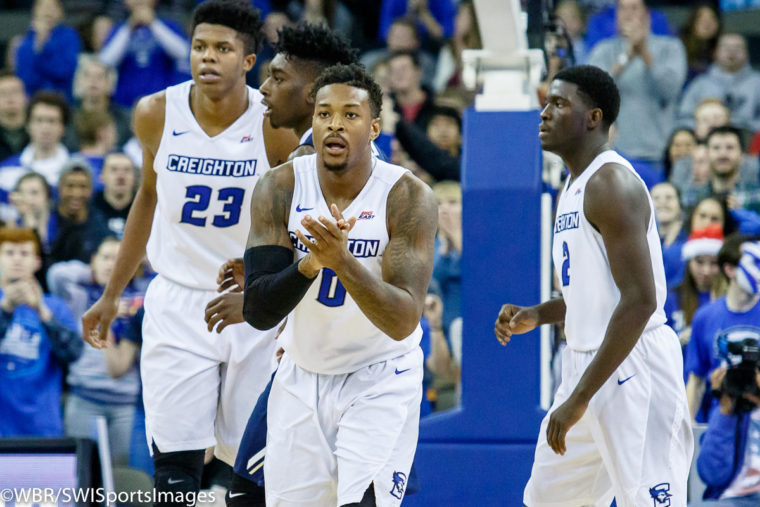 Morning After: #20 Creighton Loses Battle of the Boards, Then Loses Game 87-81
Key Stats:
Any time Creighton plays Seton Hall, rebounding — particularly offensive rebounding — is one of the biggest keys to the game. In each of the last four meetings before last night, SHU had double-digit offensive board totals (12 in the first game a year ago, 17 in the second, 14 in the Big East Tourney, and 11 earlier this year.) So it was a good sign, despite trailing 41-40 at the half, that the Bluejays held the Pirates to just three offensive boards in the opening stanza, and had actually out-rebounded them 4-3 on the offensive glass.
That trend continued well into the second half, as Seton Hall had just one offensive board over the first 15 minutes. Then, the Pirates simply exerted their will and dominated — they grabbed eight offensive rebounds in the game's final five minutes, out-rebounding CU 11-2 over that stretch. The Pirates scored on each of their final 13 possessions, thanks in large part to repeated second chance opportunities that led to them having twice as many shot attempts (12) as Creighton did (6) over those five minutes.
Hell, Angel Delgado had more boards in the second half (12) than Creighton's entire team (11), and despite playing 15 minutes in the half, Justin Patton could manage just one rebound as he was out-muscled, out-worked, and simply out of position far too often.
The rebounding (or lack thereof) was ugly. The defense (or lack thereof) was, too, though not in the way it usually is when Creighton gets torched by an opponent. Seton Hall averages seven made 3-pointers a game in conference play, and that's exactly what they made on Wednesday — seven. They actually attempted four fewer 3's than they usually do, so their shooting percentage was higher, but they got 21 points on three-pointers which is exactly what they get in an average game. How about in the paint? Seton Hall made 19 two-pointers, again right on their conference average of 18.5. And again they attempted fewer than normal (their average is 40 two-point shots a game).
The defense was a problem because they couldn't defend without fouling, especially against Khadeen Carrington (who was an absurd 18-22 from the line). Creighton committed 25 fouls, a season high. Seton Hall went to the line 39 TIMES, more than double their average and 10 more than any Bluejay opponent this year. The last time an opponent attempted that many was UMass in last year's Las Vegas tournament, when they were 27-40 from the line against the Jays. The last time an opposing player attempted 22 or more free throws individually is murkier; Creighton SID Rob Anderson's preliminary research Wednesday night indicated no player has attempted that many in a game against CU since 1980-81.
And then there's this. In two games against Creighton this year, the combo of Desi Rodriguez and Khadeen Carrington have now scored 110 points on 33-56 shooting. There's nothing more to say about that except…yeah.
Standout Performance:
In the Primer we looked at the prolonged slump that Seton Hall's Khadeen Carrington had been in. Remind me to never write something like this ever again:
"At some point Carrington will get his groove back. If you're a Bluejay fan, the hope is that it doesn't happen Wednesday night."
That's just tempting fate, and man, did he get his groove back in a big way. Carrington was 10-15 from the floor, 3-5 from three-point range, 18-22 from the line, with five rebounds, seven assists, and four steals in 38 minutes en route to 41 points. That's the most points the Jays have given up to an opponent since Evansville's Colt Ryan — Colt Ryan! — scored 43 in a 2012 game, and he needed overtime to get there.
For the Jays, Marcus Foster had one of his better all-around games, scoring 23 points with six rebounds and six assists. The six rebounds tie a season-high, and the six assists are the most he's in any game this year. Outside of an all-time gaffe late in the game where the Jays rolled the inbounds pass to him so the clock wouldn't start, and Foster took his eye off the ball long enough for Carrington to "intercept" it and run down court for dunk, it was probably one of Foster's best games as a Bluejay.
Recap & Analysis:
Creighton led 17-11 after five minutes Wednesday night, with their offense operating at such a quick pace that the official scorer and the referees couldn't keep track of their points — twice in the first six minutes they changed their score during a dead ball, first giving them an extra point, then taking it away.
Sadly, that early momentum went away once the Jays' second unit came in, and particularly once the Jays made the choice to go with Isaiah Zierden at point guard for most of the final ten minutes of the half. That decision — going with experience and trust, as Coach Greg McDermott explained after the game — was presumably because of repeated defensive miscues from Davion Mintz and an inability to deal with backcourt ball pressure by Tyler Clement.
With Zierden at the point, the offense was slower, more methodical, more risk-adverse. Defensively, he wasn't as horribly out of position or confused about where to be as Mintz was, but he didn't do much to slow down Seton Hall's guards either. At one point as Bluejay Twitter was blowing up about Mintz sitting on the bench and the Jays' offense floundering with Zierden at the helm, CBSSN showed a pretty damning replay of Mintz wandering around in a defensive half-court set completely unsure of where to be or what to do, and you kinda understood why he was on the bench. Still, he was far from their only defensive liability on Wednesday night, and faced with the reality of having to win a shootout, who gives you the best chance? The guard that can push tempo and create mismatches, despite the occasional mistake? Or the guard who grinds the game to a halt and turns it into a lower-possession game, while all but removing his own three-point shooting prowess from the offensive arsenal?
The facts don't lie; over that roughly ten minute stretch, Creighton shot 3-16, and went on a five-minute scoring drought where they missed seven straight shots with two turnovers.
Still, they were in the game because they were keeping Seton Hall off the boards and making just enough shots, the two big keys to the game. Cole Huff hit three 3-pointers in the first half, Justin Patton made 3-4 including a dunk early on, they were essentially even on the boards, and they trailed by a single point 41-40 at the half.
In the second, Mintz came back out on the floor, and the Jays immediately went on 13-5 run to take a seven-point lead, with Mintz in the middle of nearly everything offensively — he hit a contested three-pointer, he assisted on a wide-open Patton layup, he came up with a steal that nearly resulted in an easy basket. Up 53-46, Clement came in and within two minutes, Seton Hall had cut the deficit to a single point; Zierden checked in and within another minute, the lead was gone. It's not fair to place the blame for squandering that lead on Clement and Zierden — again, the entire team, except for Khyri Thomas, played defense like matadors in a bull fight — but it served as fuel for the fire on social media about the lineup on the floor.
That set up a wild, back-and-forth final ten minutes where neither team led by more than a single possession until the final seconds. And it was in those final minutes where Seton Hall turned what had been a respectable, even laudable Creighton effort on the glass into another dominating performance.
With the score tied 71-71, Desi Rodriguez missed a jumper and Angel Delgado got the offensive board; after working the ball around, Rodriguez missed a three, Delgado got the board again, and then hit a free throw to put the Pirates up 72-71. After a Patton layup gave the Jays a 73-72 lead, they surrendered two offensive rebounds on the next possession, too — this time both Rodriguez and Delgado grabbing one apiece, the latter resulting in a layup from Delgado. Huff made one of two free throws, and then the Jays — stop me if you've heard this before — surrendered two offensive rebounds on the next possession, AGAIN. It was Delgado getting both this time, and led to a layup that put the Pirates up 76-74.
This isn't the first time CU has been done in late in a game against Seton Hall by offensive rebounds. Remember the Big East Tournament loss last March where the Pirates' Derrick Gordon missed two free throws with 25 seconds left, giving CU a chance to tie or win a game they trailed 75-73? Except for the fact that Isaiah Whitehead zoomed around Geoff Groselle to grab the offensive rebound of the second miss, then iced the game from the line?
Yeah, we've seen this against these guys before. And it doesn't get any better on repeated viewings, does it?
They Said It:
You Said It:
🎶🎶🎶The ball is tipped. And there you are…🎶🎶🎶 pic.twitter.com/zHd3ztN0Gx

— Rob Anderson (@_robanderson) February 16, 2017
Patton swats Delgado's put back then dunks the ball so everything feels right in the universe

— alex sindelar (@crimebait) February 16, 2017
Justin Patton with the flush! His 58th dunk of the year matches the TEAM totals for any previous Greg McDermott team at Creighton.

— Creighton Basketball (@BluejayMBB) February 16, 2017
Patton swats Delgado's put back then dunks the ball so everything feels right in the universe

— alex sindelar (@crimebait) February 16, 2017
Prudential Center scorers reverse shaving points for Creighton, meanwhile, Madison Jones hacking 3-point shooters. Carry on.

— SOrangeJuice (@SOrangeJuice) February 16, 2017
why are you fouling cole huff when he's shooting a three

are you stupid?

what is kevin willard teaching these kids?

— alex sindelar (@crimebait) February 16, 2017
Seriously, how many times this year has Cole Huff completed a four point play? @_robanderson? Anything?

— Austin (@letitflycu) February 16, 2017
Because it seems like at least 10

— Austin (@letitflycu) February 16, 2017
@_robanderson out here fighting for points

— Tyler Anderson (@TylerA_Anderson) February 16, 2017
Lots of confusion on the score, but it's been resolved. Creighton has 3 three-pointers and a dunk, which equals 11. pic.twitter.com/UTCukoK9Mm

— Creighton Basketball (@BluejayMBB) February 16, 2017
Math is hard. #goiays https://t.co/XARrOvRL4o

— Rob Simms (@IamRobSimms) February 16, 2017
there might be more pro scouts to see Patton than there are Seton Hall fans at the Prudential Center.

— alex sindelar (@crimebait) February 16, 2017
Marcus Foster with 4 rebounds and 4 assists already. Becoming an all-around player and stepping up on the team game.

— Patrick Marshall (@wildjays) February 16, 2017
Good freaking lord. Davion was playing fine!! Why does he get no love.

— Tony Roth ™ (@toneroth) February 16, 2017
More #Mintz please.

— Heath Gunderson (@heathwgunderson) February 16, 2017
Khyri Thomas picks up his second foul because he's trying to guard Seton Hall's entire team.

— Matt DeMarinis (@mjdemarinis) February 16, 2017
Huff fouled on ANOTHER three. Pirates have contested well on him, but a couple of times, too well. #shbb

— Jason Guerette (@JPGuerette) February 16, 2017
Huff fouled on ANOTHER three. Pirates have contested well on him, but a couple of times, too well. #shbb

— Jason Guerette (@JPGuerette) February 16, 2017
Cole Huff's gotta be near tops in the country on the fouled-while-shooting-a-3 chart

— Jon Nyatawa (@JonNyatawa) February 16, 2017
Mintz please. Please please please.

— Jays Hot Takes (@jayshottakes) February 16, 2017
How about a point guard that is a true point guard perhaps? C'mon Jays

— Martin Swanson (@bigredtank72) February 16, 2017
Creighton offense looked a lot more efficient and flowed with Mintz at the PG. Not sure why he got so few minutes that half

— Brody Deren (@BrodyDeren) February 16, 2017
Halftime in Newark: #Creighton has a 40-33 lead over Khadeen Carrington & Desi Rodriguez.

— Matt DeMarinis (@mjdemarinis) February 16, 2017
You vs the Guy she tells you not to worry about pic.twitter.com/fj7GWuFKKp

— FakeBlueCrew (@FakeBlueCrew) February 16, 2017
Jays gonna have to figure something out 2nd half. Have to slow down Carrington. Maybe 1-3-1? Maybe Khyri? Maybe bigs hedge harder?

— Tony Roth ™ (@toneroth) February 16, 2017
Creighton's playing on a neutral court right now. Would love to hear what the Jays say about this place behind closed doors.

— Jerry Carino (@NJHoopsHaven) February 16, 2017
@NJHoopsHaven must be really strange at first for them after playing at the Link

— Chris McManus (@ChrisSHUhoops) February 16, 2017
Ok Davion just threaded a dime to Patton in transition #freemintz

— Bluejay Banter (@bluejaybanter) February 16, 2017
Oh weird Davion just did 2 reallyyyy good things.

— Tony Roth ™ (@toneroth) February 16, 2017
that was a good pass by Mintz, he should play point guard for the Creighton Bluejays #gojays

— alex sindelar (@crimebait) February 16, 2017
Put people in positions they can succeed. Z is a good shooter, leave him as that. He's not a PG.

— Jays Hot Takes (@jayshottakes) February 16, 2017
Creighton on a 14-4 run and has matched its largest lead of the game at 51-45 with 15:43 left.

— Rob Anderson (@_robanderson) February 16, 2017
#Davion https://t.co/8MtASGGB0J

— Tyler Anderson (@TylerA_Anderson) February 16, 2017
What happened to Davion????

— Patrick Marshall (@wildjays) February 16, 2017
Seton Hall's last possession, in gif form pic.twitter.com/X2WN5MBLcb

— alex sindelar (@crimebait) February 16, 2017
Just got home. Give me a 140-character recap of the first 30 minutes.

— Jacob Padilla (@JacobPadilla_) February 16, 2017
@JacobPadilla_ Z at Point.

— Bluejay Buff (@BluejayBuff) February 16, 2017
@BluejayBuff Oh no…

— Jacob Padilla (@JacobPadilla_) February 16, 2017
I hope coaching staff looks at the +/- with Mintz in the game tonight. Pushing the ball really well tonight #creighton

— Patrick Marshall (@wildjays) February 16, 2017
Khadeen Carrington has been aggressive tonight, but 14 free throw attempts from a guard with this much time left in the game is absurd.

— Matt DeMarinis (@mjdemarinis) February 16, 2017
I believe Carrington has now been fouled by everyone officially now.

— Martin Swanson (@bigredtank72) February 16, 2017
Huff is exhausted from guarding Delgado all night. It's hurting his offense in the 2nd half.

— Heath Gunderson (@heathwgunderson) February 16, 2017
Go. Get. The. 🏀!!!!! #GoJays #Rebound #BlockOut

— Jimmy Motz (@JimmyMotz) February 16, 2017
rebound? anyone? bueller???

— Adam Streur (@astreurphoto) February 16, 2017
REBOUND!!!!!

— Martin Swanson (@bigredtank72) February 16, 2017
Creighton's rebounding or lack thereof is just absolutely infuriating.

— Trent Rogers (@RoyalRogers) February 16, 2017
rrrreeeeeeebbbboouunnnddsssssssss

— Adam Streur (@astreurphoto) February 16, 2017
@RoyalRogers @WBR_Tom Feel like Jays lead the country in rebounds they get a hand on but fail to secure.

— David Dirgo (@ddirgo) February 16, 2017
I've never seen that before. Player intercepts the rolling basketball and sends the exclamation dunk home to ice it. Incredible.

— SOrangeJuice (@SOrangeJuice) February 16, 2017
Wtf Marcus?

— Tony Roth ™ (@toneroth) February 16, 2017
I have never seen that happen. Wow!

— Brian Otskey (@botskey) February 16, 2017
I can't with this game. So frustrating.

— HilltopRx (@HilltopRx) February 16, 2017
Welp. That was ill-advised.

— Matt DeMarinis (@mjdemarinis) February 16, 2017
Creighton with the halfcourt roll stolen for a halfcourt break is the closest we're coming to the Bluejays being hoist of their own petard.

— truebluejays (@truebluejs) February 16, 2017
I have long said rolling the ball up the court is the dumbest play in sports – that play proved my point in a way I never imagined.

— Trent Rogers (@RoyalRogers) February 16, 2017
Officiating didn't cost them the game. Stretches of settling for J's & getting hammered on the glass/2nd chance points. #GoJays https://t.co/XUhj1PPtV7

— Jimmy Motz (@JimmyMotz) February 16, 2017
McDermott on Delgado-Patton: "It's not a fair battle right now in terms of strength … those ORebs down stretch were the difference." #shbb

— Chris McManus (@ChrisSHUhoops) February 16, 2017
McDermott: "Well, (Carrington)'s not in a slump anymore." #shbb

— Jason Guerette (@JPGuerette) February 16, 2017
Comments
Tagged in: