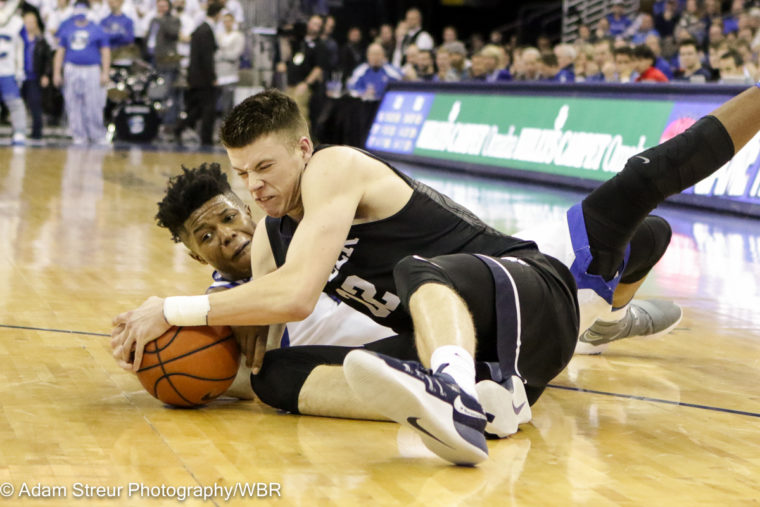 Morning After: #22 Creighton Picks Up Huge Road Win at #16 Butler, 76-67
Key Stats:
Creighton shoots 8-12 from three-point range in the first half, and 5-9 in the second, good for 61.9% — their best shooting performance of the entire season. They assisted on 19 of their 29 made baskets, including an incredible 11 of their 14 first-half baskets.
They gave up 13 offensive boards, but Butler missed 39 shots (including 20 missed three-pointers leading to strange bounces); in that context, it's not nearly as bad as it seemed, as giving up an offensive rebound 33% of the time is only slightly higher than the D1 average of 29.6%.
Standout Performance:
Justin Patton scored 12 of his 15 points in the second half to go along with six rebounds and two blocks — while playing 19 of the 20 minutes — and was as big a reason the Jays won this game as anyone.
His two second-half blocks were downright NASTY. Here's the first:
✋✋✋
👀👀👀#GoJays #TakeFlight #BIGEASThoops pic.twitter.com/2DXkluQiST

— Creighton Basketball (@BluejayMBB) February 1, 2017
And the second:
✋😳😱 #GoJays #TakeFlight #BIGEASThoops pic.twitter.com/SsRF5sIFbO

— Creighton Basketball (@BluejayMBB) February 1, 2017
But the Jays' point guard play deserves praise, too. The platoon of Davion Mintz and Tyler Clement was outstanding, combining for 11 points on 4-6 shooting, nine assists, five rebounds, and just three turnovers. Mintz is a better scorer, Clement a little better facilitator, and with them settling into their roles as co-point guards on this team, their combination on Tuesday night made the Bluejay offense awfully difficult to defend.
Clement had a pair of gorgeous passes to Patton for baskets on consecutive second-half possessions — the first on a pick-and-roll that led to an alley-oop dunk, the second on a pass he wrapped around a defender. The dunk was a play the Jays used to run for Doug McDermott called "Dakota", as several former players pointed out on Twitter, including Ethan Wragge (though it usually resulted in a layup for Doug, not a ruthless dunk):
@NickBahe Dakota. Unstoppable.

— Ethan Wragge (@Wragge34) February 1, 2017
Recap & Analysis:
After two clunky losses to Marquette and Georgetown following the injury to Maurice Watson, a lot of the college basketball world was quick to write off the Bluejays, as their precipitous drop in the polls illustrated. With apologies to Mark Twain, rumors of their demise were greatly exaggerated.
CU had been in a prolonged shooting slump, but from the outset Tuesday night, they were on fire. In the first four minutes of the game, they were 3-5 from three-point range, with Cole Huff, Khyri Thomas, and Justin Patton connecting, and three different players assisting on each (Patton fired a bullet to Huff for the first; Marcus Foster passed to a trailing Patton for the second; Davion Mintz made the extra pass to set up the third, from Thomas.)
Butler had an answer for all of them, however, and led 15-13 when Patton headed to the bench at the 12:20 mark after picking up two fouls 26 seconds apart. Zach Hanson scored on back-to-back possessions, the first on a dunk and the second on a nifty post move to get around a defender, but their defense couldn't get a stop and the Bulldogs led 20-17 despite Hanson's buckets. What immediately followed was one of the most critical junctures in the game, and maybe (if you'll allow me some hyperbole) in the season.
Tyler Lewis hit a pair of free throws, Andrew Chrabascz made a layup, and the Bulldogs pushed their lead out to 24-17. Huff missed a midrange jumper, and as the Hinkle Fieldhouse crowd prepared to explode, Sean McDermott rose up for a three that rolled harmlessly off the rim. Had that shot gone in? It's a 10-point Butler lead, the crowd is going berserk, and Creighton's on the ropes, staggering from what might have been a knockout punch.
Instead, Isaiah Zierden drained a three on the other end to cap a furious two-minute stretch without a whistle, and Greg McDermott called timeout to let his guys catch their breaths. And instead of Creighton being on the wrong end of a big run, they were on the other side of that equation as Zierden's three jump-started a 12-0 burst. Huff added a three to give them the lead 26-24, Thomas extended it to 29-24 with a three of his own, and after Butler finally broke the scoreless drought, Huff hit another three to push the advantage out to 32-28. Finally, Thomas hit his third triple of the half in the final minute, giving CU a 37-33 lead.
The offensive execution was crisp, certainly, and it makes a world of difference when you're hitting open three-pointers that you've been missing. But defensively, they were stellar — Butler missed nine straight shots during that stretch, many of them difficult, contested shots that were dictated by the defense, instead of shots the Bulldogs wanted to take.
Butler scored the first five points of the second half to retake the lead, 38-37, but it lasted all of 32 seconds before the Jays' freshmen took over the game. Mintz scored on a drive to the rim bookended by a pair of Patton layups, and following a three from Foster, the Jays led by eight, 46-38. Look at the execution on this play — that's vintage Creighton basketball:
"That is Creighton Basketball!" #GoJays #TakeFlight #BIGEASThoops pic.twitter.com/fVzsQqR8ac

— Creighton Basketball (@BluejayMBB) February 1, 2017
After the timeout, Mintz hit a three, Patton nailed a midrange jumper, and Mintz hit another three to cap a 17-4 run that gave the Bluejays a 12-point lead. Of the 17 points scored in the burst, 14 were scored by Patton and Mintz; meanwhile defensively, after allowing scores on two of Butler's first three possessions in the half, the Jays gave up points on only one of their next eight.
The 16th ranked Bulldogs didn't go down without a fight. Three straight buckets cut the lead to 54-49, and had the home crowd rocking. Once again, it was a freshman who silenced them. Patton threw down a vicious alley-oop off a lob from Clement:
JUSTIN PATTON – @BIGEAST tested, Bill Raftery approved. #GoJays #TakeFlight #BIGEASThoops pic.twitter.com/mGNBuzcDwt

— Creighton Basketball (@BluejayMBB) February 1, 2017
and then made baskets on each of the next two possessions as well, and the Jays were back up by double-digits at 60-49. At that point, the Jays' freshmen had scored 20 of their 23 points in the half.
The vets took them home. Foster and Thomas held the Bulldogs at bay the rest of the way, combining for the team's next 10 points and helping the team build a 72-59 lead with four minutes left, and Clement ran the point without turning it over, made his free throws, and the Jays got out of Indy with a huge win.
Tyler Clement. Walk-on. #GoJays #TakeFlight #CultureWins #BIGEASThoops pic.twitter.com/qDYydw2dsn

— Creighton Basketball (@BluejayMBB) February 1, 2017
It was the Bluejays' ninth win in 10 games away from home this year, their third win over a ranked team in the month of January, and moved their record to 6-1 against teams in the RPI Top 50 (and 10-3 against the Top 100). And it made some of the national writers who wrote them off sit up and take notice, as CBS' Gary Parrish and NBC's Rob Dauster gave each other a hard time on Twitter following the game for doing that:
@GaryParrishCBS When are you going to apologize to the guy you poll-attacked for moving Creighton up? He clearly knew something you didn't.

— Rob Dauster (@RobDauster) February 1, 2017
@GaryParrishCBS I'll even write it for you. Just copy and paste. "I'm sorry, I was wrong. You were right. Creighton is still awesome."

— Rob Dauster (@RobDauster) February 1, 2017
Dauster took things one step further and admitted he was wrong in a column posted on NBC Sports' College Basketball Talk site.
The win is huge in terms of rehabbing an image that many national writers (like Parrish and Dauster) felt was tarnished in the wake of Watson's injury. It's even bigger in how it sets up the Jays for the next month; after a home game with a suddenly reeling Xavier team dealing with losing their own point guard in Edmond Sumner to an ACL injury, they play at DePaul and Seton Hall before returning home to play Georgetown and Providence. They've got an excellent chance to win all five of those games, and if they do? A second showdown with Villanova awaits on the 25th, this time on national network TV and quite possibly for the Big East title.
They Said It:
"The win at Xavier was a culture win, and this is a real similar. We have two guys that have hardly played all year in Davion and Tyler that have just done a fabulous job of running this basketball team. It's allowed us to move Z back to his natural position, and he came off the bench and played well on both ends of the floor for us tonight. I couldn't be more proud of our guys. This is a hard place to win against a really good basketball team. We defended. We made them take some challenged shots. Obviously they got some offensive rebounds but they also missed 40 shots. You're going to get a few offensive boards with that many misses, especially with Justin on the bench as much as he was the first half. I'm really proud of our team, because we're getting better. We're figuring out who we are without Maurice, and that's improving a little bit every day." -Coach Greg McDermott on 1620AM postgame
"I don't have to tell Tyler much. He knows the other team's offense better than me or anybody on our staff (laughs). He gets no reps with the first-team in practice, and yet he knows exactly what we're supposed to do. He's a true student of the game. And he doesn't get rattled. Every year he's just gotten a little more confident. He's worked on his ball-handling so that's more solid. He made a couple of really nice plays going to the basket tonight, he made a couple of nice passes, and he was really sound defensively. They tried to go at him a few times, and he fought tooth and nail to keep guys out of the middle so they had to shoot jump shots. He was great the first half, Davion was great to start the second half, and then Tyler brought us home. I was really proud of the way both of them played." -Coach Greg McDermott on 1620AM postgame
"Our execution of our offensive sets were really good tonight. The timing was good, the spacing was good, and then of course you have to make the shots. It's a simple game. It's make shots or miss shots. If we miss three and they make three more, it's an even game. Tonight, our shooters who've struggled in Big East play got back to how we shot in the non-conference. It was good to see Khyri rise up and shoot it with confidence. Marcus hit a couple of big ones. Obviously Cole got us off to a great start. Davion hits a couple in the second half. But I also thought Zach and Toby's play the first half with Justin on the bench was really good. Zach got a couple of easy baskets around the rim. Toby was able to stretch the floor with his shooting even though he make one, the threat of him making them opened up the floor and now Marcus and Khyri are able to get downhill towards the rim." -Coach Greg McDermott on 1620AM postgame
"Khyri defended so well. Kelan Martin is a great player, and he shot 5-12 tonight. I think he was 3-12 or something at our place. So Khyri had the toughest assignment defensively, and offensively he continues to play with confidence. We haven't done a lot to work on his shot; we've narrowed up his stance just a little bit because we thought it was getting a little wide, and he's worked his way through that. But he hasn't lost his confidence. He rose up in transition a couple of times tonight and let it fly, and that's how we want our guys to play. He's also elevated his voice and his leadership on this team with Maurice gone, and he and Marcus have really changed their approach to leading this team. It's taken them a while to understand that they have to do that. Marcus, I'm not sure he had three assists total over the first 15 games, and the last two games he's had three in each game. He's making plays for his teammates. His shot selection is much better. He's really embraced the role we need him to play now." -Coach Greg McDermott on 1620AM postgame
"I'm really proud of the way the ball moved. Early in the second half, we made a couple of extra passes that were really impressive. Guys had an open shot but passed it up, made one more pass to get an even better shot. Davion did it once in the corner and then he got the favor returned to him on the other side of the floor and he knocked it down. That's the way we have to play. That's the way our offense has to function." -Coach Greg McDermott on 1620AM postgame
"We noticed on film that the last couple of games, when we move the ball we're tough to guard. I mean, we just tried to keep the ball moving and keep getting ball screens, because that keeps the defense guessing and puts them on their heels. We did a great job of that. Everybody hit big-time shots, too. Guys were hitting their shots after a drive-and-kick. Just a great team offensive win." -Tyler Clement on 1620AM Postgame
"We're a lot more confident now that maybe a couple of games ago, right after the Maurice injury, and the mood in the huddle after they got up by seven was just — 'We've got to get stops.' And we held them to, I think, one bucket on nine straight possessions or something. We know that's what we have to do, to lock down defensively, because when we get stops we can get out and run. That was the key to the whole game. Locking down defensively. They made some tough shots, we did have some mess-ups, but overall we played well and stuck to the gameplan." -Tyler Clement on 1620AM Postgame
"We wanted to keep the defense moving and get to the ball screen, and that's where we got JP open tonight on some of those rolls. Once we started hitting some shots they weren't really helping off the shooters, so that opened up the ball screen between me and JP. We wanted to keep attacking downhill and take advantage of that." -Tyler Clement on 1620AM Postgame
You Said It:
It's about time @FS1 got their top talent in studio to drop some hoops knowledge. Meet me at the big desk, Mr. Bahe. pic.twitter.com/CptZCSdJZq

— Matt DeMarinis (@mjdemarinis) February 1, 2017
Nick a rising star! Trading places! I'm taking his gig! #Omaha #DollarBeerNight 🍻 @BluejayMBB @jphaxton @NickBahe 🎙🎙🎙🎙📺📺📺📺🔥🔥🔥🔥🎯🎯🎯🎯🎯🏀🏀🏀🏀@FS1

— Steve Lavin (@SteveLavin64) February 1, 2017
I am told 17 NBA scouts, including 3 General Managers, @ Hinkle. Lots of exposure for young men on both teams. Gar Forman's 10 feet from me.

— Rob Anderson (@_robanderson) January 31, 2017
@_robanderson If you can find some Iowa State gear there is a better than average chance he'll offer you a front office job with the Bulls.

— Matt DeMarinis (@mjdemarinis) February 1, 2017
Refs miss an obvious shot clock violation, so quite a good start.

— Dave Sund (@davesund) February 1, 2017
Important to note that @cucoachmac tripped up the stairs on the sideline to yell at the refs. Love the effort, coach.

— Austin (@letitflycu) February 1, 2017
How about Coach Mac literally falling out of his chair?!?!?!😂😂😂😂😂😂😂😂😂😂😂😂😂

— Tony Roth ™ (@toneroth) February 1, 2017
Creighton's first 5 shots have all come from behind the arc (3 makes) — they've done well when they've gone inside-out. 9-9 after 4 mins

— Jon Nyatawa (@JonNyatawa) February 1, 2017
Creighton already with more made three pointers than they had against Georgetown.

— Dave Sund (@davesund) February 1, 2017
Davion Mintz is going to be a very good college point guard when it's all said and done.

— Clint Parks (@Brotherhood05) February 1, 2017
Watching this game in night class and trying to not celebrate is one of the hardest things I've ever had to do. #RollJays

— Joe Popovich, Jr. (@CMTJoe) February 1, 2017
Wanted to wait for Creighton to adjust to no Watson before I watched them again…looking really good tonight.

— Garrett Gordon (@GarrettGordon) February 1, 2017
Marcus Foster has got to start attacking the basket instead of settling for three's in transition. #Jays

— Heath Gunderson (@heathwgunderson) February 1, 2017
Zach Hanson completely changes this team. SO good to have him back.

— Austin (@letitflycu) February 1, 2017
Really bad offensive foul call. A big one, though. It's Patton's 2nd … And of course, CU gets a makeup call. But Patton's still sitting

— Jon Nyatawa (@JonNyatawa) February 1, 2017
JP, bro, you HAVE to stop doing this.

— Austin (@letitflycu) February 1, 2017
Spin Zone Patton will be well rested for a great 2nd half

— FakeBlueCrew (@FakeBlueCrew) February 1, 2017
Maybe Patton's constant foul trouble will keep him out of the draft this year.

— Tyler Anderson (@TylerA_Anderson) February 1, 2017
Just keep feeding Zach Hanson why not.

— Dave Sund (@davesund) February 1, 2017
Zach is going off tonight. Love to see it.

— Austin (@letitflycu) February 1, 2017
Zach Hanson in line to get some run tonight. Not just because of Patton's foul trouble — he's been the #Jays best player so far.

— Matt DeMarinis (@mjdemarinis) February 1, 2017
@WBR_Tom like that?

— James Parker (@JamesParker45) February 1, 2017
Every possession needs to be like that for Marcus Foster. Butler can't guard him one on one & if a big doesn't help on the drive it's money.

— Matt DeMarinis (@mjdemarinis) February 1, 2017
I once had to defend @TylerClement_11 running the pick-and-roll in pick-up so I feel Butler's pain.

— Jacob Padilla (@JacobPadilla_) February 1, 2017
Granted, he didn't have a 7-foot alien as his roll man then, but still. https://t.co/LZ754nNeqc

— Jacob Padilla (@JacobPadilla_) February 1, 2017
Tyler Clement has been impressive as the backup, and it's really in large part because of his experience as a freshman in 2014-15.

— Dave Sund (@davesund) February 1, 2017
Butler's offense circling the drain — 12-0 run by Creighton to take a five-point lead.

— Matt DeMarinis (@mjdemarinis) February 1, 2017
Watched a bit of Creighton-Butler when I went home to get some dinner. Bluejays looked really impressive without Maurice Watson Jr.

— Todd Aaron Golden (@TribStarTodd) February 1, 2017
Creighton looks like Creighton tonight. Weird.

— Corey Lathrop (@cjlathrop) February 1, 2017
My god this is beautiful.

— Austin (@letitflycu) February 1, 2017
Creighton right now pic.twitter.com/n9A3vjEk4E

— Corey Lathrop (@cjlathrop) February 1, 2017
Mintz is a better rebounder than any Creighton PG I've seen in a while.

— Dave Sund (@davesund) February 1, 2017
DAVION STOP IT 🔥🔥🔥

— Corey Lathrop (@cjlathrop) February 1, 2017
THREE COUNTER

🔥🔥🔥🔥🔥
🏀🏀🏀🏀🏀
🔥🔥🔥🔥🔥
🏀🏀🏀🏀🏀
🔥
🏀#GoJays #LetItFly #ShooterU #TakeFlight #BIGEASThoops

— Creighton Basketball (@BluejayMBB) February 1, 2017
Love it @Mintzy_10 hitting the three! Then scrappy play by Jays with steal and heck of AST for @Mintzy_10 #GoJays

— Liam Dawson (@xcbluejay) February 1, 2017
The fan behind me just told his neighbor that Justin Patton was just a freshman. His neighbor nearly fainted.

— Rob Anderson (@_robanderson) February 1, 2017
Every time Justin Patton dunks or blocks a shot, a scout gets its wings.

— Rob Anderson (@_robanderson) February 1, 2017
Creighton's execution offensively is on another level right now. You had to figure Greg McDermott would figure out how to ride Justin Patton

— Rob Dauster (@RobDauster) February 1, 2017
Tyler Clement & Davion MIntz: 11 points, 5 rebounds, 9 assists, 3 turnovers in 36 minutes so far. Those are Maurice Watson Jr. numbers.

— Matt DeMarinis (@mjdemarinis) February 1, 2017
@mjdemarinis I think FS1 announcers are watching your feed.

— Adam Streur (@astreurphoto) February 1, 2017
Creighton looks pretty darn good to me right now. They weren't going to adjust overnight without MWJ. Let the haters keep hating! #GoJays

— Kim Adams (@Kim_Adams1) February 1, 2017
Too well coached and talented to let one injury break them https://t.co/nw038Dlyss

— Zach Braziller (@NYPost_Brazille) February 1, 2017
I think reports of Creighton's demise may have been a bit premature.

Looking at you, National Media.

— Big East Coast Bias (@becb_sbn) February 1, 2017
Mintz & Clement have been huge tonight. Valuable minutes & plays from those two tonight! #GoJays #RollJays #BIGEASThoops

— Jimmy Motz (@JimmyMotz) February 1, 2017
Tyler Lewis looks like he won some sort of Butler Battle of the Bands where the grand prize was a spot on the Bulldogs roster.

— truebluejays (@truebluejs) February 1, 2017
What a win!!! Amazing what happens when the team makes their three pointers and they let the point guards play point guard. #GoJays

— Heath Gunderson (@heathwgunderson) February 1, 2017
Wow, #gojays

— Tyler Anderson (@TylerA_Anderson) February 1, 2017
The demise of @BluejayMBB has been greatly exaggerated. pic.twitter.com/JmlXPnLENh

— Brian Norton (@nortonbrian) February 1, 2017
Another road win over a ranked team for @BluejayMBB, wonder how far they'll drop in the polls this week. #Creighton #GoJays

— Rob Simms (@IamRobSimms) February 1, 2017
This is an enormous win for Creighton. Enormous.

— HolyLandofHoops (@HolyLandofHoops) February 1, 2017
Huge road win for Creighton. Every guy who stepped on the floor had a positive impact. Especially my Omaha Public School boys. #rolljays

— Pat Venditte (@PatVenditte) February 1, 2017
What a win tonight for @BluejayMBB. Woke the baby with a couple of shouts after made threes. #GoJays

— Derek Rayment (@PRspcDerek) February 1, 2017
We found our point guard Tavion Clemintz

— Jays Hot Takes (@jayshottakes) February 1, 2017
With Maurice Watson, in Omaha: Jays 75 Butler 64
W/o Maurice Watson, in Indy: Jays 76 Butler 67

— Dave Sund (@davesund) February 1, 2017
Tough to lose a guy like Watson Jr. But this @BluejayMBB is stacked. Figuring out tonight against Butler. They are an Elite 8 caliber team

— matt schumacker (@TheSchuDeal) February 1, 2017
Patton, Foster and Thomas too much for Butler at Hinkle. Extremely impressed with the Jays tonight. #Jays #Creighton

— Sean Saint Jacques (@SSaintj7) February 1, 2017
Hey @Kim_Adams1, how did Creighton's corpse look at Hinkle tonight?

— Matt DeMarinis (@mjdemarinis) February 1, 2017
@mjdemarinis lol you're too funny. Consider it resurrected lol. Now the haters will be singing their praises again 🙄😴

— Kim Adams (@Kim_Adams1) February 1, 2017
One heck of a win for Greg McDermott and Creighton. Walk-on and freshman both played well at the point in the victory at Butler.

— Jeff Goodman (@GoodmanESPN) February 1, 2017
Butler has now lost back-to-back home games after tonight's defeat against Creighton. One heck of a win for the Bluejays. Inspirational.

— Jon Rothstein (@JonRothstein) February 1, 2017
Hell yeah… #Toughness #Creighton #CultureWins

— Kevin Sarver (@KASarver) February 1, 2017
Loving it Ma, I see the fam was tuned in heavy back home ❤️‼️💉 https://t.co/UuIxdVtZjJ

— Davion Mintz (@Mintzy_10) February 1, 2017
FOR THE LOVE OF GOD HIS NAME IS NOT DOUG MCDERMOTT! pic.twitter.com/1bm6B8VDdc

— Matt DeMarinis (@mjdemarinis) February 1, 2017
How about an assist @NickBahe !? https://t.co/SZTwwZMiQA

— Coach McDermott (@cucoachmac) February 1, 2017
@_robanderson @cucoachmac @NickBahe Should have named Doug "Greg Jr." when he was born.

— Matt DeMarinis (@mjdemarinis) February 1, 2017
@mjdemarinis @_robanderson @NickBahe I've been called much worse! Not a big deal.

— Coach McDermott (@cucoachmac) February 1, 2017
@cucoachmac I was ready to correct him if he called you Sydney.

— Nick Bahe (@NickBahe) February 1, 2017
@NickBahe A true friend!

— Coach McDermott (@cucoachmac) February 1, 2017
@cucoachmac I got your back!

— Nick Bahe (@NickBahe) February 1, 2017
Hey @bigeast pic.twitter.com/803qzCr0VK

— FakeBlueCrew (@FakeBlueCrew) February 1, 2017
Comments
Tagged in: