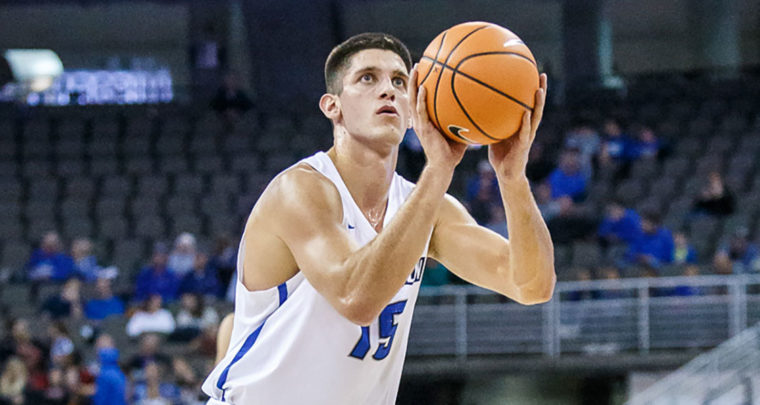 Morning After: #25 Creighton Melts Down In Final Three Minutes Against #23 Seton Hall, Drops Big East Opener 90-84
Recap & Analysis:
Thursday night in Newark, Creighton put together a brilliant first half of basketball by being physical on both ends of the floor. They outrebounded a great rebounding Seton Hall team 22-16, and were even with them on the offensive glass 6-6. They scored 26 points in the paint in those first 20 minutes, getting to the rim seemingly at will and making 17-21 of the two-point shots they attempted (80%). And they turned it over just three times. Because they rebounded the ball, they were able to speed up the game, run in transition, and create mismatches that led to them being able to penetrate Seton Hall's defense and get all those high-percentage looks near the basket. Because they were getting good shots at the rim, they drew fouls and made 10-11 from the free throw line. And they did all of it without turning the ball over, as the Jays had just three turnovers in that first half.
They survived an injury scare to Marcus Foster, who crumpled to the floor on a drive early in the first half with an apparent knee injury. Flashbacks to January, when Maurice Watson went down at nearly the exact same spot on the floor at Xavier, were unavoidable as Foster was helped off the floor by his teammates. A few minutes later, Foster emerged from the locker room with a huge smile, and checked back into the game. And he sent a message on this ridiculous dunk: his knee was just fine, thank you very much.
Minutes after he was carried off the floor with an apparent knee injury, Marcus Foster dunks one from Omaha. pic.twitter.com/XpDiXbWSr0

— Josh Planos (@JPlanos) December 29, 2017
Foster scored 12 points over the final 12 minutes of the half, and when he buried a running jumper as the horn sounded, it gave Creighton a 53-42 lead.
Marcus Foster! 🙌

His 12 Points lead a balanced scoring effort from @BluejayMBB in the first half. pic.twitter.com/tgw16iXTgW

— #BIGEASThoops (@BIGEASTMBB) December 29, 2017
They'd done a lot of good things in that half, and were impressive with their offensive execution — the spacing, ball movement, court awareness, and shot selection left the Pirates scrambling and the crowd at The Rock restless. It was almost enough to cover up a really poor half from behind the arc. Creighton made just three of their 16 3-point attempts in that first half, but when you're up by 11 on the road against a ranked team, who's worried about that?
After halftime, Seton Hall ratcheted up their physicality and cut off the driving lanes CU had exploited in the first half. Egged on by a large, boisterous Prudential Center crowd, the Pirates played with a different level of intensity than they had in the first. They outrebounded Creighton 24-16, and got key offensive rebounds (and second chance points) at big moments. Angel Delgado, the Pirates' All-American center, summed it up:
Angel Delgado on turning the game around: "In the first half, those guys punched us in the face right away. [But] It's our home and we've got to protect our home, so in the second half, [we said] every four minutes we've got to play harder than them."

— Chris McManus (@ChrisSHUhoops) December 29, 2017
Follow-up question asked Angel what animal Seton Hall is, if BE is a pit bull: ""My team, we're a dinosaur. Destroy them in one bite!"

— Chris McManus (@ChrisSHUhoops) December 29, 2017
The Jays' struggles from behind the arc in the first half continued in the second, making just two of the nine 3-pointers they took after the half. Unable to get to the rim, they settled for a lot of jump shots, and that meant they didn't draw fouls — and when they did, they missed the free throws. CU also got sloppy with the basketball, turning it over nine times, leading to 15 Seton Hall points. Combine the 15-4 edge in points off turnovers in the second half with a 13-1 advantage in made free throws in the second, and it's not hard to see how Seton Hall turned a nine-point halftime deficit into a six point win.
"The biggest difference to me between the first and the second half was our aggressiveness on the defensive end, and certainly some execution on the defensive end," Coach Greg McDermott said on his postgame radio show. "Our ball screen coverage got pretty soft, and as a result they were almost able to get a running start at our big men. We didn't rebound as well, either. We missed free throws. We missed assignments. We had a lot of wide open threes that we missed, and we have to knock those down when the opponent is plugging up the paint."
On the Bluejay Radio Network pregame show, analyst Nick Bahe talked about the Jays' point guard situation, and the fact that the Jays don't have a single player among the league leaders in assists — Khyri Thomas led the way entering the game with 32, and five teammates had between 29-31. While that kind of "team passing" is admirable, Bahe asked the question of who would take over late in a close game, and wondered which of those six players would become the playmaker to help get his team over the top in such a game. How prescient that was; over the final 3-1/2 minutes of Thursday's game, the Jays scored zero points, went 0-4 from the field, and turned it over three times.
"I don't think our guys are selfish offensively, and I told them that after the game," McDermott said. "I do think they're shouldering too much of the responsibility at trying to go and get us a basket. Rather than trusting the pass, and trusting their teammates, they're going and trying to make a play at times when it isn't there. That's where a couple of the turnovers came from, and a couple of the shots might as well have counted as turnovers because they were terrible shots."
Key Stats:
Creighton has been outrebounded three times this season; not coincidentally, those are their only three losses. They lost the battle of the boards 42-37 on Thursday, and particularly in the second half, gave up too many offensive rebounds.
The Jays attempted just 15 free throws in the game, and just four in the second half. Seton Hall struggled to convert, making just under 69% of their free throws (22-32), but attempted twice as many and made seven more than the Jays attempted.
Neither team shot well from behind the arc. CU was 5-25, and Seton Hall was 6-16. Threes are a bigger part of Creighton's game than they are for Seton Hall, and the Jays' struggles hurt them.
Standout Performance:
Martin Krampelj had a career night, and it's a shame it was wasted in a loss. He made 11-16 from the floor and had a double-double with 23 points and 10 rebounds while doing a nice job defensively on Seton Hall's bigs. Particularly in the first half, Krampelj was almost unstoppable — he had 11 points and five rebounds in the first seven minutes alone.
They Said It:
You Said It:
Suspended Seton Hall forward Ismael Sanogo is back with the program, per source. He will dress tonight. Uncertain if he will play. #shbb

— Zach Braziller (@NYPost_Brazille) December 28, 2017
thank god he's getting dressed tonight. stadium security apparently doesn't like it when you show up nude. https://t.co/KI4c5HFyyO

— alex sindelar (@crimebait) December 28, 2017
Hopefully, during the second half, Willard will look over to him, see the anticipation on Sanogo's face to get into the game, and yell, "HEY ISMAEL, ITSANOGO HAHAHAHA"

I'll leave. https://t.co/KjVIZw9IbI

— Bluejay Buff (@BluejayBuff) December 28, 2017
Kind of love that Seton Hall on the road is Creighton's first conference game. We should get a really good feel about where exactly the Jays stand in the league. They've basically been No. 4 by default for most people.

— Jacob Padilla (@JacobPadilla_) December 28, 2017
Seton Hall has disrupted Creighton's rhythm in the early going here. Not a great start.

— Dave Sund (@davesund) December 28, 2017
Looks like the right knee for Marcus Foster, who's down and in a lot of pain

— Jon Nyatawa (@JonNyatawa) December 28, 2017
Oh no.

— Jacob Padilla (@JacobPadilla_) December 28, 2017
Oh, no, Marcus.

— Dave Sund (@davesund) December 28, 2017
Oh no….

— Corey Lathrop (@cjlathrop) December 28, 2017
NEW JERSEY SUCKS WILLARD SUCKS SETON HALL SUCKS EVERYTHING SUCKS

— Bluejay Buff (@BluejayBuff) December 28, 2017
Why does God hate us

— FakeBlueCrew (@FakeBlueCrew) December 28, 2017
For the love of…we can't have anything nice

— Bleeds Blue (@CUAlum81) December 28, 2017
The one guy we couldn't lose…#GoJays

— Martin Swanson (@bigredtank72) December 28, 2017
Oh boy this isn't good. Marcus looks like he's hurtin. 😢😢😢

— Tony Roth (@toneroth) December 28, 2017
Marcus Foster down in the exact same spot on the court where Maurice Watson tore his knee up last season. Being helped off the court by Tyler Clement and Jordan Scurry. Hopefully not as serious as it appears by the amount of pain he looks to be in.

— Matt DeMarinis (@mjdemarinis) December 28, 2017
I hate everything

— Mike (@michaelkmcneil) December 28, 2017
Every year pic.twitter.com/VjGOR6YFn7

— FakeBlueCrew (@FakeBlueCrew) December 28, 2017
please donate your healthy knees to 605 florence blvd, omaha, ne. these athletes need knees. don't be greedy with your knees. what are you gonna do with 'em anyways? crouch down? yeah right.

— alex sindelar (@crimebait) December 28, 2017
Foster returns from locker room. Says he's going to play. #Creighton

— John M. Bishop (@JohnBishop71) December 28, 2017
On the fourth day of Christmas the Bluejays gave to me, Marcus Foster with a healthy knee https://t.co/YYuoy9y1hv

— truebluejays (@truebluejs) December 28, 2017
Yep. He's back. No ice on the knee. Laughing it up with Coach Mac — and headed to the scorer's table now https://t.co/TIJiPifLZO

— Jon Nyatawa (@JonNyatawa) December 28, 2017
Foster just emerged from the locker room with a huge smile on his face and is now checking back into the game. Good news for Creighton after a scare.

— Rob Dauster (@RobDauster) December 28, 2017
Live look at Ben McNair in the locker room… #GoJays pic.twitter.com/Rv4JRPh67w

— Michael Murakami (@MichaelMurakami) December 29, 2017
Marcus Foster cleared for a takeoff after a pass shake free of Myles Powell at the top of the key. He gets up pretty good for a one-legged man.

— Matt DeMarinis (@mjdemarinis) December 29, 2017
Official just told Creighton's bench to pipe down. He said it loudly. Not sure how it's playing on TV but the game's physical down low.

— Jerry Carino (@NJHoopsHaven) December 29, 2017
I ONLY WANT TO HEAR FROM THE BALD COACH https://t.co/Gqpx1YvK21

— Bluejay Buff (@BluejayBuff) December 29, 2017
Creighton is winning the bully ball battle so far. Up 32-22 on points in the paint + free throw line. Second chance points also 8-7 in favor of the #Jays. 45-35, CU, with 3:11 left in the first half.

— Matt DeMarinis (@mjdemarinis) December 29, 2017
I say this every year, but watching Creighton run offense in person is a purist's delight. The spacing, the ball movement, the awareness…so impressive.

— Jerry Carino (@NJHoopsHaven) December 29, 2017
Marcus Foster caps an impressive first half with a coast-to-coast running floater at the buzzer. #Jays are definitely happy he's OK

— Jon Nyatawa (@JonNyatawa) December 29, 2017
Raise your hand if you had Creighton hanging 53 on Seton Hall in the first half despite dismal 3-point shooting and a Marcus Foster knee injury scare.

— truebluejays (@truebluejs) December 29, 2017
Phenomenal half of basketball by Creighton — 53 points on 39 possessions against a Top 25 KenPom defensive unit. Up 11 at the break on #23 Seton Hall despite 3-of-16 shooting from beyond the arc.

— Matt DeMarinis (@mjdemarinis) December 29, 2017
Creighton's shot distribution tonight:

14 three-pointers
14 layups/dunks
3 two-point jumpers

This is the platonic ideal of efficient offense. It's why they're up by 10 and scoring 1.36 PPP despite hitting just 21% behind the arc.

— Jeff (BPredict) (@BPredict) December 29, 2017
Creighton's offensive execution is really impressive. Great spacing, solid screens, hard cuts, changes speeds, terrific reads, and excellent passing. Very good team.

— Jay Bilas (@JayBilas) December 29, 2017
Tonight appears to be The Night A National Audience Realizes The 2017-'18 Creighton Bluejays Are Fun As Hell https://t.co/QsEi7zq0ui

— truebluejays (@truebluejs) December 29, 2017
Jays halftime leads…Northwestern (gave up the lead quick but still won), Baylor (we all know how that went), Gonzaga (yikes!), UTA (20 point lead cut to 8 in 5 minutes). Let's not do any of those tonight!! #GoJays

— Tony Roth (@toneroth) December 29, 2017
Seton Hall opens the 2nd half by making 7 of its first 9 shots — including 3 3-pointers. You knew a run was coming

— Jon Nyatawa (@JonNyatawa) December 29, 2017
Not having fun anymore

— FakeBlueCrew (@FakeBlueCrew) December 29, 2017
Incredible movement by Krampelj tonight. His teammates are doing a great job of finding him, too. 19 points in 13 mins. 9-11 FG, 4 dunks.

— Jon Nyatawa (@JonNyatawa) December 29, 2017
Greg McDermott involves Sandro in multiple pick and rolls right after he comes in. Easy buckets and great coaching.

— Brian Otskey (@botskey) December 29, 2017
Angel Delgado — who essentially won the game on the offensive glass here vs CU last year — grabs 3 big ones here & gets 2 putback buckets

— Jon Nyatawa (@JonNyatawa) December 29, 2017
Remember when we had a lead

— FakeBlueCrew (@FakeBlueCrew) December 29, 2017
Toby Hegner fouls out. Tapped Delgado on the arm on the shot. Hegner screams: "No. You can't call that!"

— Jon Nyatawa (@JonNyatawa) December 29, 2017
Seton Hall's Angel Delgado (18 points, 14 rebounds) fouls out with 3:09 left and Creighton leading 84-83. Harrell to the line after the final media timeout.

— Creighton Basketball (@BluejayMBB) December 29, 2017
Angel Delgado just fouled out. Credit Davion Mintz for the box out. … Marcus Foster, clapping as the refs gesture to the scoreboard: "Yeah, let's go."

— Jon Nyatawa (@JonNyatawa) December 29, 2017
Here come #DelgadoTears

— Jeremy Hauer (@jeremyhauer) December 29, 2017
That look in Delgado eyes when he got his 5th foul is worth the stress of this game

— Alex Hardy (@HA_HA_RDY) December 29, 2017
That floater by Marcus Foster — which put CU up 84-83 — was his first bucket of the 2nd half. He and Thomas have combined for just 4 pts after the break

— Jon Nyatawa (@JonNyatawa) December 29, 2017
None of Creighton's losses are bad. Three ranked teams. But they all leave a bad taste because of blown plays, poor halftime adjustments, etc.
Good news: Jays have the talent to be very good.
Bad news: If they don't figure out these second half woes, it's going to be a long year.

— Brian Norton (@nortonbrian) December 29, 2017
Mac didn't cost Creighton this game. Rebounding, missed 3's, & horrible turnovers late did.

— Corey Lathrop (@cjlathrop) December 29, 2017
In Creighton's 3 losses this season (all to ranked teams), combined they won the first half of games 130-103, and lost the second half 87-143. Need to be able to play 40 minutes to fight through the Big East schedule.

— Jeff Werkheiser (@j_werky) December 29, 2017
That was a weakness for CU last year. And will likely be one again all season long this year as well

— Jon Nyatawa (@JonNyatawa) December 29, 2017
Tonight could have gone better

— FakeBlueCrew (@FakeBlueCrew) December 29, 2017
Comments
Tagged in: