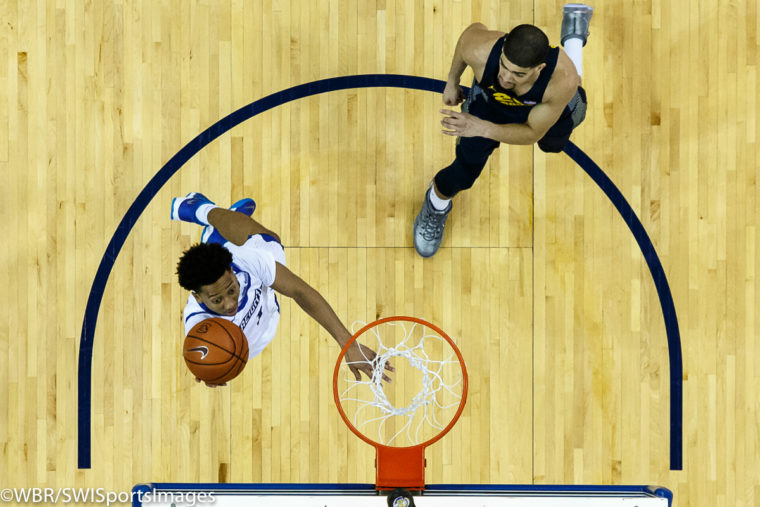 Morning After: #7 Creighton's Defense Shredded In First Game without Watson As Marquette Rolls 102-94
Key Stats:
Creighton's defense allows Marquette to make 11 of their final 15 shots to end the first half, and 15 of their first 20 to begin the second. Over that 23-minute stretch, Marquette shot 74.3%. That's…how do you say? Not good? Not good.
Standout Performance:
Marcus Foster continued to struggle from outside (2-8 from three) but was a scoring machine everywhere else — he was 11-16 on shots inside the arc, including 8-11 in the second half. He scored 30 points in 37 minutes, and seemed to leave even more out on the floor; of his five missed shots inside the arc, three were rushed jumpers that weren't totally in rhythm. He's capable of hanging 25-30 points a night on opponents routinely, and with Watson out, he may be asked to do just that.
How he gets there will be the key — there's others that can make three-pointers if his outside shot continues to falter, but he's perhaps the only guard who can explode to the rim off the bounce and create offense when everything else stops working. Watson was a master of that; Davion Mintz showed flashes of it, too, on Saturday, but the Jays will need Foster to be aggressive in attacking the rim going forward.
Recap & Analysis:
Most of the focus in the aftermath of Maurice Watson's injury was on offense — at practice, here on WBR and other media outlets, among fans — because while the Jays' defense has made strides, they're still a team whose identity is forged on offense. Who would start at point guard, what pace would they play at, could they still score quickly and effectively?
Those were appropriate questions to ask, and you had to be encouraged by the answers to them after the game. Davion Mintz didn't start, but played 26 minutes at point and scored 17 points with 8 assists against just two turnovers, and had four rebounds, a block and an assist. He made both of his three-point attempts. He shot 4-7 from the floor, and drew a foul on all three of misses, leading to a 7-8 shooting day from the line. He was aggressive at getting into the paint and attacking the defense at the rim. He pushed the tempo and ran the Jays' transition game effectively.
Problem is, with all the focus on replacing what Watson meant to their offense, replacing what he meant on defense kind of took a backseat. A defense like Creighton runs, heavily reliant on executing scouting reports, needs a leader to communicate during the action. Watson was the guy to yell out ball screen coverages and help-side defensive assignments to make sure teammates did their jobs. He made sure teammates gave maximum effort and toughness, because if they didn't, they'd hear about it from him. He took charges. He came up with steals. His defensive value was under-appreciated, but after Saturday, it won't be anymore.
Complicating matters is the fact that for the second straight game, Justin Patton got himself into early foul trouble and for maybe the first time in Big East play was a complete non-factor. He picked up two fouls in the first half in four minutes, the second coming when he bit on a pump-fake and left his feet. He picked up his third just 71 seconds into the second half the same way. His fourth foul came as he attempted to tip a rebound out to the perimeter. Those are plays and decisions he simply can't make; now more than ever, they need his presence on the floor.
CU led 14-11 when Patton exited with his second foul, and without him in the middle, the Bluejays' defense scrambled to react. Toby Hegner left with an ankle injury soon after, and that left the Jays with Martin Krampelj at center; Marquette's Luke Fischer took full advantage, dominating the redshirt freshman on both ends. On one sequence, Krampelj had a shot blocked by Fischer, Ronnie Harrell grabbed the offensive rebound and had his shot blocked by Fischer too, and then Fischer converted a shot on his end to give Marquette a 24-22 lead. They never trailed again.
That forced Creighton to adjust, and they never recovered. Starting with that Fischer basket, they made 14 of their next 18 shots to take a 48-37 lead. Creighton kept pace for awhile; with 3:54 to play in the half it was 38-37 Marquette following a jumper from Marcus Foster. Then Katin Reinhardt scored 10 straight on a pair of threes and a pair of jump shots, the latter coming on a strip steal of Mintz at halfcourt. In less than two minutes, the graduate transfer who'd lost his starting spot earlier in the year and earned the scorn of Golden Eagles' fans busted the game open. It was 50-40 Marquette at the half, and while some offensive questions were answered, it was clear there were several new ones defensively.
Patton picked up his third foul early in the second, and with him on the bench, Marquette took a 16-point lead in short order against a Bluejay defense offering little resistance. Though the Jays' offense was moving crisply, they blew so many assignments on ball screens defensively and were unable to keep dribblers in front of them in the paint so often that no offense — not even one led by Maurice Watson — could have kept pace, especially when confined to half-court sets because of repeated failures to get stops. They ran when they could, but ten minutes into the half, Marquette had only missed five shots and made 15, giving them an 18-point lead.
In the end, they gave up 102 points, which is the most in a regulation home game since a 102-98 loss to Southern Illinois in 1988. That's hard to overcome. The good news: they scored 94 points, including 54 in a second half where they assisted on 12 of their 22 made baskets, shot 6-12 from three-point range, and turned it over just five times.
It was an emotional game off the court, with Watson getting a prolonged standing ovation when he came onto the court behind his teammates prior to the game, and an adjustment game on the court. As the game wore on, they appeared to be more confident that at least offensively, they could roll along with some semblance of the same style they succeeded with the first 19 games of the season. It's clear the team needs time to get comfortable with their new roles defensively and the shock of playing without their MVP on that side of the court; that will undoubtably be the focus in practice this week and with games against Georgetown and DePaul next — teams that do not possess the kind of offensive firepower Marquette does — the schedule sets up for them to be able to figure out how they fit into their new roles.
They Said It:
You Said It:
It feels weird, it is the same Creighton team that will play today but it will feel like a whole new Creighton team today. Know what I mean?

— Patrick Marshall (@wildjays) January 21, 2017
@whitebluereview Hopefully I don't see a "woe is me" attitude this afternoon but rather a "Mo is me" attitude. #GoJays

— Brian Metz (@Bluejay1994) January 21, 2017
Gameday! excited to see the fans today! & my boys kick some butt on that floor today!

— Maurice Watson Jr. (@mauricewatsonjr) January 21, 2017
every game starting today is for you, captain! @mauricewatsonjr

— Kobe | KoKo Wave (@_kokoparas) January 21, 2017
If chocolate chip pancakes were a person, I'd love him/her more than a 13 year old girl loved Justin Bieber in 2010 🤘🏾

— Big Muddy (@JustinPatton17) January 21, 2017
#GoJays pic.twitter.com/cZa3R9VzrJ

— Steve Patterson (@steverpatterson) January 21, 2017
Emotional Maurice Watson Jr gets standing O as he comes onto court. #Creighton pic.twitter.com/X3aZnmFOU0

— John Bishop (@JohnBishop71) January 21, 2017
standing ovation for Maurice Watson Jr. as he comes out onto the court on crutches. I'm not crying I promise #Salute10

— alex sindelar (@crimebait) January 21, 2017
Birds fly together, even when one has a broken wing. @mauricewatsonjr #letitfly #salute10 pic.twitter.com/mc94ADLKVz

— Sam Troia (@sammyt14) January 21, 2017
Standing ovations are overwhelming, but well deserved…we love you @mauricewatsonjr ! #Salute10 #GoJays 💙 pic.twitter.com/l9SCJDesxr

— Becky Baldwin (@rebjo75) January 21, 2017
we love you, mo. #salute10 #gojays @mauricewatsonjr pic.twitter.com/bnOmttTPNl

— jocelyn sierck (@jocelynsierck) January 21, 2017
Turtleneck was a bad choice today. Near 50 outside, crazy inside the @centurylinkoma. Better grab a Bartles and James to cool off. #gojays

— Creighton Otter (@creightonotter) January 21, 2017
Mo in the middle… #GoJays #TakeFlight #BIGEASThoops #Salute10 pic.twitter.com/bbt9TjNVBx

— Creighton Basketball (@BluejayMBB) January 21, 2017
If you don't get chills watching Mo Watson hype this team up while he's on crutches then you aren't a human.

— Tyler Martin (@TylerMartinOSI) January 21, 2017
Great pass by Davion to look ahead and find Khyri open upcourt. great vision, a veteran move.

— alex sindelar (@crimebait) January 21, 2017
Really good from Davion that stretch!! Pushing the pace and playing with confidence.

— Tony Roth ™ (@toneroth) January 21, 2017
Live look at the Creighton defense: pic.twitter.com/ZW1BTeabh8

— Brian Norton (@nortonbrian) January 21, 2017
It looks like Creighton cannot play the same way without Watson. It's hard to change who you are in January.

— Rob Dauster (@RobDauster) January 21, 2017
#HotTake over here! https://t.co/qHBeg3UHcq

— Bluejay Buff (@BluejayBuff) January 21, 2017
Davion is looking great in transition early on here. Jays still pushing it without Wop.

— Jacob Padilla (@JacobPadilla_) January 21, 2017
#CorrectTake https://t.co/AgIekPDR7g

— Bluejay Buff (@BluejayBuff) January 21, 2017
@RobDauster Marquette on fire. It's their first half without Mo, gotta give the boys a little time to adjust.

— Tony Roth ™ (@toneroth) January 21, 2017
Cue the national writers who may or may not be watching the game saying "I told you so" on Twitter.

— Creighton Otter (@creightonotter) January 21, 2017
Mo Watson's absence being felt more on defense than offense: something of a sopresa. Giving up a Kennedy coin per half ain't gonna cut it.

— truebluejays (@truebluejs) January 21, 2017
Marcus Foster must have said something, because two officials just got in his face and read him the riot act before also warning McDermott.

— Matt DeMarinis (@mjdemarinis) January 21, 2017
Same official who got into with Foster & McDermott is now going back and forth with fans. That's peak #refshow.

— Matt DeMarinis (@mjdemarinis) January 21, 2017
The defensive effort has nothing to do with Maurice not being out there. Sure MU is making shots, but CU isn't giving much resistance.

— Corey Lathrop (@cjlathrop) January 21, 2017
I didn't think the effect of losing Mo Watson would reach the defensive effort. Patton foul trouble today hasn't helped either

— tsmitty1206 (@tsmitty1206) January 21, 2017
Zierden gets the season ticket holders a baby pizza, with the purchase of a large drink. Hopefully that large drink is just bourbon.

— alex sindelar (@crimebait) January 21, 2017
Davion needs to be the premier (and starting) PG from here on out. Deal with the mistakes b/c the upside is greater than anyone else.

— Corey Lathrop (@cjlathrop) January 21, 2017
Marquette: 1.36 points per possessions with 10:00 left. Jays could have Michael Jordan in his prime and still wouldn't win against that.

— Matt DeMarinis (@mjdemarinis) January 21, 2017
@mjdemarinis yep. Not a mo thing. A cant-get-any-stops thing

— Creighton Otter (@creightonotter) January 21, 2017
@FakeBlueCrew Don't need that long. The offense is clearly fine w/o Mo. Mintz is a stud. Just a ridiculous shooting performance by Marquette

— Jacob Padilla (@JacobPadilla_) January 21, 2017
Observations:
1. Davion Mintz is the guy. 17 points, 8 assists, 4 rebounds. If you didn't know any better, you'd say that was Mo's statline.

— Dave Sund (@davesund) January 21, 2017
2. This team is not going to win games when Justin Patton has to sit for 20+ minutes. Just won't happen.

— Dave Sund (@davesund) January 21, 2017
The adjustment game. As frustrating as it was, I saw some good things. Play a little better defense and get Hanson back, feel pretty good.

— Patrick Marshall (@wildjays) January 21, 2017
Jays showed a lot today and I think learned a lot. Mintz is going to be a stud. Need some consistency from Huff. #GoJays

— TJ McDougal (@tjmcdougal) January 21, 2017
Creighton got smacked around a little bit, but … I kinda came out of this game feeling better about the Bluejays in a post-Mo Watson world https://t.co/LKGO8aPmXq

— Rob Dauster (@RobDauster) January 21, 2017
Hope my fellow Jays fans take a breath before jumping. Marquette shot lights out. Mintz looked good. D needs work. #rolljays

— Drew English (@yeti47) January 21, 2017
PROS
• Offense still looked like Creighton
• Mintz impressive
• Foster

CONS
• Defense

This coaching staff can build off that… #GoJays

— Michael Murakami (@MichaelMurakami) January 21, 2017
Tough one to swallow for the Jays but lots of positives. Offense is still all there and @Mintzy_10 is the real deal. #RollJays

— Evan Pink (@The_Evangelist_) January 21, 2017
So hard to watch Creighton struggle without Mo Watson today against Marquette. His absence will really hurt Big East in next two months.

— Jon Rothstein (@JonRothstein) January 21, 2017
Yikes, tuff game today…
…following @mauricewatsonjr injury, things have gone "upside-down" for @GoCreighton #GoJays #MoIMissYouSoMuch ! pic.twitter.com/kxkLaG0Ng8

— Dave Wenthold (@Wenthold) January 21, 2017
Love these fans. First time i've seriously broken down like that since Monday. We gonna be alright tho! wednesday we gone show y'all! https://t.co/kpnMoz18zT

— Maurice Watson Jr. (@mauricewatsonjr) January 22, 2017
Emotional day for our program. I'm certain the Jays will be back at work Monday with purpose to improve. #nextmanup #ugottabelieve

— Coach McDermott (@cucoachmac) January 22, 2017
It may take more than a couple of days and half a game for the Jays to figure out how to play without Watson but they will! #GoJays

— Bob Harstad (@bobharstad) January 21, 2017
Comments
Tagged in: