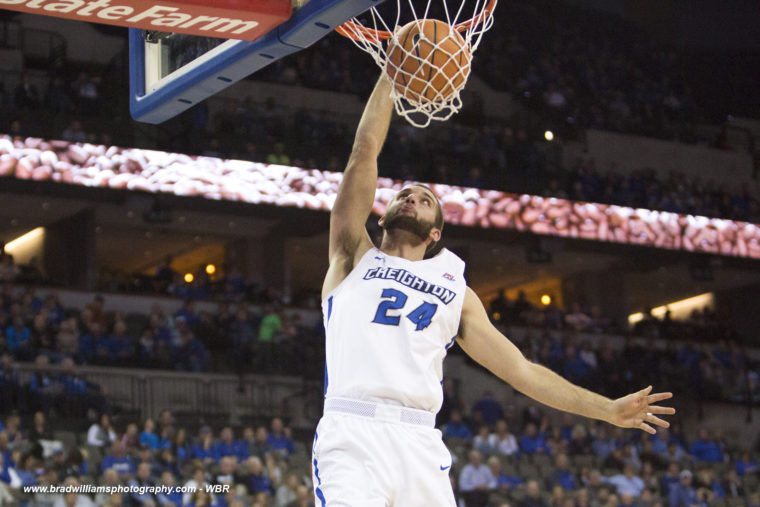 Morning After: After Sluggish, Sloppy First Half, Creighton Steamrolls Alcorn State in Second Half
Bluejay Beat Wrap-Up Radio:
Recap & Analysis:
Our 103-63 prediction in the Pregame Primer wasn't all that far off from the actual 109-72 final score, but how the Jays got that 37-point win was completely unpredictable.
The first half was some of the ugliest basketball you'll ever see, with the teams combining for 31 fouls and 26 turnovers. That's 57 whistles in 20 minutes of play, or roughly once every 35 seconds, but who's counting? Creighton scored just 24 points on their first 23 possessions, with nine turnovers as they looked befuddled by an unexpected 2-3 zone defense (and occasional full court press) from Alcorn State.
Worse, Marcus Foster and Khyri Thomas both found themselves glued to the bench for the final ten minutes of the half after picking up two early fouls; Toby Hegner soon joined them after picking up his second, leaving the Jays without their three most experienced starters in a game that was too close for comfort.
It may have been a blessing in disguise, as it forced Greg McDermott and his staff to lean heavily on their young and inexperienced players, for better or worse — and it gave them experience playing against both a zone and a press. Foster (19), Thomas (14) and Hegner (17) might not have a game the rest of the year where they play so few minutes, and freshmen like Mitch Ballock and Ty-Shon Alexander might not ordinarily have played so much in a season's second game — and certainly not while the game was in the balance.
They played well, too. When Foster joined Thomas on the bench with just over ten minutes to play in the first half, Creighton led 24-22. A reserve-heavy lineup scored on eight of their next 11 possessions, going on an 18-6 run that was essentially the decisive point of the game. They cracked the 2-3 zone that had frustrated Creighton's starters, and took a 49-36 lead into halftime.
Ronnie Harrell shined (four rebounds and two assists in 14 first half minutes). So did Mitch Ballock (five points, two steals and an assist in 10 first half minutes). Manny Suarez ended the half with a nifty dribble-drive for a layup at the horn, and when the starters came back onto the court in the second half, they made up for lost time.
Foster scored the Jays' first five points out of the break, and eight of their first 10, including a pair of three-pointers. Alcorn State was hanging around, though, and despite that early flurry from Foster, found themselves down just nine at 54-45 with 16:46 left. They'd immediately find themselves on the wrong side of a 20-0 run — yes, twenty to zero — that blew the game wide open. As part of that run, Foster's breakaway dunk with 14:39 left pushed the lead out to 20 at 64-45; it took just three minutes more to grow the lead to 30, as a barrage of threes from Ballock, Tyler Clement, and Foster pushed the lead to 77-47, as seen late in this montage:
Hey guys. Wanna #LetItFly? Get to @FS1. @BluejayMBB is raining 3's. pic.twitter.com/MU3HFsv2pt

— #BIGEASThoops (@BIGEASTMBB) November 13, 2017
The quickness with which Creighton ran away from Alcorn State was stunning. In the matter of six minutes of game time, and about 15 minutes of actual time, they turned a nine-point lead into a 32-point lead. At the 10:31 mark — six minutes and 15 seconds later — CU led 80-48, thanks to a 26-3 run. I've seen a lot of big runs against sub-par early season opponents in 25 years of watching Creighton basketball, and that one is one of the more remarkable.
All totaled, the Jays made 61.3% of their shots in the second half, made 10 of their first 15 three-pointers, assisted on 12 of their 19 made baskets, and scored 60 points (an absurd 1.5 points per possession). Oh, and they had just five turnovers. Yes, it came against Alcorn State, but after a brutal first half, they had a brilliant second half of basketball. They'll need to replicate that second half as best as they can, because they now enter the meat of their non-conference slate. In the next two weeks, they play at #19 Northwestern, vs #21 UCLA in Kansas City, vs either unranked but still very good Wisconsin or #24 Baylor in KC, then at #18 Gonzaga.
Ready or not, things get much tougher from here. Much tougher.
Key Stats:
The first and second half splits tell the story here:
1st Half Shooting: 14-28 (50.0%)
2nd Half Shooting: 19-31 (61.2%)
1st Half 3-Pt Shooting: 4-13 (30.7%)
2nd Half 3-Pt Shooting: 12-20 (60.0%)
1st Half Turnovers: 14
2nd Half Turnovers: 5
1st Half Assists: 6 on 14 made baskets
2nd Half Assists: 12 on 19 made baskets
Standout Performance:
CU's freshmen had big nights in game where they needed to come up big. Mitch Ballock had 15 points in 18 minutes, making 6-9 from the floor and 3-6 from three-point range, and a team-high three steals — including this one that led to a dunk:
Mitch Ballock steal ☑️
Mitch Ballock slam ☑️#GoJays #LetItFly pic.twitter.com/68pDABsiKv

— Creighton Basketball (@BluejayMBB) November 13, 2017
Ty-Shon Alexander had 10 points on 3-6 shooting and 2-4 from long range, six rebounds, and two assists in 19 minutes. Alexander had a nice stretch of play during the game's final 10 minutes, where he hit a pair of three-pointers, got into the lane off the dribble and converted a layup, and hit a pair of free throws. After two games, the question about Ballock and Alexander has progressed quickly from "will they be ready to contribute right away?" to "how can the Jays carve out more minutes for them?"
Foster had 23 points on just nine shots, and has scored 46 points through two games on just 22 total shots. He was a volume shooter a year ago — scoring a ton, but taking a ton of shots to get there — and made a concerted effort over the summer to be a more selective shooter. Can he continue to do that against tougher teams with tougher defenses? We'll see. If he can, Creighton becomes that much better.
They Said It:
You Said It:
Hope #Creighton is ready for some of this tonight. #GoJays pic.twitter.com/xEEreI0t0B

— Rob Simms (@IamRobSimms) November 12, 2017
the back of Alcorn State's warmups say "Organized Chaos" which happens to be the title of my soon-to-be-released novel about baking cookies after accidentally eating too many adderalls

— alex sindelar (@crimebait) November 13, 2017
Bee Tee Dubs about Alcorn. #GoJays pic.twitter.com/mT1jFswDuz

— Rob Simms (@IamRobSimms) November 13, 2017
Good to hear Friend of The Truth About PC Basketball™ @NickBahe back calling games after the offseason. Yeah, I'm watching Creighton-Alcorn St instead of football. What of it?

— The Truth About PC Basketball (@TTAPCBBall) November 13, 2017
So their big guy slams into Suarez, then travels, then Manny closes the space and it's a foul on Suarez. I don't get it.

— Jacob Padilla (@JacobPadilla_) November 13, 2017
I like that Alcorn State is pressing and playing some zone. Gives #Creighton some experience and some film to watch against both styles. #Jays

— Heath Gunderson (@Heath_Gunderson) November 13, 2017
Khyri Thomas and Marcus Foster both have 2 fouls with 10:45 left in the first half. This will be interesting for the #Jays to find out how to play without both of their stars for an extended period.

— Matt DeMarinis (@mjdemarinis) November 13, 2017
This game will end by midnight at this pace. foul foul foul foul foul foul bad turnover foul bad turnover foul foul foul#Creighton

— John M. Bishop (@JohnBishop71) November 13, 2017
Davion's jumper is really falling this year, and I love that he knows that but continues to play within himself and take what comes to him in the flow of the offense.

— Jacob Padilla (@JacobPadilla_) November 13, 2017
I didn't even know Creighton was playing. All I see on my tv are referees #jeez #notheretowatchyou #25fouls

— omalz (@OMalz) November 13, 2017
Creighton this half. #sloppy pic.twitter.com/Z5Tx0pmjOY

— Corey Lathrop (@cjlathrop) November 13, 2017
The game tonight. pic.twitter.com/j84r6mE5JH

— Patrick Marshall (@wildjays) November 13, 2017
280 for @crimebait was a terrible mistake, @Twitter.

— Jacob Padilla (@JacobPadilla_) November 13, 2017
It's fine considering the time I have to read twitter while players are on the line

— Not a Fake Coach Frost account (@michaelkmcneil) November 13, 2017
Maybe these officials are just all really out of a shape and need periodic breaks to catch their breath so they keep blowing their whistles randomly?

— Jacob Padilla (@JacobPadilla_) November 13, 2017
i like this game a lot because i usually just listen to whistles blowing in the car or on spotify

— alex sindelar (@crimebait) November 13, 2017
Make a joke about a Sunday night rec league missing these refs, but I'm not sure these guys are good enough to ref a Sunday night rec league

— Creighton Otter (@creightonotter) November 13, 2017
Half: Creighton 49, Alcorn State 36.

Officials lead all scorers with 31 fouls called.

— Matt DeMarinis (@mjdemarinis) November 13, 2017
MANNY SUAREZ! AT THE BUZZER! 49-36 Jays at the half. Everyone has 2 fouls, including you and your mom, while Marcus Foster scored 10 points what seems like a week ago. should be a fun remaining half of basketball if you like to watch tall men stand around and look at eachother.

— alex sindelar (@crimebait) November 13, 2017
Tha Manny Suarez basket at the half was probably the best basket of the game so far. Goodness

— Patrick Marshall (@wildjays) November 13, 2017
I think @BluejayMBB and @AlcornStMBB should just find a street court somewhere for the second half… #GoJays

— Michael Murakami (@MichaelMurakami) November 13, 2017
Let's go to the lead referee for his thoughts on how the crew has performed thus far. pic.twitter.com/sO1wq9XWu0

— Matt Hoppe (@mhoppe02) November 13, 2017
I think I picked up two fouls watching the first half of this Creighton-Alcorn State game. LOTS of whistles. #GoJays #RollJays

— Jimmy Motz (@JimmyMotz) November 13, 2017
This Creighton •TWEET• game •TWEET• is •TWEET• not •TWEET• that •TWEET• good.

— Martin Swanson (@bigredtank72) November 13, 2017
The refs got whistles in their cereal boxes today, and they want to show off.

— Bob Zaleski (@BobZaleski) November 13, 2017
I get hot flashes thinking about what it would have been like to see Mitch Ballock and Justin Patton play together for CU.

— Bluejay Buff (@BluejayBuff) November 13, 2017
my most favorite Mitchell Ballock moment is when he dunked the ball instead of laying it in because he's been driven mad by the sound of whistles.

— alex sindelar (@crimebait) November 13, 2017
Ballock looking like a mini Wragge out there — bearded Bluejay bombing away from four feet beyond the 3-point line.

— truebluejays (@truebluejs) November 13, 2017
Mitchell Ballock: Also capable of dunks.

— truebluejays (@truebluejs) November 13, 2017
— Heath Gunderson (@Heath_Gunderson) November 13, 2017
I might get killed by this, Ballock is already the #3 best player on the team, behind Thomas and Foster. Bench is the reason Creighton gonna win a lot of games this year. #LetItFly

— Drew English (@yeti47) November 13, 2017
So much to be excited for with this Creighton team. Mitch Ballock is a freaking baller, no wonder Bill Self wanted him at KU.

— Colin Belmont (@cbelmont15) November 13, 2017
Mitch Ballock is like a more talented, less annoying version of Ron Baker but with a better haircut.

— Bluejay Buff (@BluejayBuff) November 13, 2017
Mitchell Ballock is the most college-ready Creighton freshman I've seen since Doug McDermott. Seems totally adjusted to the speed of the game. Not lost of defense like most frosh. Excited for his future with the Jays.

— Ryan Holmgren (@ryanholmgren) November 13, 2017
Marcus Foster has 23 points on 9 shots so far tonight. He's knocked down 17 of the 22 shots he's attempted this season, including 7 of the 10 he's attempted from beyond the arc. pic.twitter.com/XfltnmCjTq

— Matt DeMarinis (@mjdemarinis) November 13, 2017
My take on #Creighton basketball: I liked Toby's hair better last year, I like Davion's hair better this year, I miss Ronnie's man bun

— Mary Anderson (@MaryAnderson56) November 13, 2017
But seriously, every returner looks better than last year and I'm really gonna like Mitch Ballock #Creighton #GoJays

— Mary Anderson (@MaryAnderson56) November 13, 2017
Creighton hits the 90-point mark with 8 minutes to play. They've scored 40+ points in each of their last 9 halves of basketball going back to the scrimmage at Minnesota.

— Matt DeMarinis (@mjdemarinis) November 13, 2017
Wasn't going to get too drunk tonight but Mad Dog out here dishing dimes and draining 3s so we'll blackout

— FakeBlueCrew (@FakeBlueCrew) November 13, 2017
Second half summary from Omaha:
Less whistles = better basketball pic.twitter.com/QuACX0j3kO

— Rob Simms (@IamRobSimms) November 13, 2017
My Facebook live thoughts on Creighton's win over Alcorn State https://t.co/n9uT5xpQ8u

— Nick Bahe (@NickBahe) November 13, 2017
Comments
Tagged in: