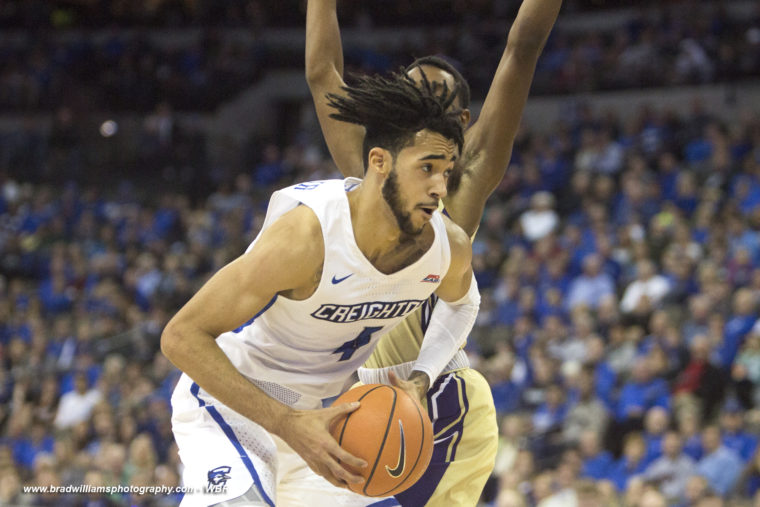 Morning After: Creighton Dominant Start to Finish in 51-Point Demolition of Maryland Eastern Shore
Bluejay Beat Podcast:
Recap & Analysis:
From the opening tip, Creighton was locked in Friday night, seemingly determined to put a vastly overmatched Maryland Eastern Shore team out of reach early. They'd allowed North Dakota to hang around a week ago because they weren't as disciplined on either side of the ball as they could be, and piled up points late once UND tired from their pace. In this one, they had a double-digit lead for 35 of the 40 minutes, and before the first media timeout had pretty much ended whatever slim hope UMES had of competing.
The Bluejays scored 13 unanswered points to open the game, had a 28-point lead at the half, and then blitzed UMES at the start of the second with a 17-2 run. They were active and vocal defensively, keeping UMES from attempting a shot in the paint until the game was over five minutes old.
"I loved the start," Coach Greg McDermott said on his postgame radio show. "We scored 10 points on our first six possessions, and held them scoreless. That tells you as a coach that your guys are ready to go."
As they continued to dominate on both ends of the floor, Toby Hegner had this vicious block:
TFW someone tries to throw #StarWars spoilers into your timeline… #GoJays #LetItFly pic.twitter.com/rZClih6LpK

— Creighton Basketball (@BluejayMBB) December 16, 2017
And Martin Krampelj had a pair of dunks that brought the house down. The first came in transition, with Marcus Foster throwing downcourt to Toby Hegner, who kicked it back out immediately to a streaking Krampelj for this:
Ladies and Gentleman, this is called ball movement: pic.twitter.com/q7qjD7Ivn0

— Barstool Jays (@BarstoolJays) December 16, 2017
The second was a reverse slam in between three defenders for no reason other than because he could. The crowd may have been relatively subdued for most of the night, but this one brought them to their feet — listen for the roar on the replay:
Well, then. #GoJays #LetItFly pic.twitter.com/ttNWX4IBhS

— Creighton Basketball (@BluejayMBB) December 16, 2017
As part of their big run to begin the second half, Marcus Foster and Khyri Thomas had fastbreak dunks on back-to-back possessions. Despite nearly 16 minutes left in the game, both players were done for the night on the next stoppage, their work complete.
#TazzSlam #GoJays #LetItFly pic.twitter.com/lW0h1cJQVM

— Creighton Basketball (@BluejayMBB) December 16, 2017
"The reality is I'd have liked to play Marcus, Khyri and Toby a little bit longer tonight, but when you look up at the scoreboard and you're up by 50 — if somebody tweaks an ankle in a game like that I'm not going to sleep for awhile," McDermott said after the game. "Once the game was at that point we had to get them off the floor."
Foster and Thomas combined to play just 40 minutes (19 for Thomas, 21 for Foster), and despite the short night, resisted the urge to pad their stats against an undermanned opponent. Thomas took nine shots, making five, and had three assists. Foster took eight shots, making five, and had two assists. The unselfishness didn't go unnoticed by their coach.
"They played the right way," McDermott noted, "which is great to see out of your leaders."
UMES threw everything in the basketball playbook at Creighton to try and slow things down — they switched between a zone and a man-to-man defense, they mixed in some half-court press, they stalled on offense by running 20-25 seconds off each possession before looking for a shot. They weren't successful with any of it, and the Bluejays delivered as complete and thorough a blowout as you can have in modern college basketball.
Asked for a comparable performance in his coaching career afterward, McDermott could only come up with one — his very first game as a head coach at Wayne State in 1994, a 126-27 win over York College.
"York had a scheduling snafu and scheduled two games on the same day," McDermott recalled on 1620's postgame radio show. "They called me two weeks before the game and their coach said, 'We can't come, we've got a game scheduled somewhere else.' I told them we'd sold tickets, they had to come. So he sent a split-squad, split up the JV and Varsity teams and sent half to play us and half somewhere else."
This one wasn't quite THAT much of a mismatch, but it was close.
Key Stats:
UMES shot 23.6% from the floor and scored 36 points, both records for futility in the CenturyLink Center's 14-year history. Those 36 points are the lowest by any Creighton opponent in 31 years — going all the way back to January of 1986, when they lost to Illinois State 35-34 in one of (if not the) ugliest games the Civic Auditorium ever saw.
Creighton commits just four turnovers, their lowest total in over two years. They outscore UMES 40-12 on points in the paint, 28-0 on points off turnovers, 21-2 on fast-break points, 41-15 on bench points, and record their seventh-largest margin of victory in school history.
CU was called for just eight fouls the entire game — EIGHT. The officiating crew seemed to sense how overmatched UMES was, and tucked their whistles away as the second half got out of hand to get this one over quickly. The teams combined for 10 fouls and six turnovers in the second half, and those 16 whistles (is that a stat? I feel like that should be a stat) resulted in this game being in the books by 8:39pm Omaha time. If "time of game" was a thing like it is in baseball stats, they might have set a record there too. At least in the shot clock/three point era, I can't think of another Creighton game that ended in an hour and 38 minutes. Watching FS1 scramble to fill the extra 21 minutes with courtside banter between announcers Vince Welch and Donny Marshall was pretty amusing though!
Standout Performance:
It's tough to gauge anything in a game this lopsided, but what stood out to me was that both Manny Suarez (10 points, six boards and two blocks in 18 minutes) and Kaleb Joseph (four points, two assists, two rebounds) saw extended minutes off the bench for the first time since late November.
"We wanted to get Kaleb a couple of short runs of 3-4 minutes each, because that's what our trainer, Ben McNair, told me before the game that Kaleb could handle," McDermott said on his postgame show. "We have to be careful because he's aggravated the hamstring injury twice now. But I thought he did some good things tonight."
They Said It:
You Said It:
Marcus Foster rocking the gold & white Kobe's. Not out of the question to think he might outscore Maryland Eastern Shore on his own tonight. pic.twitter.com/H0ttVfh60c

— Matt DeMarinis (@mjdemarinis) December 16, 2017
#UMESFACTS Johnny Sample, a name usually reserved as a generic placeholder for a create-a-player or bad copywriting, was a UMES alum who played in the NFL, served as a line judge in professional tennis, hosted his own radio show, and wrote an autobiography.

— alex sindelar (@crimebait) December 16, 2017
Take a gander at this map. Whaddya see? (Relative to the rest of the state) Maryland Eastern Shore is neither especially eastern, nor significantly shore-ly pic.twitter.com/036oE3lv59

— truebluejays (@truebluejs) December 16, 2017
What if I told you there was a place called Eastern Shore that was not in the east nor on the shore?
THIS 30 FOR 30 GOIN BE LIT https://t.co/eQpECv5Jom

— truebluejays (@truebluejs) December 16, 2017
Let's make this interesting and play 4 vs 5

— FakeBlueCrew (@FakeBlueCrew) December 16, 2017
The #Jays are up 10-0 after 4 minutes of action. They are much better at playing basketball than Maryland Eastern Shore

— Jon Nyatawa (@JonNyatawa) December 16, 2017
— John M. Bishop (@JohnBishop71) December 16, 2017
The Maryland Eastern Shore bench might be the most depressing bench we've ever seen. And that includes looking at Nebraskas bench for 7 straight losses

— FakeBlueCrew (@FakeBlueCrew) December 16, 2017
#Jays are on pace to win this game 80-0.

— Heath Gunderson (@Heath_Gunderson) December 16, 2017
10-0 @BluejayMBB after 4 minutes. UMES 0-5 FG with 4 turnovers. This will be ugly quick.

— Rob Simms (@IamRobSimms) December 16, 2017
So Maryland-Eastern Shore is bad.

— Jacob Padilla (@JacobPadilla_) December 16, 2017
Turns out dribbling, passing and making layups are important skills in basketball and they can't do any of them.

— Jacob Padilla (@JacobPadilla_) December 16, 2017
Real question, will Maryland-Eastern Shore have double digits at halftime?

— Ravi Lulla (@ralulla) December 16, 2017
it's 10-0 with 15:46 left in the first half. Maryland Eastern Shore is averaging 32 seconds per possession so far which explains why the Bluejay lead isn't all that impressive. the Hawks also have three improbable offensive rebounds.

— alex sindelar (@crimebait) December 16, 2017
THE SHUTOUT IS OVER

— alex sindelar (@crimebait) December 16, 2017
Been to pancake feeds with more atmosphere than this.

— Jays Hot Takes (@jayshottakes) December 16, 2017
A Maryland Eastern Shore player scored on Khyri Thomas. pic.twitter.com/cmmXPkIugz

— Matt DeMarinis (@mjdemarinis) December 16, 2017
Toby SWATTTTTTTTTT pic.twitter.com/nX7nuBwHCH

— Barstool Jays (@BarstoolJays) December 16, 2017
Toby Hegner almost killed someone sitting along the baseline with that block. Had some velocity on it

— Jon Nyatawa (@JonNyatawa) December 16, 2017
Martin Krampelj just got his own rebound off a missed FT. Gave it up & got it back: Reverse 2-hand dunk. Crowd enjoyed it

— Jon Nyatawa (@JonNyatawa) December 16, 2017
Martin!! Making this game exciting with a freaking behind the head dunk

— Jays Hot Takes (@jayshottakes) December 16, 2017
Martin Krampelj just missed a FT, got his own board, saved it from going out with an acrobatic pass and threw down a reverse jam. The man contains multitudes.

— truebluejays (@truebluejs) December 16, 2017
Behind the back jam? I see you @MartinKrampelj #Creighton https://t.co/TEYUPScmhP

— John M. Bishop (@JohnBishop71) December 16, 2017
It's 43-17 with 36.7 seconds left and UMES just called a timeout to set up a play. I'm In Hell

— alex sindelar (@crimebait) December 16, 2017
I don't have the words to describe how beautiful that last possession by Creighton was. I don't care who they're playing.

— Jacob Padilla (@JacobPadilla_) December 16, 2017
I don't hate the look of Ty-Shon "People Forget He's a Natural Shooting Guard" Alexander dropping perfectly placed dimes https://t.co/Ay0DNVctKw

— truebluejays (@truebluejs) December 16, 2017
How has UMES beaten two D1 teams?

— Jays Hot Takes (@jayshottakes) December 16, 2017
Creighton is just noticeably faster. Crisp passing, closing fast on defense. The Bluejays may be the Blue Angels in disguise. #OurShoreOurTeam https://t.co/qCXCMNF2Lv

— Will DeBoer (@WillDeBoer) December 16, 2017
Mitch Ballock gets a reverse to fall just before the buzzer and Creighton leads Maryland Eastern Shore at halftime, 45-17. #GoJays #LetItFly pic.twitter.com/uw9wEFwtWc

— Creighton Basketball (@BluejayMBB) December 16, 2017
Martin is yawning here isn't he? He is. https://t.co/CDwLoSJJUY

— Rob Simms (@IamRobSimms) December 16, 2017
UMES scored! Sound the alarm!

— Jacob Padilla (@JacobPadilla_) December 16, 2017
Granted, Maryland Eastern Shore plays defense with all the tenacity of five maroon traffic cones, but DAMN are the Jays moving the ball tonight. #gojays #rolljays

— truebluejays (@truebluejs) December 16, 2017
It's 56-19 and Martin Krampelj just euro'd from the arc to the rim with one dribble. Pretty sure he traveled, but I think the officials have decided to just keep this one moving along.

— Matt DeMarinis (@mjdemarinis) December 16, 2017
The #Jays opened the second half by scoring on 11 of their first 13 possessions. So, it's 70-27.

— Jon Nyatawa (@JonNyatawa) December 16, 2017
@JohnBishop71 when do you get to get in the game?

— Dave Scheet (@WestOHusker) December 16, 2017
I think I could. STAY TUNED! https://t.co/jMDn9lRRi0

— John M. Bishop (@JohnBishop71) December 16, 2017
Last time Creighton held an opponent under 35! pic.twitter.com/aX1asPCW66

— Big WREATH Coast Bias (@becb_sbn) December 16, 2017
I think Creighton should give Maryland Eastern Shore some free 🍕 for showing up. Jays lead 78-31 with 3:51 to go. #GoJays

— CKJ (@theCyntheCyn) December 16, 2017
#Creighton's Marcus Foster In five games vs. non-power 5 schools is shooting 63.8% from the field and 50% from 3. In five games vs power 5 schools including Gonzaga he's shooting 38.5% from the field and 34% from 3. Going to need him to step up in #BigEast play. #Jays

— Heath Gunderson (@Heath_Gunderson) December 16, 2017
By holding Maryland-Eastern Shore to 36 points, Creighton decreased its points allowed per game average from 75.6 to 71.6. That's a big drop 10 games into the season.

— Ryan Holmgren (@ryanholmgren) December 16, 2017
UMES held Creighton under their season average, so props for that.

— Erik (@Erik101417) December 16, 2017
Maryland Eastern Shore's top scorer went 1-for-11 tonight, bringing to mind this legendary Tim McCarver quote about a different Creighton product. #Khryifense

"Bob Gibson is the luckiest pitcher in baseball. He is always pitching when the other team doesn't score any runs."

— Rob Anderson (@_robanderson) December 16, 2017
I was at that game. Man was it ugly. Shot clock but no 3-point line.

— Phillip Rooney (@OPhilrooney) December 16, 2017
Comments
Tagged in: