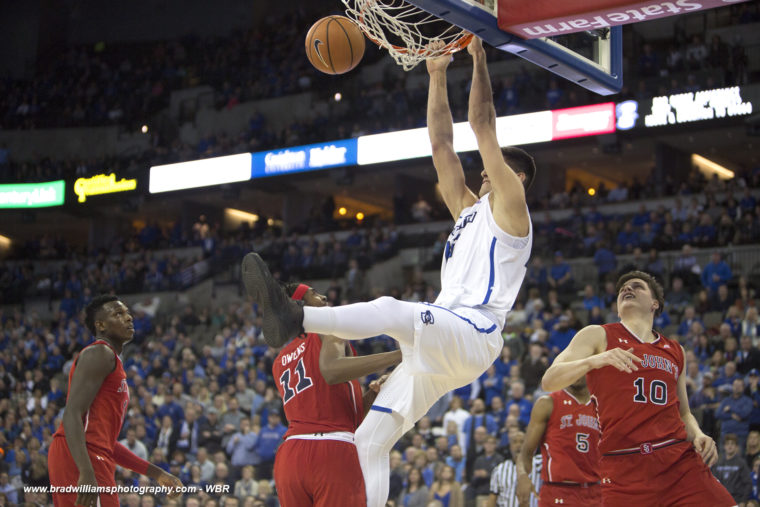 Morning After: Creighton's Defense Comes Up Big In Wild Win over St. John's, 78-71
Bluejay Beat Wrap-Up Show:
Recap & Analysis:
Whew.
After blowing a seven-point lead and falling behind by 10 points in the second half, Creighton got 11 straight defensive stops as part of an 18-2 run to retake the lead. Then they made clutch plays on both ends of the floor to come away with a win that seemed to be more and more improbable early in the second half.
The first ten minutes had 11 lead changes, but after the Bluejays went ahead 20-19 on a jumper by Marcus Foster with 10:37 to play in the half, they began to slowly put some separation between themselves and the Red Storm. A steal by Khyri Thomas led to a transition bucket from Martin Krampelj to make it 22-19. A drive by Ronnie Harrell pushed the lead to 24-19. Another basket by Harrell, then a rebound by Harrell off a St. John's miss and a feed to Krampelj underneath for a basket at the rim gave CU a 28-21 lead, and forced Chris Mullin to call timeout.
This dunk by Marcus Foster put the Jays up 36-29 heading into the under-four timeout, and everything was pointing the Bluejays' way — they had a seven-point lead, they had scored on 16 of their 27 possessions, they had outrebounded St. John's 17-9, and held a 16-8 advantage on points in the paint.
GOING 🆙
Marcus Foster to the TOP FLOOR! #GoJays #LetItFly #BIGEASThoops #Timeout2vote #CoachGregMcDermott pic.twitter.com/Ogv3xDNQb3

— Creighton Basketball (@BluejayMBB) January 4, 2018
Oh, how quickly things unraveled.
Over the final four minutes of the half, St. John's used a 14-0 run to turn that seven-point deficit into a seven-point lead. Creighton committed three turnovers during that stretch and missed all four of their shot attempts, with their freshman duo of Ty-Shon Alexander and Mitch Ballock at the center of the storm as each had a turnover and a missed three. The first of those turnovers seemed to be the most costly at the time, as Ballock had a lazy pass intercepted by Shamorie Ponds who raced down court for a layup to cut the lead to 36-33. Ponds had been held in check by Thomas up until that point, but the steal and basket seemed to flip a switch. He assisted on a three-pointer by Tariq Owens on their next trip to tie the score, then assisted on a layup by Bashir Ahmed on the next possession to give them the lead. He'd add a three-pointer of his own, followed by yet another steal, and in what seemed like the snap of a finger St. John's had turned the entire complexion of the game 180 degrees.
In the first 15 minutes of the game, Ponds had been 0-3 from three-point range and 0-4 overall, with zero points, one steal and three assists. In the final four minutes alone, had five points, two assists, and two steals.
The start of the second half was more of the same, as St. John's came up with three steals in the first four minutes and after a thunderous dunk by Justin Simon, the Johnnies led 54-44. While the crowd was still groaning (and the Red Storm were still gloating), Foster took advantage of their temporary lapse in concentration and raced the length of the floor in four seconds for a bucket.
Marvin Clark II hit a shot coming out of the under-16 timeout to briefly push the St. John's lead back to 10, but then the crowd came to life — and so did the Bluejays. They made a schematic adjustment in the huddle during that timeout, and it led to four straight stops that helped them cut the lead in half. In the first half, and for the first four minutes of the second, the Jays had their '5' guarding Tariq Owens. St. John's was running him off of pick-and-pop actions, which forced Creighton to scramble defensively.
"Owens is so long, and when they set that high ball screen, they pop him," Coach Greg McDermott said on his postgame radio show. "So if you stunt the ball screen, they beat you on a back-door, or they made one more pass and got a three somewhere else, and he had two three's himself the first half. We just felt we had to do something different."
Marcus Foster elaborated on that change. "In the second half, we adjusted and put our '4' man — either Ronnie or Toby — on him instead," he said on the Bluejay Radio Network postgame show. "That let us get back to him quicker and more organized on the pop."
The adjustment to going small on Owens, mostly with Ronnie Harrell, allowed them to switch on every single perimeter ball screen the Red Storm set. That took away a lot of the successful ball screen actions that had created good shots for the Red Storm earlier in the game, and in turn forced them into settling for jump shots, which they missed. Repeatedly. Over a 14-possession stretch, St. John's scored two points, missing 11 of the 12 shots they attempted — 10 of which were jumpers. That's precisely what you want St. John's to do, as we talked about in the Primer, because as a team the Red Storm simply don't shoot very well the further away from the rim you get them.
An underrated moment that kick-started the decisive stretch of the game? With his team up 56-46, Owens blocked Ronnie Harrell's shot and stared him down for such a long time that the refs stepped in to stop the celebration. It got what had been a rather subdued crowd upset, seemed to light a fire under a Bluejay team that had looked a bit lethargic, and they fed off each other as the game turned.
During that run, Martin Krampelj took over the game on the offensive end. He scored five straight points as the Jays cut the lead in half, 56-51, the last of which came on this dunk that forced a St. John's timeout:
LOUD NOISES!! #GoJays #LetItFly #BIGEASThoops #Timeout2vote #CoachGregMcDermott pic.twitter.com/wzk0MUrNkt

— Creighton Basketball (@BluejayMBB) January 4, 2018
The Bluejay big man was becoming the difference maker in the game, and it was appreciated by another Bluejay big man who was in the house — Gregory Echenique. He'd been cheering the Jays on from behind the bench, but most of the crowd were unaware of his presence. The arena production crew waited until the perfect time to put him on camera, and when they did so during that timeout, the building erupted.
👋 @Echenique00#GoJays #LetItFly #BIGEASThoops #Timeout2vote #CoachGregMcDermott pic.twitter.com/sclw6ucLHu

— Creighton Basketball (@BluejayMBB) January 4, 2018
The defensive stand continued, as Krampelj cleared another missed Johnny jumper and Thomas hit a bucket to cut the lead to 56-53. A layup by Krampelj made it 56-55. Harrell tied it at the line with a free throw. And then Krampelj threw down a dunk for the lead, alternatively grinning and screaming as he hung from the rim for a brief moment.
OH. MY. 😳😱🤯 #GoJays #LetItFly #BIGEASThoops #Timeout2vote #CoachGregMcDermott pic.twitter.com/c8wsIZ8FXn

— Creighton Basketball (@BluejayMBB) January 4, 2018
They'd scored 13 straight points, and after Ponds ended a long drought with a bucket for St. John's to make it a one-point game, Foster answered with a long three to give the Jays a 62-58 lead. A pair of free throws from the freshman Ty-Shon Alexander gave CU a six-point cushion at 64-58, capping off a 18-2 run that spanned nearly eight minutes.
The Jays' turnover bug resurfaced during crunch time, and a pair of turnovers by Alexander led to easy buckets for St. John's, just as they had in the first half. Both came late in the shot clock, and as Nick Bahe noted on the WBR Bluejay Beat podcast, weren't totally the fault of Alexander. The Jays' veterans, namely Foster and Thomas, needed to go take the ball from him in those situations instead of leaving the freshman to create against an opportunistic St. John's defense.
The decision to stick with the freshman Alexander over the more experienced Davion Mintz was questioned by some fans after the game, but was explained thusly by the head coach.
"I almost went back to Davion late in the second half, but I felt like that group of players got us back into the game and sometimes you just have to dance with the one that brought ya," McDermott said on his postgame show. "We talked about subbing in Davion, and wanted to give Tazz a break. But our fear was that if Shamorie Ponds gets started while someone else is guarding him, can we get him stopped? Tazz had kept him in check, so we decided to roll with it. And Ty-Shon will learn so much from tonight. We won the game, he made some plays to help us win it, and he played through some mistakes that he'll learn from. He's never played against a team like this in his life. He'll grow and learn, and be better because of this."
Clinging to a 73-71 lead with 55 seconds to play, Thomas missed a jumper and with St. John's running down court, Krampelj sprinted the length of the floor and blocked Justin Simon's shot from behind — a remarkable play that you could never imagine Krampelj making earlier in his career. If there's one single moment that crystalizes his amazing improvement, it's this one, and what a time to make it. Wow.
What is "No you may not!" in Slovenian?!? #GoJays #LetItFly #BIGEASThoops #Timeout2vote #CoachGregMcDermott pic.twitter.com/KQRC5qXkae

— Creighton Basketball (@BluejayMBB) January 4, 2018
"That saved the game," McDermott said. "It was huge. And it's a great example of never quitting on a play. If Martin doesn't sprint out of the gates, he never gets there. Such a huge play, and it shows the growth and maturity he's had not just from last season to this season but from the start of this season until now."
Coming out of a timeout with 21 seconds left, the Jays had drawn up a play to get Foster a shot. They still led 73-71 — Ty-Shon Alexander had missed the front end of a one-and-one for the Jays, and Marvin Clark II had done the same for St. John's — and needed a bucket to seal the victory.
"I gave the defender a little jab move to get him off me, and because of that Khyri's man had to help on me," Foster said on the postgame radio show. "I give credit to Tyler Clement here, because he always does this move in practice where he runs into your defender (to create space) and then tosses it back to you. So I kinda ran into Khyri's man and tossed it back to him to try and get him an open look. And he knocked it down."
With Foster standing in the way of the only defender close enough to defend the shot, Thomas had a wide-open look. His three from the corner took the most dramatic route possible before going in — it bounced off the rim twice, banked off the glass, and then rattled home.
TAZZ. DAGGER.#GoJays #LetItFly #BIGEASThoops #Timeout2vote #CoachGregMcDermott pic.twitter.com/8FB34xJ8LC

— Creighton Basketball (@BluejayMBB) January 4, 2018
Key Stats:
Creighton turns it over 17 times, 13 of them via St. John's steals — and seven different Bluejays commit at least one turnover.
St. John's has a 24-8 advantage in points off turnovers, and an 18-2 lead in fast break points (mostly because of those turnovers).
Creighton out rebounds St. John's 41-23, largely because St. John's abandoned the offensive glass on almost every shot attempt in favor of sending five guys back on defense to prevent the Jays from running in transition.
Standout Performance:
Martin Krampelj scored 10 points during the Jays' decisive 18-2 run in the second half, and had another double-double with 14 points and 11 rebounds. He chipped in two assists and two blocks for good measure, too.
Marcus Foster was big, too, with 25 points on 10-16 shooting including 5-8 from behind the arc. Khyri Thomas scored 17, with five assists, and made St. John's leading scorer Shamorie Ponds into an afterthought — Ponds scored just 12 points in 39 minutes, including shooting 1-7 from three-point range.
But Ronnie Harrell played the key role in this one. His stats were solid — 13 points, seven rebounds, and two absolutely huge three-pointers — but it was the other things he did that turned this from a possible loss into a win. When the Jays adjusted to go small on Tariq Owens, it was Harrell who drew the assignment of guarding the bigger, longer St. John's center. And he delivered.
"Ronnie does so much for us," McDermott said. "He's worked so hard on his shooting, and it's paid off. But him scoring the basketball is such a small part of what he does for us. He's active on the glass, he can defend four different positions, he can switch on ball screens and we don't have to worry about where he ends up. He's very, very valuable to our team. The lift he gives us off the bench is really important."
They Said It:
You Said It:
Found time to catch a little bit of the #sunset tonight before the Creighton game. #Omaha pic.twitter.com/HtemcuCvQq

— Brad Williams Photo (@bradwphoto) January 4, 2018
Line goes all the way back to the convention center entrance. 15 minutes before tip. Tough on a weeknight to get here sooner.

— Patrick Marshall (@wildjays) January 4, 2018
Following it up with Mo Money Mo Problems, which always followed Gettin Jiggy Wit It on Sweet 98's promos.

— Dave Sund (@davesund) January 4, 2018
martin krampelj rocking the black shoes tonight pic.twitter.com/SlVvuGLnRf

— alex sindelar (@crimebait) January 4, 2018
Tariq Owens has screamed… something… very loudly every single time Creighton has set up their half court offense. It's effective, Jays down 10-9 at the 16 minute mark.

— alex sindelar (@crimebait) January 4, 2018
St. John's is controlling the pace of the game so far. Doing a good job setting up D. Also jacking up more threes than I think they would like. Bashir Ahmed has buried two of them, but Foster and Tazz have answered to give the #Jays a 12-10 lead with 14:53 left in the first half.

— Matt DeMarinis (@mjdemarinis) January 4, 2018
As expected. The Johnnies are jacking up bad shots but are athletic enough to disrupt Creighton's flow.

— Martin Swanson (@bigredtank72) January 4, 2018
Marcus Foster, lying on the floor while waiting to check back in, slams the floor as he yells out a defensive call. CU had 2 Fr on the floor for that short stretch

— Jon Nyatawa (@JonNyatawa) January 4, 2018
Marcus Foster, splayed out on the hardwood waiting to check in, was slapping the floor and yelling at his teammates to get into proper defensive position. It's 18-17 Jays, Foster with 9, Ahmed with 10, Jays currently owning the rebounding margin 10-5.

— alex sindelar (@crimebait) January 4, 2018
In what should not be a surprise to anyone in Omaha, Ronnie Harrell, Jr. has once again given the #Jays a big lift off the bench. Hit a pull-up three in transition and has two floaters off the glass on drives to the rim — 7 points & 2 rebounds in 7 minutes. CU leads 28-21.

— Matt DeMarinis (@mjdemarinis) January 4, 2018
Creighton's athleticism at the 4 & 5 giving St. John's some issues. As it does most teams. You typically don't see guys put it on the floor or move like Harrell & Krampelj can

— Jon Nyatawa (@JonNyatawa) January 4, 2018
Ronnie is good

— FakeBlueCrew (@FakeBlueCrew) January 4, 2018
Harrell has finally become the player we all hoped he'd be.

— Derek Rayment (@PRspcDerek) January 4, 2018
Marvin Clark II stopped Khyri from dunking on him. Marcus Foster took offense to this action and proceeded to dunk all over Clark II on the next possession.

— alex sindelar (@crimebait) January 4, 2018
9-0 run by St. John's. I don't think the Johnnies are going away tonight. Creighton, now down 38-36, is in for a battle.

— Jon Nyatawa (@JonNyatawa) January 4, 2018
9-0 by St. John's gives them a 38-36 lead with 2:02 left in the first half. Red Storm are 7-15 from three, including two from Tariq Owens who entered the night 3-of-6 on the season.

— Matt DeMarinis (@mjdemarinis) January 4, 2018
14-0 St. John's run to end the half … pic.twitter.com/a09i56WIlB

— Rob Simms (@IamRobSimms) January 4, 2018
Well, that turned quickly. Seems like we were better with Ronnie on the floor

— Martin Swanson (@bigredtank72) January 4, 2018
*Creighton goes on run with Ronnie Harrell in*

*Mac naturally takes out Harrell*

*St. John's goes on run and takes 7-point lead into halftime*

— Ryan Holmgren (@ryanholmgren) January 4, 2018
What an absolutely terrible end to an uninspired half of basketball.

— Dave Sund (@davesund) January 4, 2018
St John's with 14-0 run to end the half on the Jays. Dang.

— Patrick Marshall (@wildjays) January 4, 2018
Wow, just a horrible 4 minutes.

— Martin Swanson (@bigredtank72) January 4, 2018
Might need the Hoosiers video for the St. John's game smh.

— Heath Gunderson (@Heath_Gunderson) January 4, 2018
Pretty shocking last couple minutes there. Seven point hole feels like a lot right now.

— Jays Hot Takes (@jayshottakes) January 4, 2018
So. Hard. Not. To. Tweet. Negative. Things.

— Creighton Otter (@creightonotter) January 4, 2018
14-0 run to end the half?!?! Johnnies much more physical than the Jays, and they look like they know what they are doing. Scary.

— Tony Roth (@toneroth) January 4, 2018
We will see if there are some good adjustments at half. St John's did a great job adjusting the last part of the first half to totally slow Creighton down to a halt and cause hero ball.

— Patrick Marshall (@wildjays) January 4, 2018
Worst end to a half since just last Thursday.

— JayPak (@JayPakMan) January 4, 2018
Creighton's offense during St. John's 14-0 run:

Turnover
Turnover
Missed 3FG
Missed 3FG
Missed 3FG
Missed FG
Turnover
Missed 3FG

8 empty possessions in a row over a 4-minute, 27-second stretch.

— Matt DeMarinis (@mjdemarinis) January 4, 2018
Khyri 3 followed by a Khyri-fueled shot clock violation. A little reverse Khyri special to start the half.

— truebluejays (@truebluejs) January 4, 2018
then turns the ball over. all things happen in threes, I guess.

— alex sindelar (@crimebait) January 4, 2018
Nothing new. Been dead all year. Terrible music. Terrible volume. Terrible atmosphere.

— Tony Roth (@toneroth) January 4, 2018
The CenturyLink Center is no longer a home court advantage. Teams have to be so comfortable playing here.

— Derek Rayment (@PRspcDerek) January 4, 2018
The #Jays pulled within 4 — but St. John's answered by scoring on each of its next 4 possessions. An important answer out of halftime by SJU

— Jon Nyatawa (@JonNyatawa) January 4, 2018
6 more points for St. John's on 4 Creighton giveaways in the second half. Red Storm now up 16-6 points off turnovers. The deficit for the #Jays is now 54-46 with 15:35 to play.

— Matt DeMarinis (@mjdemarinis) January 4, 2018
The Johnnies are giving the Jays the business right now.

— alex sindelar (@crimebait) January 4, 2018
Crowd has helped here. Energized CU a bit defensively. St. John's, maybe feeling the pressure, has settled for jumpers the last 3 times down. Johnnies' lead cut in half. 56-51

— Jon Nyatawa (@JonNyatawa) January 4, 2018
Martin Krampelj gets the place to go crazy with a monster dunk. Tyshon Alexander pleads with the crowd to get on their feet. A quick 5-0 for the Jays means it's 56-51, and the CLink appears to be a bit more energized than in previous home tilts this season.

— alex sindelar (@crimebait) January 4, 2018
Martin Krampelj decided to bring some tenacity and physicality after he came off the bench. Much needed!

— Heath Gunderson (@Heath_Gunderson) January 4, 2018
And shot fake, be strong with the ball and not be tentative

— Tyler McKinney (@tylersmckinney) January 4, 2018
Jays seem like they are dribbling way too much in the half court. Attack w/ a purpose & get the ball moving! That's when we're good! #GoJays #RollJays #LetItFly

— Jimmy Motz (@JimmyMotz) January 4, 2018
Gregory got the momentum back we Gucci

— FakeBlueCrew (@FakeBlueCrew) January 4, 2018
The crowd here is… intoxicating. This is madness.

— alex sindelar (@crimebait) January 4, 2018
I could have sworn I just saw someone on my TL say CLink wasn't a hostile crowd for opponents anymore.

— Dave Sund (@davesund) January 4, 2018
Creighton is back in this ballgame thanks to some toughness on the defensive. Fighting ball screens better and closing out quicker on the kick-outs to the perimeter. C'Link is louder than it's been all season. 56-53, #Jays down three with 11:10 to go.

— Matt DeMarinis (@mjdemarinis) January 4, 2018
👋 @Echenique00#GoJays #LetItFly #BIGEASThoops #Timeout2vote #CoachGregMcDermott pic.twitter.com/sclw6ucLHu

— Creighton Basketball (@BluejayMBB) January 4, 2018
Welcome back big guy. Pumping up the crowd. https://t.co/KVRIbGysBT

— Patrick Marshall (@wildjays) January 4, 2018
Get him a jersey

— Derek Rayment (@PRspcDerek) January 4, 2018
Right after they showed him on the screen CU came up with a big stop on D. https://t.co/x1Hj3NNA67

— Dave Sund (@davesund) January 4, 2018
Billy Grab the sled

— FakeBlueCrew (@FakeBlueCrew) January 4, 2018
When all else fails tonight — and most else has — Martin Krampelj has been the savior of Creighton's half court offense.

— truebluejays (@truebluejs) January 4, 2018
FLEX ON THEM TINI

— FakeBlueCrew (@FakeBlueCrew) January 4, 2018
Martin Krampelj slams home another one and swings on the rim for good measure. Adds the free throw and the #Jays lead 59-56 with 8:42 to go. The C'Link is poppin'.

— Matt DeMarinis (@mjdemarinis) January 4, 2018
Martin is a beast

— Tyler McKinney (@tylersmckinney) January 4, 2018
This is Martin Krampelj's team

— Derek Rayment (@PRspcDerek) January 4, 2018
Krampelj!!!!! 💪💪💪💪 #GoJays #RollJays

— Jimmy Motz (@JimmyMotz) January 4, 2018
Or not…

— Bleeds Blue (@CUAlum81) January 4, 2018
— Derek Rayment (@PRspcDerek) January 4, 2018
If you're currently inside CenturyLink Center, get loud and make some noise! Keep the energy going! #GoJays #RollJays #LetItFly

— Jimmy Motz (@JimmyMotz) January 4, 2018
Guys if Mr. St. Louis tells you to get loud you get loud https://t.co/FtlkTpuIjz

— FakeBlueCrew (@FakeBlueCrew) January 4, 2018
Lol @FakeBlueCrew pic.twitter.com/hMHCAdR1S5

— Tyler Anderson (@TylerA_Anderson) January 4, 2018
Dear Blue Crew Kid Who Decided to Interact With Shamorie Ponds ina Mocking Manner:
Don't. Just don't.
Signed,
All Creighton People Everywhere

— truebluejays (@truebluejs) January 4, 2018
Anybody's game here. Can the #Jays close?

— Jon Nyatawa (@JonNyatawa) January 4, 2018
Chris Mullin has to talk to the ref at every timeout. Then tries to figure out what to tell his team.

— Patrick Marshall (@wildjays) January 4, 2018
Martin Krampelj with the huge block. Only moly. A near-goaltend. But the refs called it clean. Big moment there

— Jon Nyatawa (@JonNyatawa) January 4, 2018
God damn Tini that was a play.

— Dave Sund (@davesund) January 4, 2018
Coach Mac: "Trial by fire, Tyshon. Best of luck."

— Bluejay Buff (@BluejayBuff) January 4, 2018
Tazz for 3, 🍕🍕🍕, and the dagger.

— Dave Sund (@davesund) January 4, 2018
It touched nearly all of the rim. And hit off the backboard, too. But the corner 3 from Khyri Thomas went in. #Jays lead 76-71 w/ 13 seconds left

— Jon Nyatawa (@JonNyatawa) January 4, 2018
I don't think I've seen a 3 get that kind of shooter's roll off the rim. It was short, but somehow bounced to the opposite rim and rotated through the cylinder. Incredible! #Tazz #Creighton #JaysWin

— John M. Bishop (@JohnBishop71) January 4, 2018
Tazz deserved it after all the shots he had rim out through the first two Big East games. https://t.co/vVaFYY5iq5

— Jacob Padilla (@JacobPadilla_) January 4, 2018
Khyri Thomas from the right corner for Godfather's Pizza and a 5-point lead. 76-71, #Jays, 13.3 to play. pic.twitter.com/graqur0EKu

— Matt DeMarinis (@mjdemarinis) January 4, 2018
— truebluejays (@truebluejs) January 4, 2018
In the interest of combating hunger, I'll be donating my Godfather's pizza to Tariq Owens.

— truebluejays (@truebluejs) January 4, 2018
Krampelj was in beast mode for last what 8 minutes? He really euro-stepped it up

— Christopher Burbach (@CHRISBURBACH) January 4, 2018
Martin Krampelj was the reason Creighton won that game. He made some huge plays.

— Dave Sund (@davesund) January 4, 2018
Oh … and a huge Krampelj block too. pic.twitter.com/fG5YgntOBm

— Rob Simms (@IamRobSimms) January 4, 2018
So the question is does @cucoachmac dance in the locker room after a win like @CoachKBooth and Flan? #CoachGregMcDermott #Timeout2Vote

— Bleeds Blue (@CUAlum81) January 4, 2018
Small sample size this early in conference play, but the St. John's team that just gave Creighton all it could handle in Omaha? Last in the league. Yikes. The Big East is brutal.

— truebluejays (@truebluejs) January 4, 2018
Amazing game tonight between Creighton and St. John's. That was like a heavy weight fight with both teams exchanging haymakers! Had a blast on the call on @FS1 #BIGEASThoops

— Nick Bahe (@NickBahe) January 4, 2018
There were quite a few difference-makers for #Creighton in tonight's comeback win over St. John's at @centurylinkoma but the crowd is at the top of the list. Thank you @BluejayMBB fans, a round of applause for all of you. #GoJays pic.twitter.com/KOqte3nK5U

— Kevin Sarver (@KASarver) January 4, 2018
I would contend that putting @Echenique00 on the big screen before their big run got the crowd fired up. https://t.co/I9Tw85cS7S

— Patrick Marshall (@wildjays) January 4, 2018
Tonight is a perfect example of how much of a difference a crowd can make. CenturyLink Center Omaha was unreal during that second half run. Would have been deafening with a full house. Hope the fans show up and make that much noise the rest of the season. #GoJays

— Michael Murakami (@MichaelMurakami) January 4, 2018
Let's vote as many times today for @cucoachmac as Tazz's 3-pointer last night touched the rim or backboard. We can help Omaha's neighborhoods! #Timeout2vote #Creighton #GoJays https://t.co/uxp340XyBD

— John M. Bishop (@JohnBishop71) January 4, 2018
Comments
Tagged in: