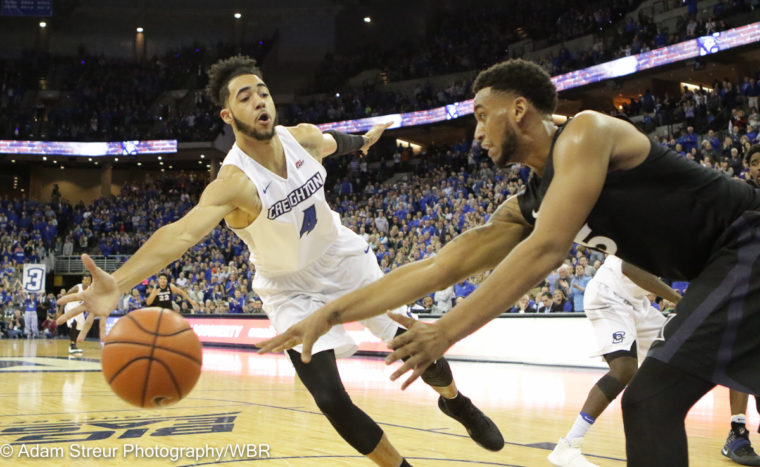 Morning After: Creighton's Season Ends with a Resounding Thud As Rhode Island Wins 84-72
Key Stats:
Creighton shoots a ghastly 26-65 from the floor — including 7-23 from three-point range and 6-17 on LAYUPS, many of them WIDE OPEN — obscuring any and all other stats that might have been relevant.
Which is too bad, because the Jays (mostly Khyri Thomas) held Rhode Island's leading scorer E.C. Matthews to just 3-12 shooting and 0-4 from outside; he got one more than his season average of 15 points by virtue of going 10-10 from the line.
The biggest key isn't anything found on the stat sheet, however. URI seemingly, and perhaps accurately, got every loose ball, every 50/50 rebound, made every hustle play. If Creighton wanted it more than URI did, they had a funny way of showing it. You can draw your own conclusions there, but based on the reporting of Tom Shatel and others in Sacramento of the scene in the locker room afterward, I know which way I'm leaning.
Recap & Analysis:
Creighton never led in their first round NCAA Tournament matchup with Rhode Island, missing their first six shots and 12 of their first 15. Had they been playing a team with an explosive offense — or had the Bluejay defense not done a solid job in the early going — the game might have been decided by the slow offensive start.
But because of the Jays' defense on the Rams, URI led just 13-8 after all that. With the Jays having converted back-to-back buckets from Justin Patton and Khyri Thomas heading into the under-12 TV timeout, it seemed like the slow start was a case of big-stage jitters. That a deep breath during the timeout would settle them down. That there was a run coming.
The run came — more than once — but URI had an answer every time. Creighton tied it at 17, but URI immediately scored two quick baskets to push the lead back to 21-17. CU cut the deficit to 21-20 at the 5:06 mark of the first half on a three from Thomas, only to see the Rams outscore them 12-6 to end the half and take a 33-26 lead.
In need of a fast start to the second half, Creighton ran a beautiful backdoor cut that resulted in as wide-open of a layup as you'll ever see in the halfcourt of an NCAA game…but Marcus Foster missed it. URI's Hassan Martin responded by grabbing an offensive rebound of a missed shot on the next possession and laying in an easy putback; a steal by Jared Terrell of Foster led to a breakaway layup and a 37-26 lead.
CU would have one more chance. Halfway through the period, Thomas nailed a jumper to cut the deficit to 53-46, and then ripped away a steal along the sideline that led to a fast break dunk from Ronnie Harrell. After trading scores, with 7:49 they got a defensive stop with the score 55-49, and Toby Hegner got a good look from three-point range. It missed, and Patton secured the offensive rebound. With a clear path to the rim four feet away — the kind of path he destroyed with a dunk dozens of times this year — he instead laid up a soft layup.
It missed, and the Jays were never as close again. In hindsight that looks an awful lot like the backbreaker, because URI scored on six straight possessions following it, and on 14 of their final 17. Had Hegner's three dropped to cut the lead to three, who knows? Had Patton gone in for a dunk on the putback (or made the layup he took instead), and cut the lead to four for the first time since late in the first half, who knows?
We'll never know, and it's just one of far too many questions to ponder over the next seven months, on and off the court.
Ronnie Harrell played reasonably well at point guard in the Big East Championship and NCAA Tournament, but why wait until the two most important games of the year to experiment with that?
How did a team with the Big East Defensive Player of the Year, Big East Freshman of the Year, and a First-Team All-Big East player not have a higher ceiling than the first round of the tournament, even without their All-World point guard?
Why did the team look listless and tired (or, in the words of Khyri Thomas postgame, "complacent"). In the NCAA Tournament? Complacent? How is that possible?
Will Justin Patton leave early for the NBA Draft? Will Marcus Foster follow, to Europe or elsewhere? Will there be other defections, either on the coaching staff or the roster?
What becomes of Maurice Watson's criminal trial, and what toll will that take on the program?
It's setting up to be a long, tumultuous offseason on the Hilltop, and laying an egg in the tournament won't make it any easier to stomach. Losing a close, hard-fought game is just as hard initially, but gets better as time passes. Losing a game where it sure as heck looks like the other team worked harder, played harder, and was more willing to do whatever it needed to do to win? That takes longer to get over, and is impossible to brush off with the sort of excuses that fans use to make themselves feel better about gut-punch losses. There's no excuses to be made after a performance like this. Just soul-searching to determine what went wrong, and how to make sure it doesn't happen again.
One thing's for sure: this was another in a very long line of NCAA performances from the Bluejays where their offense couldn't get on track — a stretch that began long before Greg McDermott took over as head coach.
Among the lowlights? Kyle Korver's 2-13 line from three-point range against Iowa in 2001, as the team made 1-15 threes in the second half to blow a lead. Dane Watts' 1-12 day against Nevada in 2007, which included an 0-8 line from three point range. Doug McDermott's 4-16 shooting against Duke in 2013, which, when combined with Austin Chatman's 2-11 line (and 1-6 from three-point range), is doubly ugly. The teamwide meltdown against Baylor in 2014 (22-55 overall, 5-24 from three-point range) seemed to be the low point of nearly 20 years of NCAA Tournament offensive futility, but Friday against Rhode Island might be a worthy challenger. Justin Patton shooting 3-12 and Marcus Foster shooting 6-19 (and 1-7 from three-point range) are every bit as ugly as those past performances, if not moreso.
Give credit to the Rams' perimeter defense, which was as advertised, for a lot of those three-point misses. But URI's defense had nothing to do with the litany of wide-open shots Bluejay players missed from outside, nor the disturbing number of layups at or near the rim that the Bluejays missed, many of them uncontested. Those are basic, normal basketball shots that they've made a hundred times, all season long, all of their lives. And on Friday they didn't go in, on the big stage and under the bright lights of the NCAA Tournament.
Again.
They Said It:
"I would like to congratulate Rhode Island. Coach Hurley has done a terrific job throughout the season and obviously has them playing their best basketball at the right time.

For us, we really needed to play defensively in the second half like we did the first half and play offensively in the first half like we did the second half. Our offensive numbers were poor the first half, but defensively we did enough to keep us in the game. The second half we had a hard time guarding them without fouling, and even though we moved the ball and put 46 points on the board, it was a little bit too little, too late.

But extremely proud of our team and especially these three guys that are up here with me. Zach and Isaiah have been part of a team that was a No. 3 seed in the NCAA Tournament and they've also been part of a team that finished 9th in the Big East and went 4-14. That was Cole's redshirt year. The three of them are hugely responsible for getting our program back to where it is today and I'm forever grateful for them. Not just for what they've done for us on the court, but the way they've conducted themselves off the floor. They've been first-class representatives of Creighton, of our basketball program and certainly of their families. They're going to be successful in whatever they choose to do, and it's been 100% my pleasure to have the opportunity to coach them." -Coach Greg McDermott in postgame press conference
Q. Isaiah, the natural question is what did they do defensively to knock you off kilter? They pressure well and extend out, but just what was it about their playing that knocked you off in the first half?
"It wasn't anything that we weren't ready for, just got a little sped up. They try to body you, push you around, make you go where they want you to go and catch. And they did a good job and tried to speed us up and that's exactly what they did." -Isaiah Zierden in postgame press conference
Q. Coach, what went into the decision of starting Ronnie, not starting him, but playing Ronnie Harrell at point guard a lot today?
"A couple things. Part of it is he played really well against Villanova when we put him in in the second half. I thought he gave us a great lift at both ends of the floor. He's continued to practice well since that time. Because of the length they had across the guard court his ability to see over some of their — they were aggressive on ball screens and he could see over it better than Davion and Z and Tyler.

So we went with it and when he went out there he played well. So we rolled with it and it's been that case with this team all year. When a guy's number is called we expect him to be ready, and fortunately Ronnie was ready today because he impacted the game in a positive way." -Coach Greg McDermott in postgame press conference
Q. For all the players, I don't know how you sum up this season. I know it hurts at this moment, but given the adversity and trying to reshape your team the way you did down the stretch, what do you take way from the way you finished and what it meant the last few weeks to still stick together and get wins despite not having your full squad?
"I just think top to bottom from our coaching staff to all the guys on the team, I think it really speaks to the character of everybody on this team because with all we went through with injuries and just adversity and everything, it could have been easy for us to divide as a program and at times even give up a little bit. That's never what we did. We always stuck together. We always kept our heads up. We always showed up and worked and we always kept our goals in mind. We never let things that could have brought us down and I'm really proud of our guys and our program in general because I think it speaks to how good of people we have in this program." -Zach Hanson in postgame press conference
Q. Coach, how much did they maybe resemble a Big East team defensively in terms of their physicality on the perimeter and their depth among their guards?
"I would say very similar. As you watch them over the course of the season, watch their early games and obviously watched the run they've had the last two or three weeks, there's noticeable improvement in what they're doing defensively and their attention to detail. They're extremely physical and today they were able to play that physical defense without fouling. They've had times during the year where they fouled a lot and we were the ones that fouled a lot today. This is a very good basketball team. That's a top-25 basketball team and a team that can on the right night can beat anybody in this tournament." -Coach Greg McDermott in postgame press conference
Q. Greg, what did you see that you guys didn't do effectively offensively in the first half that once you got settled in you figured out and started having a little bit better possessions offensively?
"We had opportunities early with some shots that came as a result of Justin or Zach getting to the rim after a ball screen and we sprayed it out and missed some of those, missed a few shots around the rim and when you're not making the shots you don't really make them adjust.

You're not going to adjust as a coach until something is really hurting you, and we weren't able to do enough in the first half to force any adjustments with how they were defending with their pressure. They're really good. They're really good, and obviously we didn't have our A game today and to win today we were going to need that." -Coach Greg McDermott in postgame press conference
Q. Defensively you mentioned fouling too much, but it seemed like you assign Khyri to guard E.C. their best player, but their point guard, Jeff Dowtin, got into the teeth of the defense and hurt you a little bit maybe off ball screens. What did he do and why did he find a way to bring you guys down the way he did?
"I thought he played with a great pace. While he didn't have any assists, he also didn't turn it over. If you would have told me E.C. and Terrell were going to be 6 of 20 between 'em, I would have said we're probably winning the game, until you tell me that Justin and Marcus went 9 of 31, so that kind of trumps that.

Obviously, Hassan is special in there because he doesn't require the ball all the time, but when they need a basket you can go to him. He kind of got what he usually gets and we did a good job on those other two. Jeff Dowtin hurt us and Kuran Iverson, the 3-point shots he hit were really critical, especially the ones late in the half.

I thought our defensive plan was good enough, certainly good enough the first half and we just couldn't score and once we got behind we fouled a lot and that's got a lot to do with the free throw differential." -Coach Greg McDermott in postgame press conference
Q. Cole, how tough is it to swallow knowing that you guys didn't play your best, that there was more to show, like Coach mentioned, layups and shots that you there you just didn't finish? How do you come to grips with the season ending in this fashion?
"It's tough just like any other loss. You're always going to look back at the few plays that you wish you could have had back, things you could have done differently. Unfortunately, this time there is nothing to look forward to, moving on to a next game or preparing for something else. It definitely hurts, especially in the NCAA Tournament, us three, I know these two have been, but Isaiah was hurt the first time and Zach had a minimal role.

So this was our first appearance in the NCAA Tournament and we wanted to put out a better effort than we did. It hurts. It sucks, but at the same time we don't have anything to hang our heads about." -Cole Huff in postgame press conference
You Said It:
Good luck today to the @BluejayMBB and Coach Altman's @OregonMBB. #MarchMadness #NCAAJays

— Kyle Korver (@KyleKorver) March 17, 2017
.@BluejayMBB heading out to @Golden1Center #Creighton vs URI tips off two hours. #OmahaWest #MarchMadness #NCAATournament #GoJays pic.twitter.com/Fd2DWRA0yG

— Kevin Sarver (@KASarver) March 17, 2017
Creighton fans travel…Example ➡️ Today's team send-off! #GoJays #TakeFlight #BEdancing #MarchMadness pic.twitter.com/SsDpSjecuH

— Creighton Basketball (@BluejayMBB) March 17, 2017
Hoping for good karma in Sterling, NE today. The Coach Altman autograph on a Creighton Basketball. Let's go!!!! #GoJays #RollJays #LetItFly pic.twitter.com/mKeRG0EOjb

— Jimmy Motz (@JimmyMotz) March 17, 2017
This isn't the frozen four Creighton. You're as cold as ice.

— Martin Swanson (@bigredtank72) March 17, 2017
I'll never understand the physics behind how a basketball goes that far in yet still pops back out.

— Jacob Padilla (@JacobPadilla_) March 17, 2017
They need to come out with some juice. You can't play half speed against this type of defense. Be aggressive on offense!

— Austin (@letitflycu) March 17, 2017
OH GREAT COACH LETS PUT Z IN AT PG

— Bluejay Buff (@BluejayBuff) March 17, 2017
Ronnie Harrell needs to be the PG in this match-up until he proves otherwise. Made two reads already that Mintz & Zierden didn't.

— Matt DeMarinis (@mjdemarinis) March 17, 2017
It might be Ronnie Harrell's day at PG. Great find there on Khyri Thomas' 3-pointer

— Jon Nyatawa (@JonNyatawa) March 17, 2017
Maybe Ronnie should start at point, Mintz as the primary backup, and Z can… I don't know… fill water bottles?

— Garret Mueller (@mue11er) March 17, 2017
Harrell is the best point guard on the team.

— Dave Sund (@davesund) March 17, 2017
This is not always true, but against a strong, athletic, aggressive perimeter defense … probably. https://t.co/EUvRIfUlCc

— Matt DeMarinis (@mjdemarinis) March 17, 2017
Wait 34 games to play Ronnie @ PG so that the opponent has no film to study. Interesting strategy Cotton let's see how it works out for them

— Heath Gunderson (@Heath_Gunderson) March 17, 2017
Helluva look by Ronnie to create space for Khyri. And when Khyri gets squared up like that, he's not gonna miss a lot.

— truebluejays (@truebluejs) March 17, 2017
Creighton's initial defense has been spectacular. Offense, rebounding, free throw shooting, etc.? Not so much.

— Ryan Holmgren (@ryanholmgren) March 17, 2017
Wanted: Someone to help out Khyri today. One man can't do everything. He looks like the only one who really wants to win out there.

— Perch Jay (@perchjay22) March 17, 2017
If there is any good news at least Creighton is playing while other teams in Nebraska are doing what they normally do in March. Nothing.

— Martin Swanson (@bigredtank72) March 17, 2017
Khyri Thomas pulls up for a jumper. Nails it. Then he intercepts a perimeter pass & dishes to Ronnie Harrell for the slam. Big moment. 53-48

— Jon Nyatawa (@JonNyatawa) March 17, 2017
KHY. F-IN. RI.

— truebluejays (@truebluejs) March 17, 2017
Dear College Basketball World, have a look at the #Khyrifense. Enjoy.

— Matt DeMarinis (@mjdemarinis) March 17, 2017
DUNK IT, JUSTIN!

— Ryan Holmgren (@ryanholmgren) March 17, 2017
1st round draft choices don't miss those shots.

— Martin Swanson (@bigredtank72) March 17, 2017
Layups man! Layups!

— Nick Bahe (@NickBahe) March 17, 2017
Layups. pic.twitter.com/hGyrt1B3yu

— John Bishop (@JohnBishop71) March 17, 2017
A good stop, followed by a missed wide-open 3, followed by a missed point-blank putback. That sequence feels big-ish.

— truebluejays (@truebluejs) March 17, 2017
Congrats Nebraska fans. Your NCAA team which isn't yours won another game. Don't @ us rednecks

— FakeBlueCrew (@FakeBlueCrew) March 17, 2017
Tough part for Ronnie Harrell is he's not comfortable defending point guards in ball screens — Jeff Dowtin has 13 points on 5-of-7 FG.

— Matt DeMarinis (@mjdemarinis) March 17, 2017
If you're searching for solace (and what Jays fan isn't), remember the player Khyri was this time last year. He has two more offseasons left

— truebluejays (@truebluejs) March 17, 2017
Through everything I've watched you grow from a boy to a man @colehoops and that's what really matters.

— Clint Parks (@Brotherhood05) March 17, 2017
Thanks to @IsaiahZierden21, @ZachHanson40 and @colehoops for good careers, fighting through injuries and leading a transition to the BE.

— Brian Norton (@nortonbrian) March 17, 2017
Told myself I wouldn't be pissed if they lost today – tourney all about matchups, etc.

Still super pissed.

All the missed bunnies #smh

— Creighton Otter (@creightonotter) March 17, 2017
@WBR_Tom One thing if you lose a close game. Another thing to get boat raced. #Khyrifense can't be the only type that shows up.

— Creighton Otter (@creightonotter) March 17, 2017
@WBR_Tom worst part: I honestly thought that the O could outperform Rhode Island's defense. "Defense wins championships" or whatever

— Creighton Otter (@creightonotter) March 17, 2017
The silver lining for Creighton is that its two best players today (by a long shot) — Khyri Thomas & Ronnie Harrell Jr. — are sophomores.

— Matt DeMarinis (@mjdemarinis) March 17, 2017
Thank you to all blue jay fans that have been there for us through thick and thin!
I'm already looking forward to next season.#GoJays

— Kobe | KoKo Wave (@_kokoparas) March 18, 2017
Such an awesome group of guys to coach. Always sad to have it come to an end. Thx to Jays fans for your incredible support! #RollJays

— Coach McDermott (@cucoachmac) March 18, 2017
The NCAA Tournament is a cruel beast. Teams go in on cloud nine, with a sense of accomplishment, and 40 minutes later your season is over.

— Matt DeMarinis (@mjdemarinis) March 17, 2017
Comments
Tagged in: