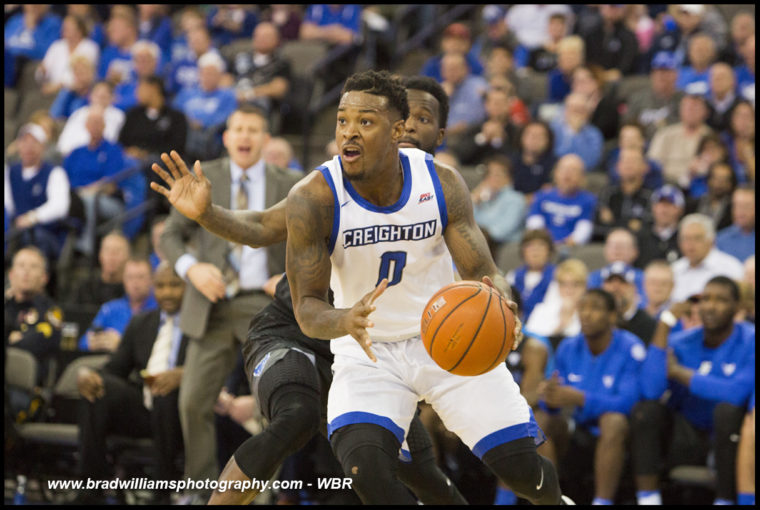 Morning After: Marcus Foster's Caps Dramatic Night at MSG With Game-Winner, Creighton Moves on to Big East Championship
Key Stats:
As it was in their Quarterfinal win over Providence, this was a tale of two halves. In the first, Creighton made just 11 of 28 shots, and were out-rebounded 23-12 and 7-1 on the offensive glass. Defensively, Xavier scored 12 of their first 14 points from behind the arc; when CU adjusted to take that away, Xavier scored 14 of their last 19 points in the paint.
In the second, the Bluejays made 18 of 25 shots, including seven of nine from three-point range, and had assists on 13 of those 18 made-baskets. They out-rebounded Xavier 12-8, were even 2-2 on offensive boards, and outscored Xavier 20-14 in the paint.
Creighton finished by making 11 of their final 14 three-pointers, including Marcus Foster's game-winner.
Standout Performance:
Marcus Foster and Justin Patton combined to score 42 of Creighton's 75 points, with 21 apiece. In the second half, their inside-out game made life difficult for Xavier — Patton had 15 and Foster had 10 with four assists (two of them to Patton, including on a trailer three).
Patton's second half offensively (7-8 from the floor, 1-1 from three-point range, 15 points) was magnificent. And his stronger, more physical defensive presence made it tougher for Xavier's post players to be effective — after a first half where CU had to resort to double-teaming the post because the Musketeers were abusing them on the block, Xavier got just six points from their forwards and centers in the second half and just five shot attempts.
The duo combined to score 12 of Creighton's final 15 points, including their last eight, coming up with one big shot after another. Foster's three to break a 67-67 tie. Patton's tip-in to push a 70-69 lead out to three with just over a minute to play. Foster's game-winner. To win close games in March, you need big-time players to make clutch shots, and time after time in this game Foster and Patton were those players making those shots. It's been awhile since we've been able to say that about a Creighton team, and it's a reminder of how exhilarating college hoops can be when you have players like that on your side. There's nothing like it.
Recap & Analysis:
The first two nights of the Big East Tournament have resulted in a grinder and a thriller, as John Bishop wrote on Twitter, and those are precisely the types of games Creighton needed to win this weekend in NYC — for their confidence, for the doubters, for an NCAA Committee looking for reasons to knock them down a seed.
The grinder came Thursday, when a determined Providence team slowed the game to a halt and forced the Jays to beat them in an old-school Big East rock fight, which they did. The thriller came Friday, as Xavier and Creighton traded haymakers over a furious final four minutes of action, culminating with Trevon Bluiett tying the game with 15 seconds left, only to see Marcus Foster put the Jays back ahead on a three-pointer with 6.6 seconds to go. A defensive stop clinched the win, as the final 15 seconds of game time ran off in "real time" — no timeouts, no stoppages, just 15 seconds of unbelievable highs and lows for both sides.
From the outset, it looked like a carbon copy of Thursday's game against Providence, with Creighton digging themselves an early hole. After Patton and Cole Huff hit shots to give the Jays a 5-3 lead, Xavier's J.P. Macura hit three consecutive three pointers in the span of five possessions to put the Musketeers ahead. Macura and Trevon Bluiett combined to score 15 straight during that stretch, and the resulting 18-9 Xavier lead put the Bluejays behind the eight-ball. They kept Macura from connecting again the rest of the half, but were then beaten up on the boards and in the paint — third-string center Sean O'Mara scored six straight on Patton late in the half, adding a blocked shot for good measure — and the Jays trailed 37-31 at the half.
As they did Thursday when they scored on seven of their first nine possessions and took the lead with a 13-2 run, a quick start to the second half changed the game. On Friday Creighton made 10 of their first 11 second-half shots — 10 straight after Patton missed the first attempt of the half — part of a 24-13 run over the first nine minutes of the half that turned a 37-31 deficit into a 55-50 lead.
Just your casual trail three by a seven-foot freshman at @TheGarden in the @BIGEAST Semifinals… #GoJays #TakeFlight #BIGEASThoops pic.twitter.com/5x08Z4nEmT

— Creighton Basketball (@BluejayMBB) March 11, 2017
Greg McDermott and his staff stressed to the team at halftime how to combat Xavier's defensive strategy of switching on all of the Jays' ball screens. By doing that, Xavier was able to both crowd the three-point line and cut off dribble penetration because of their length. It also left a guard on Justin Patton — on a handful of possessions in the first half, J.P. Macura was switched onto Patton but the Jays could not take advantage. And by correlation, it often left a big man on the ball. By settling for jumpers in the first half, CU played right into their hands.
In the second half, they stressed making the extra pass — instead of immediately penetrating on a switch and then hoisting a shot, look inside for the mismatch. They drew up early plays to get Patton loose inside on pick-and-rolls, and after torching Xavier's defense a few times, it forced them to loosen their ball-screen switches…which opened up the perimeter for the Jays to exploit.
😕😳😏 #GoJays #TakeFlight #BIGEASThoops pic.twitter.com/xf6AK1cM5C

— Creighton Basketball (@BluejayMBB) March 11, 2017
RAIL CAM SLAM ON @FS1!

Patton pounds it down to extend @BluejayMBB's lead to 4. #BEtourney pic.twitter.com/OldQD8Wa9D

— #BIGEASThoops (@BIGEASTMBB) March 11, 2017
Seemingly everyone got in on the act, with Foster, Cole Huff, Khyri Thomas, Tyler Clement (!), and Isaiah Zierden all connecting from deep. Zierden's three featured a Cale Ferrin-inspired celebration afterward:
First the score… #GoJays #TakeFlight #BIGEASThoops pic.twitter.com/d8Q6SS0yGH

— Creighton Basketball (@BluejayMBB) March 11, 2017
…then the celebration! (cc: @cale_ferrin) #GoJays #TakeFlight #BIGEASThoops pic.twitter.com/iegSzYOhPj

— Creighton Basketball (@BluejayMBB) March 11, 2017
Zierden then had this crazy shot, which prompted Fox's Jim Jackson to proclaim "Nice haircut, but an even better layup."
"Nice haircut but even a better layup!" #GoJays #TakeFlight #BIGEASThoops pic.twitter.com/LOK1DfPMg4

— Creighton Basketball (@BluejayMBB) March 11, 2017
After that shot to give CU a 60-54 lead, Xavier ripped off an 11-4 run to go ahead 65-54 with 4:14 to play. The stunning reversal in fortune was spearheaded by none other than J.P. Macura, who once again hit three straight three-pointers just as he had in the first half. The Xavier lead would be short-lived; on the next possession, Clement answered with a corner three to give the Jays back the lead, and though Xavier would tie it twice more, they'd never again lead.
Tyler Clement hadn't made a 3 in a month & he'd averaged 5.2 mins per game since mid-Feb. "No matter who we play, I'm always ready to go" pic.twitter.com/kxH0vgepsh

— Jon Nyatawa (@JonNyatawa) March 11, 2017
To create the shot, Clement initially drove inside, then kicked it out to Thomas and ran straight for the corner. Xavier's defense completely fell asleep, and Clement stood all alone in front of the bench. He had attempted just three 3's over the last month, hadn't made one since (oddly enough) hitting two of them against Xavier on February 4, and had just seven made threes all season. But in an absolutely huge moment, he calmly knocked it down, and put CU back on top.
The drama was just beginning. Malcolm Bernard tied it on a pair of free throws with 3:06 left, and Foster answered with a three to make it 70-67 Jays. Bluiett countered with a jumper at the 1:46 mark to cut the lead to one, 70-69. Foster drove to the rim on the next trip down, and after his shot missed, Patton tipped the ball in with 1:18 to play to give CU a 72-69 edge.
Ladies and gentlemen…your @BIGEAST Freshman of the Year! #GoJays #TakeFlight #BIGEASThoops pic.twitter.com/AGRSgRKu7a

— Creighton Basketball (@BluejayMBB) March 11, 2017
Bluiett missed the front end of a one-and-one on Xavier's next possession, and that forced the Musketeers — who had just three fouls in the half — to commit five consecutive fouls just to get Creighton into the bonus. The Jays successfully inbounded it five straight times without turning it over, and on the fifth time, Huff went to the line. He missed the front-end of the one-and-one, opening the door for Xavier to tie it.
They did just that, with Bluiett sticking a three-pointer with Foster in his face, tying the score at 72. Foster brought the ball up and looked to his bench to see if they wanted a timeout, but McDermott motioned to play on. His reasoning? Thomas had gotten tangled up with J.P. Macura under the hoop after Bluiett's three, and with both players still at the other end it was a 4-on-4 situation giving CU's offense a bit more room to operate.
Macura in the left corner pic.twitter.com/llO5B6FRSh

— Tyler Anderson (@TylerA_Anderson) March 11, 2017
And the ball was in the hands of the guy they wanted it in; McDermott noted after the game that if the ball had been in Patton or Huff's hands, he might have called timeout to set up a play. But with Foster having it, there was no reason to risk an out of bounds play, to allow Xavier the chance to set up their defense, or to allow Xavier to go full strength. So they played on.
Trip to the @BIGEAST Championship on the line. Marcus Foster for three. Buckets. #GoJays #TakeFlight #BIGEASThoops pic.twitter.com/3Lyl5u6htq

— Creighton Basketball (@BluejayMBB) March 11, 2017
Foster dribbled to the line, pulled up for the three, and with a sellout crowd of over 19,000 fans at MSG standing and fans of both teams holding their breaths, it rattled around the rim before settling in with six seconds left. Xavier got off a desperation shot at the buzzer that missed, and the Jays FINALLY won a game on the final possession after so many heartbreaks, missed opportunities and failed chances. That it came on the big stage of the Big East Tournament at Madison Square Garden, under the bright lights of NYC, made it that much sweeter.
The Shot. #GoJays #TakeFlight #BIGEASThoops pic.twitter.com/Of2FHGLBJL

— Creighton Basketball (@BluejayMBB) March 11, 2017
In winning an all-time classic Friday night, Marcus Foster cemented himself in Creighton lore alongside the most famous game-winning shots in school history. Chuck Officer's 35-footer to beat Notre Dame in 1961. Gene Harmon's buzzer-beater to take down Otis Birdsong's #7 Houston team in 1973. Rick Apke's jumper at the horn to win the 1978 MVC Title over Larry Bird's Indiana State team. Terrell Taylor's double-OT buzzer-beater in a 2002 NCAA Tournament win over Florida. Booker Woodfox's disputed buzzer-beater over Wichita State in the 2009 MVC Tournament. Doug McDermott's buzzer-beater in 2014 to hold off St. John's.
You can now add "Marcus Foster's game-winner against Xavier in the 2017 Big East Tourney" to that illustrious list of game-winning shots Creighton fans will talk about for ages.
Here's the final 20 seconds unedited, straight from the TV broadcast:
What a finish. What a night at the Garden.@BluejayMBB wins a wild one to advance to the Big East title game! pic.twitter.com/fDoSQFcYAC

— ESPN College BBall (@ESPNCBB) March 11, 2017
And here's what those frantic 20 seconds looked (and sounded) like from the chair next to Fox's TV crew of Gus Johnson and Jim Jackson — it's a remarkable video:
Last 3 possessions in Creighton/Xavier semi final game was nuts as Creighton was able to sneak out the win thx to Marcus Fosters dagger 3! pic.twitter.com/G5ovutUPzT

— Jim Jackson (@jimjackson419) March 11, 2017
They Said It:
"That was quite a game. Xavier obviously really jumped on us early, and we spent a good portion of the evening trying to dig ourselves out of that hole. Defensively, the second half, while we weren't great, our fight on the backboards was better. They had ten second-chance points at halftime. We had two. Second half we got five; they got four. Something we talked about in the locker room at halftime, that that had to change, that we had to hit them before they hit us on the glass.

And our efficiency offensively, we talked at halftime about when we penetrate against some of their switches, we have to penetrate to make a play for a teammate, not make a play for ourselves. That changed the second half from the first half. Marcus gets six assists, Khyri gets eight. Those are the two guys that are putting on it the floor to make plays for our team and they made great plays for their teammates.

Terrific win for us. We've been in this league four years. This will be the second trip to the championship game, which is a credit to the people in the locker room, staff and the players. We've been through a lot the last five or six weeks, and for us to be sitting on the stage getting ready to play tomorrow night is a credit to the character of the people I have in that locker room." -Coach Greg McDermott in postgame press conference
Q. What does it mean as a team and as a locker room to advance to a game against Villanova tomorrow night?
"It means a lot to us. We've been putting in work since last spring, since the season was over, so I feel like we deserve it. Our guys in the locker room, great guys, great teammates to be around and we work so hard together. So it showed tonight on the court by how we kept fighting and getting back into the game even when they kept on giving us their best shot." -Marcus Foster in postgame press conference
Q. Coach, you just mentioned how you handled their defensive switches. Was that why you resulted in such great efficiency from 3 in the second half and overall in the game?
"We were able to collapse the defense versus some of the switches with their bigs. And Justin slipped out of some early, got a few baskets at the rim, and all of a sudden your defense mindset changes because you're giving up an easy two, and they're late getting to some shooters. Then we executed an out-of-bounds play that we just put in this morning that we saw from last time we played them that we thought we could get a corner 3. And Khyri did a great job dribbling up the floor and Marcus hit that corner 3 which was a huge play, and obviously Marcus made a big-time play at the end of the game." -Coach Greg McDermott in postgame press conference
Q. Marcus, we've talked a lot about the journey to certain points throughout the year, based on this being your first year at Creighton. What does it mean to you today to even in that moment give up a game-tying 3 and walk down the court and with all the confidence in the world try to put your team into the title game?
"Means a lot to me, especially growing up always wanting to play in Madison Square Garden and having this moment. It's just an amazing feeling to have. And me and Justin redshirting last year and not seeing much time on the court, it means a lot, shows how all the hard work and effort we're putting in is paying off." -Marcus Foster in postgame press conference
Q. You knew Marcus was talented. But everything you've gotten this year, obviously being a great scorer, before Maurice went down, and expanding his game since Maurice was hurt, has he surprised you with how well he's handled everything?
COACH MCDERMOTT: "What he and Khyri have done is really difficult to do. They had to really change their stripes in terms of their responsibilities with the team right in the middle of the season.

And if you — Marcus, I would guess, has close to twice as many assists in the last 13 or 14 games than he had in the first 19, because our team, if we were going to be successful moving forward, our team — it was going to be required that he does that.

So he's added a lot to his game in the time he's been here. His ball handling has improved. His defense I'd like to say could get a little better, but it's come a long ways as well. But he's always had the confidence in himself, in situations like that. I remember obviously we recruited him out of high school. I watched him freshman year against Oklahoma."

MARCUS FOSTER: Sophomore.

COACH MCDERMOTT: Sophomore against Oklahoma both games he hits a game-winning 3 at the end. He's got confidence. He works on that shot. Obviously gets it off quick. And now that he has the ability to attack the rim, it makes guarding that 3-point shot all the more difficult."
Q. When Maurice was down I read you talked to Marcus about having to change his game. Do you remember exactly what he said to you?
"The biggest thing he had to change was we needed his voice. Maurice's voice was a dominant voice with our team; he was our leader.

And somebody had to take that and last night we don't win the game, Marcus is in foul trouble, but if you watch his actions on the bench and watch how engaged he was during that game and timeouts when he was sitting there with foul trouble, it's a sign of maturity as a player.

But Marcus embraced what we've asked him to do. And his assist numbers, they speak for themselves. He's not only scoring the basketball for us but he's making plays for other people." -Coach Greg McDermott in postgame press conference
Q. Justin, Tyrique had quite a game in Omaha the last time you played Xavier, was that matchup weighing on you tonight, was it personal in any way, and what does it mean to come out and have the game you did particularly in the interior tonight?
"He's a really good player. I try not to make things personal when I play basketball. He just happened to be the opponent tonight in front of me.

And with all my other big men I play with, they did a good job of wearing him down. And like Coach said, we wanted move the ball. And he got tired and they all got tired. That made it better for us and that's why we got the tip-ins and the extra points and the slip-ins." -Justin Patton in postgame press conference
Q. Marcus, can you just go through the sequence that led to your game-winning shot?
"Yeah, Trevon Bluiett made a great move. I thought he was going all the way to the goal but he stepped back to the 3 and made a good shot. Pulling it down I stood by Coach Mack just to hear what he was thinking if they were going to call a timeout or what he said just let's play. And by then I got into my routine of how I usually play and just took a big shot for my team." -Marcus Foster in postgame press conference
You Said It:
The mass of @BluejayMBB humanity is back again for the #Creighton send-off to @TheGarden for tonite's game vs XU #OmahaEast #BlueYorkCity pic.twitter.com/czHoTPrDGB

— Kevin Sarver (@KASarver) March 11, 2017
Great crowd for the send-off tonight! #gojays pic.twitter.com/EtomMSqxTl

— Creighton Alumni (@CreightonAlumni) March 11, 2017
.@BluejayMBB is heading out to @TheGarden for tonight's @BIGEASTMBB semifinal vs Xavier #BEtourney #Creighton #BlueYorkCity pic.twitter.com/qrcbyVAyCm

— Kevin Sarver (@KASarver) March 11, 2017
#BillMurray in the house for an intense #BEtourney game between @XavierMBB and @BluejayMBB! @BIGEASTMBB pic.twitter.com/oGsWwrTM4d

— MSG (@TheGarden) March 11, 2017
If you thought last night's game was ugly… oh boy

— Creighton Otter (@creightonotter) March 11, 2017
Creighton playing my turn your turn basketball smh

— Clint Parks (@Brotherhood05) March 11, 2017
He made one, but I don't like the early trend of Foster taking fadeaway jump shots.

— Corey Lathrop (@cjlathrop) March 11, 2017
Macura and Bluiett are hitting their jump shots (15 of XU's 18 pts). Creighton's players aren't making much (3-11 FGs). It's 18-9. 11:59

— Jon Nyatawa (@JonNyatawa) March 11, 2017
Does JP Macura cut his own hair?

— Bluejay Buff (@BluejayBuff) March 11, 2017
I bet they keep a space heater behind the bench for Macura. He's obviously very cold all the time.

— Bluejay Buff (@BluejayBuff) March 11, 2017
Hey, there are kids around @TyriqueJones_ pic.twitter.com/X48l8G0RDk

— Barstool Jays (@BarstoolJays) March 11, 2017
@mjdemarinis & @JonNyatawa mentioned 'spurtability' in the @whitebluereview Bluejay Bytes podcast today. Jays need that running ability now.

— alex sindelar (@crimebait) March 11, 2017
McDermott said Davion grew up a lot last night, is now getting elbowed by Macura at the Garden. Safe to say he's firmly 'made it.'

— alex sindelar (@crimebait) March 11, 2017
They finally got that POS for one.

— Creighton Otter (@creightonotter) March 11, 2017
Macura got caught with his pants down on that one

— Tyler Anderson (@TylerA_Anderson) March 11, 2017
I think with the way #Creighton has played they're lucky to only be down 6 but they haven't really played well this whole tournament yet.

— Heath Gunderson (@Heath_Gunderson) March 11, 2017
Pretty simple for Creighton:
– take advantage of mismatches when Xavier switches in the half court.
– keep Xavier off the offensive glass.

— Nick Bahe (@NickBahe) March 11, 2017
Coming at you from the Madison Square Garden Spin Zone …each of the last three teams to win a game in this tournament trailed at halftime.

— Matt DeMarinis (@mjdemarinis) March 11, 2017
That. Pass. #MoreMintz (did I do this right, @heathwgunderson?)

— Corey Lathrop (@cjlathrop) March 11, 2017
That's how it's done!!! THAT'S HOW YOU DEBATE!!! What happened? I blacked out. https://t.co/MJJ0ovgD0u

— Heath Gunderson (@Heath_Gunderson) March 11, 2017
When you try to steal the ball from Khyri Thomas you get #Khyrifensed & his friend Justin Patton dunks on you. Here endeth the lesson.

— Matt DeMarinis (@mjdemarinis) March 11, 2017
Same tonight too. https://t.co/cTtFij5fdh

— John Schulte (@j_a_schulte) March 11, 2017
Creighton has hit their last NINE shots. 😳😳😳🔥🔥🔥

Jays lead by 5.

— Kim Adams (@Kim_Adams1) March 11, 2017
THIS is Creighton basketball!!!!

— Tony Roth ™ (@toneroth) March 11, 2017
Rebounding has helped, but this 2nd half shooting display has been just a real joy to witness. #GoJays #BEtourney pic.twitter.com/8apksi0KMO

— Rob Simms (@IamRobSimms) March 11, 2017
It's hurtful to watch Bill Murray cheer against your team.

— Schmitty (@burtsmustache) March 11, 2017
OOH TREVON BLUIETT.

— Raphielle Johnson (@raphiellej) March 11, 2017
AND MARCUS FOSTER ANSWERS. Creighton to the title game. Wow.

— Raphielle Johnson (@raphiellej) March 11, 2017
Oh my. Marcus Foster hits a pullup 3-pointer — the game-winner — with 8 seconds left and Creighton beats Xavier, 75-72. WOW!

— Jon Nyatawa (@JonNyatawa) March 11, 2017
BLUIETT!!!!

WAIT…. FOSTER!!!!

What a semifinal Friday at MSG!!!

— Jason Guerette (@JPGuerette) March 11, 2017
Marcus Foster… ONIONS!!! #GoJays

— Heath Gunderson (@Heath_Gunderson) March 11, 2017
AAAAAAAAHHHHHHHHHHHHHHHHHH

— alex sindelar (@crimebait) March 11, 2017
JAAAAAAYYYYYYSSSSS!!! JAYS! JAYS! JAYS! JAAAAAYYYYS!!!!

— Adam Streur (@astreurphoto) March 11, 2017
WOOOOOOW JAYSSSSSS

— Corey Lathrop (@cjlathrop) March 11, 2017
MARCUS FOSTER OH MY GOD!!! FOR THE WIN!!! COLD BLOODED!!!

— Kim Adams (@Kim_Adams1) March 11, 2017
DOUBLE GUS-GASM at the #BEtourney!

— Ken Fang (@fangsbites) March 11, 2017
Heck of a shot by Marcus Foster. Creighton is onto the title game.

— Jeff Borzello (@jeffborzello) March 11, 2017
Well that was a bonkers ending in Creighton-Xavier. … Creighton moving on to the final.

— Stewart Mandel (@slmandel) March 11, 2017
GIVE ME ALL THE JP MACURA CRYING VIDEOS PLEASE

— Bluejay Buff (@BluejayBuff) March 11, 2017
THE JAYS ARE GOING TO THE BIG EAST CHAMPIONSHIP!!!

— Kim Adams (@Kim_Adams1) March 11, 2017
Good win @BluejayMBB

— Terence Crawford (@budcrawford402) March 11, 2017
MARCUS GAWDSTER

— Garret Mueller (@mue11er) March 11, 2017
That man @Swaggy2_ is cold blooded🔋ROLL JAYS 🔵⚪️

— Mitchell Ballock (@Mitchbballin24) March 11, 2017
good god what a phenomenal basketball game

— alex sindelar (@crimebait) March 11, 2017
This ranks as one of my favorite games of all time.

— Austin (@letitflycu) March 11, 2017
Marcus Foster = Bad Man @BluejayMBB

— Kevin McNamara (@KevinMcNamara33) March 11, 2017
Gus Johnson: "I'm exhausted." After calling two great #BEtourney semifinals, you can't blame him.

— Ken Fang (@fangsbites) March 11, 2017
The Big East at Madison Square Garden in the second week of March — still the best.

— Jerry Carino (@NJHoopsHaven) March 11, 2017
All season long we knew this would happen. Never doubted it. Never ever

— FakeBlueCrew (@FakeBlueCrew) March 11, 2017
You know, it feels good to have some chips fall Creighton's way. This season has been full of ups and downs, this game makes it all worth it

— Austin (@letitflycu) March 11, 2017
Oh my… Never a doubt… @BluejayMBB moving on to the @BIGEASTMBB championship at @TheGarden …What a semifinal day… #GoJays #Creighton

— Kevin Sarver (@KASarver) March 11, 2017
What a game! What a shot! @Swaggy2_ And the young man @JustinPatton17 was unreal! #GoJays

— Smitty (@JSmithberg) March 11, 2017
SEND IT IN, FOSTER! ONIONS!

— Fake Bill Raftery (@BillRaftery) March 11, 2017
It took them awhile, but it appears like Creighton has figured out who they are without Mo. Goodness tonight was fun.

— Corey Lathrop (@cjlathrop) March 11, 2017
— Barstool XU (@BarstoolXU) March 11, 2017
Foster!!!!!!!!!!!!! #gojays #bigeastmbb

— Jimmy Motz (@JimmyMotz) March 11, 2017
Back up a dump truck to carry his stones. @Swaggy2_

— Rick (@RickInOmaha) March 11, 2017
There's your moment, Marcus.

— Creighton Otter (@creightonotter) March 11, 2017
Marcus Foster just had his seminal moment. Creighton beats Xavier at MSG to advance to the Big East Tournament title game versus Villanova.

— Jon Rothstein (@JonRothstein) March 11, 2017
JAYS!!!! #GoJays

— Bob Harstad (@bobharstad) March 11, 2017
@BluejayMBB 👏🏾👏🏾 #ChampionshipSaturday!

— Jahenns Manigat (@JManigat12) March 11, 2017
Marcus Farokhmanesh!!!

— Doug McDermott (@dougmcdermott) March 11, 2017
CREIGHTON Head Coach Greg McDermott celebrates with fans after the big win. #BEtourney pic.twitter.com/MJwr7VaypA

— FS1 (@FS1) March 11, 2017
Last 3 possessions in Creighton/Xavier semi final game was nuts as Creighton was able to sneak out the win thx to Marcus Fosters dagger 3! pic.twitter.com/G5ovutUPzT

— Jim Jackson (@jimjackson419) March 11, 2017
Another day, another Greg McDermott postgame locker room victory speech… #GoJays #TakeFlight #BIGEASThoops pic.twitter.com/Fp9o1RjBoX

— Creighton Basketball (@BluejayMBB) March 11, 2017
Comments
Tagged in: