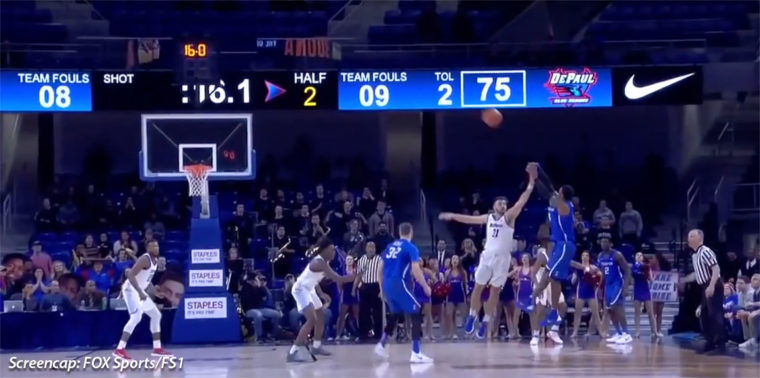 Morning After: Marcus Foster's Late Game Heroics Help Creighton Snatch Victory From the Jaws Of Defeat at DePaul, 76-75
Key Stats:
Creighton committed 14 turnovers (10 in the first half alone). The Jays give up 13 offensive rebounds. On those two stats alone (points off turnovers and second chance points), CU was outscored 30-20. Throw in DePaul's 12-4 edge in made free throws, and the Blue Demons are likely wondering how they let this one slip away.
(Hint: Marcus F'ing Foster.)
The Jays did have 18 fastbreak points, matching a season-high in Big East games. They got 34 points in the paint, equaling DePaul's output. And here's a fun one, considering it wasn't that long ago that social media and message boards talked a lot about Coach Mac's teams being unable win close games in the post-Doug McDermott Era: Creighton's had seven games this year that were a one-possession game with five minutes left, and they've won five of them.
(Though it helps to have Marcus F'ing Foster on your side.)
Standout Performances:
There were a lot of standouts, but we'll start with Ronnie Harrell, who had 10 points, eight rebounds, and five assists, making plays all over the court for both himself and his teammates. He hit a pair of three-pointers. He was even credited with a block.
Khyri Thomas scored 18 points, every one of them important in a one-point win, but it was his lockdown defense on DePaul's leading scorer Max Strus that turned what ended up being a tossup game in the Jays' favor. Strus scored 11 points on 3-11 shooting, including 1-6 from behind the arc, in 37 minutes of play, and two of his three made baskets came late in the first half when Thomas headed to the bench with two fouls. He'd been averaging over 17 a game before he got a taste of Khryifense.
Manny Suarez was pressed into duty when Toby Hegner got into foul trouble and Jacob Epperson proved ineffective defending Marin Maric — the Blue Demons' center used an array of savvy post moves to score time after time. Hegner did a better job of slowing him down, but nearly fouled out in the process. Epperson was simply not strong enough or experienced enough to put up any resistance. Enter Suarez. He played 10 minutes, all in the second half, and used his bigger frame to battle Maric and if not totally stop him from scoring, at least make him work much harder for it. Maric had scored four straight layups early in the second half when Suarez checked in and was single-handedly wrecking the Bluejay defense. He'd go nearly six minutes without a bucket, as Suarez combined with Tyler Clement to double team the post — with Clement covering the weak side.
It worked reasonably well, and was a big part of why this was Suarez' best game as a Bluejay. His line was decent, as well: three points, three assists, four rebounds, and a block. The night ended on a sour note for him, unfortunately. With two minutes to go and the Jays clinging to a 73-70 lead, he pulled down a rebound and after running in transition, Marcus Foster decided to pull the ball back out and drain clock. He passed to Suarez at the top of the key, likely intending for Suarez to work the ball around the perimeter. Instead, with over 20 seconds on the shot clock, he immediately launched a three pointer, violating one of the cardinal rules of basketball — knowing the time and score. It missed, DePaul's Eli Cain promptly drained a three on the other end to tie it, and Suarez spent the rest of the night on the bench.
As for Clement, he played the final 12 minutes of the game after both Davion Mintz and Ty-Shon Alexander had rough nights defensively, and weren't having much success running the offense either. In addition to his solid help defense in the post on Maric, he ran the offense efficiently and hit two absolutely huge three-pointers (and had a third nearly go in). He also, inconceivably, blocked a shot.
And then Marcus Foster. What can you say? The senior guard scored 29 points — 19 of them in a brilliant second half where he was 7-11 from the floor and 4-5 on three pointers — and hit the game-winning three with 14 seconds to play.
Recap & Analysis:
Despite talk from players and coaches before the game of how important it was to take care of business in games they were supposed to win, the Jays did the opposite of taking care of business in the first half. They committed 10 turnovers in that opening stanza, were outrebounded 20-15, trailed by as many as 10 points, and had three starters in foul trouble (Khyri Thomas, Ronnie Harrell, and Toby Hegner all had two).
Thankfully, they still had Foster. He got his night started with this steal and dunk:
MARCUS FOSTER
☑️ Excellent Defense
☑️ Above-the-rim Talent#GoJays #LetItFly #BIGEASThoops pic.twitter.com/qSrq0nhrlf

— Creighton Men's Basketball (@BluejayMBB) February 8, 2018
…followed it up with this backdoor cut for a wide-open slam:
MORE 👏 ABOVE 👏 RIM 👏 TALENT 👏 #GoJays #LetItFly #BIGEASThoops pic.twitter.com/11v6Fqscx4

— Creighton Men's Basketball (@BluejayMBB) February 8, 2018
And then had a third dunk, this time schooling DePaul's Justin Roberts on the way to the rim:
MARCUS 😱😱😱#GoJays #LetItFly #BIGEASThoops pic.twitter.com/VPPFdq2A7m

— Creighton Men's Basketball (@BluejayMBB) February 8, 2018
Khyri Thomas wasn't content to let Foster have *all* the fun, and turned this steal into a dunk of his own:
#Khyrifense ➡️ #TazzSlam#GoJays #LetItFly #BIGEASThoops pic.twitter.com/Lp4vyVzOMy

— Creighton Men's Basketball (@BluejayMBB) February 8, 2018
Ronnie Harrell got in on the action, too, ripping down a rebound and taking it coast to coast for a layup:
Ronnie "Coast-to-Coast" Harrell Jr.#GoJays #LetItFly #BIGEASThoops pic.twitter.com/roRYceXEGV

— Creighton Men's Basketball (@BluejayMBB) February 8, 2018
Despite those highlights, the Jays trailed 36-31 at the break and were extraordinarily lucky to be down by only five. A 10-4 run to open the second half gave them the lead, 41-40, punctuated by this dunk from Foster — keyed up by a nice bounce-pass from Davion Mintz:
Who left the door open? #GoJays #LetItFly #BIGEASThoops pic.twitter.com/O4neGd95F1

— Creighton Men's Basketball (@BluejayMBB) February 8, 2018
But DePaul answered right back, and after three straight buckets by Marin Maric and a three-pointer by Max Strus — his only basket all night with Khyri Thomas guarding him — took a 53-48 lead with 12 minutes to play. Jump-started by the play of both Tyler Clement and Manny Suarez, Creighton then began a stretch where they made eight consecutive shots. Thomas started the run by stealing a pass and racing down the floor for a layup:
#Khyrifense #GoJays #LetItFly #BIGEASThoops pic.twitter.com/u7VHZkYg2C

— Creighton Men's Basketball (@BluejayMBB) February 8, 2018
Clement blocked a shot by DePaul's Jaylen Butz, and moments later Foster hit a three from beyond NBA range to cut the lead to 55-53. He followed a bucket by DePaul with another three on the next possession to make it 57-56. And then Clement hit back-to-back threes, the first one assisted by Suarez to tie the game at 59, and the second to give them the lead:
LET IT FLY TC! #GoJays #LetItFly #BIGEASThoops pic.twitter.com/ikOEmyFSZo

— Creighton Men's Basketball (@BluejayMBB) February 8, 2018
Suarez converted a layup the next trip, and then Mitch Ballock drove to the rim for this basket that gave Creighton their largest lead of the night at 66-61 with 6:27 to play:
Timeout, DePaul, after Mitch Ballock gives Creighton a 66-61 lead with this layup with 6:38 to play.

Creighton's last 10 points have come from its reserves, after just 2 bench points in the first 31 minutes tonight.#GoJays #LetItFly #BIGEASThoops pic.twitter.com/iFZJfN8IZN

— Creighton Men's Basketball (@BluejayMBB) February 8, 2018
Foster would score eight of the Jays' final 10 points, beginning with this play where he barreled to the rim, initiated contact, made the basket, and drew a foul:
💪💪💪💪💪#GoJays #LetItFly #BIGEASThoops pic.twitter.com/tCpqu41onm

— Creighton Men's Basketball (@BluejayMBB) February 8, 2018
Thomas and Suarez each made the front-end of one-and-ones to keep the Jays ahead, despite an inability to get a stop defensively — Paul Reed nailed a jumper to cut CU's lead to 70-68, then Maric made a bucket at the rim to make the score 71-70. Foster answered with a huge shot to give the Jays a 73-70 lead. And then they finally got the stop they needed, forcing Max Strus into a long three-pointer and clearing the rebound. With 2:13 to play, they had the opportunity to make it a two-possession game and put DePaul behind the eight-ball.
Instead, Suarez took his ill-advised three — we shall never speak of this shot again — and Eli Cain tied the game at 73 with a three on the other end. Then the Blue Demons' Paul Reed stole the ball from Thomas, and at the end of a long possession, they got the ball to Maric for a dunk and the lead. It was 75-73 DePaul with 63 seconds to play, they had all the momentum in the world and a small-but-kinda-loud home crowd behind them. It looked like the game had slipped out of Creighton's hands.
The Jays would take four shots on the ensuing possession. First, Tyler Clement took a three-pointer from the corner in rhythm that rolled in-and-out. Thankfully, Toby Hegner knocked the ball in the air to prevent DePaul from rebounding it, and Thomas dove to the floor to corral it. They took timeout to draw up a play, and put the ball in Foster's hands. He drove inside, but his shot was blocked by Eli Cain. The ball landed out of bounds, giving Foster another chance, but this time his 12-foot jumper misfired. Hegner again secured the offensive board, and with the shot clock off, Foster had one more chance.
He would not be denied a third time.
With the ball at the top of the key and the clock ticking down, Hegner came out to set a ball screen on Max Strus, who was guarding Foster one-on-one. The idea was to allow Foster to drive left, where he could either drive or get off a three-pointer. Foster assumed (correctly) that if he drove left, DePaul would switch the ball screen and he'd end up with the long arms of 6'9″ Paul Reed draped over him. So he continued going right, in spite of Hegner's screen, and that meant Strus continued to guard him. Foster got him to bite on a dribble-move towards the basket, giving him just him just enough room to get off a shot when Strus took one step back. And then this happened:
MARCUS. FOSTER. BANG. #GoJays #LetItFly #BIGEASThoops pic.twitter.com/Hihboabj6B

— Creighton Men's Basketball (@BluejayMBB) February 8, 2018
Marcus Foster calls Game!@BluejayMBB escapes with the win over DePaul 76-75 pic.twitter.com/dX7GOKKEQQ

— #BIGEASThoops (@BIGEASTMBB) February 8, 2018
Here's the prettiest thing you'll see all week, courtesy of @Swaggy2_ pic.twitter.com/fClH290t45

— Barstool Jays (@BarstoolJays) February 8, 2018
There was still 10 seconds left, though, and the Jays only had a one-point lead. DePaul called timeout to plot out a way to win the game, and everyone in the building assumed the play would run through Marin Maric. He'd been almost unstoppable in the second half, and all they needed was a layup to win. And if the Jays committed a double-team to contest his shot after catching it, that would leave someone else open for a game-winner. On the other hand, Creighton was 10 seconds of solid defense away from a win. Could they do it?
With Maric covered, the inbounds pass came to Justin Roberts, who dribbled to his right with Foster guarding him closely. He handed it off to Strus, who tried to get the ball to Maric — it looked like DePaul was trying to find a mismatch in the Jays' ball screen defense, with Maric setting a screen and slipping off for an open shot. But he was instead completely blanketed by the Bluejay defense, leaving him no room to operate. With time ticking down, Strus decided to try and take a desperation three himself, and instead had the ball stripped away by Toby Hegner to end the game.
DEFENSE WINS BALLGAMES #RDJ pic.twitter.com/EuRTu5i2Sv

— Barstool Jays (@BarstoolJays) February 8, 2018
On a night where upsets were happening everywhere you looked — Villanova and Seton Hall both lost at home, and in the B1G, #3 Purdue was also upset at home — the Jays figured out a way to survive in a game where they played less than their best.
They Said It:
You Said It:
About an hour before tipoff. #Jays getting loose pic.twitter.com/M0VlFUkmd5

— Jon Nyatawa (@JonNyatawa) February 8, 2018
The great @CMTJoe showing off for the NBA scouts. Sooooo close. @manajays have first-round talent in their ranks pic.twitter.com/th1Cb3k9zj

— Jon Nyatawa (@JonNyatawa) February 8, 2018
DePaul's jay backer room has popcorn. Just saying pic.twitter.com/XGB0WOPKpu

— FakeBlueCrew (@FakeBlueCrew) February 8, 2018
Among those in attendance tonight at Wintrust Arena are 11 NBA scouts, former Creighton President Timothy R. Lannon, S.J., and current Creighton President Daniel S. Hendrickson., S.J., as well as former Bluejays Ethan Wragge and Mike Lindeman.

— Rob Anderson (@_robanderson) February 8, 2018
Dear Jays. Please ignore the upsets that just occurred. We don't need none of that tonight. #GoJays

— Martin Swanson (@bigredtank72) February 8, 2018
Strus is going to get his points tonight for #DePaul. The guy that concerns me is Maric. #Creighton

— Heath Gunderson (@Heath_Gunderson) February 8, 2018
Showtime Mr. Foster!

— Martin Swanson (@bigredtank72) February 8, 2018
that's some good defensive prowess and above the rim talent marcus is showing off so far tonight.

— alex sindelar (@crimebait) February 8, 2018
Minimal defensive impact -> lacks above the rim talent.

— Jacob Padilla (@JacobPadilla_) February 8, 2018
Back-to-back below the rim plays for Foster. #GoJays

— Rob Simms (@IamRobSimms) February 8, 2018
What did that rim say to Marcus before the game? Mercy.

— Matt DeMarinis (@mjdemarinis) February 8, 2018
Maric has scored 6 points and drawn 2 fouls so far. Awesome.

— Tony Roth (@toneroth) February 8, 2018
Gonna need more than just Marcus Foster dunks guys

— Jays Hot Takes (@jayshottakes) February 8, 2018
9 defensive rebounding opportunities for CU so far. DePaul has 4 offensive rebounds.

— Jon Nyatawa (@JonNyatawa) February 8, 2018
We are playing like Len Elmore sounds, asleep.

— Jays Hot Takes (@jayshottakes) February 8, 2018
Mitch not having the best night so far. Would sure be nice to have a big man to play who could clear some space and rebound…..

— Tony Roth (@toneroth) February 8, 2018
Hard to watch Mitch right now.

— Creighton Otter (@creightonotter) February 8, 2018
Could be "anyone other than Marcus, Khyri, or Ronnie" tonight TBH

— Creighton Otter (@creightonotter) February 8, 2018
Meanwhile, Marcus … THANK GOD for Marcus

— Creighton Otter (@creightonotter) February 8, 2018
FFS Creighton

— Dave Sund (@davesund) February 8, 2018
St. John's over Nova should've served as a shot across the bow from the Big East basketball gods about upsets tonight. It's not entirely clear if worked for Creighton.

— truebluejays (@truebluejs) February 8, 2018
I don't even want to watch this.

— Bluejay Buff (@BluejayBuff) February 8, 2018
#Creighton is going to turn the ball over 20+ times tonight and everyone is going to blame the refs like always.

— Heath Gunderson (@Heath_Gunderson) February 8, 2018
If we lose to DePaul, season ticket prices should automatically drop to the price of DePaul season tickets.

— Bluejay Buff (@BluejayBuff) February 8, 2018
Other than Marcus Foster. Well, there is nothing else going on other than Marcus Foster.

— Martin Swanson (@bigredtank72) February 8, 2018
Horribly sloppy first half. 9 turnovers already and DePaul has 18 points off turnovers. VU scored 19 off 8 turnovers last week.

— John M. Bishop (@JohnBishop71) February 8, 2018
No way Manny could play worse. The frosh just did a 360 inside trying to guard their post guy who made a simple pass. Jays getting schooled inside.

— Tony Roth (@toneroth) February 8, 2018
#Creighton is getting out rebounded 17-10 and #DePaul has 7 offensive rebounds already.

— Heath Gunderson (@Heath_Gunderson) February 8, 2018
Khyri Thomas not at all happy about either of the fouls called on him this half. Then again, he rarely is

— Jon Nyatawa (@JonNyatawa) February 8, 2018
Losing to DePaul at half is a bad look

— FakeBlueCrew (@FakeBlueCrew) February 8, 2018
DePaul leads Creighton 36-31 at halftime in its bid for an upset, thrilling the tens upon elevens of home fans in attendance.

— truebluejays (@truebluejs) February 8, 2018
Lucky to be down by 5. To DePaul. God.

— Martin Swanson (@bigredtank72) February 8, 2018
When we struggle it's when we completely rely on MF to make plays, even when we miss we need everyone to shoot when they have open looks. JE will get in shape as well and be a weapon by the BET

— Tyler McKinney (@tylersmckinney) February 8, 2018
FS1 is #FakeNews pic.twitter.com/jL4ri7pH2H

— Barstool Jays (@BarstoolJays) February 8, 2018
Quick idea for the Clink: dollar beer night and "black out" night with black CU uniforms we all want anyways and black giveaway t-shirts with glow in the dark CU logo. I'll take cash.

— Bluejay Buff (@BluejayBuff) February 8, 2018
"A real quiet stat line," the play-by-play says of Ronnie, who's halfway to a triple double moments into the second half.

— truebluejays (@truebluejs) February 8, 2018
The #Jays take their first lead since the 14-minute mark of the first half on a Marcus Foster dunk. But Eli Cain ties it back up — and draws Hegner's 3rd foul

— Jon Nyatawa (@JonNyatawa) February 8, 2018
Marcus Foster has 4 dunks tonight. Impressive for a guard.

— Rob Anderson (@_robanderson) February 8, 2018
Even more impressive for a guard "who lacks explosiveness" and who "plays below the rim" #GoJays https://t.co/QD14UrRbFB

— Rob Simms (@IamRobSimms) February 8, 2018
Hegner's 3rd foul is enormous. Maric starting to assert himself in the post.

— John M. Bishop (@JohnBishop71) February 8, 2018
This feels like early February in Terre Haute

— Tyler Anderson (@TylerA_Anderson) February 8, 2018
Epp getting abused tonight. Absolutely abused.

— Tony Roth (@toneroth) February 8, 2018
#Creighton is going to have to put Suarez in, Epperson is not ready physically for this matchup.

— Heath Gunderson (@Heath_Gunderson) February 8, 2018
Marcus Foster has been so damn good this year in so many ways. If you're trying to sell me on 60 draft-eligible guys this year being more surefire pros than he is, I'M NOT BUYING.

— truebluejays (@truebluejs) February 8, 2018
Don't worry y'all Manny is coming in

— Michael McGoodtweets (@michaelkmcneil) February 8, 2018
Creighton will try Manny Suarez inside now. Likely to body up on Maric. But Manny immediately grabs an offensive board

— Jon Nyatawa (@JonNyatawa) February 8, 2018
Epperson is going to be a very good player for Creighton eventually. But he's been pressed into service in a season he was supposed to sit out and already has missed much of with injury.

— Dave Sund (@davesund) February 8, 2018
Creighton entered the game ranked 10th nationally at 15.2 fouls per game. Called for 16 already tonight — and there's still 12 mins left… And yeah, some tough calls on CU

— Jon Nyatawa (@JonNyatawa) February 8, 2018
I don't care how ugly Creighton wins this game, just find a way to get a dub. This is a classic conference grinder game in Chicago. #GoJays #RollJays #LetItFly

— Jimmy Motz (@JimmyMotz) February 8, 2018
4 straight 3-point makes for Creighton. Two from Foster. And two from TYLER CLEMENT. Seniors stepping up. CU leads 62-59

— Jon Nyatawa (@JonNyatawa) February 8, 2018
TYLER CLEMENT???? pic.twitter.com/erF5PSO305

— alex sindelar (@crimebait) February 8, 2018
Tyler Clement, unlikely hero of the game…

— Dave Sund (@davesund) February 8, 2018
The Tyler Clement Game ???

— Creighton Otter (@creightonotter) February 8, 2018
Just like we drew it up!

— Creighton Otter (@creightonotter) February 8, 2018
Back to back 👌s #LetItFly https://t.co/sm2gDDT9cA

— Jimmy Motz (@JimmyMotz) February 8, 2018
I'm pretty sure we're all living in a simulated, collective dream right now. Tyler Clement and Manny Suarez are producing in big ways for the Jays as they come from behind against DePaul.

what the hell did trump put in the water

why is this happening

I blame Elon Musk.

— alex sindelar (@crimebait) February 8, 2018
MANNY MANNY MANNY @ralulla

— Corey Lathrop (@cjlathrop) February 8, 2018
Mac is a genius.

— Jacob Padilla (@JacobPadilla_) February 8, 2018
It doesn't make sense but I'll drink to taking the lead. #GoJays pic.twitter.com/Q5zCRrLHZr

— Martin Swanson (@bigredtank72) February 8, 2018
Tyler Clement stars in "The Accountant" (Get it, because The Accountant is actually about a guy who's an assassin and Clement is maybe a future accountant but is shooting like an assassin? The best jokes are always the ones that require lengthy parenthetical explanations.)

— truebluejays (@truebluejs) February 8, 2018
Tyler just went all hold my beer on you

— Joey Tempo (@TempoWBR) February 8, 2018
Two biggest shots of the game…Manny and Clement

— Tyler McKinney (@tylersmckinney) February 8, 2018
I mean. I can't. I just. CANT

— Creighton Otter (@creightonotter) February 8, 2018
Suarez tried a 3. Missed it. Probably should have ate that one & ran more time off the clock. DePaul's Eli Cain answers. All tied up. 73-73

— Jon Nyatawa (@JonNyatawa) February 8, 2018
Terrible shot selection by Manny

— Martin Swanson (@bigredtank72) February 8, 2018
Oh, Manny. Why?

— Dave Sund (@davesund) February 8, 2018
Manny.. you were doing so well..

— Alex Hardy (@HA_HA_RDY) February 8, 2018
That ball needs to be in Marcus Foster's hands. In the absolute best of situations, there's no reason for Manny Suarez to be shooting a three pointer. Let alone a three point lead with under two minutes left.

— Dave Sund (@davesund) February 8, 2018
Disclaimer: #LetItFly only applies to legitimate three point threats, not centers that play 2 minutes a game.

— Bluejay Buff (@BluejayBuff) February 8, 2018
Marcus needs to take that to the rack. But yes, bad shot. Inexperience. Followed by Khyri "loose road handle" Thomas.

— Tony Roth (@toneroth) February 8, 2018
Get. The Ball. To Marcus.

— Dave Sund (@davesund) February 8, 2018
Amazing how one bad shot selection can drastically alter the course of a game.

— Martin Swanson (@bigredtank72) February 8, 2018
Creighton's gonna lose because their third-string D2 transfer center decided he was Kyle Korver.

— Dave Sund (@davesund) February 8, 2018
Marin Maric gets another one. CU's had no real answer for him. 23 pts now. DePaul in front… Great hustle by the #Jays on a loose ball. They'll get another chance, down 75-73

— Jon Nyatawa (@JonNyatawa) February 8, 2018
Marcus F. Foster

— truebluejays (@truebluejs) February 8, 2018
MARCUS????? FOSTER???? FOR THREE???????????

— alex sindelar (@crimebait) February 8, 2018
That's 2,000 career points for Marcus Foster. And boy were they ever big ones.

— Dave Sund (@davesund) February 8, 2018
One of those no-no-no-YEEESSSSSS shots from Marcus Foster, I think. I'm sure he'd disagree.
His 3-pointer puts CU in front. 76-75. 10 seconds left. Quite clutch.

— Jon Nyatawa (@JonNyatawa) February 8, 2018
Thank god for Marcus Foster. Cold blooded……. #GoJays #RollJays #LetItFly

— Jimmy Motz (@JimmyMotz) February 8, 2018
So that's why you get the ball to your stud at end of games…

— Tyler McKinney (@tylersmckinney) February 8, 2018
Marcus Foster…stone cold killer!

— Nick Bahe (@NickBahe) February 8, 2018
Double and scramble

— Jeremy Hauer (@jeremyhauer) February 8, 2018
Maric can't even get a touch. Wow!!

— Jeremy Hauer (@jeremyhauer) February 8, 2018
They found a way. Good work Creighton. Quickly get out of Chicago and let's get ready for Saturday vs X. #gojays

— Patrick Marshall (@wildjays) February 8, 2018
Heads up play to double the heck out of Strus. Zero chance he was going to pass that ball.

— Jacob Padilla (@JacobPadilla_) February 8, 2018
Creighton heroes tonight (in order of explosiveness): Marcus Foster, Tyler Clement, Manny Suarez, Toby Hegner.

Seniors getting a huge dub on the road on an absolutely insane night in the Big East.

— Matt DeMarinis (@mjdemarinis) February 8, 2018
Coach Mac should buy Marcus a nice big steak from Mahogany Prime this weekend.

— Bluejay Buff (@BluejayBuff) February 8, 2018
Two final thoughts:
X's bigs have to be salivating

Get the f%¥! out of Chicago with that DUBBBBBBBB

— Creighton Otter (@creightonotter) February 8, 2018
Took this pic this summer. He was dead. Was running down and backs in between 3's. Hour long workouts drenched in sweat. He put in so much work to get here. Proud of young boy @Swaggy2_ for 2,000 career points. He's earned every one of them. pic.twitter.com/SPLemC8VHj

— Kevin Jewell (@kevin_jewell_11) February 8, 2018
Comments
Tagged in: